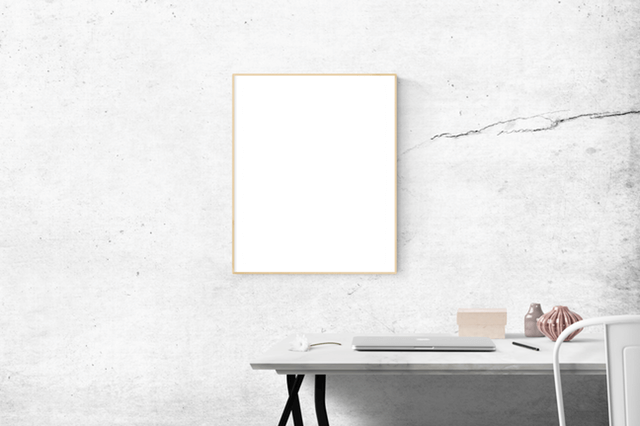 Any individual can look back at their technology habits from just a few years ago and recognize how their own web use has changed significantly. The pace of change within the tech world is always fast and the upcoming year is no exception. One year from now, those same individuals will use technology in more advanced ways as new concepts and tools arrive for public consumption. Read on to learn more about some of the trends expected to change the way we use technology once again.
Machine Learning Chatbots 
More and more tech professionals about talking about AI (artificial intelligence) and machine learning. Just as automated phone systems are becoming more sophisticated -- better at understanding human conversation, so are machine learning chatbots available on websites. Rather than thinking of bots as "taking over" a human's job, consider how a bot could allow a small business to focus on providing increasing services for customers rather than performing mundane tasks such as appointment setting or answering repetitive queries about products or services available.
Mobile Design is King
Just a few years ago web designers encouraged their clients to have a mobile presence along with their traditional website. Now websites lean very heavily toward servicing mobile users. Certainly no one is advising businesses to abandon their traditional websites, but a site optimized for mobile users is now in the number one spot when it comes to maintaining a presence on the web.
Design - Clean and Minimalist 
When web designing first became part of building a website, there was the notion that incorporating cool graphics and other visually impressive features could attract users through the use of these "wow" factors. Today, users are not necessarily interested in distracting features that take a long time to download. Instead, they are far more interested in acquiring the information they are seeking as quickly as possible. This is not to say that websites, both mobile and traditional, need no longer be attractive but simply that quickly delivering information wrapped in a clean, minimalist package is desirable to users. 
If you would like to know more about how your company's web presence can reach more customers, please contact us!
| | |
| --- | --- |
| | Brad Anderson at 12:51 AM |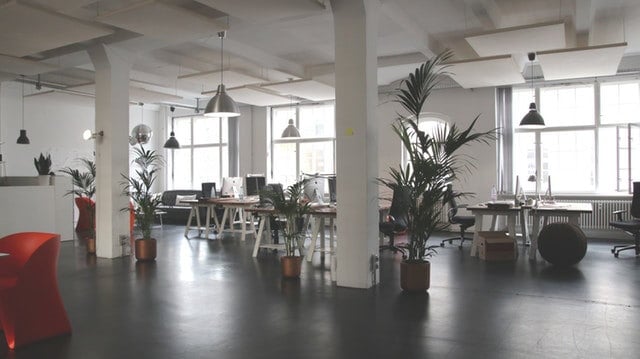 It's a given at this point in time for anyone who wants to garner public attention, whether they have a small business of their own or if they simply have something to share with the world, that they're going to need an active online presence -- it simply isn't optional anymore.  Those seeking a web designer/developer often feel they need more than a basic cookie cutter web presence.  However, hiring a large firm is simply an unrealistic choice for several reasons.  In this post, we will outline some of the common problems small to medium-sized clients face when trying to get on the web, as well as some solutions to make the process easier.
Finding the Right Fit 
There may very well be a large design firm that could easily produce a custom web design for a small business client.  However, along with a large firm comes a big price tag that is simply not realistic for those just beginning to develop their web presence.  This may lead some to attempt building their own site using some of the prefabricated website creation tools available online.  These sites generally only work for those who have the most basic requirements for their web presence such as company name, hours of operation, phone number and perhaps their address.  In addition, one still needs a basic level of tech savvy to create a finished product. 
Advantages of Small Design Firms 
For those who need a customized site, a small web design firm offers several advantages.  They typically have as much, or more experience in the entire design process than someone who designs for a large company since they are involved in every aspect of the design process.  Large companies tend to divide a software project into components, meaning their tech employees may only be experienced in one aspect of the design process.  A small business web design firm can offer tailor-made solutions for their clients at a fraction of the price of larger design firms. In addition, since they are a small business themselves, they have a significant amount of skin in the game with the success or failure of every client they work with. 
If you have a local business in the Kitchener, Cambridge, or Waterloo Ontario area and want to have a successful online presence, please contact us!
| | |
| --- | --- |
| | Brad Anderson at 10:01 PM |
BULLETPROOF SSL
HTML + SSL = HTTPS
As you may be aware, Google has made a large push to have every website add an extra layer of security to every website on the internet regardless of what you do with it.  The notifications that your website is not secure are becoming more an more noticeable through certain web browsers such as Google Chrome and Firefox.  As of July 2018, websites that do not have an SSL certificate now show "NOT SECURE" in the url next to your website.
You should understand that your website is no less secure than it was before these notices.
This is an additional layer that Google wants the world to have on every website.
There are benefits to having your site more secure.  Google has said it will reward you as a factor in your search rankings by using an SSL certificate for your website.  It will also remove the current browser warnings that are popping up removing concern from your users.
---

What is SSL?
SSL (Secure Sockets Layer) is the standard security technology for establishing an encrypted link between a web server and a browser. This link ensures that all data passed between the web server and browsers remain private and integral. SSL is an industry standard and is used by millions of websites in the protection of their online transactions with their customers.  To be able to create an SSL connection a web server requires an SSL Certificate. When you choose to activate SSL on your website you will be prompted to complete several questions about the identity of your website and your company (REM will handle this).  This is what ultimately puts an https:// in front of your website address.
If you would like to move forward, REM can handle purchasing and installing the certificate for your website.  Please let us know if you would like to proceed and we can take care of setting it up for you.
Click here to Contact Us Today or you can reply to this email asking us to proceed.

For our first team-building, quarterly event of the year, we
For anyone that's unfamiliar with snow-tubing, it's essentially a fun ride down a long, snowy slope while being in a cushy, safe tube. It was a great afternoon to go tubing, thankfully there was a decent amount of snow that fell a few days before and it wasn't blisteringly cold that night. It was still a little bit chilly though so we came prepared with thick jackets, scarves, gloves, boots, ski goggles and balaclavas. Some of us also wore protective helmets.

 

One of the aspects that I enjoy the most about our quarterly events is that we see a fun side of each other that we might not see during day-to-day work hours. It's exhilarating going down the slope with lots of chances of spinning, speedy sliding and goofiness, which brings out the jokes and laughter between all of us. It's particularly funning watching everyone's reactions when they were abruptly stopped by hay-bags at the bottom of the slopes.

 

To kick the event off we started with a very impressive link of nine tubers. Yes, you heard that right! By holding onto each other's tube handles we formed a link of tubes. All nine of us at the same time went down the slope very swiftly. After that we also tried groups of three or two.

 

We also had a race of who could fly down the hill the fastest. Sean S. was first with an impressive time of approximately 18 seconds, Ryan came in second and I was third. We found out that technique had a lot to do with how fast one can go.

 

Thanks very much to Rob and the employees at Chicopee Tube Park for such a fun afternoon!

 

From left to right: Rob, Christine, Ryan, Todd, Brad, Matt, Sean M., Sean L. and Sean S. >>
| | |
| --- | --- |
| | Christine Votruba at 3:19 PM |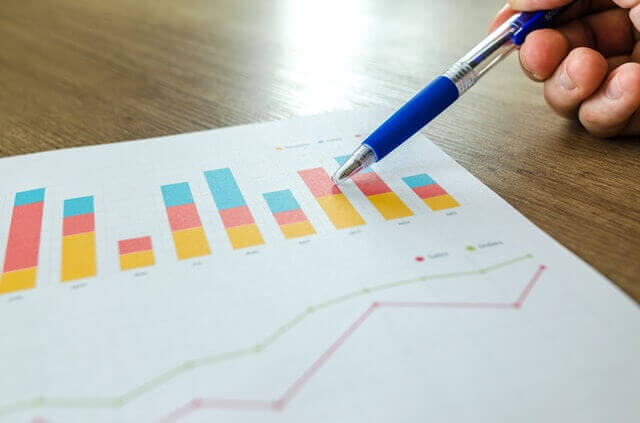 There are several ways you can invest in your business if you want to achieve success. Sometimes, the return on investment in your enterprise is traceable after a short duration, but other times what you put in may not yield immediate returns. SEO is one of the concepts you should consider including in your web design because it has a significant impact.
Here are a few details to help you understand the importance of SEO in web design and web content.
It Increases Traffic
One of the ways you can target specific visitors on your website is by optimizing the content available. SEO encourages more online shoppers who are searching for the products or services you offer to visit your site frequently, which will increase conversions. An increase in traffic to your website will also enhance the potential of capturing prospective clients, which will result in the expansion of your customer base.
Promotes Competitiveness
The internet is awash with websites for various businesses, and that includes web pages of your competitors. If you want to gain a competitive edge over other vendors in the industry you operate in, over and above making SEO part of your website design strategy, maintaining your rankings on search engines is the additional requirement you should not overlook.
The effectiveness of your website SEO strategy depends on continuous improvement to promote higher ranking on search engines, which will set your business apart from the competition.
Enhanced Visibility
The relevance of the keywords you use on your website content is part of the requirements of any SEO strategy because it enhances the frequency of the appearance of your site on most web searches. SEO improves visibility, which implies that users will locate your website quickly and that will increase the probability of making conversions. If your business requires a custom website or SEO services, contact us today!
| | |
| --- | --- |
| | Brad Anderson at 10:32 PM |

The Way It Is
Let's face it, the web serves mostly as a global marketplace where consumers can access their favorite products and services from virtually any device with an internet connection. Our homes are equipped with computers and tablets, and now peripheral devices like Google Home are accessing information from websites and delivering it back to us based on simple voice commands. Anyone who is serious about getting more customers should realize that having a website is a necessity, but creating a great website for your brand is about much more than keeping up with the Joneses. 
Strategically, a website can offer your business almost limitless opportunity to grow. Your competitors online are only as good as their products, services, and ability to promote themselves effectively. If you can utilize smart tactics on the web, you can acquire a larger market share and do it better than your peers.
The Octopus
If you think about your website as more than just a collection of information related to your brand, and more like a book that never ends, you can begin to visualize your options for creating effective marketing campaigns.
Digital marketing professionals have the tools to research and understand your site's audience, as well as your competition's assets, and can help you to create many unique ways to gain valuable leads while expanding your brand's reach. Tactics like SEO (Search Engine Optimization) and PPC (Pay Per Click) allow you to create marketing campaigns within your budget, whatever it is, while producing quantifiable results. Digital assets are not set in stone, so when a campaign doesn't work, or a typo is discovered, changes can be made on the fly. The web offers your business the most dynamic platform for marketing and promotion.
Taking The First Step
Starting small is always the best way to discover and learn about processes. When you take small steps toward establishing yourself on the web, you will begin to see how you can maximize resources with digital marketing. 
We hope to answer some questions you might have, while expanding on the ideas above, contact us soon and we'll get started.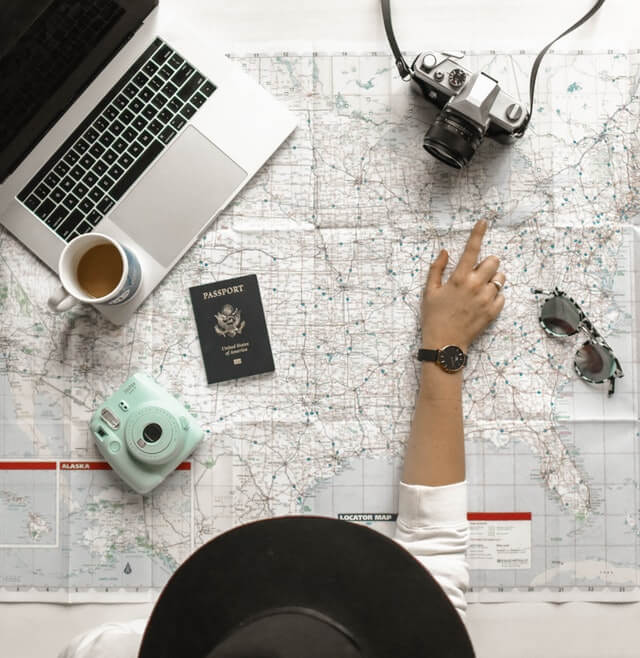 When you're running a business, security is really important. There are many things that are sent via email that are of a confidential nature. These might include financial spreadsheets, formulas, blueprints etc. You obviously don't want these things to fall into the hands of hackers or competitors.
There are many people out there who could use all this information against you in some way. If people come to know that your business is doing well, you could become a target for thieves and scammers of different sorts. In fact, the ingenuity of virtual crooks is constantly on the increase. So what should you do in order to maintain email security?
How Complex Should You Make Your Email Password?
Try to make your email passwords as complex as possible. Include letters, numbers and special characters such as !@#$%. You can also throw in some capital letters, if possible. However, don't make your password so complex that you can't remember it. You should have your password memorized rather than written down somewhere that others can access it.
Meaningful Passwords That No One Can Guess
Don't use an email password that others can guess, like your date of birth or your wedding anniversary. The best thing is to go with something that's personally meaningful to you that not that many people know about, such as the name of your favorite first grade teacher along with the year that you were in her class. Obviously this technique doesn't work if you go around telling everyone about this teacher. But if it's something that you will definitely remember and that no one else knows about, then you should be safe.
Using Memory Sticks and External Drives Instead of Email
Another thing you can do is curtail the type of information that gets sent on email or that gets saved in the cloud. Of course, this is a difficult thing to do. Everyone communicates using email these days and you might need an important piece of information from your accountant, which necessitates the use of email. However, it's better to get this information on a memory stick or an external drive. This way, it doesn't get sent over email and there's no possibility of it being hacked.
Contact us for more great tips on email security and choosing strong passwords.
Thank you for supporting REM in the past year!
We want you to have some fun.  Play our surprise game and we will donate to Sick Kids.
Click here to play our custom built game.  Thank you to all the REM staff for their hard work building the game in time for the holiday season.  For each person that plays, REM will donate $1 to Sick Kids Foundation.
Most importantly, we wish you a Fantastic Holiday Season and a Bright & Energetic New Year!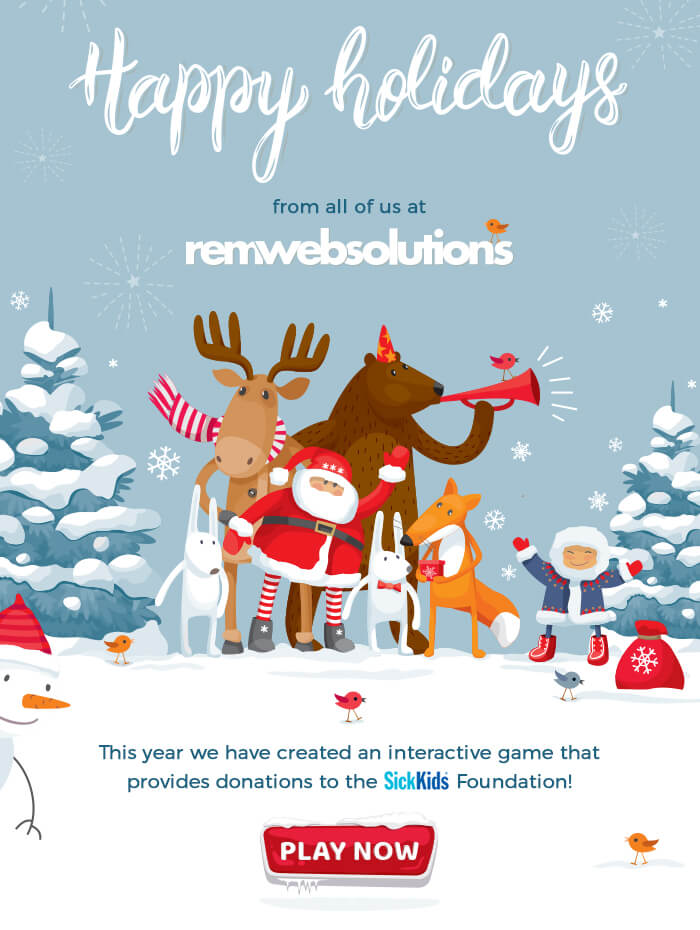 As a friendly note: We will be closed on December 24, 25, 26 and January 1 to allow our team a chance to spend time with their team.  We look forward to working with you in 2019.
Sincerely,
REM Web Solutions
We often don't take the time to tell people how proud we are of them so I wanted to take the chance to tell everyone what an amazing team we have at REM.  We have been working really hard this year to deliver exceptional design work, great new tools to manage your website and superior customer support for our customers.  I am so proud of our team in all of their accomplishments but I wanted to highlight a few.
Everyone at REM works hard each day for our clients to come up with custom designed websites that not only look great but are designed to engage their target audience.  Our team has been chosen for the 2019 Consumer Choice Award in Web Design for Waterloo Region.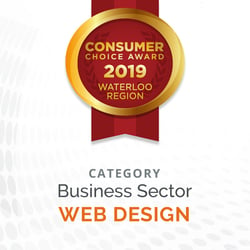 Award winners are the result of a in-depth, consumer evaluation process.
It involves the gathering of unbiased consumer opinions, calculated and vetted by some of North America's leading market research firms.
I am also extremely proud that we have exceeded 50, Five Star Reviews on Google this year.  This is also a proud accomplishment for everyone at REM.  We all work hard for our customers to live up to our #1 Guiding Principle which is Customer Success Comes First..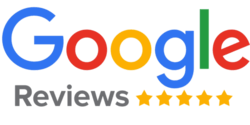 Have a look at the most recent reviews from our customers.
"It was a pleasure working with REM Solutions to redevelop my business website! They were patient, comprehensive and genuine about understanding my business needs and how to best represent that on my new site. I continue to appreciate the great customer service they have to answer all my questions as new web design ideas pop into my head! I would definitely recommend them for any non-techies out there looking for a new or refreshed website."
---
"Excellent group to work with, friendly, very responsive, and full of helpful advice. The design of our new site came out looking great and we are very pleased with the added features and the ability to manage our content through their WebWiz@rd CMS. Would recommend."
---
"REM helped us to design a website that worked for us! They were great to deal with throughout the whole process. The team we worked with was extremely professional, supportive and always quick to respond. We had a fantastic experience!"
---
What I love the most about these comments is the common theme about how great our team is at what they do and how supportive they are of our customers.  When I meet with people, I tell them all the time that we are not the only ones who can offer them a great website.  What I do know is we offer the best support for our customers not just during a project but throughout the relationship.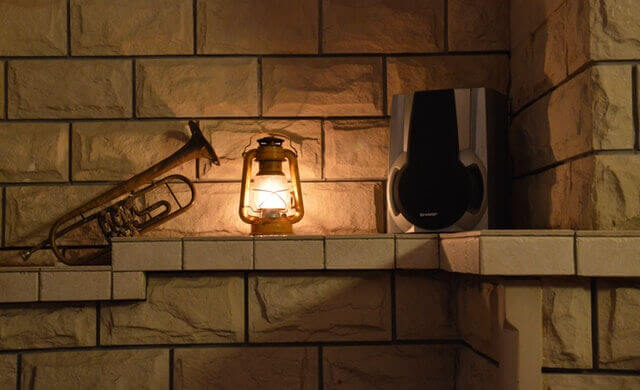 Today, there are many turnkey solutions you can use to build your website, and these options are both fast and easy to use. However, the challenge is that using templates for developing your site may not serve as the best representation of your company or brand. Additionally, other businesses including your competitors may opt for the website design you choose to use, which can affect your competitiveness in the market.
For that reason, considering a custom website is a wise idea because it can help you achieve much more than what you may gain through ready-made solutions. Here are some reasons why custom websites are a worthwhile investment for businesses in various sectors.
Increased Functionality 
It is quite frustrating when users cannot find a particular feature on your website, and that is one of the reasons why you may lose business to your competitors. On the other hand, site building templates may not include all the features that users need, and if you settle for this solution, it becomes a limitation for the success of your enterprise.
As such, tailor-made solutions can help you build any functionality for your website to enhance user experience. The reason is that as you develop your custom website, you can identify the features that users need and in turn, you can add the same conveniently to enhance functionality.
Outstanding Appearance 
Most customers opt to visit a company's website first before they walk into a brick and mortar establishment. The implication, in this case, is that your site becomes the place where customers get the first impression regarding your organization. Therefore, other than focusing on enhancing the appearance of your lobby for walk-in clients only, you need to ensure that your site captures the best impression of your brand for online customers as well.
A custom website is the best solution, in this case, because it gives your brand a unique appearance that is appealing to customers.
Proper Structuring 
Sometimes, you may discover that most customers have several unanswered questions, even after visiting your website. In that case, the implication is that your site is not achieving its objectives as earlier intended. So, proper planning as you prepare to embark on a site building project is not an option. Once you capture all the requirements of your website, you can begin the task of building your custom site.
As a result, the launch of the end product will feature a site with proper structuring, capable of marketing your business in the best way possible. If you need more information on the reasons for considering a custom website, contact us today!
Contributors
Latest Posts
Archive
Tags
Everything
Content Management
Technology
Design
Holidays
Off Topic
Support
New Features
Personal
Gaming
New Clients
SEO
REM News
Project Management
Account Management
Training
Marketing