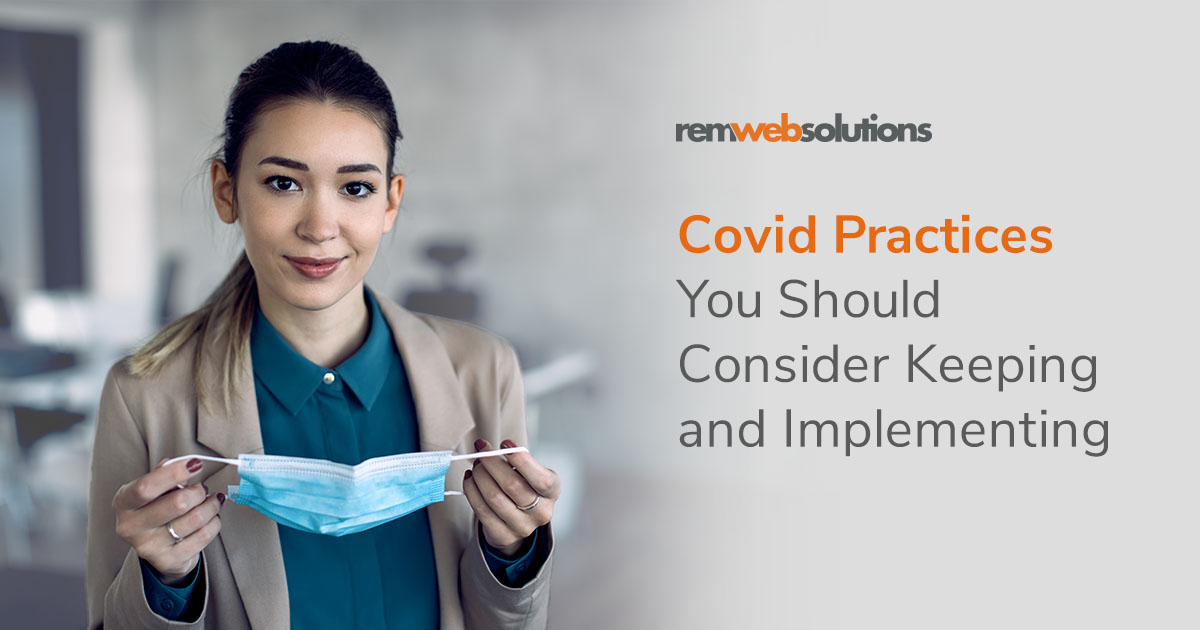 The COVID-19 pandemic brought on numerous challenges and changes to so many aspects of daily life, including the functionality of workplaces.
As we look towards the future and embrace a "new normal," what Covid policies are worth keeping in place at organizations forever? With a predicted tech-driven outlook on the horizon for businesses and their operations because of the pandemic, it's necessary to assess the overall impact Covid has had on workplaces as a whole.
Below are some practices and benefits you may or may not have adopted during the pandemic that you should consider embracing permanently.
1. Recognize when remote work makes the most sense
An overwhelming realization that was felt by workers all over the world during the pandemic was the ease of remote work and how easily some positions can be adapted to suit it. While there will be situations and specific jobs that require employees to work in-person, many have discovered that working from home is just as, if not more, efficient than going into the office.
If you find that a job can be completed from the comfort of someone's home and productivity does not decrease or degrade in doing so, then it would likely be beneficial to consider remote work where it's needed and makes the most sense.
2. Find a balance with hybrid work
Many jobs can be a blend of remote and in-person work. Countless people felt the weight of isolation during lockdowns and craved the social aspect of seeing and interacting with their co-workers face-to-face instead of solely through a screen.
It is important to assess which positions this work model would be suited for and which employees would respond well to it. This decision could change where people come into the office as needed, or there could be a scheduled set of days and times staff are expected to work in person and when they can work from home.
Hybrid work has been proven to provide several positive benefits for the overall productivity and well-being of employees, so it's definitely a model to consider if it would make sense for your organization.
3. Enhance comfort with technology and digital tools
The suddenness of the pandemic required businesses to quickly implement and adapt to remote work environments. This drastic shift demanded the acceptance of various technologies and a range of digital tools that may not have been used by workplaces in any other circumstance.
This is not a bad thing, by any means. In fact, as much as it may have grown tiresome to repeatedly hear and say "you're on mute" during online meetings, there's no denying that Covid required people to pick up skills and develop comfort with them that have rapidly become job necessities. Also, learning to meet the requirements of jobs that were once solely in person necessitated the need for people to explore programs and software that would have otherwise been left untouched and unexplored.
The "adapting to change" mindset that Covid forced many people into, should continue to be embraced, with the limitless potential of technology and digital programming held as a high priority need for the foreseeable future.
4. Prioritize employee well-being and quality of life
Covid, in so many ways, impacted people's mental and physical well-being. Isolation and burnout, to name a few common pandemic-related workplace side effects, were really brought to light over the past few years.
This has caused countless organizations to re-evaluate how they treat their employees and what they can do to help improve their experience at work, and ultimately boost their productivity in the process. Really listen to the needs of your staff and don't try to cut corners when it comes to employee wellness.
After all, studies have shown that a happy worker is a productive worker.
5. Recognize the importance and necessity of sick days
Living through the pandemic really forced people to be mindful of their physical health and recognize when they are feeling unwell. Did you wake up feeling sick? Stay home, log off, and look after yourself. This Covid mindset took hold for workplaces since the outbreak began and it shouldn't be abandoned moving forward.
Not only is it careless to ask people to come into work when they're sick and potentially spread their illness to others, they are far more likely to experience burnout, make mistakes, and generally not perform their duties to their regular standards.
Illness is an inevitability, and if Covid taught us anything, it should be that looking after ourselves and staying safe is a top priority.
6. Consider leaving masks on
Wearing masks has not only been proven to help prevent the spread of Covid, but other viruses as well. Even if you don't require masks all the time, it's sensible to ask staff to wear them if they've recently been ill, have been exposed to someone who is sick, or simply during cold and flu season when there is a much higher likelihood that more and more people will be catching and spreading viruses.
It's better to be safe than sorry and prioritizing the health of staff should always come first.
7. Don't slack on office hygiene standards
From strict hand washing guidelines to hand sanitizer rules and wiping down workstations with disinfectant, Covid drastically improved the hygiene standards of office spaces and staff everywhere. While you don't have to take these new norms to the extreme, there is no harm in continuing to keep these standards in place.
Not only does it ensure workspaces are kept clean, but it also reduces the spread of bacteria and germs. With handshakes coming back into the workplace fold as Covid numbers go down and anxiety decreases, it makes sense to keep the sanitizer and soap at the ready.
8. Don't ignore the necessity of good air quality
The classically stuffy, stale air of office cubicles went to the wayside for many organizations during Covid. Recommendations pushed for HVAC filters to be changed to high-quality particle filters like MERV-13, as well as introducing other valuable technologies to clean the air.
As more people return to work in-person, don't underestimate the importance of high air quality ratings. Business owners should take the time to investigate ways they can change or upgrade their space in order to meet the International Well Building certification.
9. Communication from leadership should stay consistent
Changes were abundant for workplaces during Covid, requiring leadership teams to become consistent in their communication with staff. Newsletters, group messages, large-scale team meetings, email notices, etc., became commonplace over the course of the pandemic. Arguably more than ever before, leadership was connected much more with their lower-level staff.
This is not something workplaces should let go of. Staff deserve to be kept in the loop with organizational updates and notices, and it creates less of a divide between different teams and departments.
10. Embrace flexibility and understanding
People are still feeling the effects of Covid, and the heaviness that continues as we move through a post-pandemic world. Navigating these challenges means treating your staff with understanding and flexibility.
11. Provide low-effort–but still fun–ways for your team to participate in social activities
Pandemic social activities required a large amount of ingenuity and delving into previously untapped territory in terms of office fun. What was once a typical holiday staff party at the office with a potluck lunch, was now an ugly Christmas sweater competition over Zoom.
Although you can bring back in-person events from the time before Covid, try to respect people's social batteries as we re-adjust to this new normal. Online social activities are a great way to keep staff engaged, but without too much extra effort. This could include team Jack-box Games, trivia, bingo, ice breakers, or even a movie you can watch together through Teleparty –the options are endless.
12. Don't underestimate your business' weak spots and areas for improvement
Coping through Covid required businesses to really reflect and analyze what their weak spots are and how they could improve. Covid left a huge impact that required changes, downsizing, and difficulties that were previously never seen on this scale before.
Keep this kind of thinking moving forward. Don't become complacent. There are always ways you can be better as a company, and the more aware you are of potential flaws, the better prepared and equipped you will be to handle things effectively in a crisis.
13. Look to other organizations to see what's worked well for them
So many businesses' great ideas spawned from Covid, and the ways that organizations have adapted through such difficult times has truly been a testament to people's limitless creativity and fortitude.
Look to your competition to see what they have done to keep themselves afloat. Critically evaluate what's worked and what hasn't and draw inspiration from your findings that you can apply to your own business.
Conclusion:
Just because we're shifting out of lockdowns and people are no longer stockpiling Covid tests, that doesn't mean you should completely resort back to the business mindset you had before the pandemic. The practices and policies mentioned above are great options to keep and embrace outside of the pandemic.