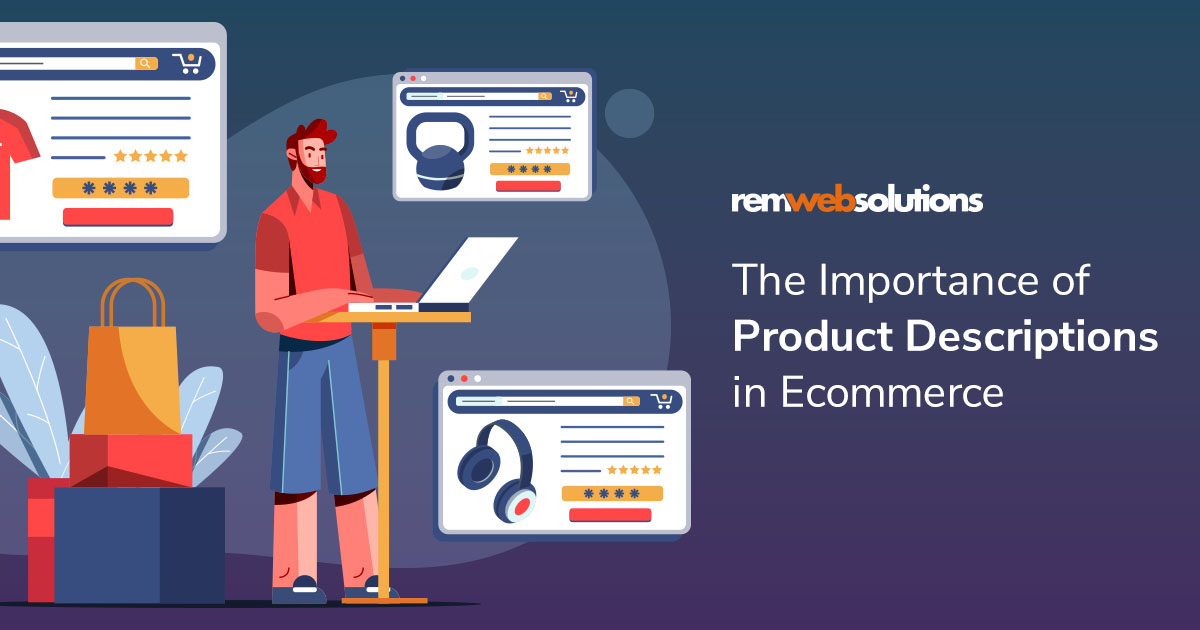 Are you ever stuck, staring at the screen, not knowing what to write for your product description? Or maybe you're having trouble figuring out what kind of information would make someone go from just browsing to becoming a loyal customer? You're not the only one.
They say a picture is worth a thousand words, but in the world of ecommerce, using the right words strategically can make a big difference in the success of a business. The average person only spends about eight seconds on a website page, so it's really important for a business to be able to write short, clear, and helpful product descriptions that can convince customers to "add to cart".
Strong product descriptions serve as the bridge between your digital storefront and the delivered products, providing customers with essential information about the items they're considering.
Product descriptions are powerful sales tools that can captivate, inform, and compel potential buyers. They have a direct impact on conversion rates, influencing customers to make purchasing decisions, while also encouraging customer engagement and loyalty.
In this blog post, we will further explore the importance of effective product descriptions in ecommerce, understand how to write compelling copy, as well as understand their significant impact on conversion rates and SEO strategies.
---
Why Are Product Descriptions Important?
They Increase Your Revenue
Product descriptions have a direct impact on increasing sales and revenue for online businesses. When customers visit an ecommerce website, they rely heavily on product descriptions to understand the products they are wanting to buy. A well-written product description goes beyond providing basic information. It creates an immersive experience that engages customers and highlights the unique features, benefits, and value of the product.
They build connection and trust
Compelling descriptions can evoke emotions, address customer pain points, and showcase the product's benefits in a way that resonates with the target audience.
Detailed and accurate product descriptions instill confidence and trust in customers. Being transparent and clear helps a business gain trust from customers and makes it less likely for them to give up on their purchase because they're unsure.
They enhance the user experience
Product descriptions contribute significantly to enhancing the user experience for online shoppers. When a customer visits your online store, they are looking for detailed information about the products but also a seamless and enjoyable shopping experience. Here are some ways product descriptions can accomplish this:
Clear and Concise Information: A well-written product description ensures that users can quickly and easily find the information they need. By presenting key details, such as product specifications, dimensions, materials, and usage instructions, in a clear and concise manner, businesses enable users to make informed decisions without having to search further.
Addressing Customer Concerns: Product descriptions address potential customer questions and concerns by providing comprehensive information right off the bat, avoiding customer hesitation.
Engaging and Informative Content: Product descriptions can be used to evoke emotions, create a connection with the user, and help them visualize how the product can enhance their lives.
Consistency in Brand Voice and Messaging: Well-written product descriptions align with the overall brand voice and messaging, creating a cohesive and consistent user experience. This consistency helps build brand recognition and reinforces the brand's values, making users feel more confident and familiar with the brand.
Supporting Visual Elements: Paired with the right visuals, product descriptions become strong tools for generating revenue. While images provide a visual representation of the product, descriptions offer a deeper understanding. Effective descriptions complement visual elements by highlighting key features, providing usage examples, or explaining product benefits that may not be obvious from the visuals alone.
They help build trust
In the online world of ecommerce, trust plays a crucial role because customers can't physically interact with products before buying them. That's why well-written product descriptions are important for building trust and credibility.
When product descriptions are transparent and accurate, they give customers the information they need to make informed decisions. By clearly presenting details like specifications, features, dimensions, and other relevant information, businesses show that they are committed to providing accurate and reliable information.
They help build brand credibility
An effective way to establish credibility is by including social proof, such as customer reviews and testimonials, in product descriptions. Positive reviews and testimonials from satisfied customers validate the claims made in the descriptions and give potential buyers reassurance. When ratings, reviews, and testimonials are included with the product descriptions, it builds trust by showing that others have had positive experiences with the product.
Taking the time to write a well-crafted product description is worthwhile. A poorly written or generic description can undermine trust and credibility while well-written, error-free, and engaging descriptions demonstrate attention to detail and a commitment to quality.
They help your online business stand out from the competition
Writing effective product descriptions is a valuable way to make your business stand out in the competitive world of online shopping. Since there are many other stores offering similar products, it's crucial to grab the attention of potential customers and leave a lasting impression.
Well-written descriptions play a key role in communicating what makes your product special, highlighting its unique qualities compared to competitors. By emphasizing the benefits and advantages your product offers, you can showcase its value. By incorporating storytelling techniques and a distinctive tone of voice that reflects your brand's personality, you can create an emotional connection with customers and set your brand apart.
Developing a unique language and writing style further establishes a memorable and recognizable brand identity. By using these strategies, you can differentiate your business, attract customers who resonate with your brand, and provide a remarkable and distinct shopping experience that sets you apart from the competition.
They boost search engine visibility (SEO)
Well-written product descriptions go beyond engaging and informing potential customers – they also play a crucial role in boosting search engine visibility and ecommerce SEO. Here's how:
Keyword Optimization: By strategically incorporating relevant keywords and phrases into your product descriptions, you can enhance the SEO value of your pages. Optimizing descriptions with targeted keywords helps search engines understand the relevance of your products and display them in relevant search results.
Unique and Original Content: Creating distinct and original product descriptions sets you apart from competitors and improves your chances of ranking higher in search results. Unique content demonstrates to search engines that your website provides valuable and credible information.
Increased Page Relevance: Well-written descriptions improve the relevance of your product pages to specific search queries. Accurately describing the features and benefits of your products helps search engines match your pages to relevant user searches.
Longer Time on Page and Lower Bounce Rates: Engaging and informative descriptions can keep visitors on your product pages longer, indicating to search engines that your content is valuable. This can potentially improve your website's ranking in search results. 
Backlink Opportunities: Compelling descriptions can attract backlinks from other websites, further boosting your website's SEO. When other sites link to your product pages, it enhances your website's authority and credibility in the eyes of search engines.
---
How To Write Powerful Product Descriptions
Writing powerful product descriptions is essential for capturing the attention of potential customers and persuading them to make a purchase. Here are key strategies to consider:
Understand your target audience by researching their needs, preferences, and pain points. Tailor your descriptions to address their unique concerns and desires.
Highlight key product features and benefits, showcasing how your product solves problems or fulfills specific needs. Emphasize what sets your product apart from competitors.
Use persuasive language and storytelling techniques to engage your audience emotionally and create a connection. Paint a vivid picture of how your product can positively impact their lives.
Incorporate relevant SEO keywords throughout your descriptions to improve search engine visibility and attract organic traffic.
Format and structure your descriptions for readability, using bullet points, subheadings, and short paragraphs. Highlight important information and key features.
Leverage social proof by including customer reviews and testimonials. Positive ratings and endorsements build trust and credibility.
---
SEO Strategies for Ecommerce Product Descriptions
To enhance the visibility of your ecommerce product descriptions and attract organic traffic, it's crucial to implement effective SEO strategies. Here are key tactics to optimize your descriptions for search engines:
Improve visibility and click-through rates by optimizing product titles and meta descriptions with descriptive and keyword-rich content.
Enhance search results and generate rich snippets with additional information by implementing schema markup, which provides structured data.
Improve website navigation, user experience, and establish credibility by incorporating internal and external linking.
Track important metrics and identify areas for improvement by utilizing analytics tools to monitor and analyze the performance of your product descriptions.
---
The Takeaway
We've learned that well-written product descriptions are a powerful tool for driving online businesses towards success in the world of ecommerce. A strong product description can be the bridge between a casual browser and a loyal customer. The average individual spends roughly eight seconds on a website page, so it's vital to a businesses' success in their ability to convert a customer to write short, succinct and powerful product descriptions.
At REM Web Solutions, we understand the value of a well-written piece of brand collateral and encourage our clients to pay special attention to the messaging they share with their customers and audiences. Get in touch with us and let's explore ways in which you could leverage your content writing to align with your business goals.