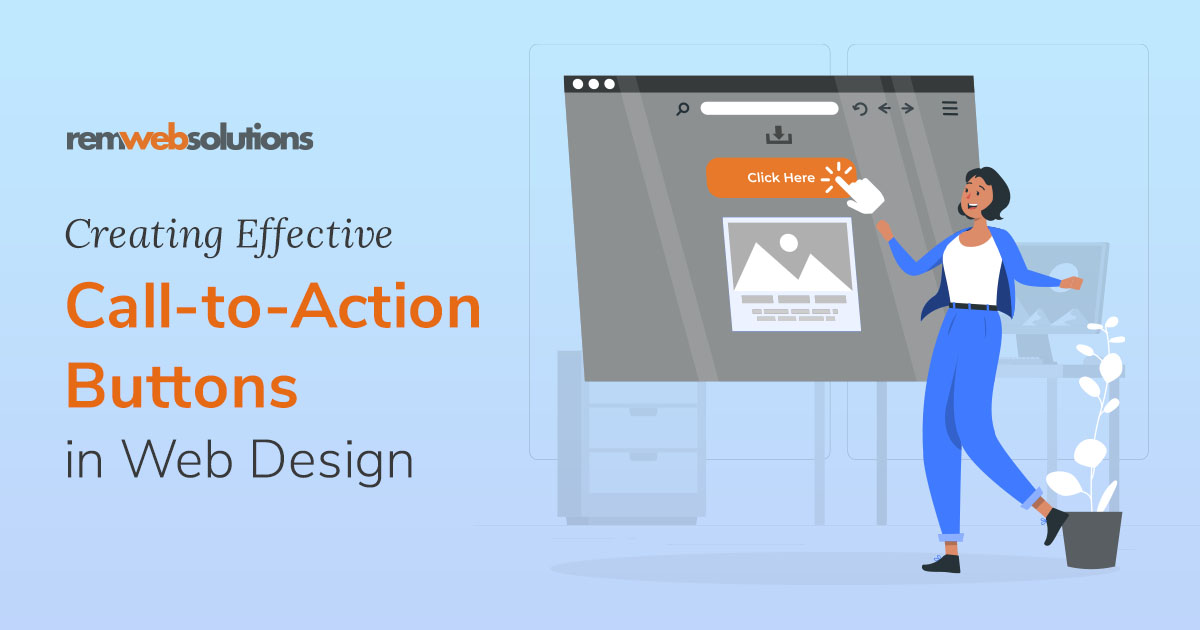 Have you ever navigated a website, looking for a way to reach out to a company, clicking on every tab available with no luck? This interaction likely left you feeling frustrated and not confident in the company's ability to create an easy path of communication.
Now you understand why creating effective call-to-action (CTA) buttons is an integral element in your website design and function.
Websites are powerful tools that, when well-designed, have the ability to convert casual browsers into loyal customers. But in a digital landscape that is experiencing a landslide of content, how do we do that? How do we attract someone's attention and empower them to take an action on a website?
Simple. We draw them in with the use of a well-designed and easy to access CTA button.
Essential for any successful business website, CTA buttons serve as a powerful tool that guide visitors towards desired actions, whether it's making a purchase, subscribing to a newsletter, or signing up for a service.
In the world of web design, CTA buttons play a pivotal role in driving conversions and achieving business goals. Their strategic placement, compelling design, and persuasive copy have a direct impact on user engagement and conversion rates. In this blog post, we'll further explore their importance in web design, better understand their significance for conversion optimization, and outline key principles for designing effective CTA buttons.
---
What are Call-to-Action (CTA) Buttons?
CTA buttons are interactive elements on a website that prompt users to take a specific action. They are typically designed as buttons, links, or clickable graphics, and their purpose is to guide visitors towards a desired conversion or engagement goal.
CTAs can include actions like "Buy Now," "Sign Up," "Download," "Learn More," or "Contact Us." These buttons serve as clear and direct invitations for users to perform an intended action, ultimately helping businesses achieve their objectives, such as generating leads, making sales, or increasing subscriptions.
How important is website design, really? The short answer: very.
Website design plays a crucial role in maximizing the effectiveness of CTA buttons. The way CTAs are designed and integrated into the overall website layout significantly impacts user engagement and conversion rates.
Effective website design elements, such as layout, colors, typography, and visual hierarchy, can draw attention to CTAs and create a seamless user experience. Well-designed CTAs that align with the website's branding and visual style enhance user trust and credibility, making users more likely to click on them.
At the crossroads of website design and user experience
The effectiveness of call-to-action buttons on a website is closely connected to how easy the website is to use and how enjoyable the user's experience is. Website usability refers to how simple and user-friendly a website is, making sure that users can easily find and interact with the things they want. User experience (UX), on the other hand, is about the overall experience a user has while using a website, including how they feel and how satisfied they are. When it comes to call-to-action buttons, both website usability and UX are important to consider.
---
How to Design Effective CTA Buttons
Consider button placement
When designing CTA buttons for websites, it's important to consider where to place them. Button placement means putting them in spots where people can easily see and use them. By understanding how people look at a webpage and where their attention goes, we can put the buttons in noticeable spots. It's a good idea to place buttons near the top and on the left side of the page because that's where people usually look first. This helps grab their attention.
Button placement also helps guide people's eyes to the buttons we want them to click. We should make sure the buttons are easy to find and use, so people don't have to search or scroll too much. It's also important to place buttons where they make sense based on what the webpage is about.
Lastly, we need to consider how the buttons will work on different devices, like phones or tablets. We want to ensure they're easy to tap with a thumb and don't cause any problems.
Consider colour psychology
Button colour psychology plays a significant role in creating effective CTA buttons in web design. Colours have the power to evoke emotions, influence behaviour, and convey messages.
Different colors carry specific associations and meanings that can influence how users perceive and interact with CTAs. For example:
Red: Often associated with urgency, excitement, and importance, making it suitable for encouraging immediate actions like "Buy Now" or "Sign Up."

Green: Symbolizes growth, freshness, and harmony, commonly used for positive actions like "Go" or "Start."

Blue: Conveys trust, reliability, and calmness, making it suitable for actions related to trust-building or informative choices.

Orange: Represents enthusiasm, energy, and creativity, often used for CTAs that promote engagement or encourage exploration.
Contrast and Visibility: High contrast between the button colour and the background helps CTAs stand out and increases their visibility. It's essential to select colours that contrast well to ensure that the buttons catch users' attention and are easily distinguishable on the webpage.
Brand Consistency: Consider incorporating brand colours into the CTA design to maintain visual consistency. When users associate specific colours with a brand, using those colours in CTAs can strengthen brand recognition and reinforce the trust and familiarity users have with the brand.
Cultural Considerations: Keep in mind that colour associations can vary across cultures. It's important to research and understand the cultural meanings and interpretations of colours in your target audience's demographic and adapt your colour choices accordingly to ensure they resonate positively.
Consider button shape and size
Button size and shape are critical considerations when designing CTA buttons. Optimizing these elements is essential for ensuring clickable and creating touch-friendly interfaces, particularly on mobile devices. Here are some things to keep in mind:
Clickable: The primary goal of a CTA button is to encourage users to click or tap on it. To achieve this, the button should be large enough and have a size that allows users to easily interact with it. Smaller buttons may lead to accidental clicks or difficulty in accurately targeting the button, resulting in frustration and potential loss of conversions.

Touch-Friendly Interfaces: With the prevalence of touchscreen devices, it's crucial to consider touch-friendly design for CTA buttons. This requires buttons to be sized appropriately to accommodate touch input. A small or cramped button may lead to accidental taps or difficulty in accurately tapping the button, leading to a poor user experience.

Responsiveness: CTA buttons should be responsive to different screen sizes and devices. In a responsive web design, the buttons should adapt to various screen resolutions, ensuring that they remain easily clickable and accessible on different devices. This includes considering different orientations (portrait and landscape) and accommodating users with varying screen sizes, from large desktop monitors to smaller smartphone screens.

Shape: The shape of a CTA button can also impact how clickable and touch-friendliness. Rectangular or square-shaped buttons are commonly used due to their simplicity and familiarity. These shapes provide clear boundaries and make it easier for users to tap accurately. However, other shapes can be explored, such as rounded corners or circular buttons, depending on the design style and overall visual aesthetics.

Consideration of Accessibility: Button size and shape are particularly crucial for accessibility purposes. Users with motor impairments or visual impairments rely on assistive technologies or alternative input methods, such as screen readers or switch devices. Ensuring that buttons are sufficiently large and distinct helps improve accessibility, making it easier for these users to interact with CTAs and navigate through the website.
---
Testing CTA Buttons for Optimal Performance
A/B Testing
A/B testing is a helpful method for making CTA buttons better. Designers create different versions of CTAs with different designs or words to compare how well they work. A/B testing lets them analyze the results and make decisions based on data. It shows which design elements or words users like more and which ones lead to more people taking action. By testing different CTAs, designers can keep making them better and more effective over time.
Analyzing the data
To understand how CTAs are performing, it's important to look at click-through rates (CTR) and conversion metrics. CTR measures the percentage of users who click on a CTA compared to the total number of users who see it. It shows how interested and engaged users are with the CTA.
Conversion metrics track how many users complete a specific action, like making a purchase or filling out a form, after clicking on a CTA. By keeping a close eye on these metrics, designers can learn how effective their CTAs are and find areas to improve. Analyzing CTR and conversion data helps identify patterns, trends, and any issues that might affect how well CTAs work.
---
Final Thoughts
After learning more about CTA buttons and their performance abilities, you can better understand why at REM Web Solutions we're highly passionate about designing and developing websites that are intuitive and cover all key design principles to convert individuals from casual browsers into loyal customers. Sometimes, it's as simple as a strategically-placed CTA button to form that connection.
If you're interested in having your website audited for CTA performance or would like assistance with designing a website that will draw your customers' attention, reach out to us and we'd be happy to start that conversation.