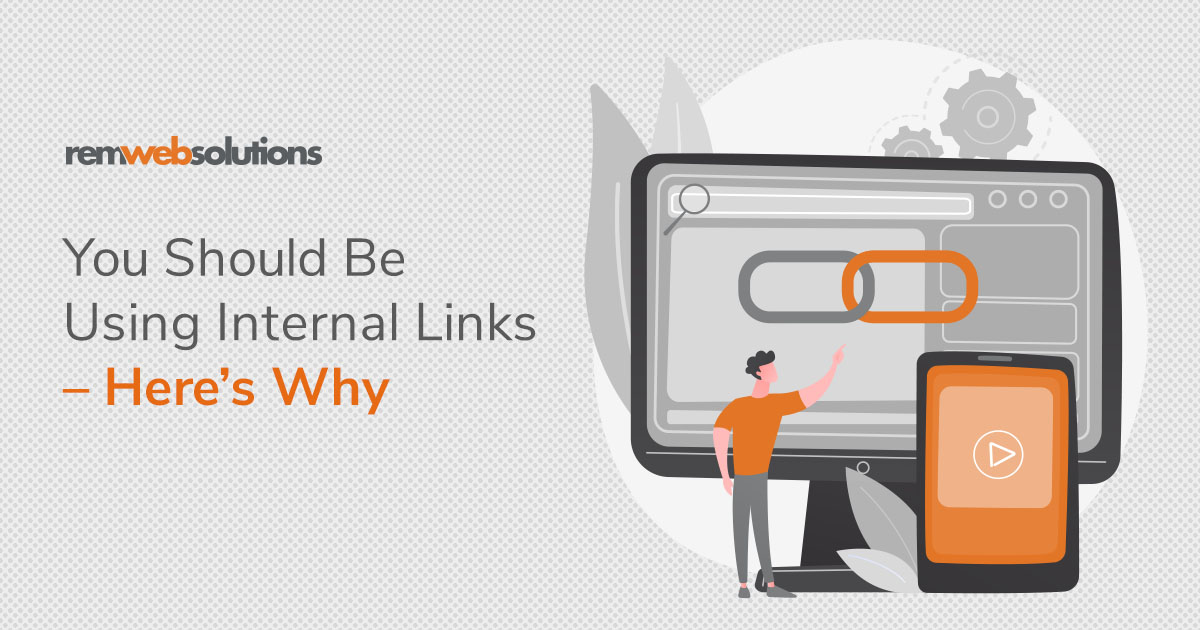 What are internal links?

Internal links are hyperlinks inside your website that lead to a page inside your website. External links are links that link to webpages outside of your website. Internal links are normally used to point to important information on your site, especially content that might be relevant to the visitor.
There are different types of internal links. Along with the links on your homepage, post feed, menu, etc., you can include internal links in your content. These links are known as contextual links. Contextual links are useful, and point website users to engaging and interesting content. Additionally, they help search engines find which content on your website is related and help the search engine determine its value from there.
The more links an important page receives, the more crucial it will seem to various search engines. This means that well-used internal links are incredibly useful to your SEO.
Internal vs. external links
All websites, even online storefronts, consist of internal and external links. While internal links connect posts and pages within your website, external links connect pages to different websites.
Why are internal links important?
Internal links are useful and important to use if you're managing a website. Three reasons why you should be using internal links include:
• Helping users navigate a website more easily.
• Assisting with establishing information hierarchy for a website.
• Helping to spread ranking power – link equity – around websites.
Best internal link strategy
1. Figure out the best structure for your website
A good practice for website structure is to imagine it being organized like a pyramid. At the top of the pyramid is your homepage, then below that you would have grouped content divided into key categories. The further down you go, the more you will find individual pages that are not parts of the main content categories, but still might be important. If done properly, your website's menu should reflect this structure.
It can really help to visualize your website structure if you write each page of your site on a post-it notes and then place them on a large table or wall so you can rearrange them as needed. Does that article on how to return your product belong in the Support section? Or maybe the Frequently Asked Questions page? Or perhaps you need links from both areas?
2. Determine what your most important content is
It's necessary to determine what your most important website content is – your cornerstone content. To put it simply, this is your best and most complete content, and serves as the core of your business. These are the posts you want people to discover when searching for products or topics that you specialize in.
If you want to let Google know that this is your most important content, you should be adding multiple links from different pages on your site. That's where contextual links come in.
3. Include contextual links
When you've accumulated multiple articles that you've written about a specific topic, they should be linked to each other. This will demonstrate to search engines and your users that these articles are topically related. This can be done by linking directly from sentences in your own copy or by adding links at the end of the post, or even better, from both locations.
4. Think about adding a related post section
Consider adding a related post section to your website. There are countless add-ons and plugins which can add complete related post sections to your posts. This can be an effective way to expand your post reach to more visitors. Think about testing it out is you use one, however. You want to make sure the related posts are actually related posts
If you're unsure, then link to posts manually and put the link to that post at the bottom of the article.
5. Add links for hierarchical pages
If your website includes hierarchical pages, try linking parent pages to their child pages and vice versa. Also, don't forget to link sibling pages to each other. These specific pages should be related to one another on a well-organized website, which is why connecting them makes the most sense.
6. Include links to your most recent posts
It's a great habit to make sure that every time you publish a new piece of content on your site, you add links to the new content from older pages. Remember to try to make sure that when you do this, the pages that you are linking from are topically related to the new content. Google prefers if the contextual links are relevant to the topic the visitor is reading.
Adding internal links to your most recent content is a great way to ensure that search engine crawlers find the new content and index it when they follow the links from other pages on your website.
7. Add navigational links
If you want to make your cornerstone more authoritative, add links to it from the homepage or the top navigation menu. This method should be done with the pages that are the most imperative to your business. This is going to give the posts or pages on your site more value.
8. Insert links to your taxonomies
Taxonomies, such as tags and categories, assist in organizing a website and helping users and Google understand what your posted content is about. For example, if you have a blog, it could be helpful to add internal links to the taxonomies that post belongs to.
9. Input links to your most popular posts
Inputting links to your site's most popular posts or pages is another important point to consider. You should be creating these sections in the sidebar or the footer of your website so that they show up on all pages and posts.
10. Anchor text
After you decide which links should be included on a page and which ones should be granted link value, it's necessary that you incorporate the proper anchor text.
Your anchor text should look natural when used in your copy and you should avoid using generic terms like 'click here' or 'read more'.  Generic anchor text doesn't tell Google, or the reader, where the link is taking them. Using descriptive anchor text means that your reader knows where the link is going, and you can even include keywords to boost the value of the link with Google.
An example of great anchor text would be: "Let REM help you with a new business website" vs. "REM makes great websites. Click here to learn more."
11. Orphaned Content and Internal Linking
Orphaned content are pages on your website that do not have any internal links connecting them. This makes it difficult for users to find, and harder for search engines to crawl. In this process, you need to determine what pages you want to be found, deleted, or optimized for search engines.
Conclusion:
Utilizing internal links correctly is incredibly important in optimizing the success of your website and boosting your content through search engines. If you follow the strategies and tips outlined above with the implementation of internal links, your SEO and users will thank you.
REM offers a robust Search Engine Optimization service that can help your site rank higher in Google Search Results. Our expert team of digital marketers will make sure that your site has the correct SEO setup and meets all of Google's requirements. We even take care of fixing your internal links for you!
Speak with our Marketing Director to see if REM can help you get noticed online.