Featured Client
- Acapulco Pools -
Builders of World Class Aquatic Facilities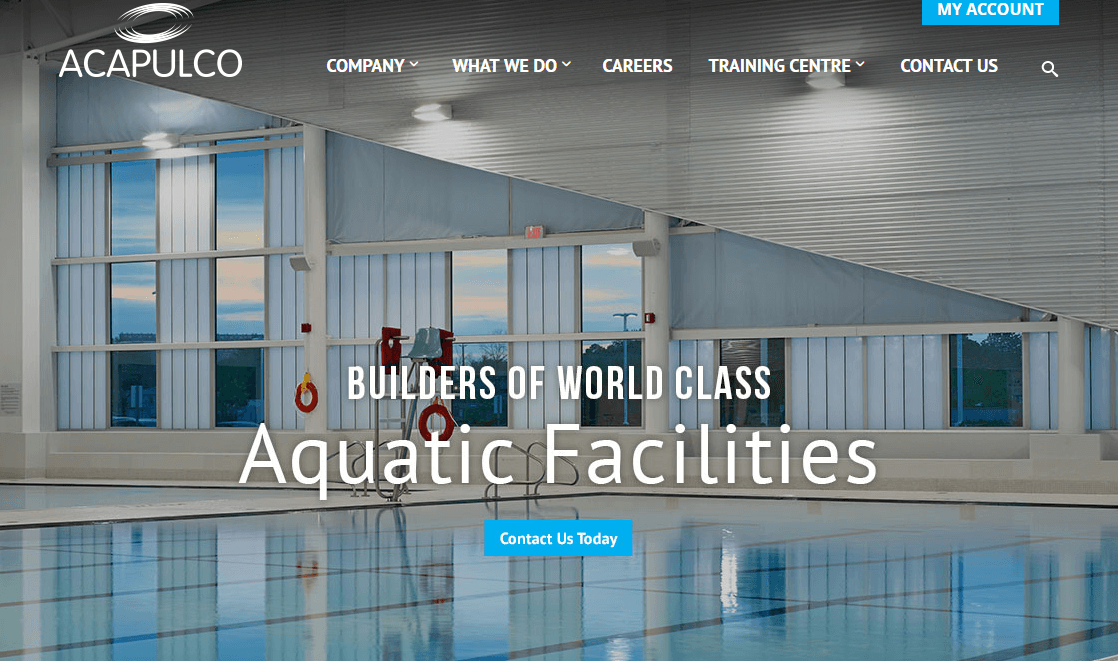 About
Our commitment to quality and punctuality stems from the strong roots built by our founder, Gerhard B. Gall. After immigrating to Canada from Germany in 1953 with his wife Erika, they established a concrete business in Ontario.
Shortly thereafter, the demand for cast-in-place concrete swimming pools arose and Acapulco Pools was born. His enormous drive, hard work, and dynamic leadership allowed the company to grow from two to fifteen employees.
As the business expanded, his sons, Bernie and David became actively involved in various facets of the company, until 1972 when the company was left in their capable hands. Under their leadership, the company evolved drastically. Bernie and David have been personally involved with every project, from tender process to commissioning; ensuring the Gall tradition of commitment to quality workmanship, attention to detail and client satisfaction has been foremost.
During this time, Bernie and David's knowledge, innovation and expertise transformed the company's reputation from a local residential pool builder to being known across North America as the leader in the construction and service of commercial and institutional aquatic facilities. After over 40 years of dedication, Bernie and David have placed their trust in a new generation of leaders.   
While they remain actively involved in the company, Bernie's daughter, Francine Gall has taken over ownership of Acapulco Pools. As she collects knowledge and increases her experience in the aquatic and construction industries, Francine is carefully assembling a team of experts to assist with the successful leadership of the company in the coming years.
Mark Elliott has joined Acapulco's new management team, sharing his knowledge in construction. Mark has spent several years working closely with Bernie and David as a Project Manager at Acapulco, where he developed a deep understanding of the values and standards that were set out by our founder. Mark will continue working alongside Francine to further catapult the company into greater success.
Acapulco's Main Contact Person: Charlotte Swart, Marketing Coordinator
Contact Charlotte at [email protected] or1-519-743-6357
| | | |
| --- | --- | --- |
| No. of Employees: 100+ | Established: 1950's | Location: Kitchener, ON |
Q:

Why did you choose REM?

 

A:

When we were looking at redeveloping our website, we wanted something that gave us more freedom with our content, but at the same time, something that was user-friendly. When we met with REM, they presented us with their content management system, [email protected] It was exactly what we were looking for. The CMS we had been using prior to [email protected] only allowed us to make minor changes to content. What we liked about [email protected] was that we would have the ability to update most of the content on our own. We now have the ability to add videos and create custom forms and our clients can register for courses, make purchases and pay invoices online.

 

In addition to the benefits of [email protected], we liked that they offered custom designs. Their team provided us with a modern design, based on the content we had, that felt bright, fresh and inviting.
Q:

What was it like working with REM?

 

A:

From our initial meeting to the final handoff, REM was helpful throughout the whole process. The final training sessions were extremely helpful. Our team visited their office where their support staff thoroughly went over [email protected] and ensured we had a firm understanding of the software. While implementing our own content into our new website, their support staff were readily available to help answer any questions that arose.

 

Before the launch of our new website, we made the contacted REM about the possibility of added a custom learning centre. REM was patient and helped us find and develop a solution that would do what we needed it to do while staying within our budget and timeline.
The CMS we had been using prior to [email protected] only allowed us to make minor changes to content. What we liked about [email protected] was that we would have the ability to update most of the content on our own.
- Charlotte Stuart, Marketing Coordinator
---
Learn first-hand how we can help you with your website needs.
Contact us today!