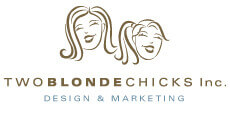 At REM, partnerships with complimentary companies, such as design, marketing, and IT companies, are very important.

One such partnership that we value is with a local full-service design and marketing firm called Two Blonde Chicks Inc.

Who are they?

Founded and led by creative directors, Julie Knowles and Jolene MacDonald, the original 'blondes', Two Blonde Chicks Inc. are fond of teamwork. That's why they've kept their firm small. "We've been there and done the big agency 'thing' – we prefer quality over quantity. And because we're small in size (but not in creativity) you deal directly with the people doing the work." states co-owner Jolene MacDonald.
The choice to staff only a handful of talented individuals allows them to work with some really amazing external resources too, such as REM Web Solutions Inc.

With a combined staff experience of over 40 years in the industry, 'the blondes' have worked with clients from all over the world. "There have been big budget projects to low budget – that's fine with us since it's the variety of clients that makes our work interesting and fun."

"Having clients in all different industries gives us the opportunity to see things from all perspectives. It's no fun designing for the same market all the time. We like to push our creative boundaries every day."

From healthcare to municipal governments, educational institutions to land developers, not-for-profits and charities to tourism and hospitality organizations, large manufacturers to small businesses, Two Blonde Chicks' clients are diverse. But they have one thing in common: a desire for fresh creative from a firm with a proven record for success and personal attention.

Why we partner with them

In the past 7 years of partnering with TBC Inc., we have found them to be a wonderfully organized, talented, professional group of designers. Not to mention fun, personable, and friendly!
What more could we ask for?

How our partnership benefits both companies

Share the work load: Two Blonde Chicks Inc. will often call us to let us know they have a client who needs a web site and has an interest in having a web site they can manage themselves. Since Two Blonde Chicks specializes in design and marketing, and REM specializes in content management, this works out beautifully.

Our sales team meets with the client to show them our content management system, [email protected]. If the client decides to move forward with us, we then wait until we receive the approved design files from TBC. When our development team receives the files, we finish building the web site for the client.

Referrals: When TBC sends us a lead, and that lead turns into a sale, such as the scenario mentioned above, we have TBC invoice us for a referral fee. We have a new client, and they receive a fee for giving us a successful referral. Everyone wins!