After about a year of working with Jamie at REM, I started to notice a few things that he liked to say. I like listening and observing what people say and how they say it, and there were definitely a few things that he says more than once or twice that I'll catch and think: hey, those are his common phrases!
He'll say these phrases when he wants to drive a point home, get the urgency of his point across and/or motivate/inspire/hype us up. So without further ado, here are a few of Jamie's common phrases or as we like to call them "Jamie-isms:"
Kick at the Can: ie. another attempt at something. "Let's have another kick at the can."
Right-Click-Save: ie. when certain tasks are more complicated than opening, saving then closing. "There's a lot more to making a website than just right-click-save."
The Feather on Your Cap: ie. a piece that one could show off and be proud of "That website we made is so awesome we'll put it in our portfolio! That's the feather in our cap!"
Pair of Dimes: 20 cents. it's a paradigm!
Sometimes he says he'll be "chasing bugs". He means he'll be fixing a few hiccups and quirks. But to me, this is what I envision when he says this: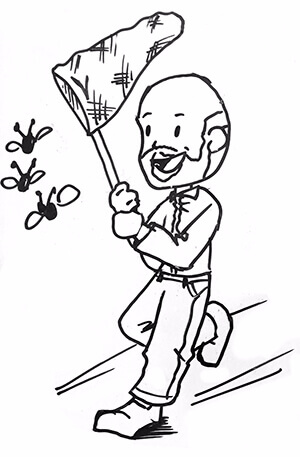 Last but not least, I'd like to end this blog post with a Jamie-ism; this one I like because it's positive, motivating and sums up the trajectory we have and want to have here at REM:
Onward and Upward!