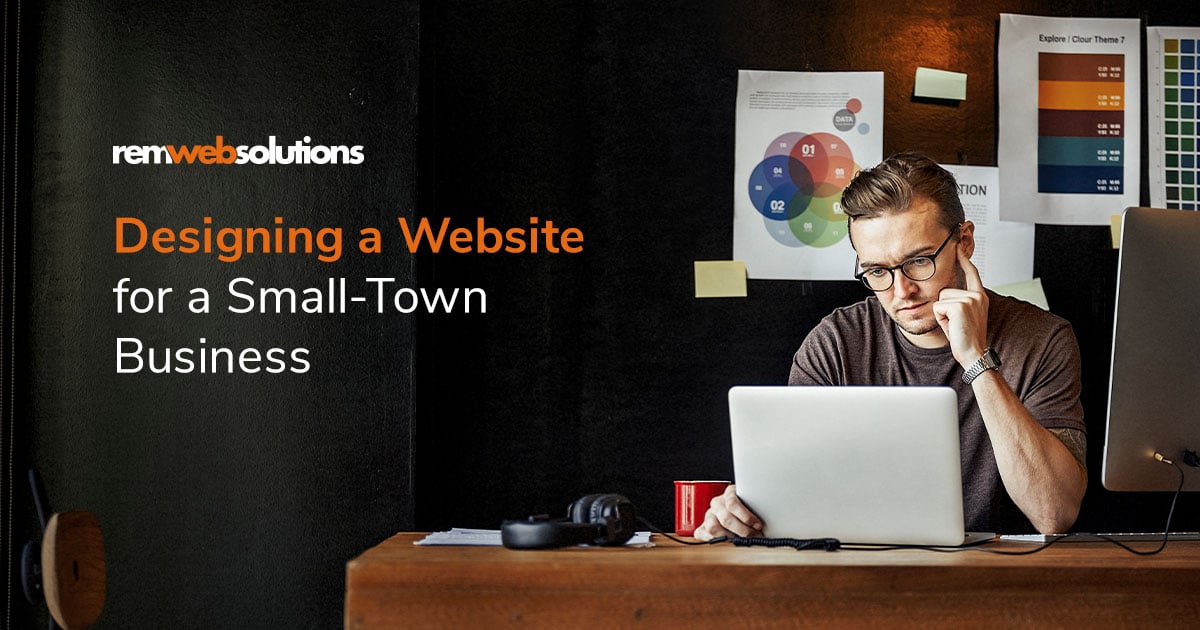 Having a website for a small-town business is crucial for promoting tourism, attracting new businesses, and providing valuable information to local customers.
However, designing a website for a small town can be challenging, as it requires a different approach than designing a website for a business in a large city.
In this blog post, we will discuss small-town business website design best practices that can help you create an effective and engaging website for your company. Let's start by answering this important question we get asked all the time:
Do I even need a website if my customers are local?
Yes, a small-town business should have a website. A website serves as a digital storefront for businesses, and in today's digital age, it is essential for any business, regardless of its size or location. Here are some reasons why a website is important for small town businesses:
Online Presence: Having a website allows a small-town business to establish an online presence and reach potential customers beyond their local area. With a website, they can showcase their products or services, provide contact information, and make it easier for customers to find and learn about their business.

Credibility: A website can lend credibility to a small-town business. In today's digital age, many customers expect businesses to have a website. Without one, potential customers may perceive the business as less legitimate or less professional.

Marketing and Promotion: A website can be used as a marketing tool for small town businesses. They can use their website to promote their products or services, offer discounts or promotions, and showcase customer testimonials.

Customer Convenience: A website makes it more convenient for customers to interact with a small-town business. Customers can place orders or book appointments online, access business information from anywhere, and get in touch with the business through contact forms or email.
In summary, a website is important for small town businesses as it establishes an online presence, lends credibility, serves as a marketing tool, and makes it more convenient for customers to interact with the business.
A quick note on Local SEO
Having a professional website for your small-town business adds one other advantage: it helps with your Local SEO. Local SEO (Search Engine Optimization) is crucial for small town businesses because it allows them to be visible to potential customers who are searching for businesses in their local area.
With local SEO strategies in place, small town businesses can improve their online visibility, drive more traffic to their website, and ultimately increase their sales and revenue.
Search engines favour local companies in their search results. But you can't take advantage of that favouritism if you don't have a website. How does a search engine like Google know what town you're in or what local areas you service if you don't have a website?
Now you might be asking why Local SEO is important at all. Here are some specific reasons why local SEO is important for small town businesses:
Targeted Traffic: Local SEO helps small town businesses target their audience by optimizing their website and online presence for local keywords, phrases, and search terms. This ensures that when people search for products or services related to their business, their website will appear in the search results, resulting in more targeted traffic to their website.

Competitive Advantage: Local SEO can help small town businesses compete with larger businesses in nearby cities or towns. By optimizing their website for local search, they can attract customers who are specifically looking for businesses in their area, rather than competing with larger businesses for generic search terms.

Increased Visibility: Local SEO can increase a small-town business's visibility in search results, maps, and local directories. This can help them stand out from competitors and make it easier for potential customers to find them.

Improved Reputation: Local SEO can also improve a small-town business's reputation by increasing their online reviews and ratings. Positive reviews and ratings can help build trust with potential customers and encourage them to choose their business over competitors.
In short, local SEO is important for small town businesses because it helps them target their audience, compete with larger businesses, increase visibility, and improve their reputation.
Now that you understand why you need a website, and some of the marketing advantages it offers your company, let's dive into the best practices for small-town business website design:
Website Design Best Practices for Small Towns
Most great website designs have certain key features. It's become best practice for great web design companies, like REM, to include these features by default in all its small-town designs:
Start with a Plan: Before we even begin the design process, it is essential to have a plan in place. Identify the purpose of your website, define your target audience, and establish your goals. Your website should be designed to meet the needs of your audience and align with your goals.

Setup a time to talk with our Marketing Director if you need help defining your target audiences and setting up your marketing and sales goals.
 
Keep it Simple: When designing a small-town website, it is important to keep it simple. Avoid clutter and prioritize the most important information on your homepage. Use a simple color scheme, clear typography, and consistent branding throughout your website.

REM websites are expertly designed by our in-house designers. You're not getting a cookie-cutter template. With REM you get a custom website that is specifically designed to help convert visitors into customers. We don't let design clutter get in the way of communicating with potential sales leads.
 
Be Mobile-Friendly: With the rise of mobile usage, it is essential to design your small-town website to be mobile-friendly. Use responsive design techniques to ensure your website adapts to different screen sizes and devices.

All REM sites are mobile-friendly and will work well on almost any mainstream browser or device. This gives you access to the largest potential group of clients.
 
Optimize for SEO: To make your website discoverable, it is important to optimize it for search engines. Use relevant keywords in your content and meta descriptions, ensure your website has a clear hierarchy, and use descriptive URLs.

If SEO, or digital marketing in general, is a priority for your company, let your REM representative know right away. We can bring our marketing team in to consult on the design from the very beginning.

By the time your site is done, it will not only be beautiful and easy-to-use, but it will also be setup perfectly to launch your online marketing campaigns.
 
Provide Valuable Content: Your small-town website should provide valuable content to your audience. Showcase local attractions, events, and businesses to promote tourism and engage visitors.

REM also offers content creation services as well as content marketing. If your staff are afraid to write online, or they consider writing to be a tedious task right up there with going to the dentist, then our team can help!
 
Prioritize Accessibility: Your small-town website should be accessible to all users, regardless of their abilities. Use alt tags for images, ensure your website is navigable with a keyboard, and use high contrast colors for readability.

REM websites come with accessibility basics included, but we can also upgrade your small business website design to be fully AODA compliant. If you are interested in a fully accessible site, just let your REM sales rep know.
 
Incorporate social media: social media is an excellent tool for promoting your small town and engaging with visitors. Incorporate social media links and feeds on your website to encourage social sharing and interaction.
 
Use Calls to Action (CTAs): Calls to action are an effective way to encourage visitors to act on your website. Use clear and concise language to guide visitors towards your desired actions, such as booking a hotel or visiting a local attraction.

While we are on this topic, it's also important that you work with other businesses in your area so that you can link to their websites for relevant services.

For example, if you run a small-town yoga studio that is doing retreats, you should have links to local healthy-eating restaurants. Maybe a local store that sells yoga equipment. How about a link to local hotels or a bed & breakfast in case guests want to stay somewhere before or after your retreat.
 
Test: Once your small-town website is live, its important to continuously test your site and make sure all these key features are easy to find and use. Monitor your website analytics, gather feedback from users, and make improvements as necessary.
In Conclusion
Designing a website for a business in a small-town requires a different approach than designing a website for a business in a large city. By following these small-town website design best practices, you can create an effective and engaging website.