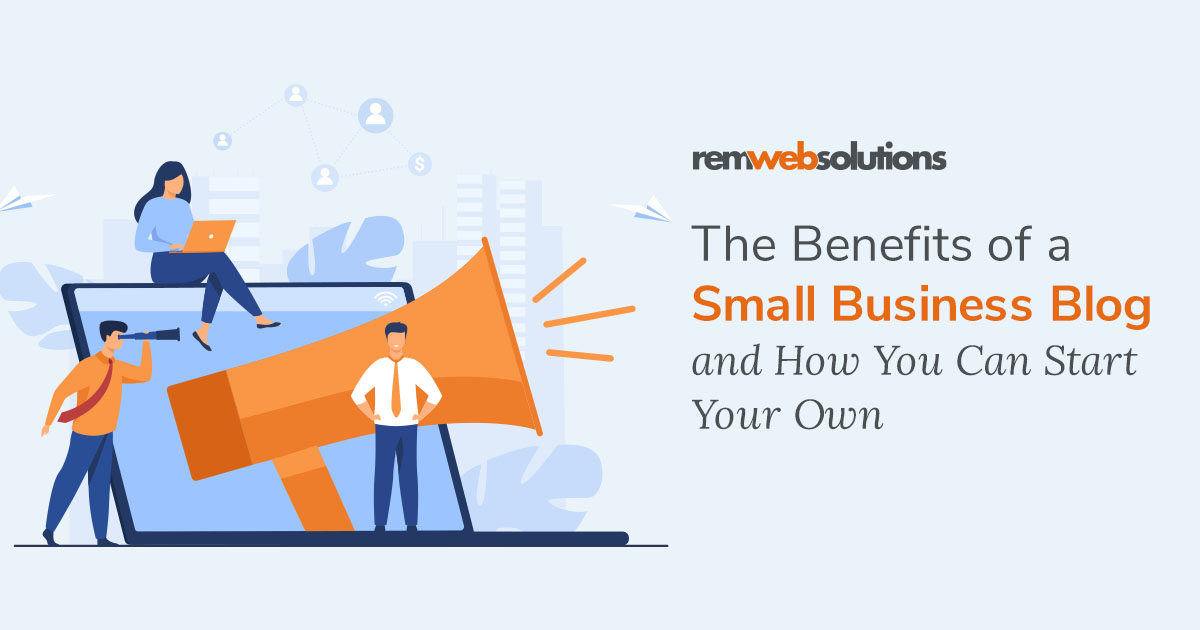 One of the most effective ways you can make your small business stand out and generate client interest is by starting a blog for your company. Although it may seem intimidating at first, starting a blog does not have to be a complicated process.
Business blogging and content marketing are essential for businesses that want to thrive in a digital retailer space. Google has clearly stated that content, especially valuable content updated on a regular basis, is a key criterion to ranking in search pages.
---
Below are some tips and necessary steps to help you start your own business blog. But don't forget that REM offers blog writing services to supplement your own blogging or even blog for you. Each blog is custom written for your company and ghost-written, so you get full ownership of the content.
1. Register a domain
The first step that you should begin with is registering a domain name. To do so, simply visit a domain registrar, type in the domain you want to purchase and pay the required fee. Remember, you won't be able to buy any domain, only one that isn't already registered by another business or person.
If you already have a business website, speak to your designer about adding a blog to your existing site. REM customers have the option to get a blogging module during their initial design or add one later. Speak to one of our sales reps to discuss your options for adding a blog to your custom business website.
2. Select a content management system
There are countless content management systems that you can choose for your blog.
Some popular options include:
WebWiz@rd
REM's own custom CMS system has all the blogging features you might need built right into the module.
Blogger
A free Google product that has been influential in the world of online publishing since it was established in 1999. Blogger is simple, and it can be linked with all your Google accounts.
Ghost
Ghost is a great choice for businesses looking for an intuitive dashboard and built-in SEO features. There is a free version of the platform, Ghost Open-Source, and a monthly subscription option for more advanced features.
Tumblr
Although it's known as a social media website, Tumblr offers a user-friendly interface that's ideal for blog posting. It's a good choice for incorporating trending subjects and memes if you're looking to incorporate a casual tone to your blog, and best of all, it's free to use.
3. Implement an editing tool
Nobody wants to read blog posts that are filled with spelling and grammatical errors. To catch mistakes before they make it onto your site, consider implementing an editing tool. Grammarly is a reliable option, and although there is a paid version of the editing add-on, the free version will likely be enough to cover any common errors that might pop up in your blog.
4. Consider a content calendar
If you're already familiar with social media calendars, then this concept isn't much different. A content calendar for your blog would include blog post ideas, pitches, the timelines for completing each of your posts, and the publishing dates. This will help you stay organized and keep up to date with your posts.
5. Send out an email newsletter
Emails newsletters are an incredibly effective and simple way to get the word out to your current and potential clients about your blog. You can send out a weekly newsletter with updates about recent posts, and a sneak peek into the newest content on your blog. Consider utilizing a platform like Mailchimp to help design, set up, and schedule your newsletter.
WebWiz@rd has a newsletter module which you can add on to your existing site or new custom build. Our talented, in-house, designers can make a gorgeous template and then our Customer Success Team can walk you through how to edit and send them out on a regular basis.
6. Use Google Analytics Dashboard
The Google Analytics Dashboard is a hugely helpful tool in helping you track and review the statistics of your blog posts. You will be able to look at information like the number of people visiting your site, where they're located, and how long they're staying on your web pages.
Speak with our Marketing Director to learn more about digital marketing and monitoring your traffic on your sites.
7. Write engaging content
The key to a successful blog is the content. People will not want to stay and read your posts if they're not written well, and the subject matter isn't engaging. Try to think outside of the box with your topics, and make sure that each post is thoroughly edited.
People will want to stay on your site if they see that your posts are unique, thoughtful, and offer valuable information that they would not be able to receive the same way anywhere else. Standing out in a highly competitive space can be challenging, but if you put the work in to make your content shine, you'll start to see the benefits of prioritizing it–and your customers will be grateful for it.
8. Have a cohesive theme in mind
It's necessary to have a plan of action in mind when creating your blog and to think about the goals you want to achieve in the process. You don't want your blog to be all over the place and inconsistent, so strategize a theme, or at least central points, that you want to regularly incorporate into your posts.
---
Now that you know some of the basic steps, what are the benefits of starting a blog? There are a number of positive reasons you should be bringing your blog to life, but here are some of the ways your business could be benefit from a blog:
1. Leads
Although this is not something that will happen overnight, creating a blog is a great opportunity to generate leads. Each post you make opens the possibility of reaching a potential client, and if your content is well-written, consistent, and reliable, it's more likely you will start accumulating people who rely on your business.
Building trust and authority (read more below) takes time, but it's worth it when trying to establish your business as a trustworthy source.
2. Traffic
Creating blog content is an excellent way to gain more traffic on your site. Generating more content is the key to ranking high on Google. Combining business blogging with social media will increase the amount of search engine results your business receives online, and as a result, boost your website traffic.
3. Authority
Blogging can help establish authority for your business as a strong figure in a competitive industry. By creating an engaging blog with content that demonstrates your thorough knowledge and expertise, more and more people will look to you for advice. Even smaller brands can benefit from providing helpful information to their target audiences.
Once you begin sharing well-written blog posts consistently, customers will rely on your business and go to you for services and assistance. Solve minor problems for your readers, and do it for free, and soon you'll be hired to handle bigger jobs. Show your readers you are a Subject Matter Expert.
4. Make more money
Not only can your blog be the perfect method to reach clients and create more traffic on your site, but you can also earn money from it as well. Monetizing your blog can be an effective way to earn more money for your business.
Some ways you can make money from your blog include:
Affiliate marketing
Affiliate marketing involves showing ads on your site for outside companies. If a visitor clicks on an ad link and makes a purchase, you will earn a commission from that sale e.g., Amazon.
Offering private ad space
Unlike Adsense, you can provide private ad space to other companies, like Nascar sponsorships.
Selling digital products
With little to no cost on physical materials, you can also use your blog to sell digital products. Well-written e-books, for example, can be a lucrative resource to sell.
Adsense ad revenue
Adsense is a popular form of ad revenue for websites. It's important to note that with Adsense, however, you won't receive a lot of additional money unless your website has a large amount of visitor traffic.
5. Highlighting products or services
A blog can serve as a great way to highlight products or services that your business would benefit from promoting. Create blog posts about specific products breaking down their benefits and top-selling points to encourage customers to purchase them.
6. Expanding on your business' values and goals
It's not always completely clear where a business may stand on important issues or what its values and goals are from a website alone. A blog can help expand on these points and provide clarity to your audience about the things your business stands behind.
In a socially conscious world, an increasing number of people care about the ethics of the places they choose to do business with and blogging can be an ideal way to share these viewpoints in detail.
7. Showcasing your knowledge
Blogging gives business owners the opportunity to showcase their knowledge and expertise about a variety of different topics. You want to prove to your customer base and any potential clients that you are knowledgeable about your field and can provide them with the best resources to prove it.
8. Sharing honestly
A blog can be the ideal platform to share posts transparently and honestly. Customers highly value honest companies who are open about their policies, products, and services. Blog posts can serve as a great means to do this and engage with your audience on a more personal, down to earth level that makes them trust you more.
Conclusion:
Creating a business blog is one of the most effective ways to expand the potential of your online presence and stand out in the highly competitive e-commerce space. Take the opportunity to develop a blog that showcases your knowledge with unique and engaging posts and establish yourself as a top competitor in the digital marketplace world.
Use these tips to get your blog started, and you'll quickly see all the benefits business blogging has to offer! If you don't have the time to tackle this on your own, or if you want to write one post a month while we write additional ones for you, speak to an REM sales rep today to get started.