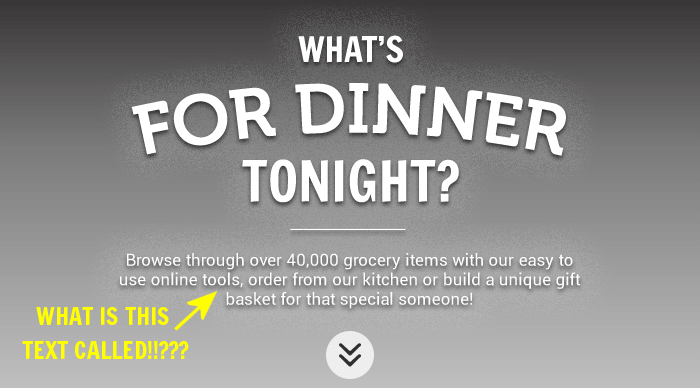 We've just hired another great new employee here at REM HQ and as she was working on one of our projects when she asked me what the name was of the text below the hero text...  Obviously I told her it was the sidekick text.
But hold on... I just searched online and I can't find any of references for the nomenclature anywhere.
Let's change that by establishing some ground rules about the sidekick text/sidekick copy/sidekick headline so that we can all stay on the same page as we talk about web design.
Rule 1: Sidekick text is concise.
Three sentences push the limits of what sidekick text should be.  Each carefully chosen phrase should be diligently pared down to minimalistic proportions, and each sentence should be examined for purpose.  If a sentence has no communicative value, toss it.  If a word has no substance, omit it.  
​Rule 2: Sidekick text is never bombastic.
Leave over-the-top expressions for the hero text.  Sidekick copy grounds the hyperbole with rational explanation and factual context.  It is true that most people gloss over this blurb, but when they zero in, they are often looking for a better understanding of what's going on.  Use sensible language to keep users connected.
​Rule 3: Sidekick text always supports the hero text.
The context of the hero headline can be lost on some readers.  Sidekick text accentuates, describes or otherwise explains what the hero text is trying to say.  It should never be used to take readers in a new direction, and it should never be text that stands on its own.  Heroes and sidekicks work together.  The hero takes the lead, and the sidekick follows in the same direction.
​Rule 4: Sidekick text should always use simple language and structure.
A user will spend less than 2 seconds scanning the general area of the sidekick text.  It is important to use simple language and simple sentences to give users a fighting chance to absorb the message.  Technical jargon, run on sentences and polysyllabic words will impede idea comprehension, and comprehension is the catalyst of the action that site owners require.
There we go.  I've established some communal ground rules related to sidekick text.
Send me your thoughts on the idea using the comment section below.  I always appreciate the feedback.