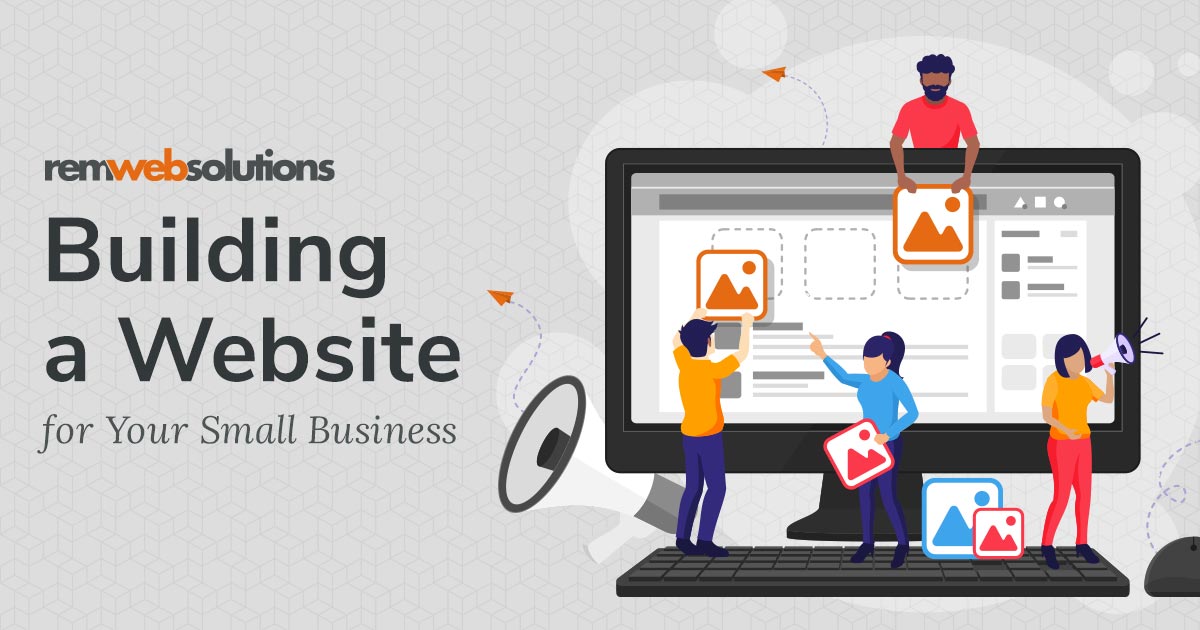 Congratulations starting on your journey as a small business owner! As you navigate the waters and try to stop your head from spinning, we figured it would be a great time to get your feet wet on the steps to building a great website for your small business.
Here at REM Web Solutions, we provide you with everything you need to design, build, and support your website, we have compiled a list of services that we offer to help get you started and some key information to ensuring your website works best for you.
---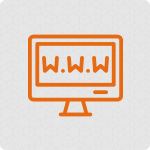 Domain Name
Choosing a great domain name seems easier than you think, however it is critical that your domain name is easy to remember, is relative to your brand and company name and chosen with search engine optimization (SEO) in mind.
Avoid special characters. Typically, your domain name shouldn't have numbers or hyphens in it, word only domain names are easier to remember and have less chance of user error.

Using the correct domain extension is also extremely important. You should always try to make your domain a .com unless it's a .org, .gov, or .edu

Less is best. Having a short and concise domain is easier to remember and far more user friendly. Remember, the odds of you using your domain for email addresses are high – which means less typing for those trying to reach you. When creating marketing material having your website's domain name short will also allow you to design with less noise.

Keep it simple by making it easy to spell without any slang or odd wording.

When deciding what your domain should be, try to keep it nonspecific to your product or service. This gives you the opportunity to continue using it if your company decides to branch out with product/service offerings.

Google it, once you come up with a domain, google it – this allows you to determine if there is a similar website based on the domain. You want to make sure your website and business stands out.

Your domain should be SEO friendly, meaning it should include keywords and locations. A great example would be "kitchenercupcakes.com."
---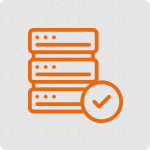 Website Hosting and Support
When choosing the company that is going to host your website, it's incredibly important to know what you're paying for. When you're purchasing your domain, you are effectively in a hosting contract with that specific company. If you build your website on their platform or another platform then you're in a contract with that company. Separating your services could potentially cause you headache in the long run, you want to make sure that your hosting provider can support you all around.
At REM Web Solutions we provide you with everything that you need to get your business' website up and running. I'll break down the services for you:
Domain Management
What does domain management really entail? Well, in the first part of this post we talked about choosing your domain. Once you have chosen something you have to purchase it and register the domain with a Registrar. Most companies that offer domain management, have accounts with these registrars that allow them to register the domain on behalf of a client. At REM Web Solutions, we have accounts with two main registrars, we purchase domains for you, handle the renewals, act as the admin for you so you don't have to worry about updating nameservers.
DNS Hosting
Once you have your domain chosen and registered, the next step is to have your hosting provider set up your DNS hosting. Having the same hosting provider host your DNS is one of the most important decisions you will make. In the event of your site not functioning properly, email not sending, etc., DNS investigation is typically your first plan of action. Your hosting provider should be more than capable to help you manage your DNS settings, and update them when required. At REM Web Solutions, DNS hosting is part of your package when you're a client of ours and we're available to you during our support hours to make sure any update required can be completed for you with ease.
Website Hosting
Having a reputable company host your website is imperative. When you're shopping around for a company to do your website hosting, it's beneficial to you to understand how your website is being hosted. For example, once you've built your site, are backups being made of your data in the event of downtime? How secure is your website on the company's servers? In the event that you need to make fundamental changes to your website is the company ready to meet your needs and potential demands as you grow? Working with a hosting company who can provide you this type of information is imperative. Don't be afraid to ask.
Support
Once you have clearly defined the hosting aspect of the company you're doing business with, be sure to ask them about the amount of support that is available to you. Building/designing a new website is a challenging thing. There may be moments when you're trying to change your website, or have it function in a specific way and you're hitting roadblocks. Having a support team available to you is crucial, especially in the beginning. At REM Web Solutions, our support team is one that we are proud of, we are dedicated to the success of your business. Majority of people aren't designers or developers, so having a team that's willing to advocate for you is half the battle.
---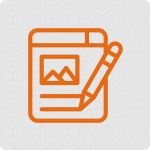 Content Management Systems
As defined by HubSpot, a content management system (CMS) is a software application that allows users to build and manage a website without having to code it from scratch or know how to code at all. For more detailed information on content management systems, I suggest reading this blog. When building your website for your small business it's essential to choose one that works best for you. There are many different ones out there that are designed for different reasons – budget and user-friendly platforms are the first that come to mind. Here at REM, we have built our own custom content management system (WebWiz@rd) that is easy to use, adaptable and comes with a bunch of support to help you navigate it.
---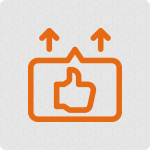 Create an Engaging Website
When designing and building your website you want to make sure that you drive engagement. You want viewers to have a positive impression when they visit your website. Make sure that your brand is clearly captured through the design of the website, this allows your messaging to be well received. In addition, not only should your website clearly describe your products and services, your graphics and fonts should be simple and easy to read. One thing to be cautious on is ensuring your graphics are optimized for fast loading; search engines decrease your ranking if they are slow.
Navigation and Pages
One of the things that makes your website easy to use for viewers and potential customers is having a clearly thought-out navigation. Designing a navigation that allows viewers to find information easily is crucial, your navigation should link to the most important pages on your website, which typically are:
Home

About Us

Products/Services

Management Team

Contact Us

Terms of Use

Site Maps

Privacy Policy
These pages can be linked in your header or footer navigation. If you have other pages that are important to your business, they should be added into your navigation as well. Our design and marketing teams at REM are here to help you create and design your navigation and pages to ensure that you're creating the best content for your site. We'll guide you on best practices to ensure your business is clearly and effectively presented to the rest of the world.
---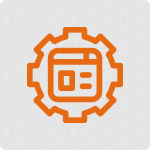 Maintenance
Once your site has been built, it is incredibly important that you create and add new content on a regular basis. Search engines give higher rankings to sites that are continuously updated. One of the best ways to achieve this is by blogging, other options include updating customer testimonials, creating a news section on your website and updating it with pertinent news about your products or services. When updating your website, you want to make sure that you're still using design elements that are consistent with your brand.
---
In Conclusion
When building a website for your small business there are a lot of things to consider. Remember, the key is to have your website work for you. Your website acts as your resume to the rest of the world, potential, and existing clients. Your website should be a tool that you are using to generate business and a significant amount of thought should be put into the process. Bringing all of the pieces of your business together can be quite the daunting task, however, we're here to help you.
If you're not sure where to start or if you want to make changes to your website feel free to contact us!