In the late 19th century we began manipulating the electromagnetic spectrum in order to transfer information across short and long distances. In the beginning all we knew how to do was disrupt the EM spectrum, creating simple audible beeps. Using a combination of long and short disruptions/beeps, a person could convert the pattern into letters and numbers (Morse code).
While the use of this new communication method allowed for people to communicate across long distances, it was really more of a glorified smoke signal. Beeps aren't a very natural communication method. Luckily we figured out how to send audio over the same type of radio signal by making more fine-grained disruptions to the signal.
In the latter half of the 20th century there was need to send even more complex data over radio signals. By making even more complex changes we discovered how to send binary digital information across radio signals.
So how the heck does this all work? Radio signals are part of the electromagnetic spectrum which is essentially light. Now, it isn't the visible light we typically think of. Take a look at this diagram: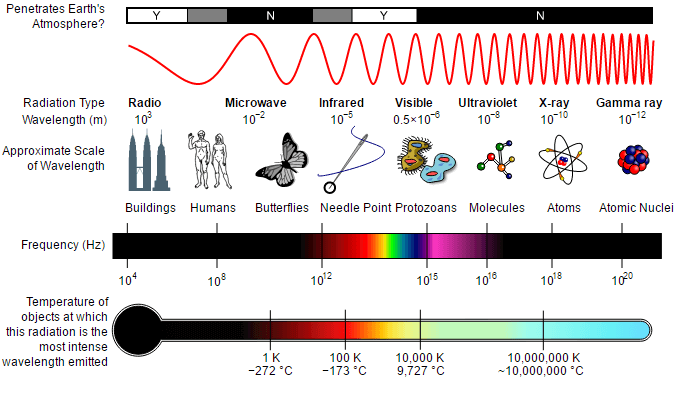 Look at the red line that shows the range of wavelengths that make up the spectrum. Radio signals use longer waves such as 30Hz, as they pass through objects like buildings well and can travel great distances. But wait, why doesn't my wireless router have range much wider than the outside of my house? When I look at the box for my wireless router it says something like 2.4GHz or 5GHz, that's way higher than the frequency used by radio. That is true, and the reason is an issue with bandwidth.... and I'll continue this in my next post, WiFI Part 2.