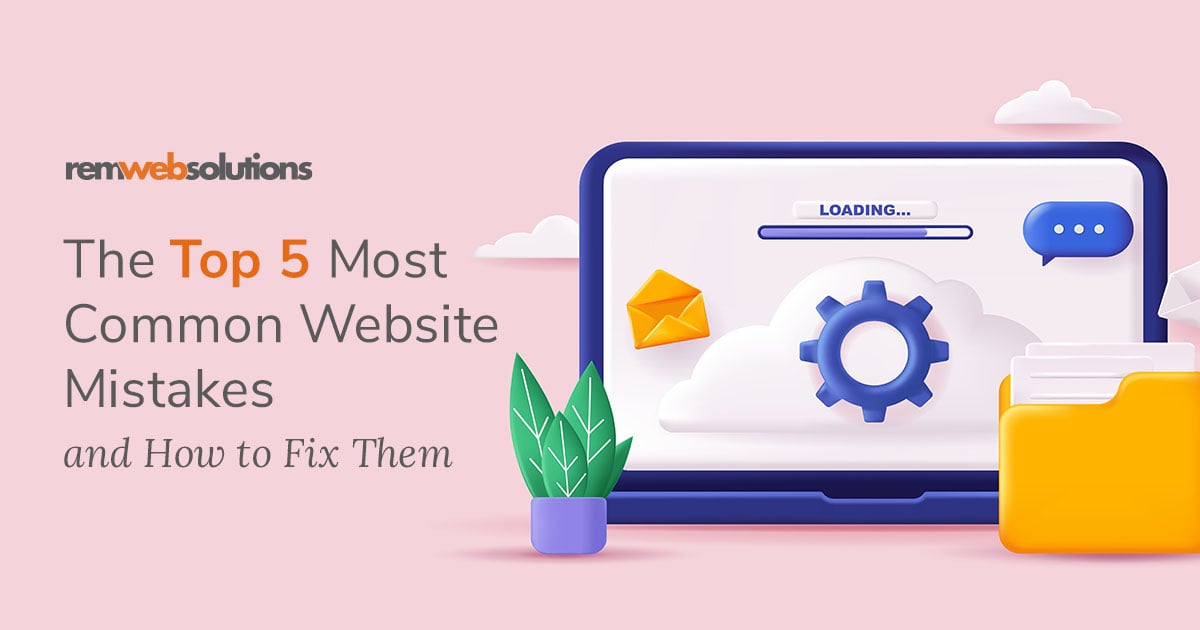 Having a website for your business is a great way to sell online, create brand awareness, draw in new customers, update existing customers, and develop a platform for your business. However, none of these matters if your website is not optimized to gain the most out of your incoming traffic. If people are unable to find pages on your website or it is simply not showing up on Google because you have bad search engine optimization (SEO), then what is the point in having a website.
Well, the good news is that most of the mistakes that people make when it comes to making a website are easily fixable. It is easy to make common mistakes especially if you are an inexperienced web designer. However, they are easy to fix if you know how and where you went wrong.
---
These are the top 5 most common website mistakes and how to fix them.
Outdated Content
The number one most common website mistake people make is having outdated content. Now there is always going to be certain content on your website that will never need to be changed, such as basic information on your home page, the "about us" page, or your contact information. The rest of your website should be getting regular updates.
If you sell products online or simply feature a products page, then it should be regularly updated as your products change. If you post promotions on your website, you don't want someone to visit in April and still see Christmas sales promotions.
How to fix it
Making sure your content is up to date is an easy fix. Simply make sure you are having regular reviews of it. Whether it be weekly, monthly, or bi-monthly it should be reviewed regularly on a schedule. Reviewing it once a year or once every six months is not enough. It should be at least bi-monthly and on a consistent schedule.
On top of that make sure to talk to every department about the website, what new products, promotions, or information needs to be added. This needs to be done for everything on the website every time you review it, that way you are covering everything and won't miss anything that needs to be updated.
Mobile Responsiveness
With the invention of having the internet in your pocket, less and less people are using their computers to surf the web, instead they have switched over to their phones. Because we can so easily access the internet from our phones now, most of our online searches are conducted from it. So, what happens when a website is unable to load or looks bad or is impossible to use on a phone? People ignore it and move on to the next one.
It is extremely common for people to forget to make sure their website is responsive and shows up correctly on most devices. What that means is that it will work and look good no matter what device you use, whether it be a phone, laptop, desktop, or tablet. However, ensuring that people can view your website on their phones will be a major help in generating more traffic and customers.
How to fix it
This can be easily fixed. First, you can choose to go with a web design company that includes device adaptability as part of their services. Here at REM, we want everyone to be able to view your website and that is why we include and encourage you to use device adaptability for your website.
If that is not within your budget or you wish to do it yourself, you can make a few simple changes. Start by removing any large images like banners that won't convert to a mobile device. Next make sure you are using a good font that can be read on a phone. Finally, remove any large headers that are too long or too big and will prevent someone on a mobile device from getting to your content quickly. Also remove any large blocks of text, instead break them up.
Lack of Contact Information
A surprisingly common mistake is forgetting to include your contact information. Or including it in a hard-to-find spot on your website. If you want people to buy from you then you need to have some way for them to contact, you. For example, let's say you are a landscaping company that I am interested in hiring. I am scrolling through your website, and I think your work looks good, so I want to get in contact with you to figure out a quote. However, I can't find your contact information anywhere on your website, so, I give up and go somewhere else. You have now just lost my business because I couldn't get in contact with you. Ensuring that you have your contact information on your website, and it is up to date and easy to find can make or break whether you get business or not.
How to fix it
This is probably the easiest one to fix. All you need to do is figure out your contact information, that would be your company phone number (not your personal one), your company or customer service email address, your office location, and your social media links if you have them. Then find a good location to place them. Anything other than your home page or products page is a bad idea, no one wants to go hunting for information. The best places are at the bottom of your home page or the bottom of your products page. This is where most people will be looking when trying to find it and won't require them to go out of their way for it.
Ineffective Call-to-Actions
A call-to-action is the virtual way to make a sales pitch. If you aren't face to face with a person selling them your product and getting them to buy it, you need some other way to do that. A call-to-action is the best way to do that directly from your website. However, it is all too common for people to leave them out or not know what they are and therefore not include them. Without a call-to-action people have no push getting them to buy from you other than previous customer reviews, but sometimes that isn't enough.
How to fix it
Including call-to-actions can be quite simple and easy once you know what to do. A call-to-action does not need to be over complicated; it can be something very subtle and simple, but it still needs to be somewhat obvious. For example, you could say "for more information or to get a quote call us today at #" or "if you are interested in more content check out our blog page". Placing phrases like that or incentives to purchase because you have a "limited time deal" throughout your website in your content is a great way to get more sales. The best places for call-to-actions are your home page, product, or services page, "about us" page, with your contact information, or your blog page.
No Blog or Outdated Blog
Since the lifestyle, fashion, and make-up blogging era of the early 2000's people have been unsure whether they should include a blog on their website or not, after all who even reads blogs? Well, you would be surprised. Think of it this way, I am looking for information on healthy foods and while searching a blog on a pharmacy's website pops up. So, I click on the link and read the blog because it is from a pharmacist, therefore the information must be good and it's what I am looking for. Later that night I am talking to a friend about healthy eating and recommend the blog, that's another person that is now reading it.
On top of that, tons of people read blogs for various reasons. Such as students doing research, other blog writers looking for information, other businesses, you (because you are reading this one), and so many others for so many different reasons. Blogs are still very much a useful thing to have on a website and can often bring in new customers you wouldn't expect.
How to fix it
You may not be the best writer in the world and therefore find the idea of including a blog a daunting task. However, it doesn't have to be. You can get someone else in your company who is good at writing to do it. Or if you are interested in spending the extra money for good quality work, you could hire a freelance writer, professional full-time writer, or if you work with a web design company such as REM, we offer services like blog writing as part of our digital marketing services. Whatever you chose to go with just make sure that the content is professional, and company related. Once you have your blog page established or if you already had one, make sure you have updated content. The last thing you need is to start a blog page but never post or update it.
---
We hope this information has helped you either avoid these mistakes or correct them. For more websites and small business-related content, check out our other blogs. If you are interested in an update for your website or a new one, we here at REM would be happy to help, so give us a call or email and we can get started.