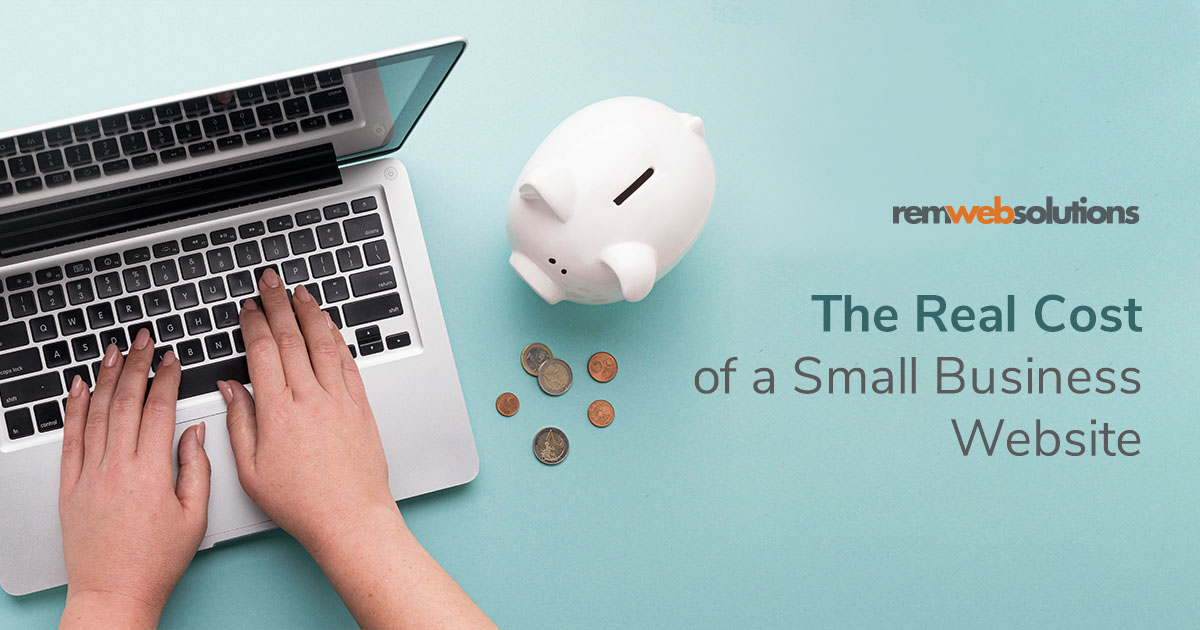 In the age of technology, having a website as a small business is almost essential. Websites help you showcase products, draw in new customers, spread the word about your business and why you do it, share news about upcoming events, and it can help link people to your socials and bring them into your physical store. Websites are often seen as the heart of a company; they link everything together creating one working system or company.
However, what most people don't consider is the hidden costs of website development. How much does it genuinely cost you as a small business to create a website? There are many factors to consider when you think about the cost of a website. What do you need out of your website? Are you making it yourself? Hiring a company? A freelance developer? Are there any additional features outside of the norm that you want to include? And most importantly, how much are you willing to spend? All of these and more can influence how much your website is going to cost.
The Most Common Expense and Features
When it comes to web design there are some basic features and expenses you will need to consider, as most if not all websites have them. The most basic of features are the ones people often forget about most. When it comes to beginning to decide what you want for your website and how big your budget is, keep these main features in mind, as they are the most important and unavoidable. Most of these are often included in a basic package price, however they can also sometimes come at an additional cost depending on what you are looking for.
Template, Themes, and Design Costs
First, when you are designing a website, you need to consider the actual design itself. Whether you are using a pre-made template from a do-it-yourself web design website or having a custom design made by a company, there are going to be costs. If you are using a pre-made template or theme, it can cost you anywhere from $0-$300, it can cost more though depending on how many pages you want. If you are going with a custom website, then it is up to the individual company and may be included in a package cost. It is all up to personal preferences and the costs may vary depending on what you want, how complicated it is, and what company you go with.
This is typically a one-off payment made when you begin the design process. However, it is good to keep in mind that updating your website's design every few years is a good idea, as it allows you to keep up with on-going trends. This can then come with additional costs. However, because it is simply an update to the existing design the cost will be lower.
Ecommerce and Secure Payment Costs
This does not apply to every website, but if you plan on using your website to sell online, then this is an expense you need to consider. When you set up a shop on your website there are additional costs that go into making sure your website is secure and able to process payments. The last thing you want is to have your customer's credit card information stolen because you didn't remember to consider secure payment. Including ecommerce is also generally considered an additional cost because not every website uses it, so it may come at an additional fee, however, make sure to check when looking into different companies. Including ecommerce and secure payment features can range greatly depending on who you are going with to manage it, just make sure it is a reputable company.
Mobile-responsive Website Costs
With everyone using a variety of different devices these days, including laptops, phones, desktops, and tablets, it is highly recommended to ensure your website is responsive. This means that when you switch between devices the website adapts to the new screen size to ensure it works and continues to look nice. Most web design companies will recommend that you include this feature or automatically include it in their basic package. There is no one set fee or cost for this, it is all up to the individual company as it may require them to do more work.
Website Hosting Fees
When you create a website, the website will have what is called a Hosting platform or Hosting server. This server manages your websites files and applications, making it viewable to your customers online. Essentially it ensures that people can see your website and that the website will run correctly. When it comes to hosting platforms, every web design company has a preference of their own. If you are using a pre-made website from a company such as WIX, then they will use their own hosting platform and have control over it. If you go with a custom website from a web design company, then they may use their own or partner with a third party to host your website. However, you need to be careful. If your hosting platform is unsecure, then it can cause security breaches and potentially lead to hacking.
Domain Registration Expenses
The number one feature or expense that people forget about, is domain registration. When you choose or create your website's domain, you will need to register it to ensure no one else is using it and pay a fee. The fee is not very high, but it will need to be renewed annually so you need to include it in your budget.
Content Management System Expenses
Content management and creation is one of the major costs with web design, as it is a continuous cost. When it comes to content creation and management, you have two options. You can either write and create all the content yourself or within your company, or you can outsource it to the company creating your website or an additional freelancer. It is all up to you, however, it is recommended to ensure that you are conducting regular management of your content. As in updating it, checking for any errors, removing old content, etc. There are also website content creation and copywrite fees to consider as well.
Additional Features and Fees
On top of the most common or unavoidable fees and expense of web design, there are also additional features that you can include depending on what you are looking for. These additional features, however, will also come at an additional cost, that however, is dependent on the company you choose to go with. These features can include:
Search engine optimization (SEO)

Website security and SSL certificates

Website analytics and tracking expenses

Integrating social media on your website

Website loading speed optimization

User experience (UX) design expenses
There are countless other features as well that you can include, it is simply all up to you and what company you go with offers.
DIY V.S. Professional Website Design
Now that you know the basic features you need to keep in mind, and maybe even some extras, you need to consider whether you are going to DIY your website or hire an outside company to do it for you. There are pros and cons to both options, but in the end it all comes down to what you think is best for your company.
Affordable Web Design Services
If you are creating your website yourself, you may decide to go with an affordable web design service, such as WIX or Squarespace. These can be great options, as they are often very affordable and easy to use. However, they lack the ability to be individual. Because you are purely working off pre-made templates and features, you lose the ability to create a unique website that stands out from the rest. You also become reliant on a very large company to fix your problems if they arise, which can be a headache.
The other problem is the site will be proprietary and you will most likely have to abandon the site if the company ceases operations or if you want to change designers. However, it may be what works best for you.
Choosing the Right Website Design Agency
If you decide to go with a custom website, you can go through a freelancer or specialized company, such as REM. Custom websites can be a lot more money and can often take more time as you will need to be in contact with the company, giving feedback and providing them with important information to include. However, they are a lot more customizable. You can have whatever design you want. Include as many or as little features as you want. And if something goes wrong or you need help, they are there to help you, quickly and easily.
Most companies generally also allow you to continue updating and managing your content through them for a yearly or monthly fee. This can also make the process easier. Not everyone is versed in how to make a website, nor do they have someone within their company to do it for them. By hiring outside, professional help, you are ensuring that your website will look good, work, and be optimized for the customer experience.
---
We hope this was helpful for you when considering what you want out of your small business website. For more website and small business content, check out the rest of our blog page.
If you are interested in creating a custom website, call us, email us, or come into our office today and we can get you started.