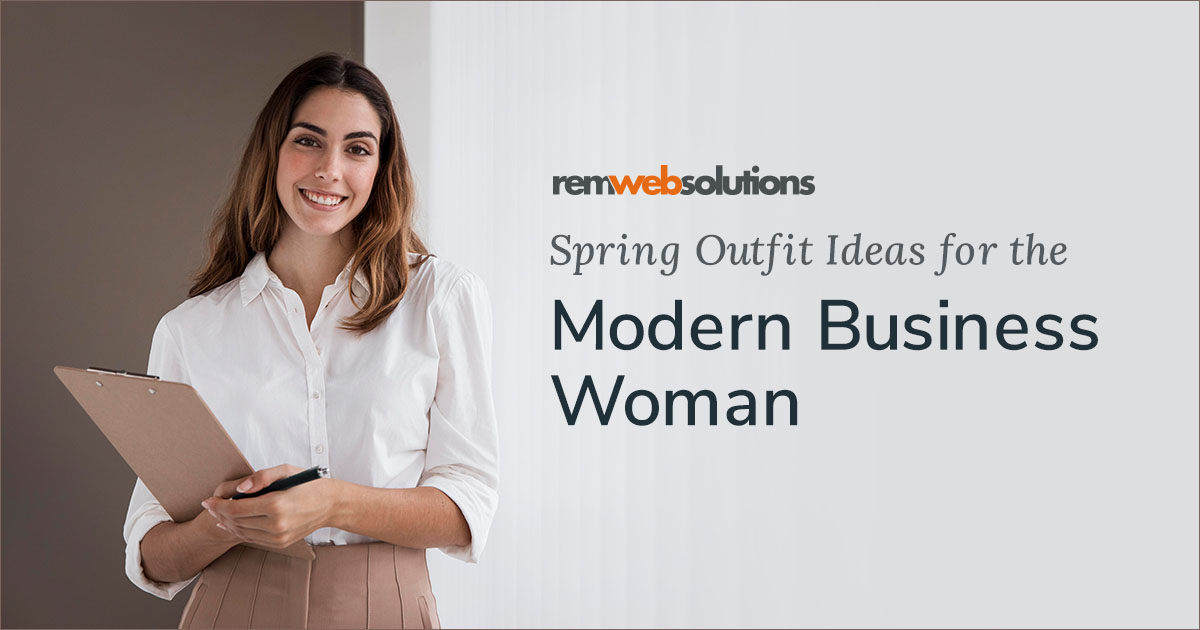 With spring right around the corner, it's time to freshen up your wardrobe and step into a new season with style.
Your workwear should evolve as you move from winter into spring – you want to keep up-to-date with current fashion trends and adapt to the warmer weather while still staying fashionable.
The pandemic has shifted the way many of us approach workwear styling. As we changeover from the matching loungewear sets we've been living in while working from home into more work-appropriate and professional business wear, it's important to keep some styling tips in mind.
Even if you're still not going into the office every single day, that doesn't mean you can't look stylish and professional for your Zoom meetings and video conferences.
Transition your business attire into spring with these fresh looks and styles.
---
Here are some tips and tricks to get you started:
1. Load up on layers
Layering your business looks is essential for spring, especially if you're going to work in-person and need to travel to get there. Choosing water-wicking materials, carrying a change of shoes in your work bag, and opting for trench coats, light jackets, and loose sweaters (that you can take off and put back on when the temperature fluctuates) can make a world of difference when navigating the unpredictable spring season weather.
2. Take opportunities to dress-up and wear clothes you feel good in
After navigating a pandemic for nearly three years, it's long overdue for many of us to shift back into more formal and chic outfits for work. Spring can be a great time for new beginnings and opportunities – which can include diversifying your weekly fashion picks. Pull out your dresses, iron your skirts, and dust off your heels. Putting time and care into the outfits you choose for work and adding that little bit of extra effort into your clothing choices can not only boost your confidence, but your productivity as well. A win for you and your workplace.
3. Incorporate conventional classics into your wardrobe
While you don't necessarily need to build a capsule wardrobe in order to remain both practical and fashionable, it is worthwhile to invest in some conventional classics that won't go out of style. Some worthwhile staples to include in your spring wardrobe:
4. Learn how to subtly accessorize
You don't need to go overboard with accessories in order to properly pull and outfit together. Now that it's spring, it's your chance to accessorize without heavy winter-wear getting in the way. Minimalist, chunky (but not too chunky) gold hoops are perfect for styling with basically any outfit while remaining professional and not overdone. Go for jewelry staples that aren't ostentatious or distracting, like gold or silver bangles and cuff bracelets, and earrings with a hint of colour to pull your outfit together. Finding the perfect timeless watch to wear with your every day work look or investing in sophisticated bands for your smart watch can make you appear more put-together.
Spring brings more rain, but hopefully more sun along with it. Going to and from the office means adapting to the changing weather, so it's important that you're properly accessorized. Look for a practical, yet versatile umbrella to protect yourself from those April showers, and classic black sunglasses for brighter workdays.
Brands everywhere have embraced and integrated face masks into their clothing collections. With so many different options now, look into colour-cooridinating your mask with your outfit.
Your spring workbag doesn't have to sacrifice style for functionality or vice versa. Cross-body belt bags have seen a huge rise in popularity this year. They're practical, understated, and perfect for on-the-go travel. Over the shoulder, durable bags that are just the right size for all of your office essentials are also a subtle way to introduce colour into your outfits.
5. Don't be afraid to add pops of colour
You don't need to go over-the-top in order to add some colour to your spring wardrobe. Spring can be a time to bring out softer, subtle pastels and bolder pieces that don't suit the autumn and winter months.
If you're feeling more adventurous, but still want to remain professional, learn about colour blocking. Colouring blocking can be a fun and flattering way to dress if you find what palettes and tones work best for you. 
6. Keep it fresh and profesh' – virtually
Many of us have fallen into fashion slumps during the pandemic. But with spring on the horizon, you can start integrating small changes into your everyday workwear that can go a long way. Even if you're working from your home office, you can still present professional and stylish looks that will make the coworkers on your conference calls envious of your outfit choices.
Chic and sensible blue light glasses to not only protect your eyes from staring at a screen all day but to pull your outfit together, are a small, yet noticeable way to elevate your look. Styling your hair in a sleek bun with an oversized scrunchie, choosing collared blouses with light detailing that are noticeable but not distracting, and matching sets that aren't too casual, are all great options for working from home that aren't unprofessional.
7. Stay up-to-date with trends and build your own style inspiration
You can choose timeless pieces for your spring wardrobe while also dressing to fit current fashion trends. Turn to Pinterest, TikTok, and fashion websites to follow what looks are in style and discover what suits you best. 
8. Refresh your wardrobe 
It's very likely that many of us who are returning to work in-person have neglected to update their current wardrobes since the beginning of the pandemic. There are likely clothing pieces that no longer fit you properly, aren't in style, you don't like or they're simply worn out that you could donate or get rid of. Spring is the perfect time to refresh and clean out your wardrobe so you can make note of what clothes you're in need of and rediscover the pieces you haven't worn in ages.
9. Know how to properly dress for a "business casual" environment
It can be tricky to navigate the realm of business casual attire. It's important to have some understanding of what your workplace expects in terms of a dress code. Some offices may be more relaxed in terms of their standards for dressing, and for example, be comfortable with employees wearing jeans on Fridays. Others may have stricter standards.
Knits, ankle pants, chiffon blouses, blazers over t-shirts, are all examples of business casual outfit possibilities. Looking towards options that could be easily dressed-up or dressed-down with minor changes like adding or removing a blazer, are a good place to start.
10. Find the right footwear
Going from slippers and socks to heels and boots can feel a bit daunting, but we have you covered.
Opt for wet-weather footwear to go to and from work. You don't have to choose between functionality and fashionability when you're choosing water-resistant shoes. Chelsea boots are understated and can match with practically any outfit, while keeping your feet dry.
Loafers and clogs are other trendy footwear choices that are perfect for an office look while remaining practical and comfortable for spring.
If you're looking to make your outfit more chic and formal, pull out a pair of strappy heels.
---
Your post-pandemic, return-to-work spring wardrobe doesn't need to be overly high-maintenance and complicated. Stick to the basics, add pops of colour, and shift into spring with a sophisticated business style.