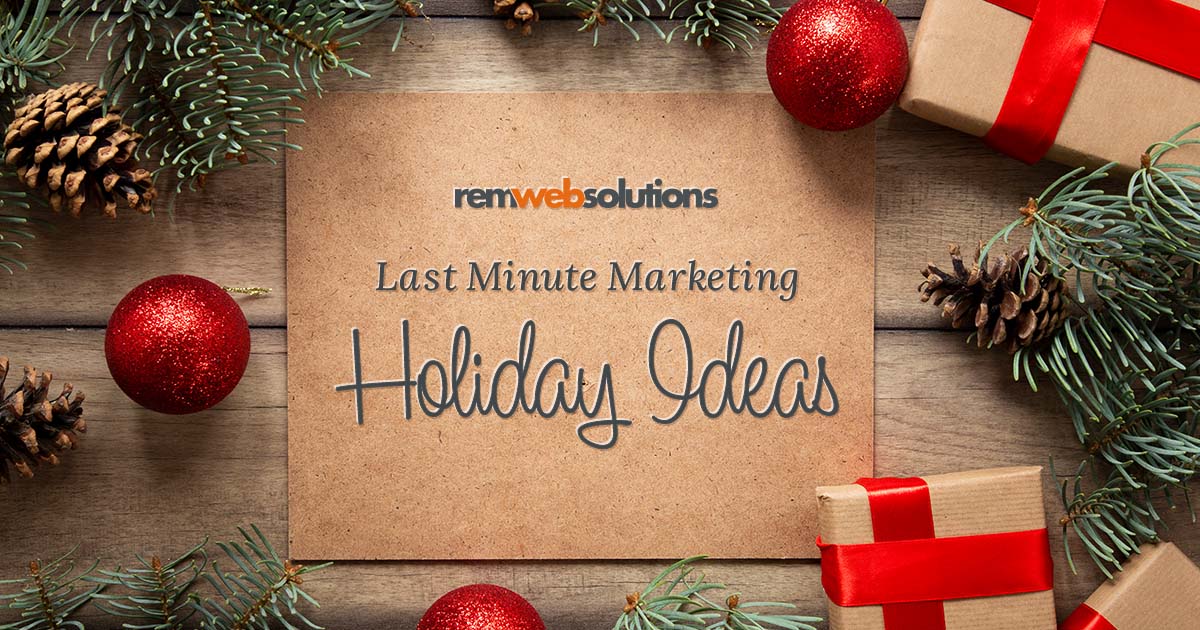 Common knowledge says that you're marketing for the Christmas holiday season should really have begun months and months ago, back in August or September. However, sometimes you don't have the time or get too busy and end up needing some last-minute holiday marketing ideas that you can put into place quickly and with relative ease.
The good thing is that surveys show that approximately 43% of shoppers make their final purchase decisions in the last three days before Christmas (Shopify survey in 2020). We've put together some ideas that you can put into place or ask your REM Sales Rep for how we can help implement these marketing ideas for your company.
Email Marketing
Do you have a list of email contacts already setup for your customers? Are you already sending out regular email newsletters? If your answer is yes, then send them some email marketing!
Emails are easy to create and fast to send out, just theme them around the holidays.
Emails are a great way to offer specials or discounts to your existing leads – e.g., Create a daily email campaign with a different discount or offer each days themed around 'the 12 days of Christmas'.
If you're worried about it being too late, you can use email marketing to lay the groundwork for post-Christmas sales like boxing day, or even specials in the New Year.
Support a Non-Profit
Connect with a local charity that aligns with your company values and show them some love over the holiday season.
Start a fundraiser or campaign to give back to your local community.
Supporting a charity is a great way to show you are involved. E.g., You could contact your local Food Bank and setup a collection drive with your customers dropping off food at your retail location.
Try a Buy and Share program where you donate something to a charity each time someone makes a purchase from you. My personal favourite is the company that I purchase my dog leashes from. When I place an order, they donate an identical leash to an animal shelter.
Run Targeted Holiday Ads
Google AdWords are a very cost-effective way to be seen in search results.
It's not too late to get an AdWords campaign up and running. In fact, REM can have your campaign started with 2 business days!
Make sure you theme your ads around the holidays: Offer discounts or sale prices to thousands of Google searchers, but only pay for the ones that click your ad.
Use retargeting ads to remind people who have already been to your site to come back and complete the purchase.
Spoil Your Existing Customers
Businesses get obsessed with acquiring new customers doing the holiday season and often forget to reward their existing clientele. Show your existing customers some love! They've supported you all year long.
How about a customer appreciation gift for the holidays? Just make sure it's something they will enjoy and use.
Send out a holiday card. Wishing existing clients, a safe and happy holiday season is an easy way to stay top-of-mind.
Offer existing clients a special reward/offer for making purchases during the holidays. If you really want to leverage this tip, make the reward redeemable on a future purchase in January or February.
Host a Holiday Contest
Contests can be a fun way to boost engagement and sales. There are a lot of contests being run during the holiday seasons, so make sure you find ways to make yours unique and that it resonates with your clients.
Give away a product or gift card and feature the winning customer on your website.
Have an ugly sweater contest and get clients to send in pictures on a social media channel.
Gather user-generated content by asking clients to 'Tell us your favourite Christmas memory'.
Make sure you set a clear goal and entice the audience with a desirable prize. Check any local/provincial laws regarding your contest and include all the rules on your site.
Create a Holiday Version of Your Logo
Get in touch with your designer and have them add some festive flair to your company logo.
Add some holly or berries, maybe some Christmas lights?
Let your logo show a little bit of your holiday fun side and your personality.
Use the logo in your email signature, on your website, on your social media channels.
Decorate Your Social Media Channels
Speaking of social media channels, the holidays are a great time to sprinkle some fun and update your social media graphics.
Share holiday themed graphics on your social channel.
Update profile pics, add put up your new holiday logo version.
Try to show your own products or services in a holiday setting
E.g., if you're a baker, show your pies or cakes on a table set for the holidays. If you sell a product, show people opening it around the tree.
Remember to keep it tasteful and try to follow your branding.
Shoot a Holiday Themed Video Campaign
Video can be created and posted quickly, and it's engaging and easily shared on social media.
Use your video to describe a product or service that you are promoting.
Give a behind the scenes look at your business. Take the camera a do a 'day in the life of' video for one of your staff.
Take one of your most popular blog topics and transform it into a video.
Just make sure the video has a festive or holiday theme. Choose music and graphics that match.
Redesign Your Website
Need a great web design company to help with this one? We happen to know an amazing design team.
Add holiday and festive elements to your website.
Can be as simple as some snow in your website footer or header or some Christmas lights in your banner.
Again, just keep it tasteful and in keeping with your brand. Also, keep an eye on the page load speed; there's no point in adding graphics if it makes the page too slow to load.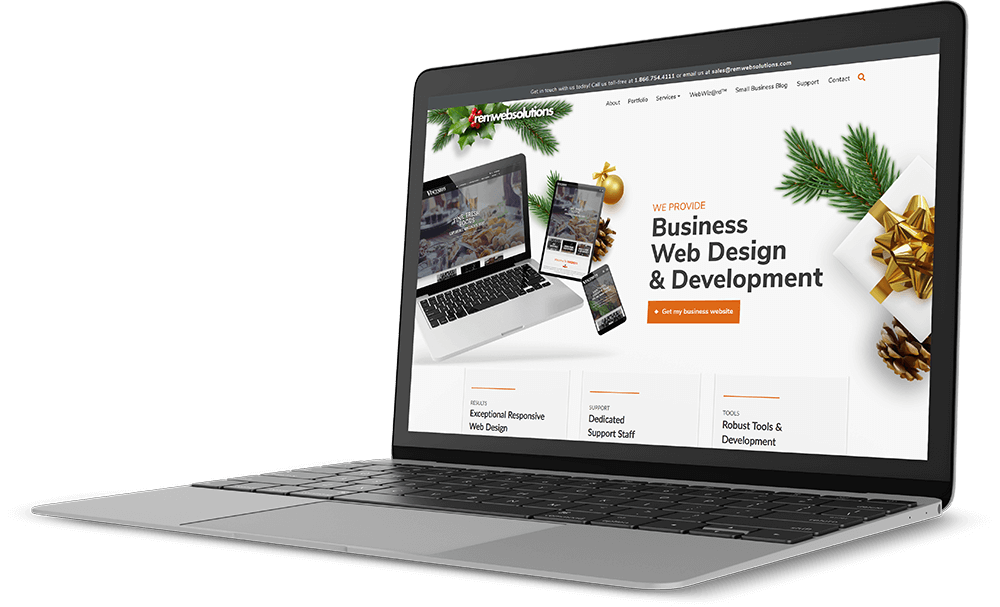 Get started on your amazing new website design today!
Check out our Holiday-Themed Home Page
Festive Blog Posts
Everyone knows that content is king in the world of Search Engine Optimisation. You should already be blogging, but how about throwing out a few holidays themed blogs?
Offer expert advice or guides and tutorials on various holiday related topics.
Holiday gift ideas, recipes, or a listicle (an article based on a lists).
Share these posts on your social media as well.
Do Some Live Video
If you've got the time, your clients will love a chance to see what you are up to during the holidays. It helps if you've already been doing this to build up a viewership, but it also doesn't hurt to start now if you haven't.
Try doing some live video on Periscope or Facebook Live.
Do a 'day in the life of' video and follow one of your staff around, just remember it's live so be careful of language and what you show in the background.
Do an in-depth interview with a staff member or member of the local community.
How about an unboxing of your product, showing how to assemble it for Christmas morning?
Prepare for Increased Communications
So, we've been having a lot of fun, but we also have some more serious items you should be working on. The holiday season means an increase in sales and traffic, but it can also be a burden on small businesses. Help yourself and your staff out by doing the following:
As early as possible, state a clear refund/exchange policy on your website and social media channels.
List delivery times and deadlines for orders and clearly state your hours on Christmas eve, Christmas Day, etc.
Make an FAQ available to handle common requests on your website and your social media.
Have a system in place to handle requests and concerns over social media and other channels. Make sure someone is monitoring all of your communication channels and is able to respond. The last thing you want is a bad review or upset customer to get ignored during the rush.
Take Time to Check Out the Competition
One last serious item before we go. This is the time of year that you should have a very close eye on your industry and your competition.
What are the leaders in your industry doing? Don't have time to copy it this year? Save the info so you can get an early start next year (put it in your calendar now).
Look at your competitors. What digital channels are they using? If they have ads running, save a copy of the wording etc. Remember to look at your successful competitors and their holiday campaigns, you won't have time for everything.
What creative ideas are they using? Save all of these for inspiration next year.
We hope you found this guide helpful. If you take anything away from this post, remember that it's never too late to do a little holiday marketing and that REM can help you get it done professionally and at a reasonable cost.