As a side project here at REM, we made an interactive Holiday card to show to our customers, family and friends as thanks. It turned out really great and I'm very proud of it!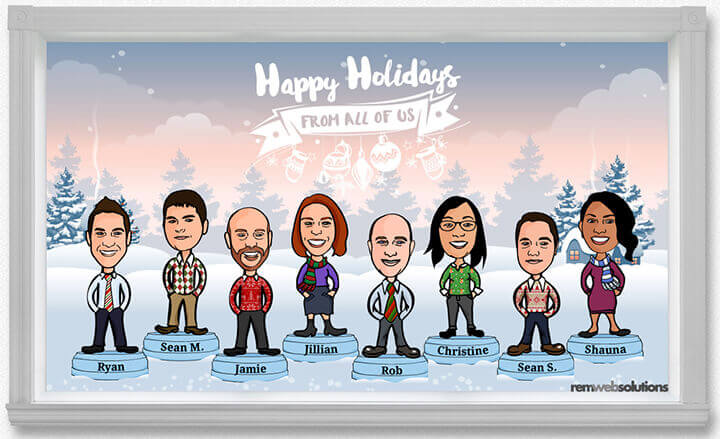 Here's what the Holiday Card looks like.
It was a very fun project because it was five of us working as a team to make it work and look great. For my part I drew my coworkers and I as bobble-head characters. Here's the basic idea of how I did it; I will use my own caricature as an example:
 

Step 1: The body

 

First, I drew the body using a drawing tablet on Photoshop. I used dark, thick lines so that I could convert the drawing into vector shapes in Illustrator. Once it's converted, I scaled it to the right size and coloured it in.

 

I had to draw the body separate from the head so that the developers could use them as individual pieces to make the head bobbling effect.

 

Step 2: The head

 

The next step is drawing the head. In order to make sure that it resembled the person as closely as possible, I used a staff photo of the person and traced its basic shapes in Illustrator. It had to be a photo where they were facing straight ahead, so that it matched the angle of the body. Then I coloured it in based on the skin-tones I used for the body.

 

Step 3: The pedestal and final touches


Once I had the body and head together and in the correct, cartoonish proportions, I drew a pedestal with people's names underneath. Finally, to give it some more detail we've added shading, and holiday apparel such as scarves, ugly Christmas sweaters and Christmas ties.

 

If you look closely, you might notice that there's a reindeer pattern on my sweater.