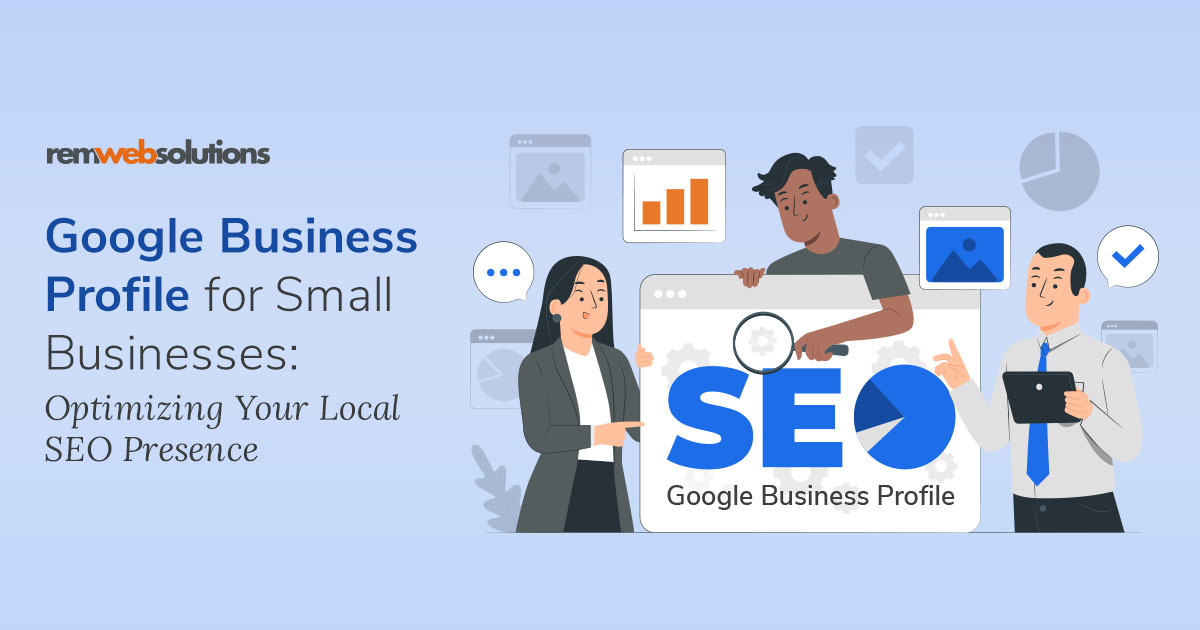 Owning and operating a small business has many fulfilling aspects ­— connecting with your customers in a meaningful way, being able to keep a finger on the pulse of everyday activity and providing a personalized product or service. That being said, if you're looking to grow and scale your business, taking advantage of digital tools such as Google Business Profile can help you optimize your local SEO presence and appeal to a larger pool of prospective customers.
In today's digital age, having a strong online presence is crucial for the success of small businesses. Google Business Profile allows business owners to utilize Google's power as the most popular search engine to broaden their local reach.
This powerful tool not only allows you to create and manage your business listing but also plays a significant role in improving your local SEO performance.
In this blog post, we will explore the importance of Google Business Profile and provide an overview of key terms that will help you optimize your local SEO presence. By understanding these concepts and implementing effective strategies, you can enhance your online visibility, attract local customers, and gain a competitive edge in the digital marketplace.
---
Let's dive in and explore how Google Business Profile can benefit your small business.
Google Business Profile Insights – How Does It Work?
Google Business Profile Insights is a powerful analytics tool provided by Google that offers valuable data and metrics about your business listing's performance on Google Search and Google Maps. It provides you with key insights into how customers are finding your business, interacting with your listing, and engaging with your brand.
Why is this a tool worth your time? By analyzing this data, you can gain a deeper understanding of your target audience and make informed decisions to optimize your local SEO presence.
Accessing your Google Business Profile Insights is simple.
Log in to your Google Business Profile account and navigate to the "Insights" section. Here, you'll find a wealth of data presented in an easy-to-understand format. The insights are categorized into different sections, including visibility, engagement, and audience.
In the visibility section, you'll discover how customers discovered your business listing, whether through direct searches, discovery searches, or through Google Maps.
Engagement insights provide valuable information on how customers interacted with your listing, such as the number of clicks, calls, and website visits.
The audience section provides demographic information about your audience, including age, gender, and location.
Interpreting the insights data requires a holistic approach. Look for patterns and trends in the data over time. Identify which areas are performing well and which need improvement. For example, if you notice that a significant number of customers are discovering your business through direct searches, it indicates a strong brand presence. On the other hand, if engagement metrics are low, you might need to optimize your listing to encourage more interactions.
---
Understanding Local Presence in Google Search Results
Local presence refers to the visibility and prominence of a business in local search results on Google. When users search for products or services with local intent, such as "restaurants near me" or "plumbers in [city name]," Google provides the most relevant and geographically appropriate results. Local presence ensures that your business appears in these relevant local search results, increasing the chances of attracting local customers.
Google utilizes various factors to determine local relevance and presents results on its search engine results page (SERP) accordingly. Several key factors influence local search rankings. They include:
Google Business Profile Listing: A well-optimized and up-to-date Google Business Profile listing is vital. This includes accurate business information, proper categorization, and a compelling description.
Relevance: Google assesses the relevance of a business to a particular search query. It considers factors such as matching keywords, category selection, and content relevance across your website, Google Business Profile listing, and online citations.
Distance: Proximity between the searcher and the business location is a crucial factor. Google considers the physical distance of the business from the searcher's location or the location specified in the search query.
Prominence: The prominence and reputation of a business play a role in local search rankings. Factors such as the number and quality of customer reviews, online ratings, backlinks, and citations from authoritative sources contribute to prominence.
Website Quality and SEO: The overall quality, relevance, and optimization of your website also influence local search rankings. Factors like mobile-friendliness, page load speed, structured data markup, and relevant content contribute to a better ranking.
---
Enhance Your Local Presence in Google Search Results
To enhance your local presence in Google search results, consider implementing the following strategies:
Optimize Google Business Profile: Create a complete and accurate Google Business Profile listing. Ensure that your business information is consistent across all platforms, select relevant categories, and regularly update your listing with photos, posts, and offers.
Localize Your Website: Optimize your website for local SEO by incorporating location-specific keywords, creating location-based landing pages, and including your NAP (Name, Address, Phone) information on every page.
Online Reviews and Reputation Management: Encourage customers to leave reviews on your Google Business Profile listing. Monitor and respond to reviews promptly, addressing both positive and negative feedback. A positive online reputation enhances your local presence.
Local Citations and Directory Listings: Ensure consistent NAP information across online directories, industry-specific listings, and citation sources. This helps Google associate your business with specific locations and improves local relevance.
Content Localization: Create high-quality, locally-focused content on your website and blog. Incorporate local keywords, showcase local events or partnerships, and highlight your involvement in the local community.
Earn Backlinks: Build relationships with local influencers, bloggers, and community organizations to earn backlinks to your website. Quality backlinks from local sources help establish credibility and enhance local search rankings.
Remember that local SEO is an ongoing process, and consistency is key. Regularly monitor your performance, adapt your strategies based on insights and algorithm updates, and continue to provide excellent products or services to your local customers. By focusing on local presence in Google search, you can effectively target and attract customers in your area.
---
Optimizing NAP Consistency for Better Local SEO Performance
Maintaining consistent NAP information across all online listings is crucial for better local SEO performance. Inconsistent or inaccurate NAP information can confuse search engines and customers, leading to a loss of trust and lower search rankings. To optimize NAP consistency:
Audit Existing Listings: Conduct a thorough audit of your current online listings. Identify any inconsistencies or outdated information that needs to be corrected.
Standardize Format: Use a standardized format for your business name, address, and phone number across all listings. Avoid using abbreviations, variations, or alternate phone numbers.
Update Citations and Directories: Ensure that your NAP information is consistent across online directories, review sites, social media platforms, and other citation sources. Update or claim your listings to make necessary corrections.
Monitor and Correct Inconsistencies: Regularly monitor your listings and correct any inconsistencies or inaccuracies as soon as possible. Utilize automated tools or services that can help identify and manage your online citations.
---
Local Marketing and Customer Engagement
Local marketing refers to the strategies and tactics businesses use to promote their products or services to a specific local audience. It focuses on targeting customers within a specific geographical area, typically within a certain radius around the business location. Some key local marketing techniques include:
Location-Based Targeting: Utilizing location-based advertising platforms and tools to target customers within a specific area through online ads, social media campaigns, or geotargeted search ads.
Community Involvement: Engaging with the local community through sponsorships, partnerships, and participation in local events, fundraisers, or charity initiatives. This helps build brand awareness and establishes a positive reputation.
Local SEO: Optimizing your website and online presence to rank higher in local search results. This includes using location-based keywords, creating location-specific landing pages, and building citations and backlinks from local sources.
Local Content Marketing: Creating and promoting content that is relevant to the local audience. This can include blog posts, videos, or social media content that highlights local events, news, or customer stories.
---
Engaging with Local Customers and Managing Customer Reviews
Engaging with local customers and managing customer reviews is crucial for building a strong local reputation and fostering customer loyalty. It has several benefits, including:
Trust and Credibility: Engaging with customers and responding to their inquiries or feedback demonstrates that you value their opinions and are committed to providing excellent service. This builds trust and credibility for your business in the local community.
Positive Online Reputation: Actively managing customer reviews allows you to address any negative feedback promptly and professionally. By resolving issues and showcasing exceptional customer service, you can enhance your online reputation and attract more customers.
Word-of-Mouth Marketing: Satisfied customers who have positive experiences are more likely to recommend your business to others. By engaging with them and providing excellent service, you increase the chances of generating positive word-of-mouth referrals.
Competitive Advantage: Local businesses that actively engage with customers and manage their online reputation stand out from competitors. By leveraging platforms like Google Business Profile for customer engagement, you can gain a competitive edge in the local market.
Remember to respond to customer reviews in a timely manner, whether they are positive or negative. Express gratitude for positive reviews and address any concerns or issues raised in negative reviews professionally and constructively. By actively engaging with local customers and managing their reviews, you can foster a positive brand image, build strong relationships, and attract more local customers to your business.
---
Leveraging Online Business Directories
Online business directories play a significant role in local SEO by providing businesses with additional online visibility and increasing their chances of appearing in local search results. These directories act as online platforms that list businesses in specific categories and locations, making it easier for potential customers to find relevant products or services in their area. Search engines often consider information from these directories when determining local search rankings, making them an essential part of a local SEO strategy.
To effectively list businesses in relevant online directories, consider the following strategies:
Research and Identify Relevant Directories: Start by researching and identifying online directories that are specific to your industry or location. Focus on directories that are popular and trusted by your target audience.
Optimize Business Information: When listing your business, ensure that you provide accurate and consistent NAP (Name, Address, Phone) information. Optimize your business description by including relevant keywords and highlighting unique selling points.
Choose the Right Categories: Select the most appropriate categories for your business listing within each directory. This helps ensure that your business appears in relevant search results and increases its visibility to potential customers.
Include High-Quality Visuals: Enhance your listing by including high-quality images that showcase your products, services, or premises. Visuals can attract attention and make your listing more appealing to potential customers.
Monitor and Update Listings: Regularly monitor your listings in online directories to ensure the - information remains accurate and up to date. Update any changes to your business details promptly to maintain consistency across all directories.
Owning and operating a small business requires you to juggle many tasks, often dream big and execute said dreams at the same time. As a business owner, you have plenty to do in your day to day. Leverage digital tools like Google Business Profile to do some of the heavy lifting for you while you focus on providing your customers with the attention and care they deserve.
If you're unsure on where to get started, reach out to our Digital Marketing team at REM Web Solutions and let's figure out a way to optimize your Google Business Profile page to reach more local prospective customers.