Featured Client
- Crieff Hills -
Retreat and Conference Centre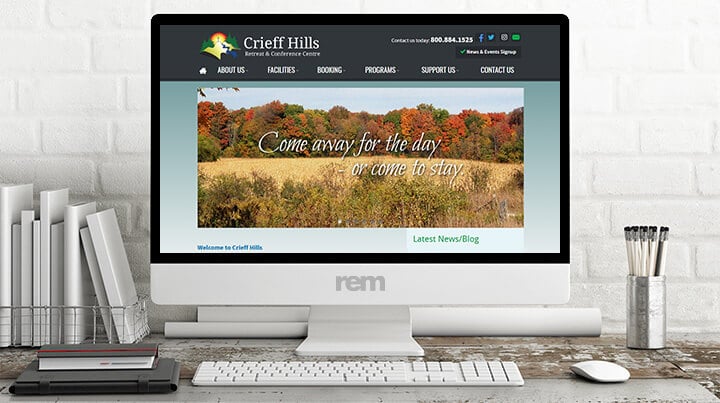 About
Crieff Hills Retreat and Conference Centre is a registered charitable organization committed to providing our guests – "a place apart . . . to come together".  The 250-acre site caters primarily to adult, youth, family and small business groups.  Crieff Hills is located below Highway 401, directly south of Guelph.  Our 160-bed facility includes Lodges featuring semi-private rooms with a 3 piece bath.  When staying in the Lodges,  guests take their meals in our 1874 School House Dining Room.   Our Retreat Houses are mostly century homes sleeping up to 24 people in bunk bed style accommodation with shared washrooms.  Each Retreat House has a fully equipped kitchen as well as a meeting area serving those staying there.   The Lodge and Retreat House facilities are ideal for most groups and are well used for special events such as reunions.
Our newest addition is The Pines which contains 570 square foot suites each with a full kitchen.  These suites are situated in a quiet area of the property and serve the needs of those who wish to come apart from their world for a quiet restorative time.  "a place apart . . . to restore your spirit"
Meeting space for overnight guests and day meetings is in our Conference Hall as well as in other small meeting areas.  Dining in Maclean Hall is available for up to 100 people.
The variety of our programs reflects our passion to present Crieff Hills Retreat and Conference Centre as an eco-friendly place apart for spiritual renewal and leadership development.  We welcome individuals, families, congregations, businesses, schools and agencies to enjoy God's creation.
Crieff Hills Main Contact Person: Lawrence Pentelow, Managing Director
Contact Lawrence at:    [email protected]   or   800-884-1525
| | | |
| --- | --- | --- |
| No. of Employees: 15 | Established: 1975 | Location: Puslinch, ON |
Visit Crieff Hills Retreat and Conference Centre website
Q:

Why did you choose REM?

 

A:

In August of 2008, we launched a capital campaign to build The Pines suites.  It was clear that we needed a professional presentation web presence for our organization.  We were looking for a solid and friendly company that would work with us, not just for us.   The [email protected] was critical for us to collaborate in the development and provide the tools to maintain the site.  Every bit as important of course was the ability for our staff to work with and receive the support of REM staff.
Q:

What was it like working with REM?

 

A:

The REM resources that assisted us in 2008 and who work with us today are without exception, friendly, easy to access, professional and eager to train and transfer knowledge to us and allow us a high level of independence for everyday work.
REM has proved to be the right choice for us.
- Lawrence Pentelow, Managing Director
---
Learn first-hand how we can help you with your website needs.
Contact us today!