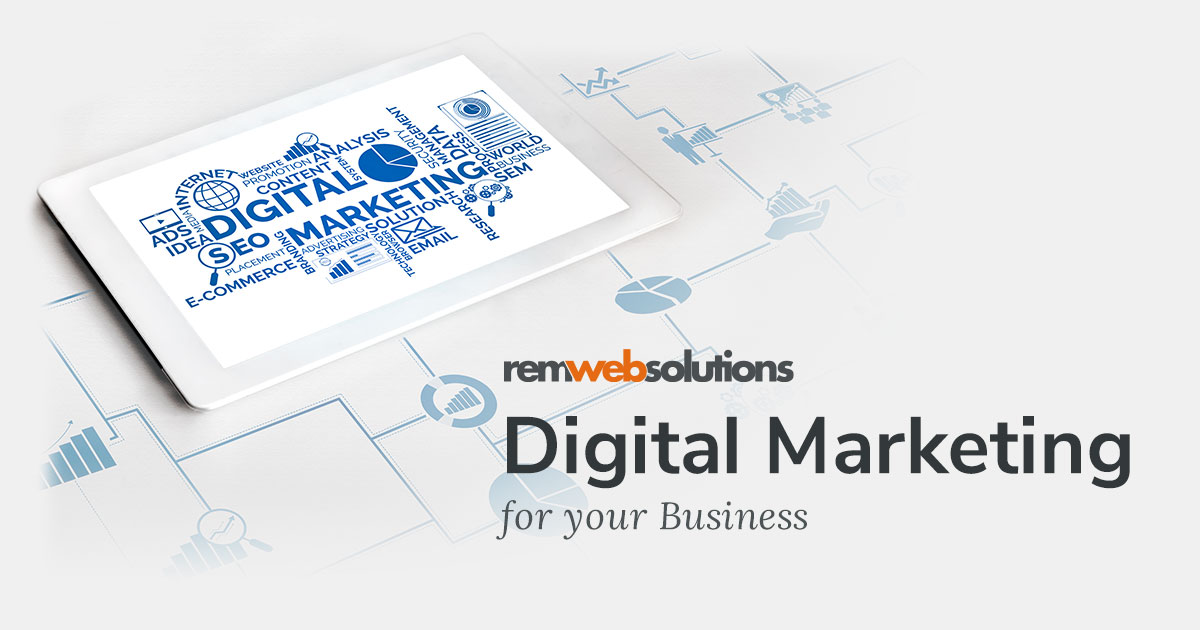 Now that we've understood the difference between Traditional Marketing and Digital Marketing, let's take a deeper look at how digital marketing can be used as a way to give your business a competitive advantage.
The importance of staying up to date in digital trends is more important now more than ever. Due to the COVID-19 pandemic and its effect on the economy, the consumer market has shifted significantly to meet the needs of buyers.
At REM Web Solutions we have taken great pride in our customer connections, and one of our greatest strengths has always been our in-person communication. Much like all businesses during the pandemic we had to adjust using Digital Marketing strategies so that we did not lose this very important piece of our business model.
"Digital marketing enables small business owners to fight equally against the industry giants. It helps businesses stay current with digital trends and appeal to a wider audience, all the while securing client loyalty. With over 70% of buyers preferring to learn about a product through online content rather than traditional advertising, an online presence has become a necessity." (source)
Communicating your Brand Digitally
In previous years, when a business would implement practices to communicate their brand we would receive physical reminders through the mail, in magazines and television commercials to name a few. Now businesses are using platforms such as:
Blog Posts

Articles

Facebook

Videos

Youtube

Twitter

Instagram
In a recent study, it was determined that only 64% (source) of small businesses have a website. This means that based on your industry, if you already have a website, you're looking much better than some of your competition. Your website is a great place to start when communicating your brand, making conscious decisions in your design and development of your website. Your website can also be used to reach your target audience, by tailoring your content and design to be more attractive.
Digital Communication and the Consumer
In 2018 Kleiner Perkins completed a study regarding Internet Trends and found an astonishing 3.6 billion people (more than half of the world's population) are Internet users. The average adult spends 5.9 hours using digital media every day. (source)
It is crucial for businesses to make use of the screen time to communicate with their target audience. When crafted correctly, your company has the opportunity to become more connected and build relationships with your consumers on a higher level.
Money Talks, and Digital Marketing is Budget Friendly
Digital Marketing isn't cheap; however, it is budget friendly. Having an online presence provides you with the opportunity to reach billions of users, an option that not so long ago didn't exist. The cost of physical campaigns that have minimal potential to reach hundreds of individuals can be extremely high. With plenty of options to choose from, investing in digital marketing provides your business with significant reach.
Analytics
One of the most important benefits of digital marketing – the ability to monitor and track the success and pitfalls of your marketing campaign. Physical marketing tactics are not easily measurable, however with tools like Google Analytics you can now review real time statistics which allows you to analyze your marketing strategy and optimize it when needed.
In addition to tweaking your marketing strategy, investigating, and researching trends within your analytics, provides you with the ability to optimize your SEO. This is extremely beneficial as it can increase the amount of people who visit your website. Your small business now has the ability to quantify its efforts and boost revenue.
Building Online Relationships with Consumers
Fostering relationships with customers has always been the key to success for businesses. Now you can develop honest and trustworthy relationships with your customers. Companies can now create online communities for their customers where they can provide feedback, share experiences, and directly influence potential consumers to choosing your company over your competitors.
Digital marketing can do wonders for your business, it can help you grow and build relationships with your customers. When produced carefully and thoughtfully your digital marketing strategy can educate your target audience and your business. There is no doubt that the world is changing and with the help of technology the rate of change increases each day. Ensuring your business has an online presence and is always updated to match current industry trends is imperative, you will see the benefits directly via your revenue stream.
If you have any questions on how to start building your digital marketing strategy, feel free to reach out! REM Web Solutions has experienced marketing professionals willing to help you!