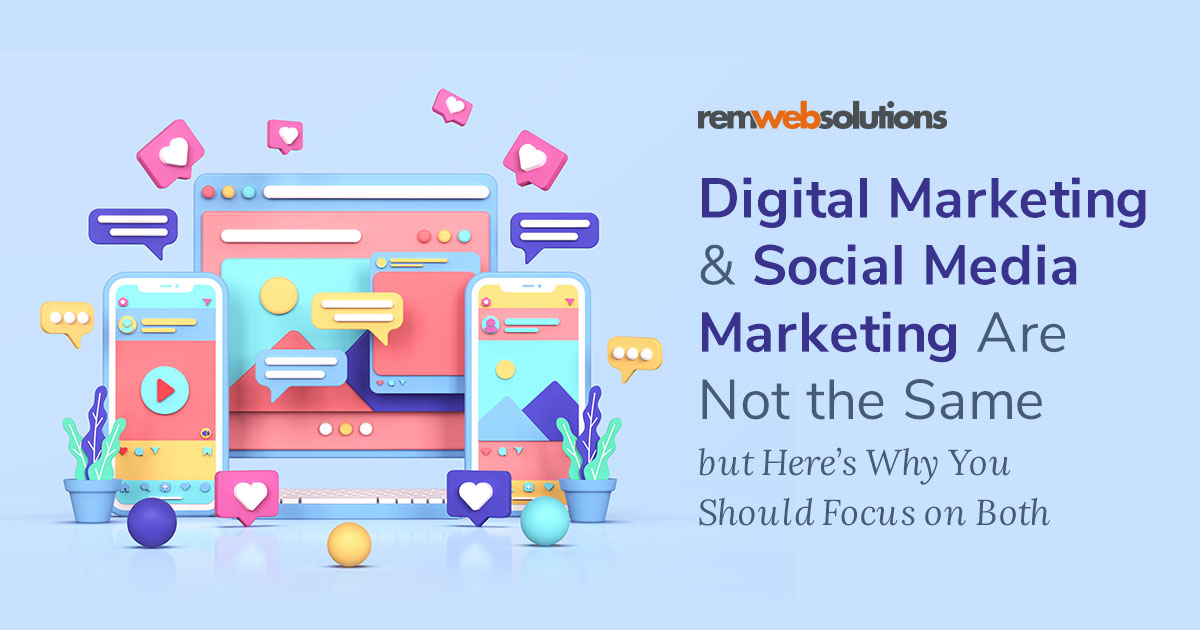 Quite often, people will interchangeably use the terms "digital marketing" and "social media marketing" as though they mean the same thing. It's a common belief that simply using different social media platforms is a form of digital marketing, and that simply is not the case.
---
What is digital marketing?
Digital marketing is an umbrella term that can cover a variety of different aspects related to marketing, but it uses a combination of online and offline digital means to reach audiences.
A variety of digital channels are incorporated in order to target the goals and growth of a business.
The goals surrounding digital marketing are typically as follows:
Promoting your brand and creating brand awareness
Advertising your products or services
Creating customer trust
And much more!
Digital marketing does not have to encompass all of the elements that fall under its jurisdiction. Rather, marketing campaigns should be tailored to specifically fit the business in mind and address the audience its structured for in the most effective ways possible. Including all digital marketing channels at once is not likely to be an effect strategy, as different channels will work better for different companies based on their needs, goals, products and services, etc.
This is why digital marketing involves a lot of trial and error and measuring various outcomes to find out what campaigns are best suited to each business. There is no point in wasting the time and energy on strategies and channels that do not provide satisfactory growth or results.
What is social media marketing?
Unlike digital marketing, social media marketing focuses solely on strategies implemented across social media channels like Facebook, Twitter, Instagram, YouTube, TikTok, LinkedIn, and more. Companies on these social channels use social media marketing campaigns to promote and advertise brands, products, etc., as well as engage with consumers and target audiences.
Social media marketing is an effective way to post creative content and to grab the attention of different audiences depending on the social platform that's being used.
What kind of tools do digital marketers use?
The job of a digital marketer is an extensive one. Quite often, they are required to use a multitude of different tools and platforms at once, search for and analyze specific information and data, as well as continuously fine-tune marketing strategies to keep improving their campaigns. Some of the marketing tools that are often used include:
SEO tools
Website analytics
Email marketing
Customer service tools like chat bots
Content curation
Speak with your sales rep or contact our Marketing Director to book a free no-obligation conversation about digital marketing to see if we have a solution that can help your company.
Why is it important to incorporate social media marketing?
You should be including social media marketing in your digital marketing strategy. Our world has become increasingly tied to social media and it's evolved into an essential aspect of our online-focused society.
Focusing on elevating your social media channels can not only expand your reach globally, but it can also create a more personal connection with your target audience. These social platforms also serve as an option for users to receive quicker response times.
It's necessary to still include digital marketing in your campaign and not abandon it altogether. While social media marketing has a growing list of advantages and benefits, it should not be your only priority.
The success of your social media channels will rely heavily on your content strategy. It isn't enough to just post – you need to be mindful of what you're posting and when, the platform you're sharing content on, and the audience you're trying to reach.
---
Digital marketing and social media marketing: in summary
Social media marketing–while different from digital marketing–is a part of the same category. Both are important for ensuring the success of your marketing campaign and should be treated with complimentary attention for achieving the goals you desire.
REM offers a suite of Digital Marketing and Social Media Marketing services to help you get noticed online. Contact us to get started on improving your online presence today.