Anyone living in Kitchener/Waterloo typically knows Vincenzo's.  It is a fantastic fine food shop with an amazing selection of gourmet foods from around the world.  It truly is impossible to walk out of there with 1 item.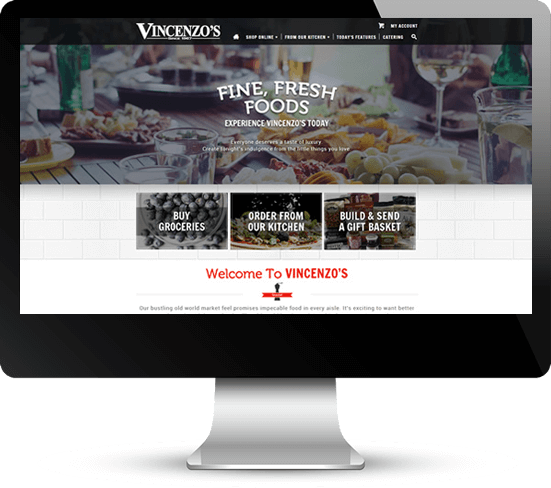 We have had the pleasure of working with Vincenzo's for a number of years on their website.  We were very pleased to launch a new version of the website in the later part of 2015. This new website showcases all the great items they have for sale.  Many people don't realize that you can purchase many of the items they sell online from cheese and chocolates to gift baskets.
I think the coolest thing on the website is a feature that allows you to order and customize lunch for up to 20 people at a time.  You can customize your own sandwich or salad or even pick from the hot counter and more.  Your order is ready for pickup and you can bypass the checkout line by paying online!  What a great way to order lunch for the office and let everyone pick what they want.  By the way, the whole website is mobile friendly so you can do all your shopping easily from your phone.
This web design project was a lot of fun for our team to work on and we appreciate all the great collaboration that Carmine and his team were able to offer to make it such a success.  If you haven't already checked it out have a look at http://vincenzosonline.com.