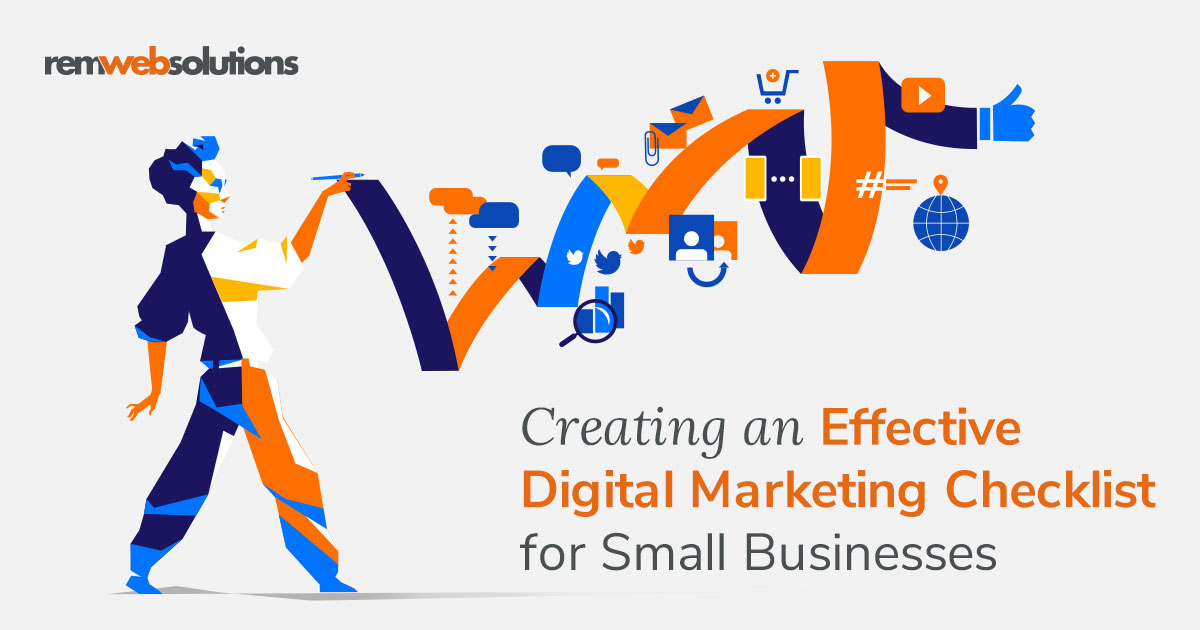 Contrary to popular belief, digital marketing doesn't need to be complicated in order to be successful. If you tackle digital marketing with a simple, yet thorough approach which includes a thoughtful checklist that keeps you consistent and accountable, then your small business will be sure to see positive results.
Pulling as much engagement and interaction online as possible should be an ongoing priority for your small business if you want your brand to stand out.
Read the suggestions below so you can create an effective digital marketing checklist for your small business.
1. Build your website
Perhaps one of the most essential aspects of establishing an online presence is building a website. Your website should serve as the backbone of your business. This is where most potential customers will likely gain their first impressions of your brand.
Even if you're a small, brick-and-mortar shop, it's quite likely that people will research your business before physically stepping foot inside your store first. This initial impression is essential–it could be the determining factor of whether someone ultimately decides to give you their patronage, so it's necessary to make it count.
Your website should be professional, easy to navigate, uncluttered, and accessible. It should take visitors only a few clicks to find what they're looking for, and important information should be clearly indicated and simple to locate. Branding should be visually consistent across all your business platforms and distinct to your identity. Customers should be able to visually connect your branding to your business without any confusion.
---
REM can design a beautiful, user-friendly business website that helps you get noticed online. Have a free, no-obligation chat with your REM sales rep to get started today.
---
2. Develop a strong brand identity
Crafting a unique brand identity is a large part of what will make your business identifiable and stand out from your competitors. Put a lot of thought into what your brand stands for, what your values are, etc. After those basics are established, be sure to inject them into everything you do and project to the world.
Your brand image starts with your company logo, which should be well-designed. Think carefully when considering options for fonts and colours as well. The most important aspect of developing a strong brand identity is consistency. Keep things visually consistent across digital and print marketing materials and any customer-issued communications.
3. Create a social media presence
Social media marketing is a fundamental element that should be one of your top priorities with digital marketing. Crafting a strong social media presence can be incredibly effective in expanding your business' online reach and visibility, building strong relationships with current and potential clients, and gain new traffic.
Social media platforms offer endless ways to engage with customers that include hashtag campaigns, hosting giveaways, promoting specific products, and going live. Get an understanding of how each platform could benefit your business and help you get a sense of what content to share on which. Integrate your brand logo, colours, and voice into your profiles and use this as an opportunity to interact on a more personal level with your consumers.
Do your research and be mindful of what other competing brands are doing on social media. Participate and follow trends as much as possible and use carefully picked hashtags that will put your business on people's radar. With the ongoing booming popularity of TikTok, it would be smart to make good use of the video-sharing platform.
4. Start a blog
Blogging is an effective and popular way to highlight your knowledge, further develop your brand's voice and personality, as well as expand on topics that wouldn't fit in an email or social media post. Additionally, a blog opens the opportunity to use SEO keywords. Content is king on Google and a blog is a great way to add new content on a regular basis, just make sure that your blogs are at least 1500 words long.
---
Designate a page on your website for blog posts that's coordinated with your business' branding. After you have the basics covered, start posting! If you don't have time to blog yourself, REM offers Blog Writing as part of our Digital Marketing services.
---
5. Make great customer service a priority
Offering great customer service to your clients should always be a top priority for your business, especially when word travels quickly in the digital age we live in. A good or bad reputation will likely be established for your business before you know it, so make those customer interactions count and provide support to your clients whenever you can.
Be prompt when responding to customers via phone, message, or email. Solicit feedback where you can and make an honest effort to help give the best service possible.
6. Explore online advertising
If you have room in your budget, online advertising can be a worthwhile investment for your business. The goal of online ads is to generate more traffic and clicks on your website, which expands your online visibility, and ideally, boosts your sales as well.
There are countless platforms you can use to place ads, from Google to LinkedIn. You can also implement paid online advertising in the form of podcast sponsorships or influencer collaborations.
---
REM can help setup your Google Ads campaigns and manage it for you. We check the data and make any adjustments each month for you. Speak with our Marketing Director if you would like to start your Google Ads campaign.
---
7. Establish email marketing
Email marketing can be a hugely successful way to keep up with your contact list. Start planning your campaign by finding a design template that works for your branding and include necessary information like contact details, business hours, and your company logo.
Create a schedule so you can regularly communicate with your subscribers and be sure to include info that's useful and engaging to readers. Small personal touches can go a surprisingly long way, so try to be thoughtful when crafting your email campaigns.
8. Prioritize SEO
Search Engine Optimization (SEO) is hugely essential in ensuring your business is positioned favorably in Google and other online searches. Your content needs to be optimized so that the right people will see it at the right time.
Do your research and get a strong sense of how your website and your competitors are performing. With this newly acquired knowledge in mind, choose the appropriate keywords to use on your website, in posts, and in any additional content that your business creates. As well, utilize SEO tools that can help optimize your content. Put Google analytics to good use to collect and review metrics.
---
SEO is critical in today's online environment. REM offers Search Engine Optimization services to help improve your PageRank and get you showing up higher than your competitors in Google. Speak to our Marketing Director for full details.
---
9. Craft a content calendar
When you have strong content to post, you want to have a reliable marketing strategy to go along with it. This means having a plan in mind that designates what and when you'll be posting. Create a monthly content calendar that maps out these details and how you will distribute them.
10. Become mobile friendly
A growing number of people are accessing businesses and online stores via their phones, which is why a website should be optimized for mobile use. Craft your website so that it's responsive and can adjust to the differing screen sizes on phones.
---
All new REM websites are mobile responsive and optimized for mobile speed to make sure our clients don't lose customers because their site doesn't load.
---

11. Consider guest posting
Allowing guest posts on your blogs is a good way to get additional traffic to your website. Guest posting can help boost brand awareness, increase the meaningful number of visits your site receives, improve your domain authority, and open the door for new business opportunities.
12. Make your content count
Remember, quality over quantity. Don't feel the need to churn out content if it isn't written well and won't appeal to your audience. Identify what content your target audience is looking for and what format would work best.
13. Create a social media post calendar
Similar to a content calendar for your blog, a social media post calendar is pretty much the same concept. This can help organize and schedule your social posts, and depending on the social media tool you use, you can share posts across all of your business accounts at specific times and dates. Post calendars help keep you consistently active and organized on your social profiles. 
14. Enable social sharing
Bump up the engagement on your social media posts even further by turning on sharing options. Give users the opportunity to share photos and posts, which can help spread more interest in your business to their respective followers.
15. Incentivize engagement
Incentivizing client engagement on your website, social media posts, and email marketing campaigns can help build a strong business reputation and potentially bring in more customers. This could include receiving a shop discount for signing up for an email newsletter or being entered into a product giveaway if they share a post and tag their friends in the comments.
Conclusion:
With the right approach, an effective digital marketing checklist can truly benefit your business by expanding your visibility and increasing your reach to current and new customers. By taking the time to craft a simple, yet well-thought-out checklist, you can work toward bringing your business to the top in terms of online success and engagement.