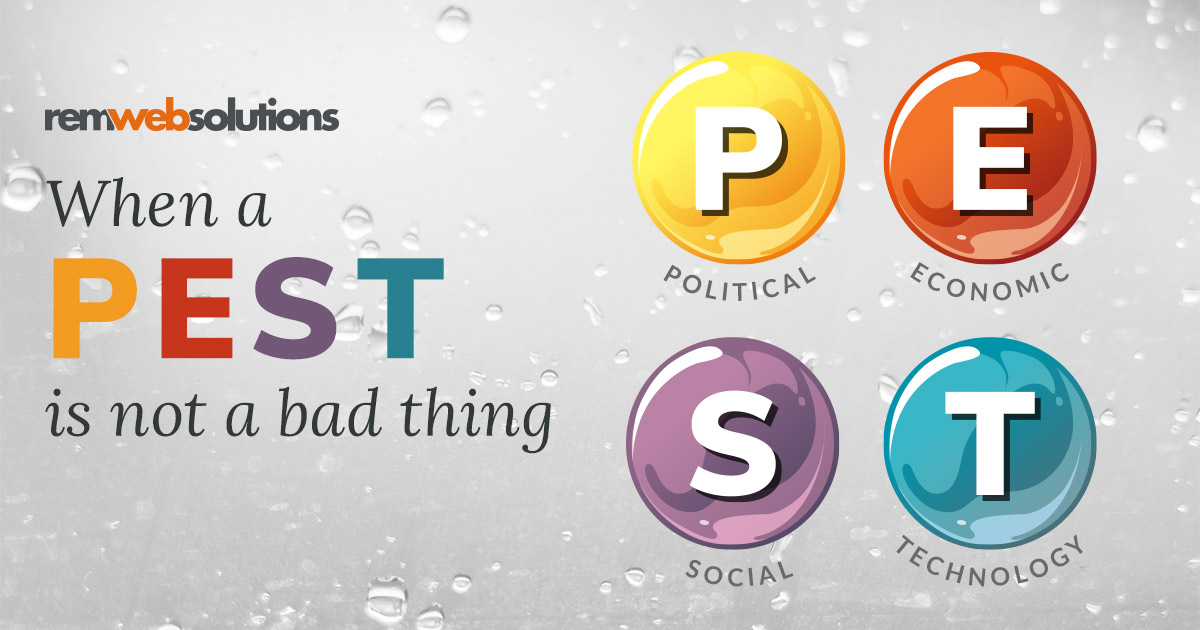 As you move along building out your business plan, you spend a significant amount of time preparing yourself to ensure your products and services meet the needs of your potential clients. To date we have touched on many different tools that you can use as leverage when building your go to market strategy. We have discussed how to develop your Buyer Personas, Unique Selling Proposition, and how to define your company's placement within The Brand Triangle. Majority of these tools are customer focused which is great, however there are external factors that you cannot afford to dismiss and using the PEST Analysis will help you prepare for barriers that you have little control over.
What is a PEST Analysis?
In 1967 a Harvard professor named Francis Aguilar created the PEST acronym to help businesses understand how external factors can inhibit the success of their products and services. As you build out your business plan it is critical that you complete this analysis as it will help you adjust your plan, product or service to best fit the needs of your potential customers based on political, economic, social and technological factors.
Political
Understanding how political factors can influence your product/service offerings is incredibly important. For instance, if you're shipping products overseas, logistically there are a lot of hoops to jump through. It is essential to understand the political ramifications that may occur. Other issues like trade agreements, tax guidelines and employment laws—to name a few—are factors that your business should be well versed in. It is also incredibly vital to understand the government structure of the regions you may be doing business in, as there may be limitations imposed by government officials that you are unaware of.
Economic
Understanding the state of the economy can be incredibly useful when building your business plan. Being knowledgeable on inflation, interest rates and economic rates will allow you to weather some storms that other companies may not be able to. For example, if you are selling a product/service to a consumer, knowing and understanding how much money they have allows you to adjust things such as pricing and your marketing efforts.
Social
Making informed decisions about your business offerings based on social factors help you establish and quantify the needs of your target market. Knowing what consumers find valuable based on societal trends proves to be a significant tool. For instance, perhaps you are a landscaping company and you've done research that suggest people are more conscious of the products they use and how they effect the environment. Leveraging this information by offering fertilizers and goods that are environmentally friendly and organic can be a significant selling point for you.
Technology
As we navigate through what is known as the Information Age of technology, it is necessary that you are aware of how it affects your business. Technology can be both a good thing and a bad thing, information is easily accessible by almost anyone now, with a quick keyword search anyone can find info about anything really. This can be difficult because consumers are far more educated than before and they have options accessible to them. Another issue that comes into place with technology is innovation, it seems like every day something is being created to automate the solution that you are trying to solve for consumers. Therefore, it is critical to stay on top of technology trends and use what you know to your advantage.
Now that you are aware of the importance of creating a PEST analysis for your business, go ahead and try completing one. Keep in mind that once you do this analysis; it is not written in stone as external factors are everchanging. To keep your business relevant. we recommend that you complete a PEST analysis every 6 months. This will help guide your business and allow you to determine whether certain aspects of your product or service should be changed to keep up with political, economic, social and technology trends.
We also recommend that you include all departments of your company to help you with this analysis. Each department will have a different outlook on how each of these factors will affect sales, marketing, product development and management. By creating a PEST analysis, you will have a better view of how your organization functions; you'll be far more prepared to deal with potential threats to your business, and it will also allow you to generate more opportunities within your product/service offerings.