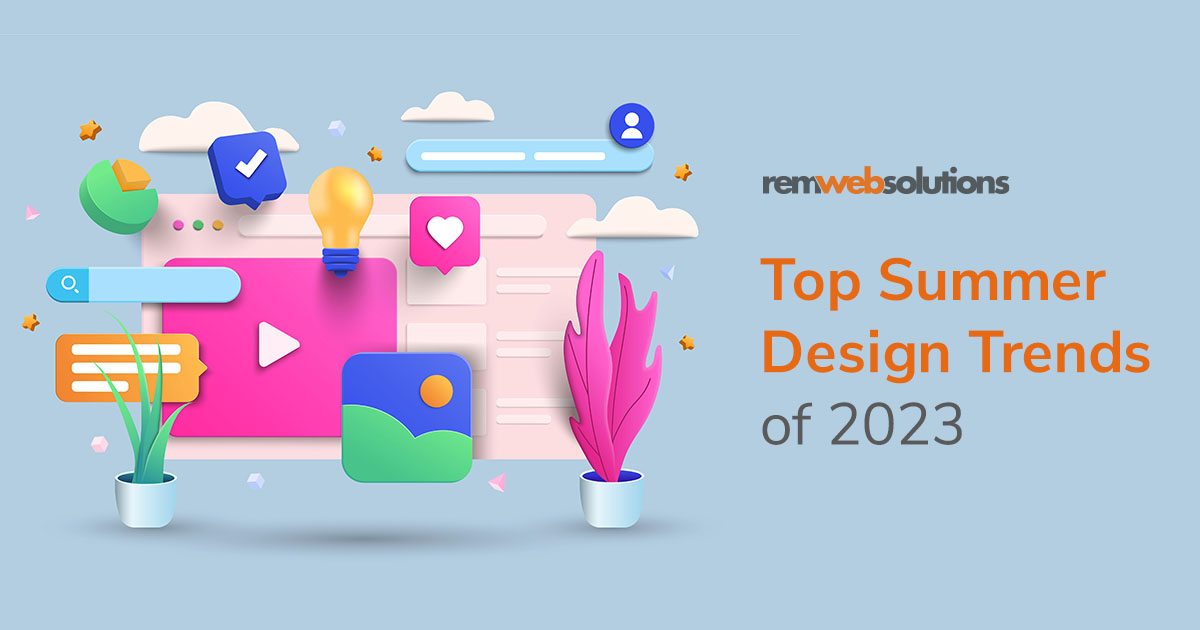 Trends and designs are forever changing. Every year, companies that feature designs release new and upcoming trends for the year to help influence potential customers and other designers. This past year and this coming year we have seen a spike in the number of trends being released as there is a more diverse pool to pick from.
Everything from Y2K fashion all the way to Scandinavian designs have been trending this past year. These trends have been appearing in interior design, fashion, jewelry, company branding, and even web design. This summer consider integrating some of these new trendy designs to make your website stand out more.
---
Here is our list of the top summer web design trends for 2023.
Top Styles
When it comes to designing a website, you want to have a certain style, almost like fashion or art. It should look nice, represent some of the latest trends, but also reflect you as a business owner and company. With the current state of the internet, everyone has their own personal style and design preferences, making way for a wide variety of popular trends in design. Because of this business owners can now update or design their websites with these upcoming trends in mind, while still staying true to their company.
The current design trends vary from minimal and sleek, to colourful and maximalist. You can find almost anything that suits your personal style and remains on trend.
Y2K 90's-00's
That's right, the 90's are back, and they are taking over the world of design. Right now, the Y2K and 90's styles have come back as Gen Z has created a new space for their popularity. Everything from fashion to web design has been brought back to the turn of the century.
Because of this, you can expect to see things such as pixel designs, oversized cursors, pastel colours, big and bold patterns, etc. Almost anything that was popular in the 90's has been resurrected today and can be seen reflected in every element of design.
Vaporwave, Cyber, and Multi Verse
Anyone who grew up in the 80's will remember the vaporwave and cyber aesthetic. Dark and bold colours like blues and purples. Big graphics that filled a page. And the idea of being part of an online universe. Consider including elements such as those dark colours, glitch effects, over-laid graphics, geometric shapes, chat bots, and even some AI-powered design.
Gamification
Gamification may be new for a lot of people; however, it has become quite popular lately. It is the idea of integrating design and software elements of video games. Have your website not only look and feel like a video game but have some features of one too. Such as having goals people can meet on your website with a progress bar they can see. Or other interactable elements that sell the idea of participation and collaboration.
Maximalism
Maximalism is obvious, just add as much as you want or can. It typically is associated with brighter colours, bigger shapes, and more harsh lines. Include bright colours, big geometric shapes, bold typography, large photos, and multilayered designs. Adding other interactable elements can also add to the idea of "too much", which in this case is good.
Minimalism
Minimalism on the other hand is a much softer approach. It typically features softer colour palettes, soft shapes, and more movement to its lines. Include soft colours like beige or pastels, organic shapes (perhaps with movement animations), simple typography, smaller fonts, soft shadows, colour gradients, and more simplistic photos. The idea here is to have clean lines and optimize your given space without over filling it.
Vintage
Vintage aesthetics have taken over again, however, this time it is not one true vintage style. It is more of a mix from different decades that people feel represent the "vintage aesthetic". This typically includes muted colours, calligraphy type fonts, layered elements, hand drawn or painted illustrations, and little to no photos or videos. Consider extra elements such as stamps or labels, hand illustrated elements, less animation, style of a vintage ad or newspaper, or even grain overlays like film grain.
Illustrations
New styles aren't just making their way into the latest trends, new illustration styles are also breaking through. People these days are very visual, so when visiting a website, they want more to look at than just words. They want photos and videos and little illustrations they can look at or interact with. Adding illustrations can also give your website more of a fun and friendly appearance, rather than looking overly professional or boring.
Custom Typefaces
Custom typefaces are less of an illustration element but can still add that stand out and add a handmade touch. Everyone these days is bored of the typical fonts you can find on the internet and are instead turning to creating their own custom ones.
On top of that a big trend for this year is handwriting fonts, a font made to be your exact handwriting. This can add a more realistic feel to your website and make people feel less like they are reading a generic website and more like they are interacting with a person. As well as add more to your overall brand.
Just be careful using a cursive font as young visitors may not be able to read the site since cursive writing is no longer taught in schools.
3D Illustrations and Animations
3D images and animations have become very popular over the past few years and are beginning to make their way into the world of web design. Including things like hand drawn 3D images can make your website stand out from others. Adding in 3D animations as well can help sell the idea that we are moving into the future and give your customers something to interact with or view while on your website.
Clay Morphism
Clay morphism is a more specific example of 3D illustrations. It is a particular type of illustration that is meant to look like clay figures, like Claymation movies. Think of movies like "Coraline", the way you can tell it is made of all clay. However, instead of trying to make them more realistic, clay morphism embraces the clay look and instead goes for more organic shapes and a cartoon look.
Full Page
Full page illustrations are a great way to get people's attention. For one it is going to be the first thing they see when visiting your website. Secondly, it can often be a great way to sell people about your company or products. Feature a big illustration right on your home page or your logo, top product, company mascot, or simply anything that has to do with your company can be a great way to draw them in.
Animations
Animations are another great element to include as they sell the feeling of the website being alive and in motion. Not to mention it can be a great way to throw in something like a "sale" button or a mini demonstration of your product. Animations are overall a great way to get and keep people's attention.
Multi Layered
Multi layered refers to the style of having one or more illustrations or images layered on top of and behind text, typically on your home page. These images can often change or disappear when the user scrolls, making it easier to read the over laid text. These images can also be over laid with graphics, illustrations, or blocks of colour to make text more visible.
Branded
Branded illustrations are a new thing we are beginning to see pop up this year. They are often hand drawn images reflecting brands that your company works with, supports, is sponsored by, or simply your company itself. It can be a great way to show off your company or others you associate with, without having a wall of logos. This can be a more creative way of doing this, that way people see it more as art and less as forced branded content.
Interactions
On top of things like animations and large hero images that draw in people's attention, interactions can also be great. Interactions allow you to keep people focused on your website while also allowing them to have fun and customize their experience with it.
"Just for fun"
Aside from interactions that have a purpose on your website, like "click here for sales", there are also "just for fun" interactions. These can be almost anything you want because they are "just for fun" and are meant to simply get your customers to engage with the site and not necessarily do anything else. They can be something simple like clicking an envelope and a bunny pops out for Easter, or something more complicated like clicking on a robot and it "destroys" the home page.
Product Displays
Interactable product displays have become very popular for summer 2023 as they allow people to not only see what they can buy, but also interact with it. It can be something simple like having to "flip" through a booklet of your products by clicking on the pages. Or something more complicated. It is all up to you, just don't make it too difficult for people to figure out.
---
We hope this blog was helpful in guiding you towards the latest trends for summer 2023. For more website related content, check out the rest of our blog page.