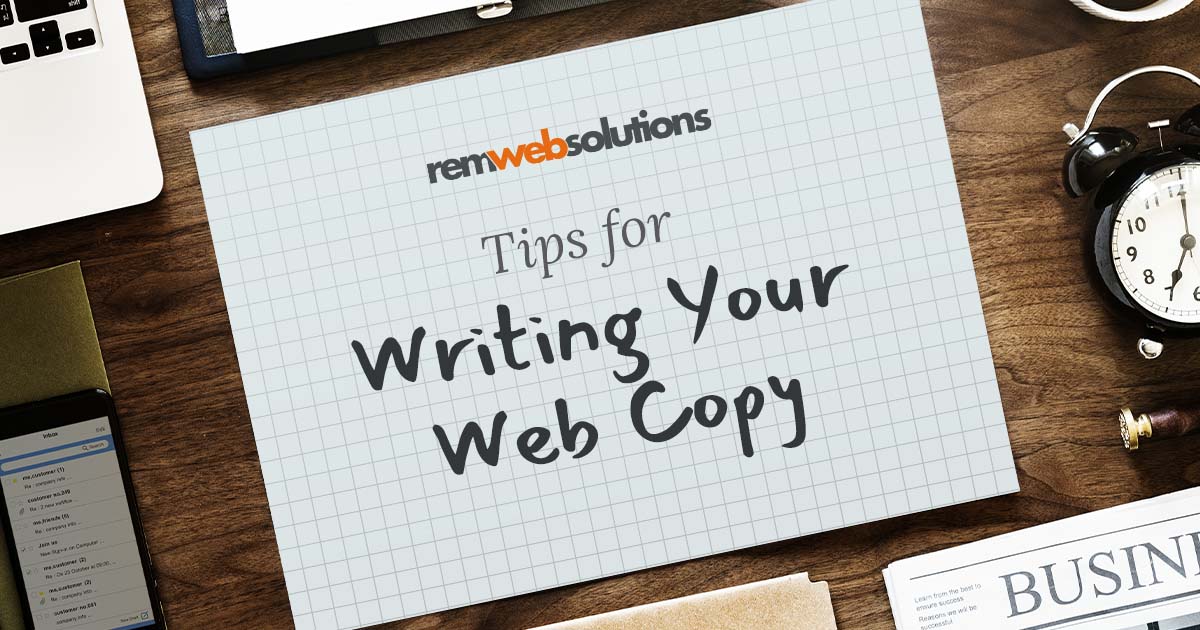 Writing content for your website can be very intimidating. It's nothing like writing a report or an essay and it can be very hard for amateur writers to create clear, concise, and easy to read content. Add that you constantly need to keep in mind search engine optimisation, buyer behaviour, and sales and marketing, and suddenly it becomes overwhelming. Content writing is difficult because you need it to create content that resonates.
REM has a talented team of writers and an in-house marketing director to make this a lot easier. Just tell us what goal you want to achieve with the content and let us loose. We do the research, analysis, and write the content. REM takes care of the entire content writing process so you can just sit back and relax.
However, if you've got the time to write your own content, and you enjoy writing, here are some important concepts and tips for tackling your web copy on your own.
I want to write content. What skills do I need?
A good piece of content starts with thorough research. As a writer you need to be able to research a topic, filter through the results, and translate those concepts into your writing. All the while, you must keep the reader engaged, no matter how dry the topic.
Also, a good writer has great time management skills, self-discipline and should have a good grasp on SEO best practices. This will mean that your content can be leveraged and turned into website visits and sales.
Before we start, let's make a quick distinction
Content writing includes to general categories of writing: copywriting and content marketing. Content marketing includes content like blogs, white papers, and e-books. Copywriting includes website and ad copy.
Start strong with a good outline
Got your topic and done the research? You must make sure you've worked out answers to the important questions your readers might have while reading your content. Create an outline because it means your writing will be logically structured and easier to follow.
Produce content in your own Unique Brand Voice
You've worked hard to establish your brand and built a voice that engages your customers. It's the reason they keep coming back to visit your site! Make sure all your writing uses your brand voice, this is especially important if you have multiple writers working on your site content.
Make your headlines compelling
A great headline sets the tone for the entire page of content. Use headlines with instructional phrases such as "you need to" or "what you have to do" as these are very shareable articles on social media. Recent research has shown that the best length for a headline is about 65 characters, around 11 words. Try not to make your headlines too long or too short.
Start strong with an amazing introduction
That great headline you wrote got your user to land on your page. Now you have less than 3 seconds to convince them to stay and read more. Make sure your intro grabs their attention, but don't waffle because the best way to keep them reading is to give them what they came looking for as soon as possible.
Use headings to make your content easy to scan
One of my favourite writers has a set of rules she always follows. Rule number one is that people don't read. She writes all her content under that assumption. Your content should be easily scannable with clear headings and small paragraphs.
If you need to discuss multiple key points in one section, you should break them down into subsections or subheadings.
There are lots of ways to bust up large blocks of text
You can use headings and bullet lists to break up large amounts of content and make your content easier to scan, but you can also use design elements. Throw in line breaks, white space, images, buttons, icons, charts and graphs, videos, and text call-out boxes to break up big sections.
Whenever possible, show proof
Make sure you back up any claims with authentic proof. Show the reader they can trust you with testimonials, statistics, and social proof that supports your claims.
Remember that there are hundreds of articles covering the same topics you are writing about. You need to stand out from the crowd with trustworthy content. Link your content to authoritative sources:
Mainstream media
Government sites
Universities
High-profile brands
Industry experts
Finally, if you can, get these legitimate sites to link to your content. The easiest way to show a reader they can trust you is if they are sent to your site by a high-authority site.
Link the content to relevant resources
It's important that you search for content that you can use to reference in each section and subsection of your content. Anytime you mention a concept or use industry terminology, you can link to more detail or source content. This helps your reader better understand the topic and can also help with SEO.
Do your research and get your keywords
If you don't know how to do competitor and industry research to find searchable keywords give REM a call and we can help. Once you have a list, make sure you use those keywords in your content. Remember to target the keywords with the highest volume but lowest competition first!
Use bold and internal links to highlight important text
Highlight the important words and phrases in your content so readers (and search engines) know what is important when scanning your page. Always start with the assumption that the reader wants as little information as possible but use links so they can dig deeper into a topic if they want to.
Be persuasive and work on their objections
Now that you're building trust, the next step to converting your reader into a client is to eliminate any objections. Think about what might be stopping that person from clicking the buy button and write your content to overcome those objections. Providing alternative options like payment plans, money-back guarantees, rock-solid warrantees, and free trials can really make the difference.
Give the reader something valuable
When you create content, you do it to bring people to your site. You bring them because you want to sell them something, but what do they get in return? Your goal should be to make sure that your readers leave each page with something valuable, especially in a blog. Give them actionable tips, a discount, or other incentive.
Call to Action (CTA)
The whole reason we have a website is to make some revenue (sales, donations, sponsorship, advertising, etc.) and you won't get that revenue unless you 'ask for the sale'. The simplest way to do this is with a call to action. Place the call wherever your reader might be thinking about a decision – for example, you've just explained the 10 reasons to choose you over a competitor – place a 'request a quote' button at the bottom of that section.
Go back over the content and refine it
It's good practice to walk away from your work and then come back and look at it with fresh eyes. Even if you only put it aside for an hour or two, it will change your perspective. If possible, have a third party read the article. Now edit the and refine the article, keeping the following in mind:
Fix spelling and grammar
Make sure the argument flows logically to a conclusion
Make sure your brand voice in consistent
Re-write anything that seems unclear
Look for opportunities to place CTAs and linking within your site
Check headings to ensure they contain keywords and describe the section
Our final tip: Plan for updates!
The instant you post your content, it starts to get out of date. Information changes by the minute in some industries, so it makes sense to plan some updates. Put a date in your schedule to comeback and review the content. If you have ways for readers to provide feedback (surveys, comments, social media channels), take their feedback into consideration when updating.
Summing it all up
Thanks for reading this far! At REM, we love it when people try to improve their websites. In this article, you've learned some important tips that will help improve your copywriting, and maybe even your content marketing! Try to implement as many of these tips as you can, but even just doing a handful will make a big difference.
If you need help with any of the tips above or would just like REM to help with your content writing or marketing, don't hesitate to contact us.