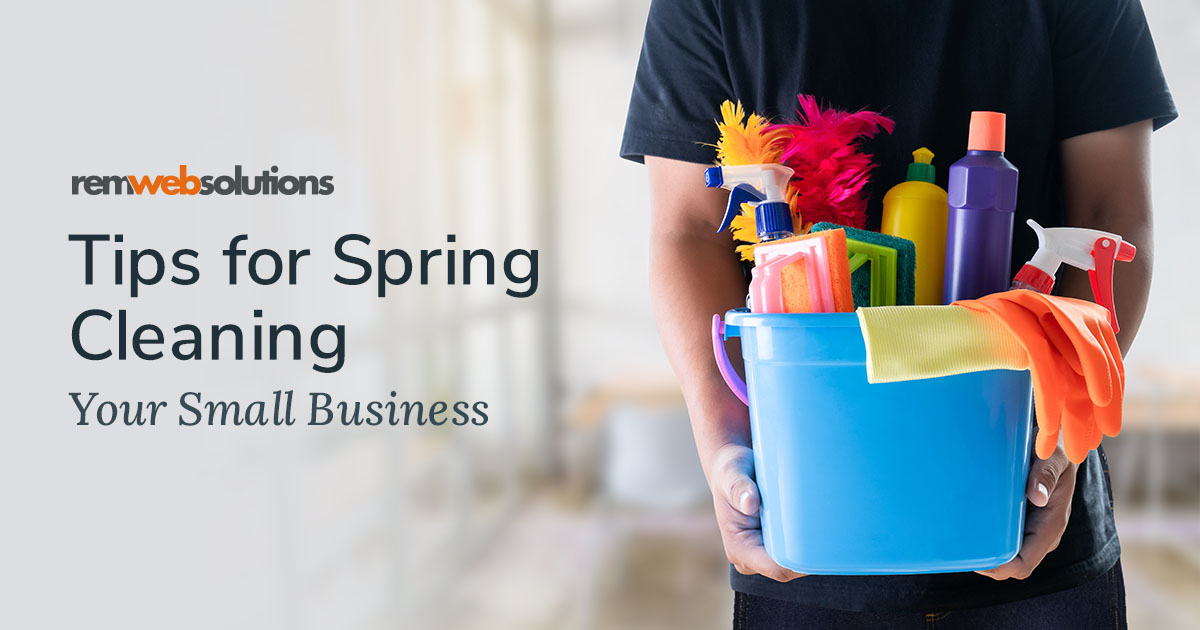 Spring is just around the corner. The new season has a lot of opportunities for more growth, organization, fresh starts, improved mindsets, and better productivity.
Spring cleaning doesn't need to only apply to your home. Giving your business a springtime refresh can be beneficial for a multitude of reasons.
---
Here are seven ways you can spring clean your small business.
1. Buff up your customer relations
You never want to let the customer relations side of your business fall to the back burner too much, but having more relaxed and complacent periods can happen when you're particularly busy. Now it's time to prioritize a thorough overhaul of your consumer operations.
Go through those customer-lists. Look through the information you have about your clients. Are there addresses up-to-date? Have any of them moved, changed phone numbers or emails? Make note of when you last heard from specific customers and move forward with updating any information if you have access to the correct details.
Put out a satisfaction survey. You should always be looking for more opportunities to grow and improve your business, and what better way to do that than by receiving feedback from one of your most important sources? Take this chance to check in on them and see how happy they are with your services.
2. Tidy up your website
Take a critical and thorough look at your website. Any problems that you've made note of over the past year that have managed to fall through the cracks, address them head-on. It can be easier to push these issues to the back of your mind when there are more pressing matters and problems to focus on, but your website should take top priority. It is a reflection of who you are as a business and is likely the first impression most of your clients will have when choosing who to do their commerce with. Assess whether or not your website perfectly aligns with your brand, services, and mission. Perhaps you need to update your logo, colours or mission statement. Maybe your product list or contact information needs to be updated. There are likely ways that you could also improve your website's accessibility for visiting users and expand the scope of what your site currently offers. So while you're fixing those little issues, take advantage of this time to look for ways you can improve what you already have in the process.
Talk to REM about getting a thorough Website and SEO Audit to find out what needs to be fixed first.
3. Purge your email inbox
It's incredibly easy to let emails pile up in your inbox and it can be a daunting task to tackle if you've been putting it off for awhile (we've all been there). This is your sign to set aside the time to sit down and do it. Although it can be time-consuming, it will be worth it when you've finally completed it. Go through your spam folder, delete old emails and organize important ones into specific folders. Unsubscribe from any unnecessary newsletters and generic emails. Look over your contact list, add names to emails, and update it accordingly. Do you want to change your email signature or your contact photo? Now is the time to do it. Any little task surrounding email organization should be prioritized and completed now. As tedious as it may seem, dedicating the proper focus to getting these smaller and often overlooked points on your to-do list done will benefit you in the long-run. 
4. De-clutter your desk
An organized desk can do wonders for your personal productivity, work mindset, and your overall mood. Your workspace is where you're likely spending the majority of your time, whether you're working at the office, at home, or between both. The desk where you tackle your daily tasks and projects can say a lot about you, and the state of its organization and cleanliness likely has an impact on your on your wellbeing and desire to work. So wipe off that keyboard, put out a plant or two, tidy up your loose files and papers, and remove any unnecessary clutter. Try to make your desk layout simple with few distractions, but it should have personal touches that make it desirable for you to sit down and work there. Whether that's a few framed photos or some subtle desk decor, turn that space into your own and one you can be proud of.
5. Check-in with your employees
Employee satisfaction should always be a priority to make sure your business can run as smoothly and efficiently as possible. Checking in with the people who help run and manage your business can provide you with different perspectives that you may not have considered before. You see operations from one side, they see it from another. Actively listen to any feedback, notes of improvement or concerns they may have.
6. Take a close look at your data
Pouring over your business' data can be a very effective way to find gaps or weaker spots that are in need of improvement. Really knowing what's behind your data and how to engage with it more critically and efficiently can be incredibly helpful for your small business. Keep tabs on what you're selling, look at peak times and demographics for website users, get to know your clients and their buying habits with customer insights, and look into real-time updates on how your business is doing sale-by-sale.
7. Clean your office space
It's very likely that the office you work in has not been held to the same standard of cleanliness and organization that was once there before the pandemic. Fluctuations with in-person work have probably resulted in some office tasks being shifted to the bottom of everyone's to-do lists. Tackle the literal part of spring cleaning and bring your office the deep clean and de-clutter it needs. Toss out trash, go through any overlooked mess, vacuum, and sanitize surfaces and high-traffic areas. Similar to your personal desk, your office should be an inviting space for your employees to come to work in.