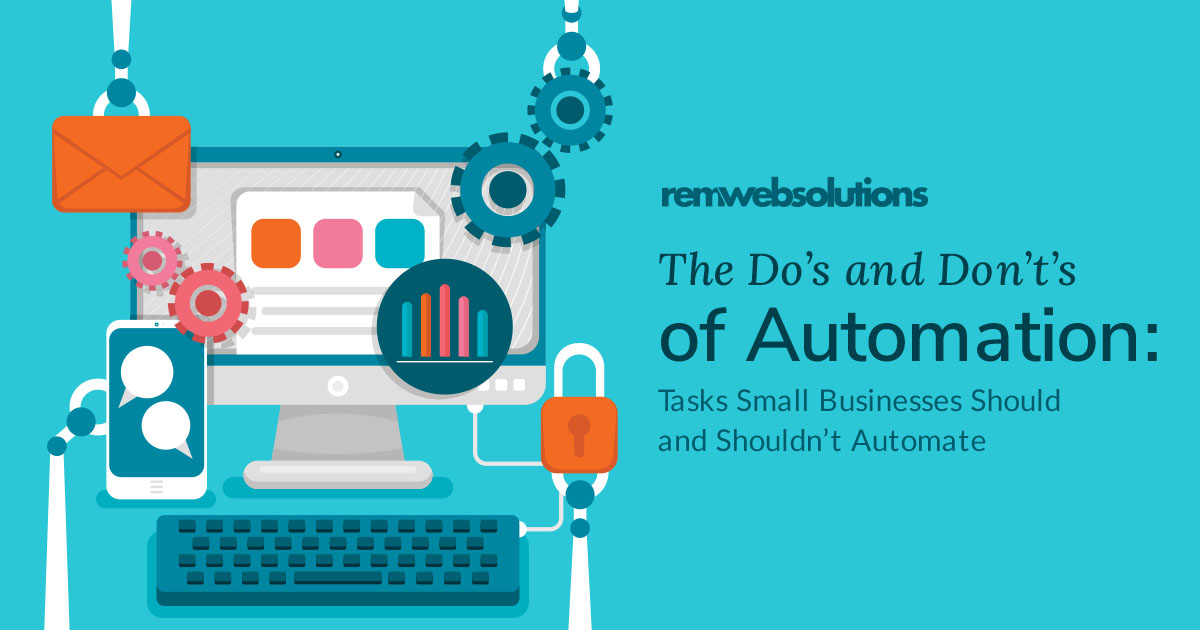 The majority of small business owners are overworked and are often overwhelmed by demanding schedules and unending responsibilities.
Enter: automation. Automation has quickly become a sought after tool to evolve and adapt businesses in order to streamline processes and improve overall productivity.
There are many benefits of automation, and it can free up a few hours of time during each workday.
It can be an intimidating process to introduce automation to a business. The workday of a small business owner is comprised of a variety of different tasks that range in complexity and importance. What should company leaders automate? What tasks are best left to humans to handle?
There are countless routine duties that take up a business leader's focus and attention when they don't need to.
---
Seven tasks you should automate:
1. Email Responses
Emails are one of the biggest thieves of time in a workday, often taking up more focus than what is actually needed. If you often find yourself on the end of repetitive questions and similar messages, there are ways to make email responses more efficient.
Canned Gmail responses and automated replies are a great way to save time while also increasing your chances of qualifying a lead.
2. Social media posts
Scheduling and automating social media posts on platforms that allow you to do so can be a huge time-saver with content publishing and distribution.
Consistent posting is the key to a successful social media presence, and there are several automation tools that can help you organize posts in advance and share them across different networks. Automating content so that it's posted during the highest-traffic parts of the day will also help with increased audience engagement.
3. Payroll
A tiresome aspect of business accounting is payroll. If your employees don't receive paper paycheques and you're using direct deposit, there are tools that you can utilize to automate this process.
Payroll software can automatically schedule, send, and track payroll so that you can remove it from your regular task list altogether unless there are changes you need to attend to directly.
4. Chatbots
Chatbots are a great tool for bridging any communication gaps and making your business available to consumers 24/7. Chatbots are particularly useful for basic interactions involving customer service or technical support and can help push forward more sales.
5. Backing up files
Nearly every important aspect of businesses is now digitized, meaning that backups for files are more necessary than ever before.
Automating the process of backing up your business' files is something you should do to avoid human error. Just make sure you find a file storage service that best fits your current and future space needs, and you're good to go.
6. Recurring invoices
Bookkeeping is one of the most tedious parts of running a business that owners often cite as the worst part they have to tackle.
Offloading invoicing is possible with a variety of solutions that can help alleviate this strain. Recurring invoices can be automated with options for auto-reminders for clients who may have forgotten to pay an invoice.
7. Reporting on metrics
Compiling important data is an essential part of business ownership. Tracking how many people visited your website and the number of sales you completed in a month, for example, is needed in order to accurately assess your business' success.
Automation isn't something you want to overuse, either.
---
Here are five times you don't want to automate:
1. Difficult or sensitive customer problems
For time-sensitive or difficult customer issues, it's best to address those problems head-on through personal contact.
Satisfactory customer service is often best achieved over the phone or in person. For more delicate concerns, chatbot technology won't be able to adequately process and properly respond to complex language.
A business representative who is knowledgeable and polite is a more reliable option when dealing with customers directly in this way, and can contribute significantly to a consumer's loyalty to a brand.
2. Employee recognition
When employees are rewarded, incentivized, and genuinely appreciated for work that's done well, it's often reflected in their overall performance. Recognizing the hard work of employees should come directly from a supervisor and not be automated.
Authentic recognition should come straight from the source and be honest, individualized appreciation, which is not possible to achieve in the same way with automation.
3. Creative work
While automation has proven to be extremely effective for numerous different menial jobs, it hasn't completely replaced the need for human workers just yet.
Creative work like graphic design and product brainstorming hasn't been taken over by automated systems —this more refined work is best left to human ingenuity.
4. Relationship building
While automation can be useful in maintaining strong relationships with reminders about important dates, sending thank you notes and follow-up emails, it is not a complete replacement for human interaction between employees and clients.
Much like difficult customer issues and beneficial employee recognition, relationship building between various parties cannot always be replicated through automation.
5. Excessive targeted marketing
Be respectful of the information your customers trust you with and treat it with care. If they give you their contact information, it's best not to spam them with generic daily emails or they'll likely cut ties and close the door on that line of communication.
---
Time is a limited resource that all business owners want to use as effectively as possible. Automation can certainly take away a lot of the daily burden that's brought on by overwhelming, repetitive tasks.
Just make sure you approach automated technology with a well-informed strategy and apply it to the most applicable tasks. Once you find a balance between automated and human responsibilities, your workload is sure to feel a bit lighter.