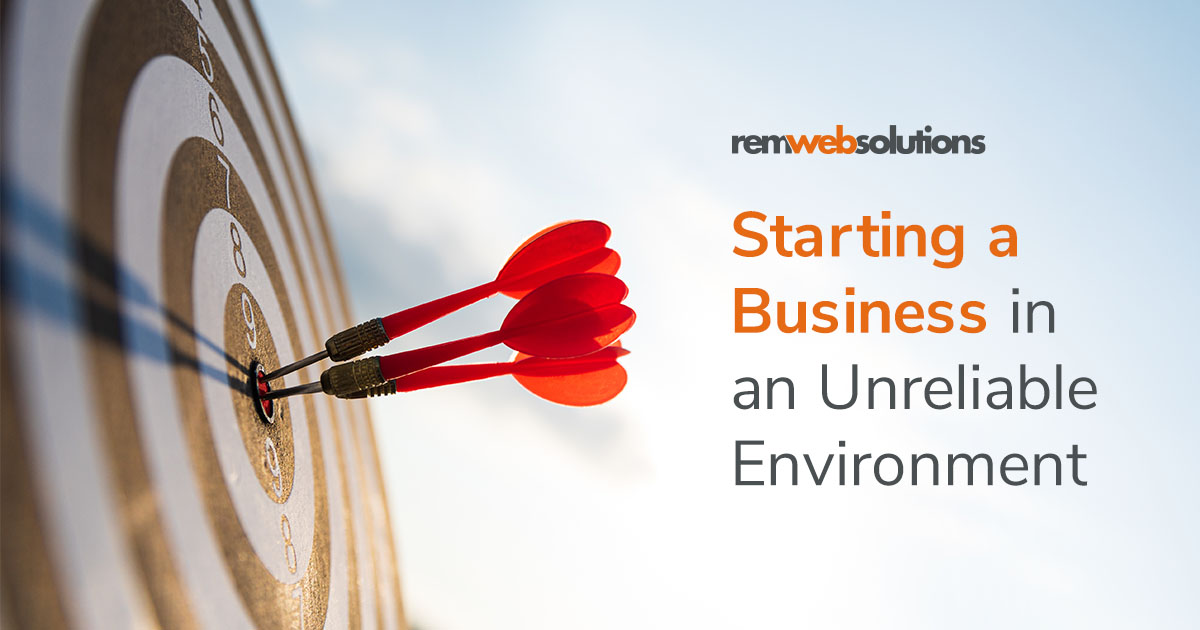 Being a small business owner has never been harder.
So, you wanted to start a business. You did your research, you followed all the rules, you worked hard, and you prepared for anything and then the pandemic happens.  Don't be hard on yourself; no one could have predicted the changes the pandemic would bring to our economy.
Being a small business owner is a stressful and all-consuming job during normal economic times. Now it's so incredibly easy to get burned out and overloaded by the chaos of starting a business. Luckily, entrepreneurs, especially successful ones, are very resilient and innovative people.
Successful people adapt to their environment
Adapting to the changes in our economy is key to success in business. It takes a savvy business mind to not only recognize issues that might affect your success, but also to find solutions to work around those issues and keep going.
Over the last couple of years, the pandemic has created a very challenging environment for small business owner. Here are some examples of factors that have changed recently:
It has become harder and harder to access financial capital
Inflation is at the highest rate we've had since the 80s
The world's supply chain has been disrupted
Global worker shortages have made it hard on employers to retain talent
Social distancing and lockdowns have changed the way consumers shop
When you start a business, you have the normal worries such as managing cashflow, bookkeeping, or finding clients. Now you must pile all these other pandemic-related challenges on top and deal with them as well.
Ask any small business owner and they will tell you they have had to deal with at least one of these issues during the pandemic. For example, a local restaurant owner might face one or more of the following issues:
decrease the number of tables you can physically serve
staff shortages and pay issues
PPE costs and extra sanitation time
increase in online orders, possibly requiring a new website
paying commission fees on food delivery apps
large capital expenses like adding a new outdoor patio
Even with all these huge hurdles in the small business world, the rate of new businesses being started has increased year over year for the last three years. That's right, the actual number of new businesses created each year has sky-rocketed in a time when we should be seeing contrition.
Take advantage of the turmoil
How did this happen? What allowed more and more businesses to start during this turbulent period?
First, a lot of people left public facing jobs or low paying jobs and jumped into the small business world. These chaotic times have led to rapid innovations in technology – online shopping, virtual reality tours, video conferencing, and accessible technology for smaller businesses such as CNC machines, plastic resin printers, etc.
These changing technologies have led to new cottage industries like remote working services, delivery services, PPE product manufacturing, video tutoring, and more. We could write hundreds of posts on the sheer number of new business ideas or changes in the last 2 years.
But what do all these businesses have in common? They were all the product of entrepreneurs who harnessed the most powerful and necessary skill to being a small business owner – being innovative. The whole world had to deal with these new challenges, but the owners that saw those challenges as opportunities were able to capitalise on this rare environment.
I was always taught to be contrarian when it comes to business decisions. You should always do the opposite of what the average person on the street is doing. If everyone is buying tech stocks, and all the watercooler talk is all about the latest .com stock blowing up…it's time to get out of tech stocks.
If everyone is complaining about the economic situation and how hard it is for businesses to survive, it can be the perfect time to jump in and start a business. If everyone is starting businesses, then costs are usually higher. Access to resources is also more difficult if it's current popular trend. Try finding a good web design company that isn't fully booked during the good times.
Instead, look at the pandemic as an opportunity to get established in an industry that's ready for some shaking up. If businesses are folding in that area, but you can see how to make some money, you will have less competition. Or maybe most of those businesses are owned by older people, and they are all going to sell and get out during the pandemic? This is your chance to acquire their businesses at a lower cost because demand is lower.
The smart investor buys when prices are low and sells when prices are high. However, you can't just run out there half-cocked and hope to succeed. You need to have some key elements in place to make sure things go the right way.
Don't compromise on your quality or vision
When times are tough, it can be very easy to start cutting corners to get by. Unfortunately, that can have a dire affect on your brand. Imagine you've established a local bakery and use only local ingredients for all your delicious baked goods. Suddenly, your local supplier shuts down. If you suddenly change to using a cheaper quality replacement, you could lose all your loyal clientele.
This goes the same for compromising your company vision. For example, you might have promised that 10% of all your sales go to supporting a charitable cause. You did this because you truly believe in the cause and that giving back is a key pillar of your company's vision. Now suddenly your margins are tighter and covering costs is difficult with rising inflation.
You might be tempted to cut back on donating for a while to cover your costs. While it might help you stay afloat, the long-term damage to your brand could be very detrimental.
Surround yourself with talent
If you've been paying attention, you'll remember that I listed staff acquisition and retention as a major issue during the pandemic. But small businesses benefited from the pandemic induced labour market shuffling.
Remote work became the norm, which allows businesses to acquire talent from outside of their own geographical area. You are no longer limited to using the services specifically in your geographical space. The whole world is available now with remote video conferencing etc.
Produce in-house or locally whenever possible
If you really want to be successful during a time when global supply chains are in chaos, you must produce your products locally or in-house. If you can't rely on your shipping container from China to reach you on time, you are going to struggle to meet customer demand.
Small businesses who manufacture their products locally have exploded in sales during the pandemic. Something as simple as a pharmacy mixing their own sanitizer in-house can mean a huge stream of revenue that wasn't there before the pandemic.
Always have a back-up plan
If you ever get the chance to sit down and talk with Rob, our big boss guy, he can tell you all about the back-up plans and risk mitigation processes he has in place. Being a smaller company, REM is susceptible to possible issues, so he makes sure to have back-up plans for all our processes.
For example, we have one Marketing Director…what happens if he gets COVID or is hit by a bus tomorrow?
Good communication, a strong set of processes, and back-ups for all your processes means you can weather worst situations with only minor setbacks and without overloading your stress levels. Take the time to setup your processes and have alternatives for each one.
Now make back-up plans for all areas of your company from your receptionist to your internet provider.
Be prepared for failure
Part of planning for success is planning for failure. If you aren't ready to handle a failure, it can completely derail all your other plans. However, if you have the right plans in place, a failure can even become an opportunity.
Let's takes sales for example. If you are going in to pitch a deal with a potential client, you should have a plan in place in case they say no. Do you have evidence to dissuade their worries? Could you offer a discount or incentive to sign that day?
Preparing for failure means you are truly ready to be a successful business owner. Every successful business owner has realistic expectations and knowing that they will fail at some point is key.
In Conclusion
The last couple of years have resulted in a lot of changes to almost every aspect of our lives. The business world has not been immune to this, and we've seen a tumultuous number of changes.
Successful business owners have been innovative and have found solutions to these problems. They've found ways to make more money, or even just hold on, until better times come along.
These successful entrepreneurs have used the aforementioned tactics and strategies to make sure they are positioned to win at the end of day.