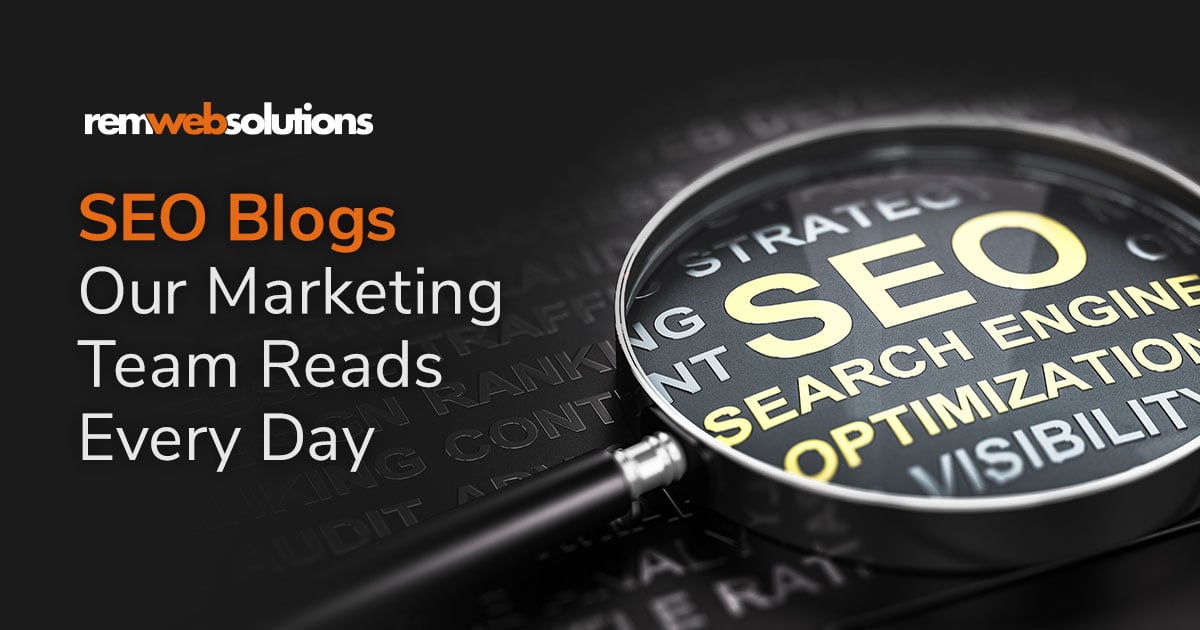 Everyone needs Search Engine Optimization.
Search engine optimization is a constantly evolving area of expertise. Even before the rapid changes brought on by the pandemic, we would see daily or weekly updates on SEO strategy.
Every business owner knows that showing up on the first page of Google is important to getting traffic and therefore customers to their website. Google has held the dominant search engine position for years, still accounting for over 85% of all searches done online.
Avoiding search engine optimization and relying on word of mouth or print advertising is no longer a feasible option for reaching new generations of consumers who make most of their buying decisions online.
Trust REM to help you with your SEO
At REM, we help our customers to get noticed online. Part of that process, after building you a beautifully designed website, is optimising your site to show up in search results. We work hard for each of our clients to improve their PageRank on a steady basis.
To keep up with the constantly changing world of SEO, our team must be constantly learning from the SEO community. The process is even more difficult because the main companies, like Google, don't give out their 'trademarked' information.
When Google releases an update to their search algorithms, the entire SEO community braces for the impact. Then the SEO managers start to discuss the changes and see what affects the updates have had on their sites.
There have been multiple times where SEO updates have completely changed a sites PageRank, but when you look at the official update, there won't be anything that should affect the site. We do wonder sometimes if Google tries to sneak out unofficial updates, this is always a hot topic of discussion in SEO groups.
So how do we do it?
First, our team is fully trained on all the basics of SEO. Having a complete and thorough grasp of the fundamentals is important to start playing around with the nuances of SEO.
If you need to brush up on specific topics relating to the world of SEO, we can't recommend the site Search Engine Journal enough. Anyone doing digital marketing should read the SEO articles on this site.  The main link to the site is: https://www.searchenginejournal.com/
However, beginners should start by reading their SEO Basics eBook:
https://www.searchenginejournal.com/seo-guide/?itm_source=site-search&itm_medium=site-search&itm_campaign=site-search
Follow that with this post on the basics for a successful SEO campaign. This post will also start to bring all the basic concepts into focus and show you how to apply them to your site:
https://www.searchenginejournal.com/seo-basics-to-be-successful/343811/?itm_source=site-search&itm_medium=site-search&itm_campaign=site-search
Once you have the basics down
Okay, you've read through all the basics. Now it's time to start to narrow down your knowledge to the area that is going to help your site the most.
Ask yourself what your site needs first. Should you focus on Mobile SEO because all your clients visit your site on their mobile devices? Or perhaps Local SEO should be your focus as most of your customers live within your immediate vicinity?
Here are some examples of the menu options on Search Engine Journal's site:
ENTERPRISE SEO
GOOGLE ALGORITHM UPDATES
INTERNATIONAL SEO
LINK BUILDING
LOCAL SEO
MOBILE SEO
ON-PAGE SEO
TECHNICAL SEO
VERTICAL SEO
Obviously, if you have the time and inclination, you should try to read all these sections as they can be very helpful to your overall understanding of SEO best practices.
Google algorithm updates
This is a quick list of sites we read just specifically for Google Algorithm updates. Each time a new update comes out, you might need to adjust your SEO strategy or update your site to meet new requirements. If you don't, you could suddenly lose all the SEO work you've done.
Daily blogs for the latest updates
Here is a list of the websites that we visit each day for the latest information. Some sites don't update daily, so it's good to have a large list of favourite sites, and then you should have some new information everyday.
If it does seem quiet, don't get complacent, the next Google update could result in hundreds of posts that you need to read. So, if it's quiet, use that time to hone up on fundamentals or explore new areas of interest in the SEO field.
"Search Engine Journal is dedicated to producing the latest search news, the best guides and how-to's for the SEO and marketer community."
This is easily one of our favourite resources. The articles are well organized and easy to read and understand. In fact, this is the first site I give to our marketing team. If you can't grasp the concepts on this blog, you're really going to struggle with SEO overall. Remember that REM can help do your SEO for you if you are already frustrated by this point.
"Semrush's digital marketing blog is an innovative resource for content strategy, content marketing, SEO, SEM, PPC, social media and more."
Semrush is best known for its suite of SEO tools that can help you to do keyword research, site audits, and other key SEO tasks. The Semrush blog has a huge amount of very helpful SEO knowledge which you can learn from even if you don't use their software. They do a good job of giving general advice which isn't specific to just their tools.
"Breaking news, updates, insights, analysis and guides covering SEO, PPC and all things search from the Search Engine Land team and subject matter experts."
A top site for getting the latest trends, breaking stories, and cutting-edge news in the SEO world. We highly recommend following the site or their newsletter so that you get notifications as soon as new content is available.
"The Ahrefs Blog. Expand your SEO and marketing knowledge with detailed tutorials and case studies. The benefits are obvious: free, passive traffic to your website, month after month."
A highly popular SEO blog, Ahrefs has been around since 2011. The author, Tim Soulo, has written top SEO content for years. He has created some of the most shared content and some of his posts can generate thousands of links, comments, and shares. If you want to learn about SEO, you need to be reading this blog because your competitor probably is.
"The industry's top wizards, doctors, and other experts offer their best advice, research, how-tos, and insights—all in the name of helping you level-up your SEO and online marketing skills."
The Moz blog has been around since 2004, but it welcomed new management around 2014. The site has evolved into a top resource on the web for anything related to online marketing. The main focus of the site is definitely SEO, and it is the home to the largest online SEO community. This is a great blog and community if you want to be an SEO superstar.
"Search Engine Watch provides news and information about search engines and search engine marketing. Search Engine Watch was started by Danny Sullivan in 1996."
"A well-rounded view on search engines and search engine marketing from five segments of the Web population represented by senior members of the major SEO/SEM forums on the Internet."
This blog does a great job of keeping you up to date on the conversations and news happening behind the scenes in the world of SEO. The site curates the most interesting threads (conversations) taking place in SEM (search engine marketing) forums on the web. They bring in experts to summarize the threads and provide even more detail.
"Your #1 resource for digital marketing tips, trends, and strategy to help you build a successful online business."
If you work in the field of SEO, marketing, or blogging, then you have probably already heard of Neil Patel. His articles are very easy to read, and he breaks down complicated process into easy-to-digest nuggets of SEO goodness. We highly recommend reading and watching as much of his content as you possibly can to up your SEO game.
"Yoast helps you with your website optimization, whether it be through our widely used SEO software or our online SEO courses: we're here to help."
Yoast is a very popular SEO plug-in for WordPress websites. If your website is built on WordPress, there is a high probability that you are using Yoast for your SEO. REM uses a CMS called WebWiz@rd which let's you do SEO optimization without an additional plug-in, but for WordPress users this is the best option available. Luckily, the blog covers all SEO issues and trends and not just ones specific to WordPress. It is still definitely worth the read.
"Backlinko is an SEO blog that focuses on actionable SEO tips, strategies and case studies."
This blog used to have more regular posts until it was recently bought out by a larger competitor. The blog has a wealth of knowledge in the past articles, including some of the best blog posts on how to optimise and write content for SEO.
"The #1 Source for Internet Marketing Agencies. We write tips for digital marketers and we create beginner through advanced guides for search engine optimization."
"In our blog we write about current issues in the areas of online marketing and SEO and show interesting statistics and trends."
"We have written and optimized - for our own blog or other pages - thousands of articles and SEO friendly blog posts in the last 10 years."
"The Google Search Central Blog is where you can find official Google Search core algorithm updates, announcements of new Google Search features, and SEO best practices. Subscribe to our RSS feed and get the latest updates in your favorite feed reader."
In Conclusion
We hope this article has helped give you a viable resource of blogs to follow as you work on your SEO journey. The sheer volume of content and the constantly changing best practices mean that you need to know most of these tactics to be competitive with other sites.
If you're feeling overwhelmed by the weight of how much work this could be, remember that REM can help you by doing your site's SEO for you. Our costs are designed to fit most budgets and the SEO work is completely hands-off so you can focus on selling or other important areas of your growth.
Speak to your REM Sales rep today, or use our contact form to speak to our Marketing Director to get started on how to get your site noticed online.