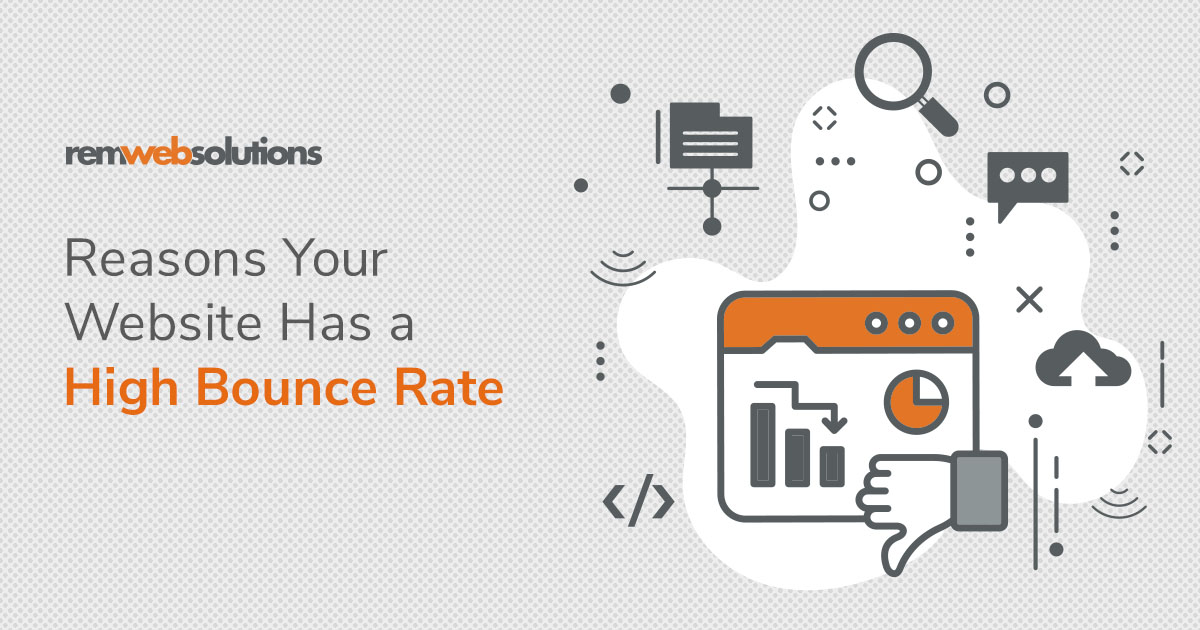 Your website is a critical part of your organization's story, marketing efforts and digital presence in the big bad online world. You spend time and money creating an online experience that would attract and drive certain behaviors from your target audiences. But somehow your site has a high "bounce rate." So, what exactly does that mean?
Well, a bounce, in simple terms, means people are coming to one of your web pages and leaving without staying for less than 10 seconds. While they are there, they are not clicking on any links, your Call to Action (CTA), or another page.
The bounce rate is the percentage of visitors who do this versus those who interact with your site. The average bounce rate falls between 41% and 55% and the ideal is 26% to 40%. Anything above and even below could mean your site has a problem and is not performing to the best of its ability.
To find out your site's bounce rate look at the individual channels and pages in the behavior column of Google Analytics. If you are scoring above 55%, "Houston we have a problem," or even worse, we have several problems. It could mean bad content, misleading descriptions, a poor navigation experience or design. Most importantly it's a sign that users are not doing what you want them to do on your site; they aren't converting. And this can have an impact on your SEO rankings. In fact, one industry study found a strong relationship between time on site and rankings.
Sometimes a website can have a naturally high bounce rate. Therefore, it can be very important to check with a digital marketing specialist who can determine the cause. For example, what if your website has a name that is very similar or identical to another company in a different industry. 'ABC cleaners' could be a dry-cleaning company or a window washing company.
Another reason for a naturally high bounce rate would be if your city or street has the same name as another place. Websites in Cambridge, Ontario will sometimes get visitors from Cambridge, Massachusetts or Cambridge, England. Those visitors will naturally bounce once they realize they are on the same page.
Let's get down to business and explore some of the top reasons your site could be failing to engage your audience and causing a legitimate bounce rate issue.
Three words: content, content, content
With so much information on the web it's a rare thing for someone to accidently end up on your site. People use google to search for information and visit the sites they think have it. If your content doesn't measure up, they're leaving. Content must meet the users' expectations, or they will bounce to another site.
Following a few basic rules can help:
Create content that matches with your visitors' search intentions. Your website should focus on the reasons and problems a visitor may have and try to address them.
Keep your phrases short. Writing for the web is quite different than writing for a printed publication. Sentences should be short and include key words to improve your SEO rankings, especially in your headings.
Think about the user journey and improve internal linking. Where do you want them to go and what do you want them to do while they are on your site?
Invite visitors to your call-to-actions. Make it simple and easy.
Keep educating! Tell them about related blog content on your site and keep them longer.
Follow good design principles. Make your page scannable with easy-to-read headers. Break up your content with engaging images. Make sure your important information is loaded and visible within 3 seconds of the page coming up.
Look around for an honest opinion from a colleague, a professional copywriter or even a loyal customer to review your content and adjust accordingly. You may also consider hiring a writer or a good content strategist.
---
REM offers content marketing and blog writing as some of our digital marketing services. Our professional writers produce content that is engaging, and you don't have to do anything, just review it once before we post it online. Speak to your REM representative or contact our Marketing Director for a free, no-obligation conversation about how we can help.
---
Slow Load
Studies show the average online attention span is about 8 seconds. And on top of that, most people will leave if your site doesn't load in less than 3.9 seconds! You don't want your visitors to spend those precious seconds of their attention watching a throbber (the loading icon), or they're going to bounce. There are millions of other web pages. Patience is not an online virtue.
Rethink whether you want that big video file to automatically play and take a closer look at those scripts. Take advice from the Google and run a Page Speed Insights test to find out their recommendations. Other tools include Lighthouse reports, Pingdom or GTmetrix. If your page is taking longer than a few seconds you need to fix it.
Keeping it Real
Real titles and real descriptions matter. Your title tag and meta descriptions play a key role in setting visitor expectations. When your content doesn't line up, people bounce. Nobody likes to be misled, nor do they have time for it. Accurate titles and descriptions are necessary; consider these your first impression. If you falsely advertise, they will simply return to the search engine and go to the next best page.
Good meta descriptions do the following:
Explain the organization or the purpose of the page - Provide information a user is looking for like the product or services offered, the location and operating hours.
Pull direct content - Think of using a quote or perhaps the first couple of sentences that summarize the content of the page. Chances are a lot of your key words are found there.
Summarize - If you primarily sharing information, Google suggests summarizing the entire page. This will give search engines more opportunities to find your page.
Share differentiators - If your site is supporting a specific product, share what makes it the best in your description.
The lesson here is to be accurate and be descriptive. This will bring the right visitors to your site and encourage them to stay.
Navigation
Nothing is more frustrating than landing on a page and not being able to find the menu, the next step or good grief, the link to buy to your product. Poor design creates problems for users who want to browse your site resulting in, you guessed it, the bounce!
If your content is good, your titles and descriptions on point maybe it's time to hire a designer to identify potential issues. Work with them to ensure the menu, links and any CTAs are self-explanatory and easily accessible. This will improve your user experience and your bounce rate.
Be friendly to the phone
Global web traffic on mobile phones has surged in recent years and as of November 2022, 60.28 percent of all web traffic came through mobile phones. If your website is not mobile friendly you are doing your organization a huge disservice.
Consider these common mistakes of unfriendly websites:
Content is too wide, going past the screen
Links are too close making them inaccessible on small screens
Text is too small, meaning your users are spending too much time trying to accommodate your content
Websites that are not optimized for mobile do not look good on mobile devices AND they probably don't load very fast, either. Take the time to explore the site from your own mobile device or to find out how your site measures up by trying Google's mobile friendly test. Alienating the majority of web traffic is only going to increase your site's bounce rates.
REM designs beautiful, user-friendly websites for businesses who want a great user-experience and a fast-loading website design.
Error 404
We've all been there and usually we give it our best effort and click that link a few times just to be sure. If your bounce rate is really, really high, with visitors only spending a few seconds on the page, chances are they've hit a blank page or 404 error message.

To replicate a user's experience try looking at the page from popular browsers, Safari on desktop and Chrome on mobile. Then find the time or expertise to help you fix broken links, errors, and ensure those blank pages stop your visitors from bouncing.
Don't ask for the kitchen sink
Only ask for what you really need. If you try to collect too much information from your visitors,' they will bounce! Requesting maiden names, social security numbers and financial information will deter people from staying on the site. People are wary and they have the right to be with the number of online phishing scams out there. The SlashNext State of Phishing report found over 255 million attacks in over six months in 2022 alone! 
Take the time to build trust and inform your users. If they stay and learn, your bounce rate will go down and your SEO rankings will go up.
Never ignore your bounce rate
How long someone stays on a page can help you determine the success or failure of a website. SEO isn't just about key words, titles and tagging. It's about strategic content and design, navigation, and most importantly engagement. Just think about how much time, energy and money went into building your site. Start with those critical pages and try a few improvements. Check back in a few weeks and see if they're making a difference.
You want to know that those efforts are paying off and you're living up to your visitors' expectations. Monitoring your bounce rate can be a simple and effective way to take your site to the next level!
---
If you don't have the time to do this yourself, or in-house, speak to your REM representative or our Marketing Director so our expert team can help take this off your plate. You can then focus on running your business and helping clients, while we take care of making sure people can find you online.