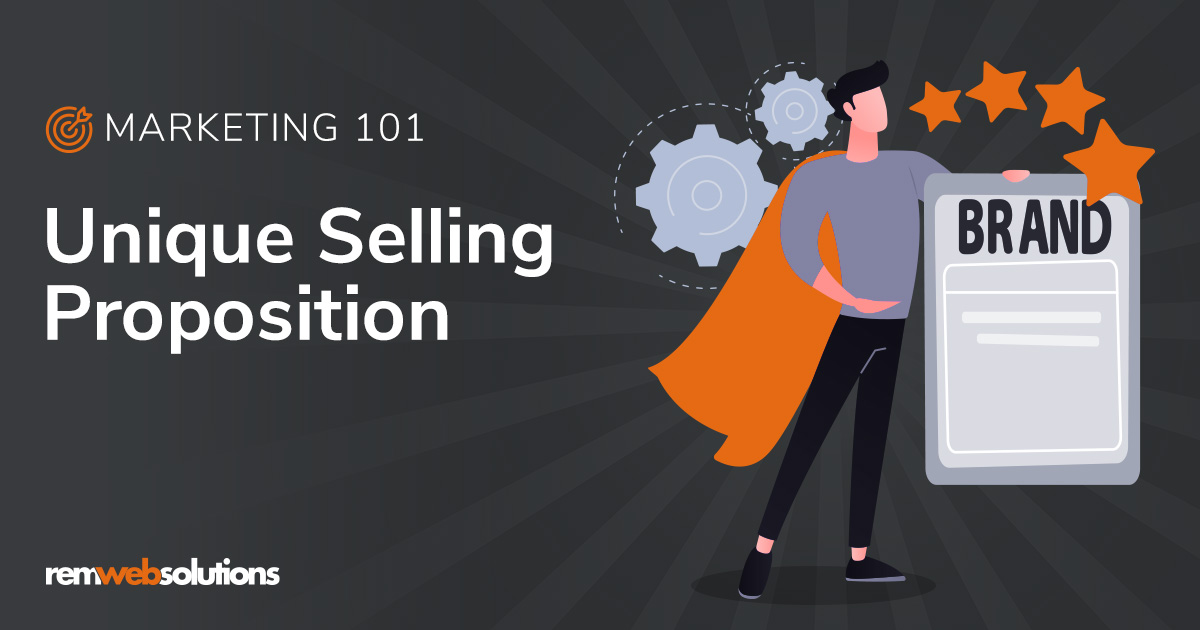 Welcome back to our Marketing 101 series! In our last blog we discussed Buyer Personas, what they are, why they are important, how to use them, who benefits from them and we briefly touched on when you can use them. Once you've developed your Buyer Persona, the next step is to figure out how to intrigue them – we do this using the Unique Selling Proposition.
What is a Unique Selling Proposition?
Your Unique Selling Proposition is what you use to communicate to your target audience. Within this proposition, you will define what you're selling and why it's exclusive to your business. In other words: why choose you over another business?
What's your problem?
The key to creating a succinct unique selling proposition is having a clear understanding of who your target audience is. Once you have created your buyer personas, you should be capable of understanding what they want and build a narrative that identifies the problems you're solving for them. During this process, you should always keep in mind what the specific buying behaviours are of your target market. Using this knowledge will allow you to develop a statement that will persuade a buyer to choose you.
What's in it for them?
Aside from buying behaviours, another piece of the proposition puzzle that should be identified are the benefits. Yes, you have a great product and here are the reasons why your customer should choose you over a competitor. What is it that you offer that sets you aside? Is it customer support? Low prices? Do you have a quicker turnaround time, are you more flexible? Are your products and services versatile? Take a step back and stack yourself up against the competition and clearly define what the customer has to gain by choosing you.
Take an oath.
Now that you've identified the problem, explained how you're going to solve it, presented the benefits of choosing your company the final bit of information that you should relay to your potential customers is your commitment to them. Taking ownership and an oath to ensure their satisfaction is crucial. It provides your customer with ease of mind knowing you're invested in their success.
Break it down!
At this point in the process you've likely created a paragraph worth of words and this is where things get tricky. For the unique selling proposition to be effective, you'll need to rework it down to 1-2 sentences. Why? The proposition is meant to act like an "elevator speech" it should be used constantly throughout your marketing campaign. Having a short and concise message allows you to portray your proposition clearly and effectively for potential customers to easily digest.
Here are some great examples of unique selling propositions:
FedEx Corporation
When it absolutely, positively has to be there overnight.
Mars, Incorporated
The milk chocolate melts in your mouth, not in your hand.
De Beers
A diamond is forever.
Ben & Jerry's
We make the best possible ice cream in the best possible way.
Page Eleven Paper Goods
This is not your ordinary datebook.
Show it off
Now that you've created your unique selling proposition it is imperative that you make use of it anywhere and everywhere. This statement is your brand, it defines your business, your products and services and it is what customers should think of when they hear your business name. From inception during sales, on your website, social media, marketing campaigns etc. you proposition should be front and centre, and why shouldn't it? You've invested blood, sweat and tears (hopefully not too much) creating representation of you and your business – wear it proud!
How do we fit in?
When creating your website with REM Web Solutions, our designers will ensure that your unique selling proposition is displayed perfectly on your website. We will also do our very best to illustrate your proposition through the design, by choosing reflective colours, images and much more. Our development team promises to build a site that will reiterate your proposition to your potential customers as they navigate information that is presented to them. Our customer success/support team will tag along throughout your journey with REM helping you apply best practices on how to convey your USP using our standard modules.
---
At the end of the day, I'd like to think our Unique Selling Proposition is "Customer Success Comes First" it's the phrase that makes us who we are and collectively, every day, we are working towards customer satisfaction. If you need some help building out your marketing plan, feel free to contact us and we can help point you in the right direction!