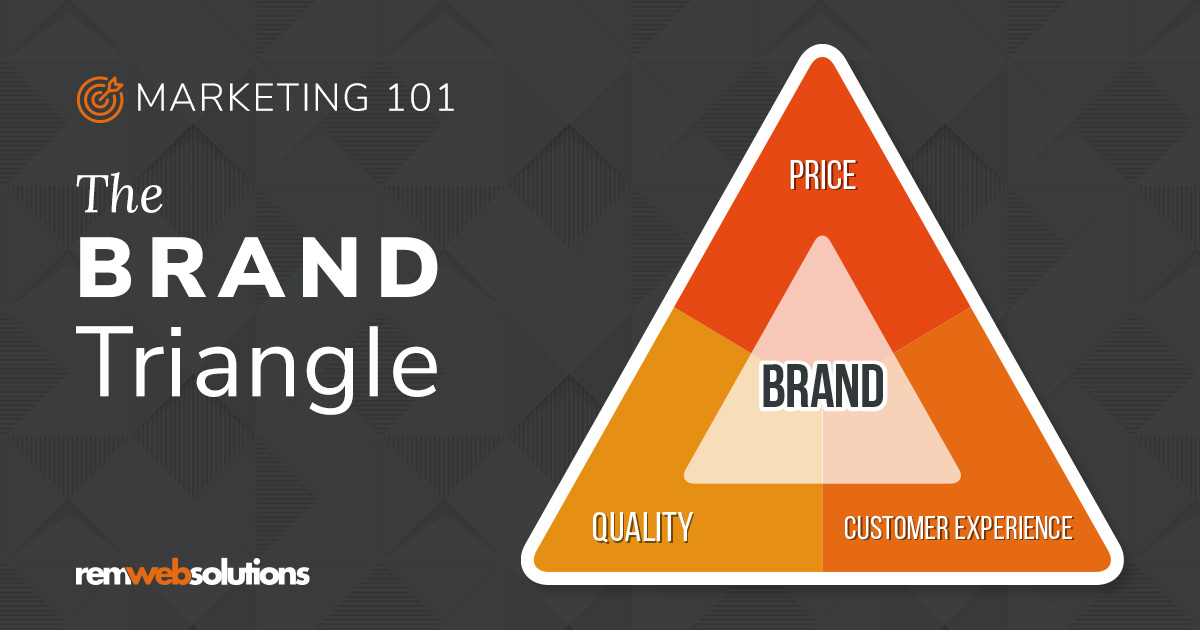 As you continue to lay the foundation of your Unique Selling Proposition another thing to keep in mind is where you fall in the Brand Triangle. What is this unheard-of triangle you ask? Well, it's what we use to start the conversation of how you define the most valuable selling point of your business, from there you'll be able to clearly develop marketing tactics that accurately reach your target audience. 
When attempting to sell products and services most business owners make the following statements:
We make the best product / created the best solution

Not only is our product/service the best, it is also the best price on the market

We provide the best customer service
This sounds familiar right? Majority of the time these three statements are made by business owners because they truly believe that they are the best at what they do or have. The main problem here is found in the term "majority". If most people feel this way about what they are selling, this increases your competition in your go to market branding strategies. If everyone is saying the same thing how are we as consumers to decide?
This is where the brand triangle comes into play and works by helping you provide clarity to potential consumers as well as internal departments of your business. Up until this point you have likely positioned yourself in the middle of the triangle, in a sea of businesses that believe the exact same thing as you. The secret is to move yourself towards one of the three points of the triangle, which are:
Price

Quality

Customer Experience
This practice can be quite daunting – deciding how you want your target audience to feel about your what you're selling and understand your market position is a big step and shouldn't be taken too lightly. Let's dive into some examples of each position on the brand triangle, hopefully it will help you decide where your business should be!
Price
A great example of how a business markets on price being their main selling point is Walmart. If you're choosing to compete on price, you're telling everyone that it's the price of your product/service that makes you great and is why your potential customers to choose you. Walmart has done a fantastic job building out their branding strategy to solely focus on price. For example, if you open a flyer or view commercials, order online via their website, the main advertisements are "Always low prices", "So. Many. Rollbacks" etc. When choosing to shop at Walmart one is not concerned about the quality of their purchase or the customer experience that they are receiving. People know what they are getting – products for low prices, anything beyond that is a bonus and is normally acceptable by consumers because that is what they are expecting based on the messaging they have received.
Quality
If you're choosing to brand your product based on its quality, you're offering up information to your target audience solely on how good your product or service is. For example, Apple: can you remember the last time you saw an Apple product go on sale? It's a rare occasion and when it does happen, the sale is generally a minimal dollar amount off. Apple has positioned themselves as a brand that sells quality products and consumers are willing to pay a high dollar amount for it. Their focus on using the best technology and materials for all product lines and accessories inform their consumers that the quality of their product is the best on the market. You'll also note that customer experience is not something they brand themselves as having the best of. How often do you walk by an apple store and it's packed to the max inside with lines out the door? This is because their consumers are willing to give up the customer experience aspect of it, their willing to put aside the hoops they must jump through to get their product, and it works!
Customer Experience
The final position that you can take on brand representation is experience, and this means that you're there for your consumers. Let's take a look at a store such as Home Depot as an example. There is an array of products available to you that range from different prices and quality. However, the one thing that sets home depot aside is their customer experience. When you visit a home depot in each department there is at least one individual to assist you, you can ask them questions about what you're trying to do and they'll guide you through the process, make recommendations and help you stock up with what you need. They'll load your cart for you, rent vehicles to make your job easier and much more. You'll notice that Home Depot and their employees pride themselves on being there to help their customers.
---
Once you determine where you fall on the brand triangle, it will help you define your Unique Selling Proposition, and build out your marketing plan. Take the time to identify where on the triangle is best suited for your business, products/services and your customers and start building out messaging. Once this has been completed, please note it is imperative that you stick with this brand, go all in and don't divert from how you market yourself!