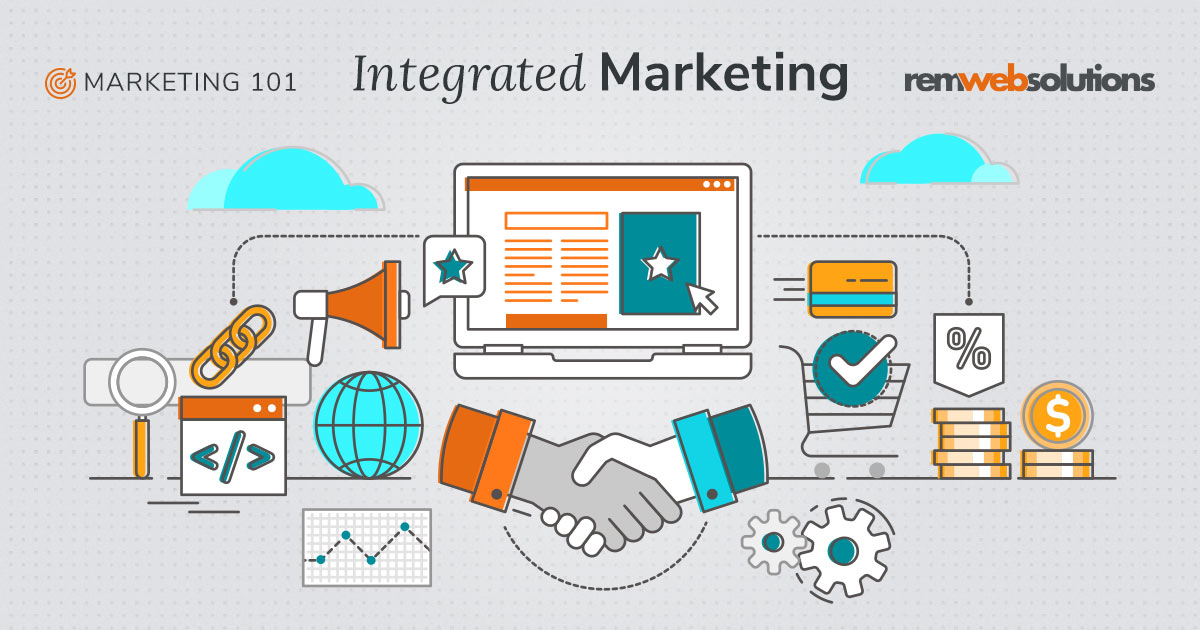 I know it seems like our Marketing 101 series is never-ending, however that's because building out your Marketing strategy and implementing it is a never-ending process. It requires constant updating and refreshing; however, if you have built a clear and concise plan, you need not worry because now all you need to do is continue to push what you've built and share it with the world!
Ah… and there she said it… SHARE IT WITH THE WORLD. That's right, friends, we're finally going to start talking about the best ways to deliver your brand via multiple advertising vehicles. When businesses implement an Integrated Marketing strategy, they are far more successful with capturing the attention of potential customers and creating a sustainable plan of action to increase returned business.
What is Integrated Marketing?
Integrated Market is the practice in which a business unifies all marketing communication through their advertising, social media and public relations. It is meant to align your brand's messaging that is being shared with the world. The goal for creating an Integrated Marketing plan is to ensure that your customers receive the same message and feeling about your brand whenever they receive communiqué and interact with your business.
As the basketball season comes to an end, I figured the best way to describe the effectiveness of an Integrated Marketing campaign is to use the branding of our beloved Toronto Raptors. A few years back, The Toronto Raptors released an explosive marketing campaign and the words "We the North" has resonated globally. The Toronto Raptors are typically the first thing that comes to mind whenever we hear this catchphrase… and this, my friends, is a successful integrated marketing campaign.
Any brand messaging that is delivered from the Toronto Raptors is oozing with anything and everything that signifies "We the North." Commercials, social media, advertising, merchandise and any sort of public relations efforts all convey that the Toronto Raptors is a collective beam of hope for representing the North in the National Basketball Association. Smart right?
Now that we have and understanding of what Integrated Marketing is, let's review the basics on how to build an integrated marketing campaign.
What is the goal of your campaign?
Before you start any work on your integrated marketing campaign, you must establish the goal of the entire campaign. When crafting your objective, make sure you follow the SMART method, this will help you create a clear and well-defined plan and allow you to monitor your success.
What marketing channels do you intend on using?
Once you have a clear understanding of your marketing campaign's targets, the next step is to decide which marketing channels you intend to use. When deciding on your marketing channels, it is important to use a variety to make sure your campaign is reaching a large spectrum of customers. Some of the most common channels are:
Advertising

Email marketing

Direct marketing

Public relations

Sales promotions

Personal selling

Digital marketing

Social media

Packaging

Events and sponsorships
Buyer Personas
Once you have decided which channels to use for your integrated marketing campaign, it is important that you define a buyer persona for each channel. It's incredibly vital to construct your theme in way that is well received by each persona. This provides you with the ability to create a clear theme and attract the attention of the specific target audience. Once you have decided the buyer persona for each channel, it's crucial to assign a manager for each one. This makes certain that the marketing campaign is being thoughtfully and carefully managed.
Content is King
Now that we've established Who, What, Where and When, we can get into the How. Creating content for your marketing campaign is the most exciting part. Keep in mind when constructing your content that you should be able to continuously use it across all platforms. Remember, the key is a clearly defined campaign, you want to deliver the same message across all channels to clearly share your brand with the world.
Launch
Once you have all your messaging, it's time to launch your campaign! Once you have launched, remember this isn't the end of the process. You want to make sure you are tracking your metrics and understanding how your marketing campaign is being received. Always remember that you can tailor your efforts and tweak them as your review your metrics, this does not mean that you want to change your theme, you may just want to adapt to what is working for your business needs based on what isn't working.