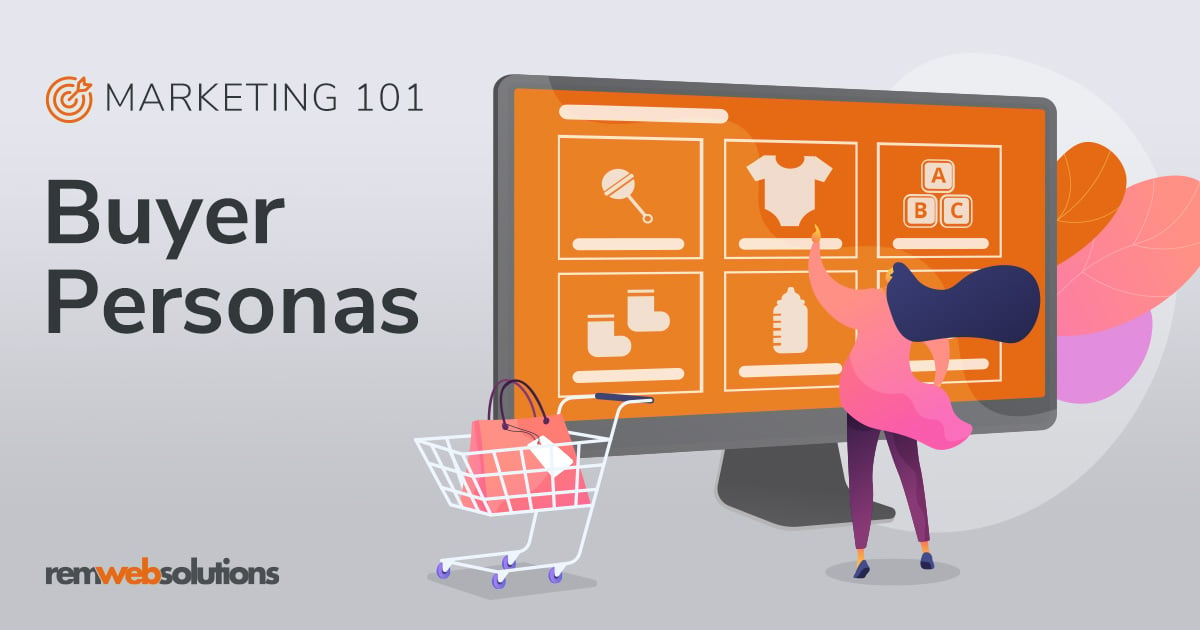 When creating your marketing plan, or any plan for your business, the first question typically asked is "What/Who is your target market?" At a glance it seems like an answer that is quite easily cultivated based on the product or services that you're selling however it is one of the most critical elements to your business. Buyer personas are developed by building a clearly defined picture of your customer based on their background, demographic, behavioural tendencies, needs and interests. The creation of buyer personas is crucial for the success of your business and we're here to help break it down for you.
This seems like a lot of work! Is it worth it?
Drafting your buyer personas is lot of work, but the return on investment is truly worth your time and effort. Here are just a few examples of how a clearly defined buyer persona is beneficial to your business' key departments.
Sales/Customer Success
Sharing buyer personas with your sales team not only educates them on their target market for lead generation, it gives them leverage to steer their conversations with potential buyers throughout their sales cycle. Understanding who they are speaking with allows them to start building a relationship of trust and comfort with a potential customer. This also holds true when it comes to customer retention, when customer success teams are tasked at renewing contracts having a separate buyer persona for existing customers can be extremely beneficial when crafting communication to solidify extended business contracts.
Product/Service Development
Pivot! Pivot! Sorry I couldn't resist the Ross Gellar reference. More often than not a clear buyer persona leads to revising your product or service offerings, historically this practice was more relevant to start-ups when entering their market for the first time. With the onset of Covid-19 and the continuous rise of technological advancements there are far more barriers of entry that business owners face nowadays. Your buyer personas arm your product/service development teams with a tool that allows them to re-evaluate what you're selling and make necessary modifications to increase customer satisfaction and sales.
Marketing
If it's anyone that is going to benefit from a clear and thoughtfully articulated buyer persona, it's going to be your marketing team. Knowing who your customer is, their interests, buying habits, where they are in the world, what they enjoy in life allows your marketing team to craft communication to potential and existing customers strategically. Whether it is building content for your website, creating posts on social media or expanding promotional offers to generate interest – the buyer personas become the foundation for your marketing efforts.
I'm in! Now What?
Research… research… and more research. The best way to start building out your buyer personas is to conduct research on individuals or companies that you would classify as being potential customers based on your product/service offerings. These are some great starting points.
Customer Interviews
If you have them, use them. Existing customers are a great source of knowledge, and typically are more than happy to chat with you about your products/services. Not only are you giving them an opportunity to provide feedback, but you're also spending the time with them and building your relationship. Existing customers can provide you with insights on your offerings that you may not cross your mind, especially if you don't use them on a daily basis yourself.
Sales Team
Talk to your sales team, they are on the frontline of the battlefield and are well positioned to provide you with a wealth of knowledge on buyers. They are networking, listening for queues and taking in what customers are looking for. Have a monthly touch base with your sales team to stay on top of trending consumer behaviour, competitive advantages that you can capitalize on. Your sales team is a great resource aside from business development.
Scavenge for Data
There is an abundant number of online resources available to you for consumer data. Depending on your market, https://www.statista.com/ is a good resource. Also don't forget to research your competitors, knowing how they position themselves and define their buyer personas can lead to competitive advantage recognition for your company.
---
Now that you know what a Buyer Persona is, give it try! Take some time building one out, use your team for reference and ideas, and do your research. There is a plethora of online templates that you can choose from to help get you started.'
If you would like to know more feel free to reach out to our support team at [email protected] and we'll get you in touch with someone who can educate you on the services that we offer to help boost your marketing efforts as well as share information on how WebWiz@rd can be used to better reach and attract potential buyers.