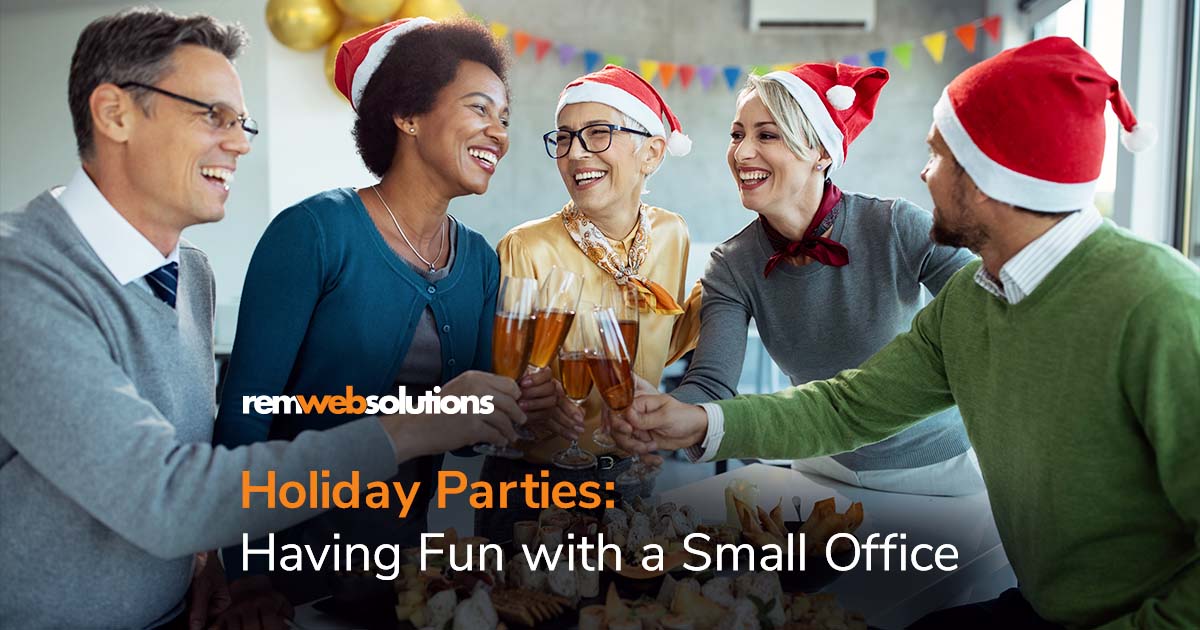 Every year, usually at the last minute, business owners and employees begin to wonder about what they will do this year for the office holiday party. Trying to plan and work around everyone's different schedules can be challenging especially if you leave it till the last minute. However, with enough time in advance and some good ideas you can pull off a fun holiday party for employees to remember for years to come.
Here are some great ideas for your next small business holiday party, several of which have been tested and approved by our team here at REM. Whether you want to focus on food, going out, staying in the office, going virtual, or staying on a budget, we have some great ideas for you.
Food Centered
Food is always the center of most if not all holiday celebrations. Food helps bring everyone together and is a great way to make a lot of people happy all at once. It allows people to come together and share a meal and chat or just have some small testers while enjoying other parts of the party.
Cultural Potluck
Potlucks have always been a great way to have a budget friendly holiday party and a great way for people to show off some of their favourite foods. As the holidays are filled with so many different cultural celebrations, a cultural potluck may be a great way to celebrate them all. It would allow your employees to bring food from their own culture and share a bit about themselves and the importance of the dish. It's a great way to introduce new cultures and new foods to each other and it's also a great way to allow your employees to get to know each other a little better.
Cookie Decorating
Cookie decorating is always a fan favourite and once again is another budget friendly idea. Simply buying or baking two dozen cookies and grabbing some icing and sprinkles is a cheap and easy way to have fun with a group of people. It works great as something simple thing to do over your lunch break on the last day before the holiday break or as a small part of a larger celebration. People get to make cookies how they like them and eat a lot of sugar and who doesn't like that?
Pie Baking Contest
It seems that pie is always a favourite around the holiday season and brings up a lot of childhood memories for a lot of people. So maybe try doing a pie baking contest as your holiday party. You can either bake the pies in person at the office or in advance at home. It's another fun way for people to share what they love and share a little bit more about themselves and why they love the pie they chose. It might also be fun to have the boss judge the pies, or a panel of employees depending on the size of your company.
Dinner Party
A dinner party may not be your first choice or the most budget friendly, however, it can always be a great choice. If you are in the camp of wanting to spend a little more, you can always treat your employees by going out to a nice restaurant for a great meal and some great conversation. If you want to save a bit of money but still want to have a nice, classy dinner, you could always suggest that your employees could pay for part of it. You could also just have the party at the office, bring in a bunch of chairs and tables or use the conference room and hire a caterer, which could save you a bit of money. A dinner party no matter what option you go with is a great way to celebrate the passing year and can also be a nice way to get the spouses of your employees involved as well. Sharing a meal is simply a great way to celebrate with people.
Naughty or Nice Hot Chocolate
Like cookie decorating, this idea is something small to simply do over lunch or as a small part of a larger celebration. Hot chocolate bombs have been very popular in the past few years around the winter season as it is a fun way to make one of the most classic holiday drinks. Naughty or nice hot chocolate bombs are a great way to put a more Christmas spin on the drink. You simply fill the bomb with red or green sprinkles and then decorate them identically on the outside. Then you get to pick one and see if you were "naughty or nice" this year. It's a great way to bring in a little bit of holiday cheer and bring out your inner child.
In Office
Food is great and all but sometimes you need to do something other than just eat for your holiday party. As more and more companies are going back into the office, they are beginning to throw in-office parties again. In-office parties can be a great idea as it saves on money, and it allows you to do it whenever you want. You can even have a smaller party during lunch or have a half day of work and spend the end of the day partying. Choosing an in-office party might be the best choice for your small business.
White Elephant/Secret Santa
White Elephant and Secret Santa are classic holiday party games and a great way to spread some holiday cheer. If you don't already know, both games are a sort of gift exchange with a budget. Normally you get a budget of about $15 to $30 dollars.
For Secret Santa, each person picks a name out of a hat or bowl and is tasked with buying a gift for that person and they are not allowed to tell anyone else or ask for help as it will ruin the secret. Sometimes, depending on how well everyone knows each other, people may provide a small list of things they like so you have an idea of what to buy.
For White Elephant, no one picks a name or anything you each just go out a buy a random, normally holiday themed gift. Then at the party everyone sits in a circle and places their gifts in the middle and then one by one you pick a number out of a hat and then that's the order in which you can pick a gift from the middle. Once you pick a gift you open it and then everyone has three chances to "steal" from someone else and trade their gifts.
They both involve a lot of laughs and a lot of fun and can be a great way to have a fun budget friendly in person party.
Movie Night
Movie nights have always been a favourite for many people because who doesn't like movies? Historically most people will rent out a whole theatre for their company and go and see the latest movie with all their family as well. However, renting out a whole theater isn't always an option for everyone as it can be pricey. An in-office movie night may be a great idea instead. Clear out the conference room and use a projector screen and make some popcorn. You can invite families as well or just keep it to staff. Another great way to get your employees involved is to get them to vote on a movie to watch or combine it with the cultural potluck. It's a great way for everyone to relax right before the holidays and watch a fun classic.
Vintage Video or Board Games
Board games and video games have always been a great way to spend an afternoon. Vintage games are even better. Get your employees to vote or bring in their favourite classic game from when they were kids and enjoy playing them all together. It's something fun for everyone to enjoy and allows everyone to get to know each other a little better. It can also be a great budget idea or great for those small businesses or teams.
Holiday Tradition Show and Tell
Show and tell may seem like something only first graders do, however, it can be way more fun as an adult. Now that you are older you can tell people more about what you are bringing in and truly articulate to them the significance of it. A holiday tradition, show and tell can be a great way to bring together everyone's different cultures. You get to share what your traditions are, and it allows everyone to get to know each other a little better. You could also double it up with the cultural potluck, have everyone bring in a dish from their cultural holiday and tell everyone else a little bit about it and its significance.
Virtual Parties
The world may be opening a bit more these days but that doesn't mean that everyone is back in the office or is comfortable being around so many people for a party. In order to include everyone, consider having a virtual party. They can be a great way to celebrate the holidays together as a company but also allow everyone to feel safe and cared for. Most of these virtual ideas can double as in person ideas so don't feel restrained by the category, they are in.
Game Show
Game shows or quizzes are popular and can be a great way to test your knowledge. A little bit of friendly competition is always encouraged so why not bring that into your holiday party. Having a holiday themed game show night can be a great way to get into the holiday spirit and give everyone a great time. Whether you do trivia, the price is right, or jeopardy everyone will have a great time. Make it even more fun by having your boss be the host and announcer.
Karaoke
Karaoke, like many others, is a classic of the office holiday party, so why not continue to do it just online instead. Since you don't need to be in the same room as other people to sing, why not have virtual karaoke. Make it even more fun by using a random song generator or try and do a duet with someone over zoom. It can be a simple and fun way to bring some holiday cheer without having to leave the safety of your home.
Ugly Sweater Making
Everyone has a love hate relationship with ugly sweaters and they can be divisive. However, making them is always fun. Trying to cobble together an ugly holiday sweater from random stuff you have around the house, or a gift box of supplies can be a great way to get everyone into the festive spirit. It can also be a great budget-friendly idea. Either have everyone just try and use things from around their house or head to the dollar store and pick up some basic materials for everyone to use and drop them off or have them pick up a "DIY holiday Sweater Box." That way everyone has the same supplies. Then over a zoom call make them together under a time limit and then show them off and take a vote over who's is best.
Don't forget the holidays are meant to be a time of fun and celebration that brings people together. So go out and join our team here at REM and have a great office holiday party and use some fun ideas to make it one to remember.