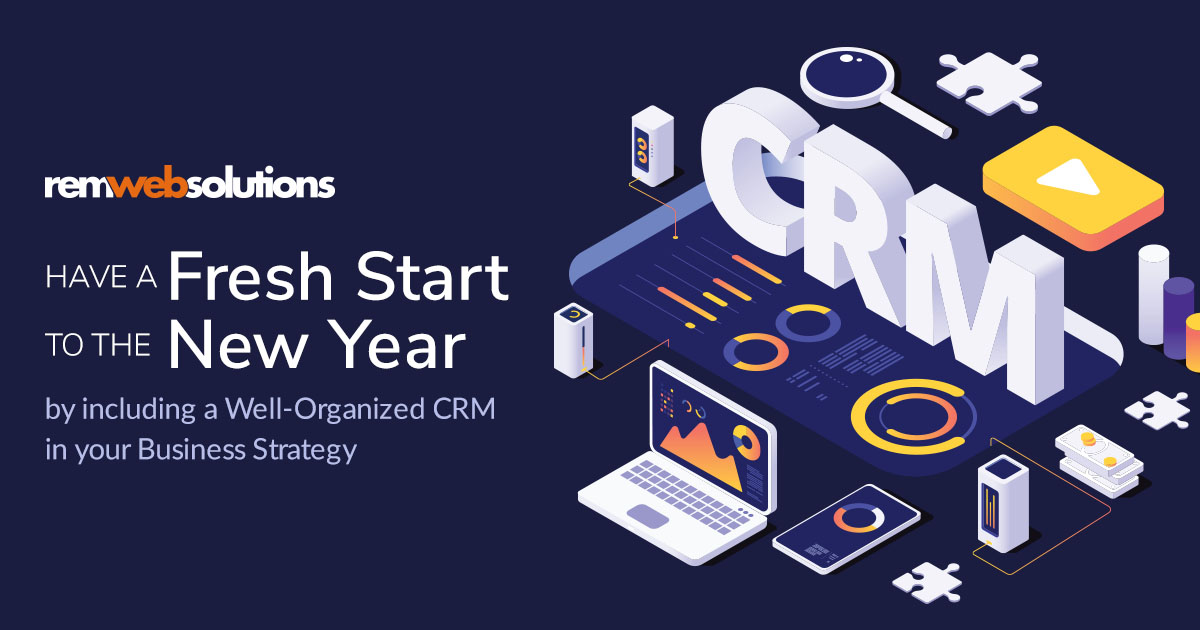 The best New Year's resolution business owners can make in 2022 is implementing a customer relationship management system (CRM). Using a CRM can be a very effective way to increase engagement with your customer base and it can help keep communication with your consumers fresh and functional.
In order to get the most out of your CRM, you need to make sure that it's organized. Much like how a tidy and orderly work desk is important for productivity, a correctly formulated CRM can be an enormous asset to small business management.
Here are some strategies to help you get the most out of your CRM.
Become a CRM expert.
Life can become pretty busy, but that doesn't mean you shouldn't take the time to really familiarize yourself with CRM. Not fully understanding CRM can lead to disorganization and less efficiency with how your information is stored. Below are some tips to maximize your knowledge.
Brush up on your CRM know-how by watching tutorials and reading guides about how to best boost your CRM. Reach out to your account manager and schedule a few minutes to go over any new features you may not be familiar with. Doing so may introduce you to more effective ways to keep information more organized and find more ways to sort it efficiently.
Clean it up.
Regular "housekeeping" efforts once a month can be extremely helpful to ensure that any information that needs to be fixed is appropriately addressed and attended to. Even if you regularly update your CRM, it can be easy to overlook duplicate entries or some missed pieces of incorrect data, so going in and thoroughly assessing your CRM is necessary. Delete any replicated files and research and properly correct anything that needs to be updated. This way, all of the information you and your team have access to is accurate and reliable.
Implement your CRM into your regular routine.
Staying on top of certain tasks at work can sometimes be difficult, but it's far better to tackle pertinent reports and duties when information is new in your mind. While easier said than done, one of the best things you can do is updating your CRM regularly.
How often you update your CRM ranges and is based on the preferences of your business. Often business owners who have a large volume of customers will input entries into their system as they receive new information, so nothing important is missed or slips through the cracks. Others include it as part of a weekly routine. Ensuring that you're scheduling time on your calendar to make updates when needed is a good way to ensure you don't fall behind.
If you're having trouble making your CRM a part of your routine, consider assigning this responsibility to someone on your team who has the proper time to dedicate to it and ensure that it's up to date. A CRM won't be as beneficial if the information is outdated and imprecise.
Stay on top of tasks.
Several CRMs have useful functions that allow you to add specific tasks that are useful for expanding your outreach, like sending out newsletters and renewing contracts. Taking advantage of these features as much as possible encourages timeliness and helps you close more sales.
Remain active.
Make sure you're regularly using all of the tools and features your CRM has to offer. Go through your contacts, manage campaigns, and update information. Use everything your CRM has to offer to your advantage.
Add new contacts.
The purpose of a CRM is to gather new clients and manage them all in one location. Broadening the reach of your business by expanding your database and accumulating new contacts more frequently increases the potential transactions you gain.
Collaborate more effectively with your team.
Looking back on your company's biggest mistakes this past year, what were they caused by? Weak collaboration can affect customer experience, so it's important ot get everyone on board—here's how a CRM can help.
Multiple departments—from marketing to sales—can use and benefit from using your CRM. Onboarding new hires onto the CRM encourages them to become comfortable inputting data from the start. It also helps ensure that they aren't missing out on any valuable information they may need access to like contact details, files or colleague schedules.
Make a set of CRM rules that employees are required to follow so everyone fully understands how and where to enter data. Sticking to CRM best practices will lessen the possibility of any mistakes and messy data entry.
Getting your team excited about your CRM is essential for success. With the proper training and patience, everyone should be able to embrace and effectively utilize the CRM—a tool that will help make their work easier and better in the long run.
Automate workflows.
Completing sales involves a lot of details that need to be appropriately and accurately organized. Ancillary chores like reports and file filling can be time-consuming, but they are an essential part of the sales process. CRM systems can take the burden of small tasks off the shoulders of your employees through automation. There are countless CRM tools available that are able to assist with automatically collecting new contacts and updating data.
Integrating marketing automation can also assist with automating workflows like sending emails to clients.
Ultimately, automated data collection and entry allows your team to focus more of their efforts on other projects and reduce human error in the process.
Boost your marketing.
Start scheduling marketing duties in your CRM. Create a sub-calendar to help make scheduling marketing-related tasks and events easier. Block out chunks of time dedicated to content writing, planning and making social media posts. This way, all of your marketing to-do's are less likely to be overlooked and fall to the wayside.
Set aside time to analyze the data.
Your CRM will provide you with incredibly valuable data that you've stored so you're able to assess different factors such as purchasing habits and consumer demographics. Develop an understanding of these features and what this data means so you can input it into your business strategy.
A new calendar year introduces a clean slate for different possibilities and opportunities for productivity and success. Make this upcoming year your business' best yet by incorporating an organized and well-maintained CRM system.