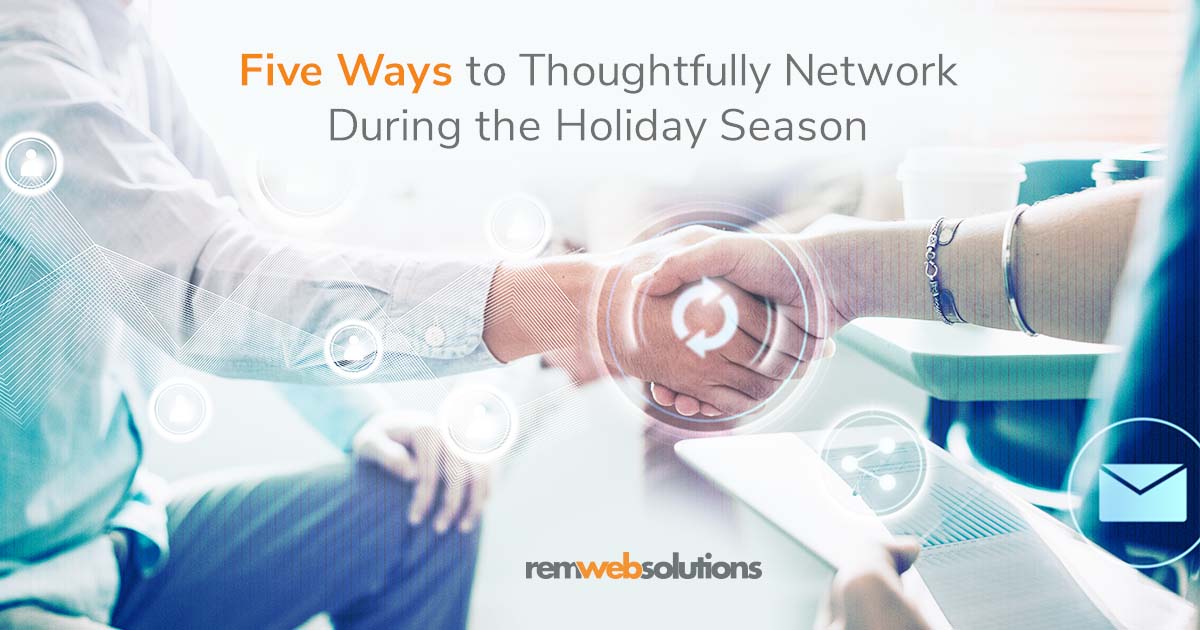 "We'll circle back to this after the holidays."
You've probably heard this phrase used time and time again in your corporate environment. For many, the month of December is a signal to wrap up outstanding projects in between crossing Christmas gifts off of your list and putting up the beloved "Out of Office" email signature before heading off to celebrate the holidays with your loved ones.
We get it. December is a hectic month as is, and sometimes networking or building professional relationships can take a back burner (if it makes it onto the stove at all!). We'd like to go against the grain and suggest that the holidays are the ideal time to check in with your network and see how everyone is doing. Not only will this warm up any dormant relationships that fall to the wayside amid busy schedules, but it can be of great benefit to your career as well.
The most successful individuals make a habit of always networking or prioritizing professional relationship-building in their calendars. Take Dr. Jon Cohen, the Executive Chairman of BioReference Lab, for example. He makes it a point to reach out to his network once a quarter and keep the lines of communication ongoing. While this may seem forced, sometimes having these reminders in your calendar can keep your priorities top of mind. As we know, life and work are hectic, and things often fall by the wayside unless we prioritize them.
Humans are creatures that benefit from relationships and building communities. These interactions not only bring us closer together, enhance our communication abilities, and give us the opportunity to collaborate on various projects but also greatly benefit our professional lives and careers.
Unsure of where to start, especially during the holidays? We've put together five ways for you to thoughtfully (and this is key!) connect with your community during the holiday season.
1. Take the opportunity to connect
What better time than the end of the year to wish someone "Happy Holidays" and hear what the past year held for them professionally and personally? The holidays offer a great platform for thoughtful connection, so take it as the opportunity that it is.
The holidays are the perfect reason to send a non-committal email to someone, which serves to reignite lines of communication. Consider adding an update on what you have been up to or hope to accomplish. Be sure not to ask for anything and avoid being transactional in your communication. You can always send a photo or link to an interesting article you know they would find interesting. Better yet, consider adding something personal to them that you remember from past conversations. These interactions will go a long way to keep this professional relationship strong in the future.
2. Make your connection memorable
Although the holidays are a natural time to connect with your network, they can also become cookie-cutter practices in the corporate world. If you really want to stand out in your communication, try something different.
"Whatever you do, make sure your outreach to your network stands apart from the norm," shares Andy Lopata, a global expert in business network strategy and author of Connected Leadership. "If everyone is sending cards, don't. Save that for another time when it will mean more. Instead, pick up the phone or send a truly personal and meaningful message in a note or voice note. Personalize, don't generalize. Make your connection memorable."
Andy Lopata is right. Nobody wants their email inbox bombarded with multiple versions of the same corporate holiday messaging. Find ways to connect in a genuine way. If you enjoy baking, consider making a few extra batches and hand-delivering them to the contacts you'd like to make a memorable connection with. In the age of digital connection, writing and mailing a holiday card would also go a long way.
Thinking outside of the box and finding ways to personalize your connection really will ensure that your gesture doesn't go unnoticed — or worse, in the spam folder.
3. Attend holiday parties
Whether the invitation is for a virtual or in-person event, prioritize attending as many of these holiday parties as possible. You never know who you might meet and how these brand-new acquaintances could completely change the course of your career. Even if attending holiday parties and having to make small talk over the boardroom punch bowl makes you uncomfortable, step outside your comfort zone and come prepared with a few conversation topics.
Remember — the goal of networking is to have a contact who remembers who you are and what you do. Meaning, the more contacts you meet, the greater your chances of finding someone who can help you find promising opportunities. Dr. Meg Jay, a clinical psychologist specializing in adult development and Associate Professor of Human Development at the University of Virginia, talks about the importance of "weak ties" in her book, The Defining Decade. Weak ties are individuals, sometimes mere acquaintances, in your social networks who are likely to be more influential for your career than your close friends and peers. You never know where you might meet the person responsible for skyrocketing your career — dare we say by the appetizers?
So, whether virtual or in-person, accept all holiday invites this year. You will not regret putting on your party face and confidently making new connections.
4. Make the most out of family gatherings
Some of the best connections happen organically, say, over a plate of Christmas dinner with your family. One moment you're talking about your little nephew's hockey tournaments and next thing you know; Aunt Susan is sharing about a new project at her work and the fact that her team will be expanding to meet their new goals. Voila!
Family holiday parties are a great — and often overlooked — way to expand your professional network or search for a different job in a comfortable setting.
"The holiday season is the best time to explore your 'weak ties'—aka people you might not have previously considered as members of your network, but you're loosely connected to, such as a friend of your parents, or your brother's girlfriend," says Kate Gremillion, founder of Mavenly + Co., a New Orleans-based personal and professional development company.
Just as we mentioned above, we all have individuals in our professional and personal networks that come into our paths for various reasons. It's important to keep these relationships warm and engaged because you never know who might help you get a step up in your career and vice versa.
5. Put your most professional foot forward
If the thought of changing career paths or companies soon has been at the back of your mind, there is no better time to take action than the holiday season. While most people mentally check out come December, those keen to advance their career know that putting their most professional foot forward can make a big impact this time of year.
For some companies, it's true that hiring slows in November and December. It's the end of the fiscal year and most of a company's budget has been spent, people are on vacation, and teams are scrambling to meet their yearly goals.
"November and December happen to be great times to get the job search started", says Cheryl E. Palmer, founder and president of the Washington, D.C.-based executive coaching firm Call to Career. "Employers go into turbo-charge hiring mode right after the holidays, so job seekers can position themselves to be on an employer's shortlist when they are deciding who to call in for interviews."
A little forward-thinking and planning right before the holidays can mean starting a new year with fresh opportunities and potentially even a pay increase.
The holiday season is the ideal time to thoughtfully connect with your professional network and maintain those working relationships. Whether that be through a memorable gesture, attending a holiday event or building a connection while passing the potatoes at your family gathering, there are ample opportunities to ensure your efforts go the extra mile.