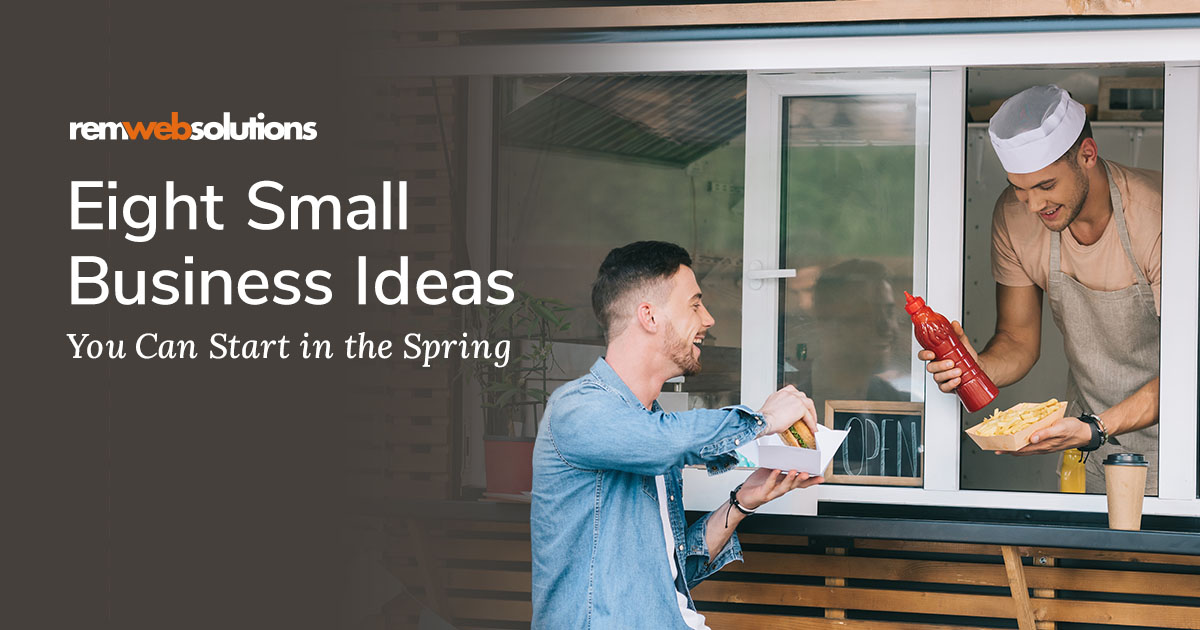 As the weather gradually gets warmer, the sun stays out longer, and the snow melts away to reveal another spring season, business-minded people are likely asking themselves one question: how can I make the most out of it? With a long and dreary winter behind us, people are itching to go outside, enjoy the nice weather, and soak up the sunshine. This is the perfect opportunity to take advantage of potential seasonal business ventures and turn them into successful investments.
---
Here are some spring business ideas to get you inspired and started on the right track. REM can help design a professional, business website for your new company and help promote the business online.
1. Food trucks
Food trucks have seen a steady rise in popularity, especially over recent years. They're incredibly convenient options for providing tasty food to customers wherever they happen to be in the moment: the beach, park, festival, concert, and even weddings. Whether you're a professional chef or just starting to tap into your affinity for good food and quality cooking, operating your own food truck can be a very lucrative spring business option to jump into just before the start of summer.
So, you've decided to open up your own food truck. You're ready to gas up your new truck and flip on that griddle. Before you get ahead of yourself and channel that excitement into your new culinary craft, you'll need to sort out vendor permits, licenses, and government sign-offs. This process takes time, so be sure to start it as soon as possible if you want to capitalize on the late spring-early summer customer crowds.
Now to the physical food truck. Along with the truck, you'll also need the proper equipment to prepare, cook, and store food. You may want to investigate an equipment financing loan to do this. Consider looking into a business line of credit to finance the costs associated with stocking ingredients and other supplies that you'll need to operate.
2. Landscaping and lawncare 
There is a huge market for homeowners who simply don't have the time or ability to maintain their lawns and gardens. If you love the outdoors and won't back down from some physical labour, this venture may be for you. 
Luckily, there isn't a long list of requirements that are needed to start your own lawncare and landscaping business. Consider applying for a business credit card for larger purchases and determine whether you will be supplying the necessary equipment and supplies for your business or use what is offered on-hand by clients. 
Channel your green thumb into providing others with outdoor spaces they can be proud of. 
3. Microtasks 
If you're tech-savvy and have knowledge about things like cryptocurrencies and blockchain, there are different ways you can make money online with minimal effort or investment. 
Microtasking involves earning money for doing short tasks such as completing surveys, online quizzes, digitising receipts and invoices or filling in entries on encyclopedia websites. Completing a multitude of these smaller tasks can result in a fairly lucrative business if you play your cards right. 
Many of these tasks will only pay in Bitcoin, which is why you need to have knowledge of this unique currency option before getting started with microtasking. If you're able to start, microtasking is a great work from home business opportunity to tackle for the spring. 
4. Tutoring 
Spring signals a daunting time for many students who are going to be tasked with cramming for exams and working on end-of-term assignments, projects, and essays. Students who are looking to bump up their grades and improve their scholarly skills will be looking for tutors to help them.
Tutoring can be as simple as helping a group of neighbourhood children with their after-school homework or assisting college students with learning certain concepts or retaining pieces of knowledge before their finals. 
There's little investment involved with tutoring, as the students who will come to you for help will have most or all their own supplies. Just put your school smarts to good use and find the subjects you're most qualified to teach. 
5. Party planning 
Spring is a popular time for celebrations. Barbeques, outdoor birthday parties, weddings, wedding showers, baby showers, the list goes on. And although people love attending parties, many don't enjoy the planning process that's involved with them. 
If you have an eye for detail and a passion for putting on a good time, this side hustle is for you. Start with small-scale gatherings and work your way up. Make connections within your local community so you know where to get the best deals and quality for venues, decorations, catering, etc. After securing a few successful parties under your belt, word will start to spread about your business. 
6. Spring cleaning services 
Help tackle the yearly task many people dread: spring cleaning. Spring is often a time for a reset and refresh, and assisting people with cleaning their homes can be a successful and fulfilling side-hustle. Apart from taking care of your own supplies and transportation, the investment for cleaning services is fairly low. Take advantage of local ads, and if you're able to secure some reliable clients early on in your travelling cleaning venture, you're likely to receive positive reviews and word-of-mouth advertising that will help expand your client base. 
7. Pet sitting and dog walking 
If you like animals and enjoy their company, this side hustle is for you. Becoming a pet sitter or dog walker is straightforward and doesn't require a lot of steps or too much investment. As we move into the spring months, people will be starting to plan family vacations and will need to find someone to make sure their pets who are left at home are properly taken care of. 
As you start out with your pet sitting business, you shouldn't need more than a business credit card. You won't need to purchase too many things (apart from some client approved treats if you want to spoil the pets you're looking after) and you will likely be driving to and from these homes, so it makes sense to choose a card that earns you cash back on gas and other small business expenses. 
8. Pool cleaning 
Similar to landscaping and lawncare, people who have pools often don't have the proper time to dedicate to cleaning and maintaining them consistently. This is where you come in. Look into the permit laws for your area so you can begin registering your business and get your permits in order before you begin. Make sure you invest in the right tools for the job and gain knowledge about how to provide the services properly and effectively.
---
Once you know which business you want to start, contact REM for help in getting it online. Every new business website needs a strong online presence to establish credibility and compete with others in their market. The earlier you involve REM in the process, the more we can help you get noticed!