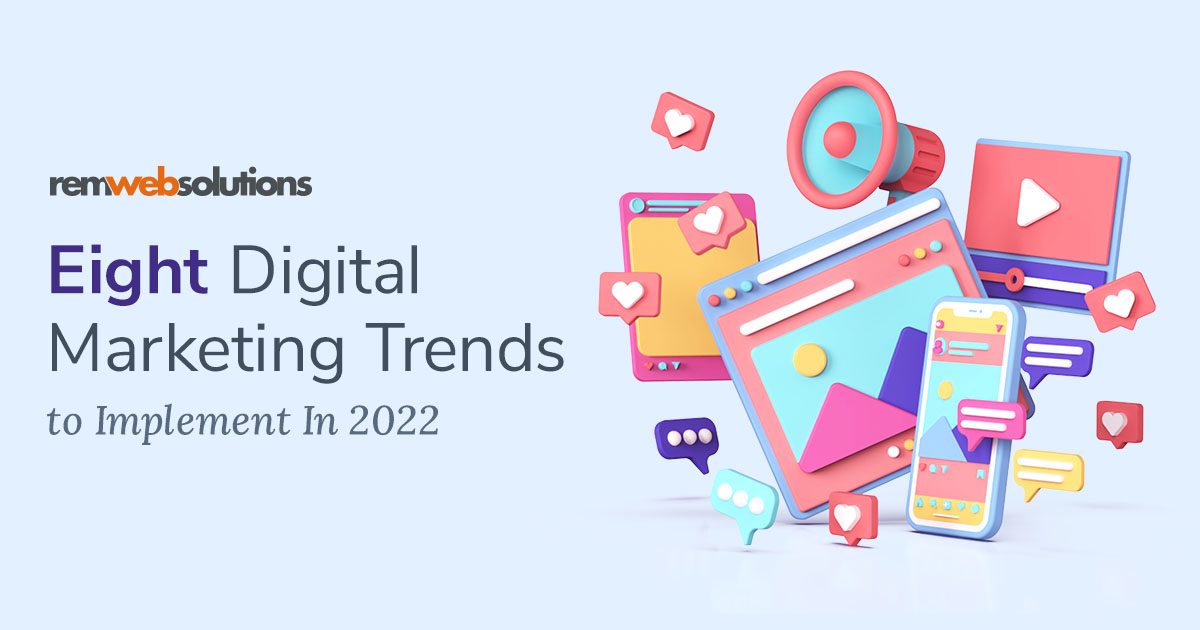 A new year gives businesses the opportunity to introduce and adopt different trends into their digital marketing strategies. There are a variety of ways you can freshen up your marketing plan and get ahead of the trends that will become popular.
It's important to look ahead with the strategies you implement, but also remain practical and aware of what digital marketing trends can bring your business results now. Read the suggestions below to find out more about these trends.
---
1. Cryptocurrency and NFTs
2022 has seen a steady rise in popularity with online currencies like crypto and non-fungible tokens (NFTs). Although this may not sound like it would play a role in your marketing strategy on the surface, don't discredit the possibility of it just yet. Cryptocurrencies haven't seen a huge boom with mainstream groups just yet but it is something marketers should be paying attention to as a trend towards decentralized finance.
Cryptocurrency could help businesses attract an entirely new group of customers – if the demographic for the brand is the right fit. Jumping on the bandwagon for online currencies is a smart move, especially when social media platforms like Twitter and Facebook are introducing cryptocurrency payment options and NFT display tools.
Consider the ways you can sell your brand beyond the products and services your business offers in order to successfully integrate NFTs and cryptocurrencies.
2. Video marketing
Video production has gained a lot of traction over the past few years, especially with the booming popularity of TikTok. Video streaming has become easier than ever, which is why it's important to prioritize this trend in your digital marketing plan.
Producing videos doesn't have to be overly involved or complicated – simple but effective videos can be filmed and produced with nothing but your phone and some video production know-how. Especially with the "mobile-first" approach gathering speed, it's necessary to adapt your marketing strategy in order to keep up with these trends.
3. Conversational marketing
Research indicates that modern consumers are expecting faster responses to their questions – so much so that many anticipate an immediate reply from businesses. Customers are no longer content with waiting days or even hours to hear back from a business, even if their question is being asked at an odd hour of the day. If they don't receive an answer right away, they may look to take their business somewhere else.
Conversation marketing is an excellent tool to help customers right when they need it, remove any guesswork, and push forward a dialogue-focused style of communicating that encourages engagement. It can be used in a multitude of different channels, which can mean meeting the expectations of each client has become easier than ever before. This can include chatbots and virtual sales assistants and personalized email messaging.
4. Social media stories
Social media stories have been integrated into countless social platforms, and have been an increasingly favoured way for people share snippets of information since Snapchat first introduced the concept. They're different from traditional social media posts, since they're only available for users to witness and engage with for 24 hours before they disappear.
Stories are the perfect digital marketing trend to get on board with for 2022. They don't clutter up people's news feeds, and they can be an effective way to drive customer relationships.
Some ideas for social media stories include:
Collect consumer data using story polls
Include live video
Increase engagement with story Q&As
Share causal updates and connect with local consumers via geofilters and location tags
Stories are a great method to cultivate authentic connections with consumers, so make sure to join the many others who are including them in their marketing strategies.
5. Creator Collaborations
Forward-thinking young adults are now turning to creative outlets in order to make a living. This is where you come in – forging mutually beneficial relationships with local creators.
Independent creators also have experience making personal connections with consumers and likely have their own social media followings.
Partnering with these creators can introduce your business to an entirely new set of potential consumers, so investigate this growing trend while it's still promising and continuing to evolve.
6. Voice search
Many of us have verbally asked Alexa or Siri to search for something instead of manually typing it in a search engine.
Voice-search optimization has become an incredibly popular way for users to not only seek out information, but specifically details about businesses and products. Virtual assistants will eventually begin sharing sponsored content alongside their specific answers, and voice activated ads aren't too far off either.
With this specific kind of convenience in mind, consider looking into voice-search optimization for your marketing strategy, and get ahead of this fast-developing trend.
7. Interactive marketing
Connecting with your consumers on an intimate, personal level doesn't have to be a daunting task. Interactive content has been taking over social media platforms, and is sure to continue dominating social feeds in 2022.
Stay ahead with immersive marketing techniques and connect with consumers through this fast-growing trend.
Polls, questionnaires, quizzes
Interactive calculators 
360-degree virtual reality
8. Environmentally-conscious marketing
More and more consumers–specifically millennials–have indicated that they will pay more money for sustainably produced products. Sustainability has become a growing importance to modern consumers, which provides a unique opportunity for businesses looking to operate with current social trends in mind.
Integrating green initiatives into your marketing strategy can give your business a competitive advantage against similar businesses and help you win favour with younger customers.
Ways you can incorporate sustainability into your marketing strategy include:
Include environmental actions in your business practices and company culture
Show your company's sustainability support through social media stories
Demonstrate your business' commitment to environmental causes
---
Wrap-up
Successful digital marketing campaigns are best executed through planning. Speak with our Marketing Director to see how REM can help integrate these popular and up-and-coming trends for 2022 into your business strategy to help you achieve your goals this year.