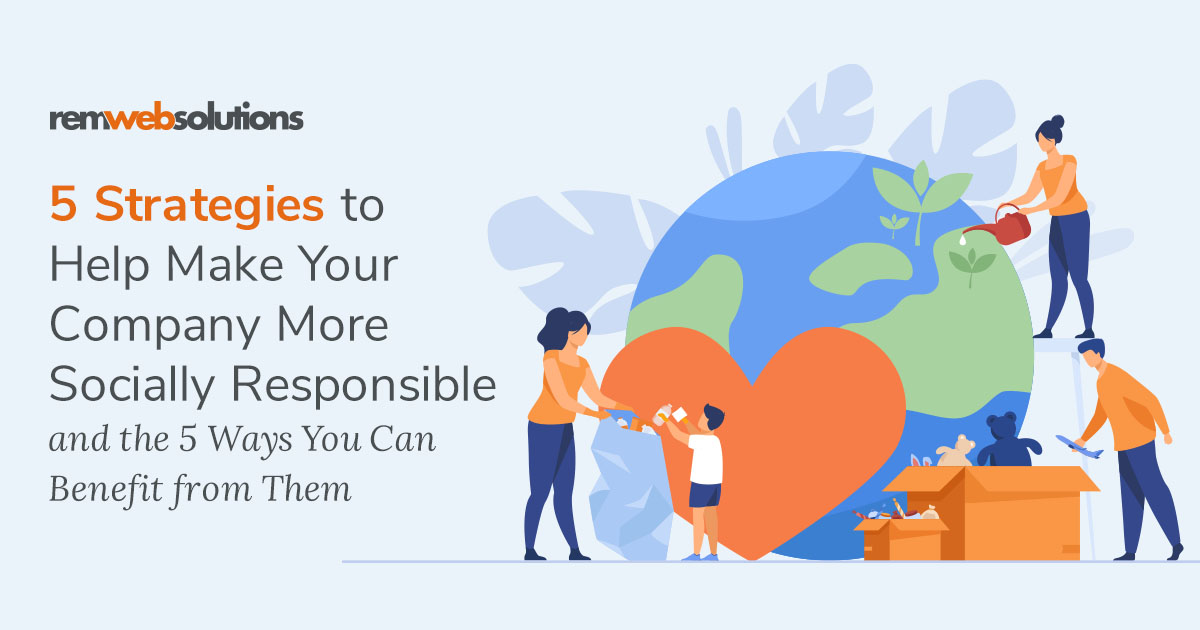 A growing number of consumers are placing increased importance on the social responsibility of businesses, and believe that it's the duty of corporations to leave a positive, significant impact on the world.
In turn, this line of thinking can also benefit businesses. More and more people are willing to spend money for sustainable products that are from socially conscious companies, and as a result, they trust the brands that make them available.
It's becoming common for even the largest corporations to advertise and market their social activism, while making a profit from it in the process. Consumers now look for it in the companies they choose to do business with, and an increasing number of organizations are adapting in order to reflect those expectations.
---
Read the strategies below to learn about how your business can become more socially responsible.
1. Take care of the local community
Take a critical look at your local community's needs, and as a company become involved in causes that will leave a positive influence. An organization who is active within their community and participates in local events, charity drives, and fundraisers, is more likely to be perceived positively and be regarded as an authentic presence who is reliable and trustworthy.
As well, holding a strong presence in the community will likely draw more attention from potential local clients and bring in more business. If people have already formed positive perceptions of your company based on your public activity, it's reasonable to assume they would also want to use your services.
2. Create goals with a measurable impact
If you want to become a socially responsible company, you need to create and set goals with a measurable impact. By establishing goals that leave a significant impression, it helps organizations be accountable to themselves, their consumers, and stakeholders.
3. Promote a healthy and inclusive workplace culture
One of the most crucial aspects of social responsibility starts internally, with your own workplace culture and community. Organizations who prioritize this aspect cultivate work environments where their employees can thrive and excel at what they do.
Promote a culture that highly values the overall wellness of employees and prioritize high-visibility training efforts to encourage inclusivity. This is a big step in the right direction to maximize shareholder value by giving companies the chance to communicate their values and beliefs across stakeholder segments.
However, it's necessary to note that a positive company environment doesn't begin and end at one training session and will require a more expansive and involved strategy.
4. Give back to a charity
Philanthropic practices and giving back to charities is beneficial for a multitude of reasons. Finding the causes that truly make a difference in the world to invest in proves to people that you put thought and care into your choices as a company.
Striking up a partnership with a charity that matches your company's values and beliefs can take time and careful consideration. If you find the right fit, you have the option to create a meaningful relationship that's mutually valuable.
With a give-back program for charity, for example, you can motivate your employees, as well as people within the local community, to choose your business based on that partnership alone.
5. Solicit Feedback
If you want to become a socially responsible company, consider soliciting feedback from your employees, customers, and people in the community. Brands who actively listen to the feedback they receive can take control of situations and maximize stakeholder value.
As well, when companies engage in constructive conversations about how they can improve, it proves to their consumer base that they value their input and are seriously committed to moving in the right direction as an organization.
---
So, how can your company benefit from being more socially responsible? Here are just a few ways your business can see success from becoming more socially conscious, in terms of reputation and employee perception.
1. Employee retention
It's not hard to figure out that employees who are happy with their workplace culture and values are more likely to stay with that company than to change from job to job. Staying connected and serving "the greater good" is something those millennial employees especially place a large amount of importance on in their place of work.
Providing staff with a brand they can proudly represent and stand behind that goes beyond profit value is simply effective marketing–if an employee is satisfied with what they do, they're more likely to spread the word about that company to people they know. Many companies are now leveraging their "work perks" alongside salaries as added incentives to new hires. Whether that's by offering "mental health days," office upgrade "allowances," or additional paid vacation time, it's becoming more commonplace for organizations to tout their additional work bonuses.
Along with the common work incentives mentioned above that are becoming more mainstream like flexible hours and hybrid, off-site work models, a powerful brand mission can be incredibly helpful in attracting and retaining talented workers. Keeping your employees happy, motivated, and content can be achieved if you provide them with the right opportunities to take pride in their work and the company, they're doing it for.
2. Community reputation
Building a positive community reputation can do wonders for your business overall. Not only does it encourage more customers to choose to support your brand, but it also encourages them to give their business to you if they grow to respect and trust your brand. A good reputation can generate more community backing on a smaller scale.
Attending your business' events and following and engaging with your social media accounts are just a few examples of how a positive reputation in your community can leave a recognizable impact on your organization.
Participating in local events and fundraisers like charity marathons also serve as team-building exercises for your employees. You're taking the opportunity as a business to work together to raise money for a worthwhile cause, creating public exposure for your workplace that promotes a positive, charitable image to the community, and you're engaging in an activity that encourages your team to socialize outside of a formal work setting.
3. Playing the long game
Socially responsible companies who are committed to their values and goals are more likely to succeed in the long-term. If a company values the wellbeing of their employees and makes an honest effort to adapt to changing expectations surrounding worker welfare, then it's safe to assume that retention is less likely to become an issue.
Additionally, making a commitment to having ongoing, honest conversations with stakeholders can build a strong foundation and clear path for becoming a leading company, and a socially responsible company compared to your competition.
If you commit to becoming a socially responsible business, your consumer base will appreciate you all the more for it, and your longstanding reputation will ideally reflect that as well.
4. Changing market expectations
Even the most profit-driven businesses are now keeping up the appearance of being socially responsible companies. Big box stores are introducing lines of organic, sustainable products, and are promoting their involvement with various charities and support of social movements.
Falling in-line with socially responsible business practices and marketing is quickly becoming the norm, so it's better for your business in the long-run to keep up with the developing expectations of modern consumers.
5. Positive social media presence
Socially responsible companies generally have a successful social media presence and a dedicated audience to go along with it. Social media accounts are an excellent place to share your brand's initiatives, goals, and involvement within the local community in a way that's straightforward and accessible.
As well, if your business maintains a communicative and honest relationship with users on your social pages by answering questions, engaging in dialogue about important issues and causes, then you're likely to leave a positive impression on potential consumers.
The mark you make on social media is crucial in the day and age we live in, and people are looking to corporations and businesses to use their platforms for good, reputable causes. No longer are business pages solely looked to for sharing only products and services, rather, they're often treated and expected to serve as a mouthpiece for activism as well.
Speaking out against injustices, sharing company policies and practices, and treating your socials like an advertisement for the valuable work you're doing won't go unnoticed by socially inclined customers.
---
Conclusion:
Forging a commitment to becoming a socially responsible company is something that will take time, effort, and careful consideration. If you approach these goals with the right mindset, however, you are going to benefit from becoming a more well-rounded business who prioritizes important causes, and advocates for the overall happiness of your employees.
So, try out these tips if you're looking to make your business become more socially responsible!