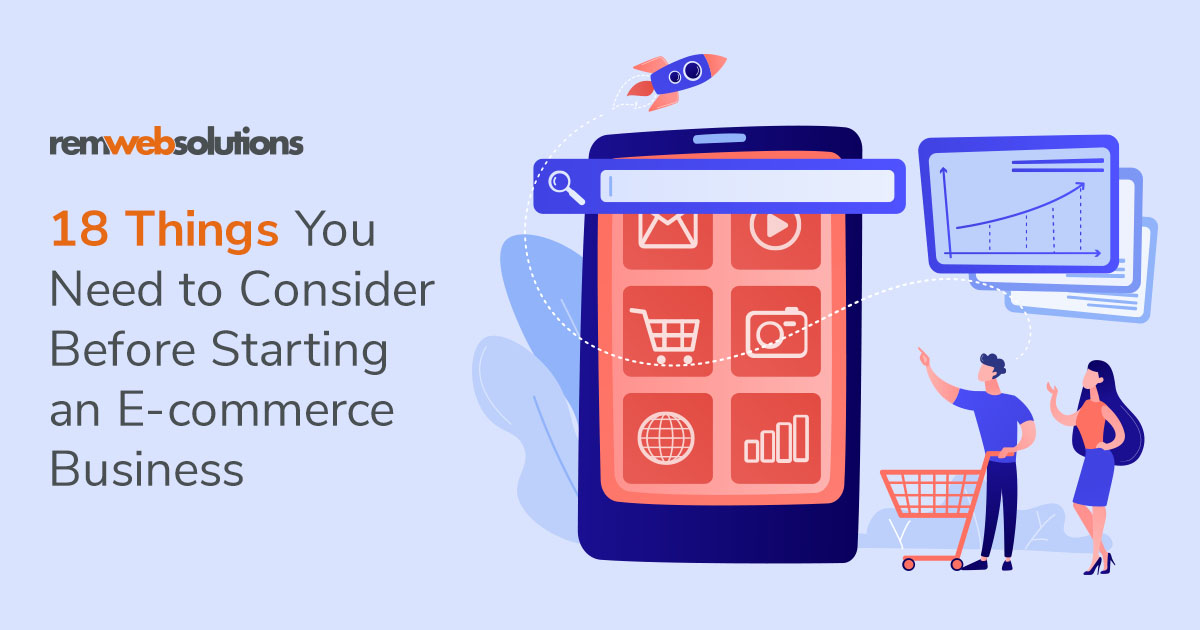 Starting an E-commerce website doesn't have to be challenging, but it does require planning, clear objectives, and an understanding of consumer psychology.
REM's WebWiz@rd offers a robust E-commerce platform with a suite of tools and shipping options to help get your online store up and running correctly from the start.
---
If you're interested in building a successful E-commerce business, here are some of the things you should consider before you get started.
1. Select a platform
When you're setting up your E-commerce website, one of the first things you should be thinking about is what hosting platform to use. Compare online store builders and weigh your options to see which one would work best for your business. Consider template and theme options, payment processing, Amazon integration, free trials, and built-in metrics when deciding on which one to use for your product sales.
The software you choose should ultimately be based on your customer experience goals, so be conscious of those needs when making your decision. Sit down with an REM sales rep to see if our E-commerce platform and a beautiful custom website will work for your needs.
2. What to sell
Although it may seem like an obvious, basic step, but having a clear idea of what you will be selling is essential to getting your E-commerce business started. Follow what's trending and look at social media for inspiration.
3. Understanding your consumers
When you begin building your E-commerce business, you should have a comprehensive understanding of who your consumer base will be. Truly knowing the buyers who will be purchasing your wares will help you understand their habits and offer what they really want to see rather than what you want to sell.
4. Order tracking and simple checkout
Incorporating order tracking features and a shipping system into your website can save you on resources in the long run. As well, customers will be able to track, update, or cancel their orders easily.
Long checkout processes are often a huge turn-off to online buyers. If they're purchasing something digitally, then they want the process to be faster than it would be in-person. Additionally, you can include a "guest checkout" option and bypass annoying your customers by forcing them to go through a mandatory sign-up for buying products.
If you want to gather names and emails, e.g., for a newsletter, make sure you give your customers an enticing reason to provide their information and make an account. Offer a 5% discount or maybe a free product, or cheaper shipping for site members vs. guest accounts.
5. Payment
You're more likely to see success and an increase in sales if your E-commerce business accepts all methods of electronic payment including PayPal, Stripe, and Amazon Pay.
6. Social media plan
Create social media accounts for your online store to set up an additional online presence and get the word out about who you are and what you offer. This way, you'll be able to connect on a personal level with potential consumers, advertise your products, and provide additional customer service support.
Create a social media plan that targets your main goals and addresses your business' needs.
7. Customer support
Investing in top-notch customer service and buyer support is another crucial aspect of operating a successful E-commerce business. Live chat and Q&A features are popular options to engage with customers. Chatbots are also another feature to consider since they can provide 24/7 support when humans aren't able to.
8. Mobile commerce
More and more people are opting to online shop using their phones. This is why it's important that you optimize your website to function smoothly on mobile devices as well as on desktops. You want to create a strategy that ensures your mobile website works seamlessly between both options and buyers are able to use them easily, without any unnecessary roadblocks or errors that would prevent them from hitting the check-out button and purchasing the items in their cart.
9. Marketing campaigns
Marketing your E-commerce site can be one of the most challenging aspects of getting an online store off the ground. Creating a dependable marketing strategy will be essential in succeeding with your business.
Strike a balance with your marketing choices so you're not relying too heavily on one strategy. Sit down with our Marketing Director to brainstorm some ideas on how to get your store noticed online. Even better, hire REM to do your digital marketing for you so you can focus on the other parts of your business.
10. Content management plan
Creating interesting content that users want to read is one of the most necessary steps in ensuring your online business is successful.
Tips to making good content:
Write topics that are unique and engaging to new customers
Make sure posts are easy to scan, and free of any errors
Use a conversational, friendly tone
Try to include interactive elements like links and videos
REM offers content and blog writing services to help improve your content. Improving your content will also help your rankings in Google. All of our content is ghost-written for your company, and you will own and can take full credit for the content.
11. User-friendliness
One of the most important factors of your website that you should be considering is its user-friendliness. You want your customers to be able to operate your site easily and not run into any unnecessary difficulties.
The longer a site takes to load, and the more challenging it is to navigate, the more likely it is that users won't stay on it and will take their business elsewhere.
Tips to ensuring a website is user-friendly:
Keep the design simple
Use accessible language and a friendly tone
Be mindful when choosing a colour palette
Ensure the layout is straightforward to use
Place your company logo on the top left
Make your content easy to skim
Include your business' social media icons
12. Security measures
If you have an E-commerce business that promises to keep your customers' personal information safe and secure, consumers will be able to trust and rely on you. A security badge is a way to make your website dependable.
Avoiding retail fraud for the sake of both customers' and sellers' safety should be one of the largest priorities you focus on when starting your E-commerce business. Make it clear to buyers that you genuinely care about protecting their emails, passwords, and credit card numbers.
13. Shipping products
An overwhelming majority of shoppers will abandon their carts for online purchases before they checkout due to additional fees like high shipping costs.
To try and avoid buyers leaving their carts before purchase here are some things you can do:
Choose the best shipping method at a lower cost
Be clear and up-front about shipping costs from the beginning of the purchasing process
Offer free shipping on certain items or after a shopper spends a specific amount of money
Include an estimated delivery time-range
14. Keep an eye on prices
In order to be a top contender in a competitive online market, you will need to keep your prices at a reasonable level. Research the prices that similar businesses to yours are selling their products for to get a sense of what price range you can be selling your stock for.
15. Have a team in place
Having a reliable marketing team in place to support your online store can be hugely helpful in making the process of starting and operating an E-commerce business less stressful.
16. Post-sales
Your job isn't over when a customer has completed a sale. It's valuable to stay in touch with your consumers and receive feedback, while encouraging them to visit your business again. Send them reminders about good deals.
17. Return policies and reviews
It's unrealistic to expect that every product you have to offer is going to work out equally for each customer. It's beneficial to provide a reliable return and refund policy for unsatisfied customers on specific products.
As well, give buyers the option to leave reviews after they've made a confirmed purchase. This will be valuable for you in the longrun, as you will be able to read feedback about your products directly.
18. Email newsletters
To help push the word out about your business and make people aware of deals, membership sign-up incentives, sales, and new products, email newsletters can be an incredibly effective option to for this.
Include an email newsletter pop-up on your website and generate an email contact list that you update with new customer information.
---
Conclusion:
There are a lot of different factors to consider before starting an E-commerce business. If you follow these considerations and put careful planning into your online store, you will become a reputable shop that consumers can rely on and trust.
Speak with an REM sales rep to get started with your very own custom E-commerce website to really show off your products and wow your customers.