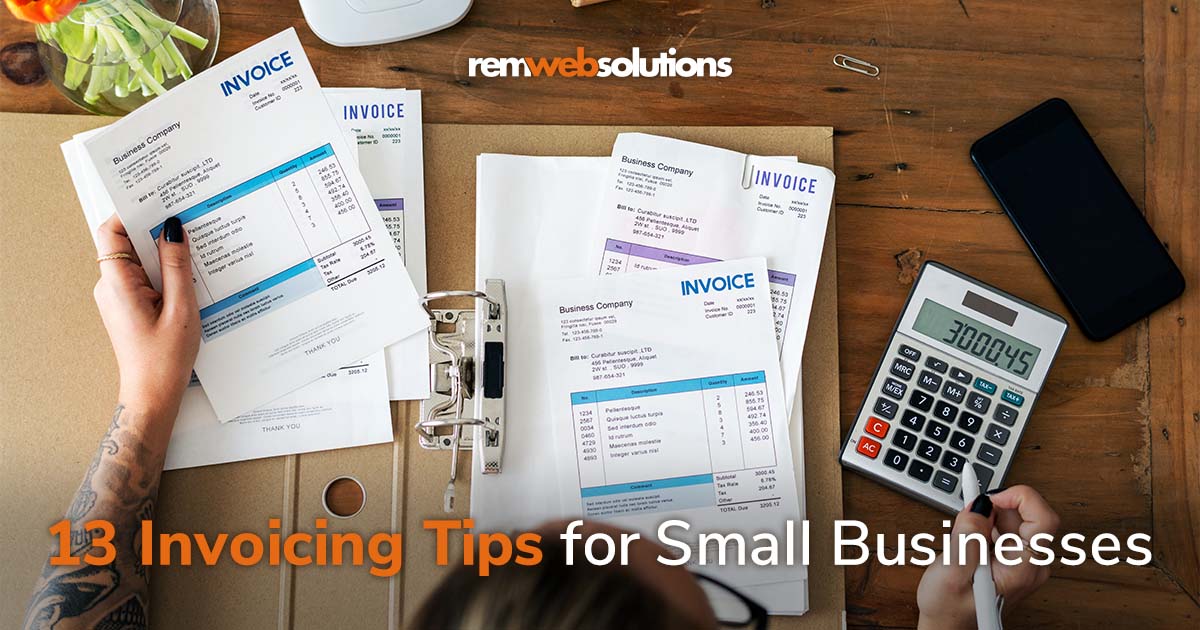 One of the most fundamental administrative tasks small businesses need to place extra emphasis on is invoicing. It's an essential business item that can ensure healthy cash flow if they're managed and organized correctly.
Invoicing can be an overwhelming process if it's not approached correctly and effectively. The more clients you have, the easier it can become to lose track of who's paying which invoice, and which person is behind on their payments. As well, if you're making your invoices manually with a large client base, there's greater margin for errors and lack of consistency.
Luckily, optimizing invoicing for small businesses doesn't have to be difficult or time consuming when you apply the right approach.
What is invoicing?
If your business is centered around clients and services, then invoicing is a large part of necessary operations and successful company management. Invoices are records of services or items provided to customers, and act as a method for them to pay you for what is being charged.
Invoices are different from receipts as they are legal documents used to request payment from consumers. There are associated agreed-upon conditions, such as a due date for payment.
Don't know how to prepare professional invoices or where to get started? Read the tips below to help you optimize this essential process.
1. Follow-up on payments
Ideally, your clients will be prompt and follow-up on their required payments immediately. However, there will be times when invoices slip through the cracks and customers may need to be reminded to pay their owed amounts. When this happens, it's important to take on the responsibility of communicating with customers about their unpaid invoices.
It's not rude or unprofessional to remind people when their invoices are almost due. In fact, it's a necessary business courtesy and it ensures that you're holding your clients accountable for the money that is owed to you. You can do this periodically by sending out a brief, yet polite reminder that their invoice due date is approaching.
Not only can this help keep recent invoices fresh in the mind of your customers who may have simply forgotten about their upcoming payments, it can also mitigate potential cash flow issues and help with keeping you organised by knowing which clients still owe you payments.
2. Include all necessary information
Invoices should be appropriately detailed and include all necessary information that customers will need:
Invoice date
Invoice number
Billing period
Your business' name and billing address
Your customer's name and address
Payment terms and the due date
Your bank information
Your contact information
Taxes, fees, and discounts
Additionally, you can add HST numbers, client reference numbers and purchase order information. If your operating name is different from the name of your corporation, you must not that information on your invoice as well.
If you have a very complicated business setup, it helps to run the invoice past your accountant or bookkeeper to make sure that it contains all the information you need.
3. Provide clear descriptions
You don't want there to be any misunderstandings or confusion surrounding charges on an invoice, which is why you want to make sure that each charge has a clear and detailed description. There should be a breakdown of charges on the invoice that allows clients to see the exact list of what they are buying, and the costs associated with them.
Providing detail with this level of clarity will not only improve the overall accuracy of your invoices, but also prove to your customers that your business is honest, transparent, and reliable. Clear descriptions will encourage clients to pay on time and also help you when referring to past invoices to find charges or handle disputes.
4. Send out invoices in a timely manner
Don't delay when you're sending out business invoices. You want to keep your cash flow consistent, and a large part of achieving this is by forwarding invoices to your clients as soon as a project has been completed.
Doing so will give people time to look through invoices thoroughly and understand the payment timeline and requirements. As well, sending invoices out early takes away the possibility of forgetting them until the last minute and increases the likelihood that your clients will pay you on time without needed a reminder.
There are third party services available where they can pay you your receivables up front to help with cashflow, but these services do take a percentage of the invoice as a fee. This percentage may seem small, but it can make of break some companies, so it's best to setup a system that lets you get your payments as smoothly as possible.
5. Implement accessible payment options
Your business should offer as many options as possible for your clients to pay their invoices. You don't want there to be any unnecessary barriers standing in the way of payments–such as the absence of common ways to pay–so it's important to make the process easy and accessible. Clients should find paying their owed amounts convenient rather than difficult.
Customers appreciate business flexibility when it comes to payment methods and will likely have their information saved with their option of choice, which will make the process of paying their required invoices quicker and more reliable.
6. Automate invoicing
Too much time can be wasted on drafting the appropriately detailed invoice drafts, and manual invoicing systems can be prone to errors. Operational efficiency can be improved by using modern invoicing software, which can be far more reliable and be a huge time saver.
Streamlining this tedious and repetitive task will help you put that energy into other areas of your business and invoicing software also enables you to back up your invoices on a cloud, so you can view and track them anywhere at any time.
7. Manage payment terms ahead of time
You need to make sure your clients have a clear and comprehensive understanding of payment terms long before their invoices are due. This also means that your company's terms should be visibly listed on invoices themselves as well.
This is especially helpful when laying out late payment fees and can help you avoid any confusion and uncomfortable back-and-forth with customers.
8. Add a personal note
A small, but impactful way to connect with your customers can be leaving a personal note along with their sent invoices thanking them for their business and encouraging them to contact you if they have any questions or concerns.
This is also an excellent time to ask for a referral if the client is pleased with the work and you delivered the project on time.
9. Number your invoices
Numbering your invoices can help you avoid the headache of looking through past invoices without a reference code to refer to. You should be making sure that every invoice has a number so that it's easy to find if you need to look at it later to track payments. Invoicing software makes this simple to do, so that shouldn't be difficult to remember.
10. Keep in touch with clients and be polite
Consistent communication with clients can make all the difference in making sure they're paying you on time and keeping on top of their invoices. Customers are more likely to attend to an invoice if they've been having pleasant back and forth with a supplier. It adds more personality to interactions and increases the likelihood of payment consistency by keeping your company name top of mind.
11. Charge interest on late payments
Dealing with late payments is never going to be an easy or comfortable experience, but it's necessary to have a concrete plan in place for clients who don't pay their invoices on time. Late invoice fees should be clearly outlined in your business' terms and conditions so customers are aware of what they will have to pay if they leave their invoices late.
Late fees don't need to be large, but it should be listed on the original quote. It's not out of line to follow through with this, in fact, it's professional when a client doesn't meet your agreed upon terms.
12. Have an organizational system in place
Like all aspects of business ownership, organization is key. You can't operate an efficient company if you're not able to quickly locate necessary files and records when needed.
All your invoices should be stored in a centralized location and backed up on a cloud. This is essential when it comes to tax purposes, bookkeeping, and keeping on top of your own records. It should be collective knowledge at your business as to where your invoices are stored, and every person should be using the same location.
13. Send invoices to the right people
This may seem like an obvious point, but it can be surprisingly easy to send an invoice to the wrong person, which can cause unnecessary delays with payments. Sometimes, it may not be the actual client who is handling the payment, it may be an accountant who's handling their bookkeeping, or a parent or friend who paid for the charged good as a gift for the customer.
With consistent communication about payment terms from the start, you should be able to find out who will be paying the invoice and save you the added effort of jumping back and forth between people who aren't going to be providing your business with the owed payment.
You can save a lot of time and confusion by drafting a quick questionnaire that you give to all clients during the onboarding process which asks for email address of person who handles payables, what payment method they prefer, who to call if a payment isn't received on time, etc.
Conclusion
As you've likely learned by now, invoicing is a crucial aspect of operating a successful business. Don't look at invoicing as annoying paperwork–it's vital to the long-term health of your company since the way you manage invoices directly impacts your cashflow.
Invoicing doesn't have to be a complicated, overly involved process. It just needs to be clearly detailed and routinely managed to avoid any errors and mitigate late or missed payments as much as possible. Your clients will certainly appreciate it in the long run, and it will help them develop a definitive understanding of your business' practices, expectations, and terms when it comes to invoice fees and payments.
If you apply the tips, you were given above, and make sure you consistently prioritize effective and organized invoicing for your clients, your business will be better off for it.