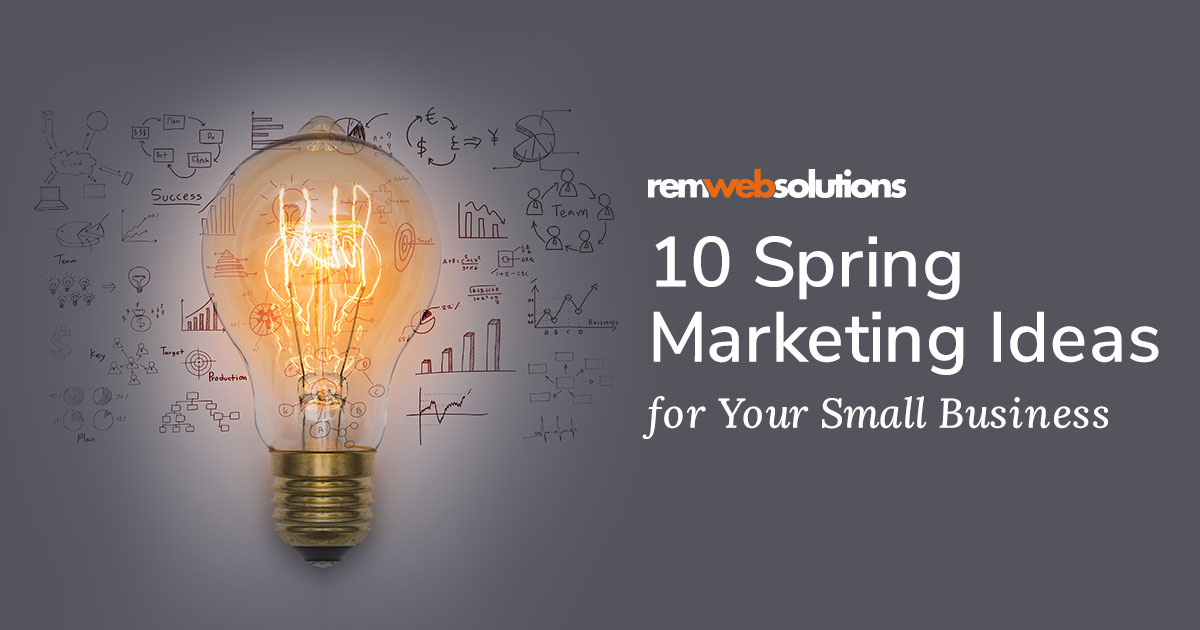 With winter behind us and spring on the way, what better time to refresh your marketing strategies and start tackling new ideas for your small business? Use the sunnier weather to your advantage and implement these tips to incorporate green content into your marketing plan and keep your customer engagement blooming.
---
1. Freshen up your social media presence
Your business' social media presence should be something you're always closely monitoring and working to innovate. Spring offers countless ways to engage with your followers on your social media platforms. Follow a bright colour scheme to match with the spring season (incorporating pastel shades that are seen with Easter can be an excellent way to do this), post consistently and make sure the messaging to your followers is cheerful, positive, and pleasant. Include photos of nature as the weather improves and people are going outdoors more.
Watch for REM's upcoming Social Media Management service which can help you boost your presence and increase engagement in your social channels.
2. Incorporate tax season into your marketing strategy
From March through April, make the most out of tax season. National Tax Day falls on April 18. It's estimated that roughly two-thirds of people expect tax refunds during April. This is a great chance for retail business owners to encourage customers to spend that cash. An excellent incentive to attract shoppers to your business is to offer a free item or discount with proof of filed taxes or you can celebrate Tax Day by waiving taxes on purchases in your store. Market these tax incentives and sales around this time to help improve your sales by advertising these deals to your current and future customers.
Email marketing is an easy way to market these incentives to your existing client database. Talk to REM about adding the Newsletter module to your site or to get a new email template for the spring season!
3. Promote a variety of holidays (especially the less popular ones)
Springtime is filled with holidays and recognition weeks that many people are not likely aware of. Take this opportunity to structure your social media posts and marketing around these specific days. Offer specialized deals and promotions and engage your social media following with eye-catching and aesthetically pleasing content that recognizes these holidays. For example, offer coupons for Mother's Day gifts if people shop in-store between May 5-9th.
Some examples of holidays you can include in your marketing promotions throughout spring:
National Women's History Month (full month of March)
National Day of Unplugging, Employee Appreciation Day
St. Patrick's Day – March 17th
First Day of Spring – March 20
April Fool's Day – April 1st
World Health Day – April 7th
Siblings Day – April 10th
International Moment of Laughter Day – April 14th
Easter – April 17th
Earth Day – April 22nd
World Book Day – April 23rd
Star Wars Day – May 4th
Cinco de Mayo – May 5th
Teacher Appreciation Day – Tuesday of the first full week in May
Mother's Day – May 9th
Bike to Work Day – third Friday in May
Armed Forces Day – 3rd Saturday in May
Geek Pride day – May 25th
National Burger Day- May 28th
4. Host a giveaway
People love entering social media giveaways. They're a fantastic way to encourage new customers to check out your business and engage with your content, they incentivize people for following, liking, and tagging your business, and they encourage word-of-mouth advertising. So use the change of seasons to run a spring-themed Instagram giveaway for a free product or service. Have people like the post with contest details, tag their friends in the comments, share on their Instagram stories, require them to follow your account, and post a photo of themselves at your business with a custom hashtag for extra entries. Use a random choice generator to pick a winner and congratulate them on your profile so people can see who won.
5. Organize an outdoor event
With the weather improving and pandemic restrictions lifting, people will be eager to spend time outside and enjoy the company of others. Arrange an event outdoors that engages with your local community and encourages them to learn about your business and the products and services you have to offer.
6. Raise awareness for important causes
There are countless important causes that occur throughout the year, but make note of the ones in the spring. Use these months to highlight and raise awareness for movements that mean something to you and your company.
Here are some examples:
Public Service Recognition Week
Women's Health Week
ALS
Stroke victims
Celiac disease
Mental health
7. Take advantage of National Small Business Week
National Small Business Week happens every year during the first week of May.
This is a time dedicated to celebrating and raising awareness for small businesses and the hard working owners behind running them. This week is an excellent opportunity to implement marketing strategies modelled around the importance of your business and all that it has to offer.
Some ways that you can do this include:
Run a deal-a-day for the week, promoting different products or services each day. Or, run an online sale with a link to your landing or product page in your Instagram bio.
May marketing ideas—instagram post promoting small business week sale
Give out coupons with purchases this week, that can only be redeemed on an upcoming holiday or on the last day of Small Business Week.
Offer a downloadable, small business-themed piece of content that is of value to your target audience in exchange for their email addresses.
Write a blog post with a schedule of the deals, events, and contests you're running and include it in your emails and social media posts.
Increase your exposure on Instagram, Twitter, LinkedIn, Facebook, etc.: Use #nationalsmallbusinessweek and #nationalsmallbusinessweek[your location] and other relevant hashtags in posts and promotions.
8. Marketing emails
Marketing emails are an excellent way to keep your consumer base in the know about all of your deals and promotions throughout spring. Offer customers a promotional discount if they sign up for emails or your newsletter. Incorporate spring colours and designs into these emails and newsletters, and make sure they're informative without being too densely packed with information. Simple and eye-catching are always best.
9. Cross-collaborating with other local businesses
Cross-collaboration with other local businesses in your area can equally benefit both parties. Run a social media giveaway together that includes promotions and items from both of your businesses, plan a local business market or event that you can all collaborate on, create advertising that has information and potential deals/coupons. You could also put together a guide outlining the specials offered by other small businesses in your neighbourhood. This is a great way to connect and network with nearby businesses and strengthen your ties to the community. – the ideas are endless!
10. Take this chance to hop onto TikTok
TikTok has seen a huge boom in popularity over the past few years, with one billion annual users in 2021. More and more businesses are starting to use the video-sharing platform to advertise their brand and engage with potential customers. Take the time to become familiar with the platform, follow popular trends, and make note of the videos that are doing well for other businesses so you can get a sense of what could work for you. Spring is the perfect time to try out TikTok and reach a completely new audience!
---
If you need help with any of these marketing opportunities or any help with digital marketing in general book a quick no-obligation chat with our Marketing Director.