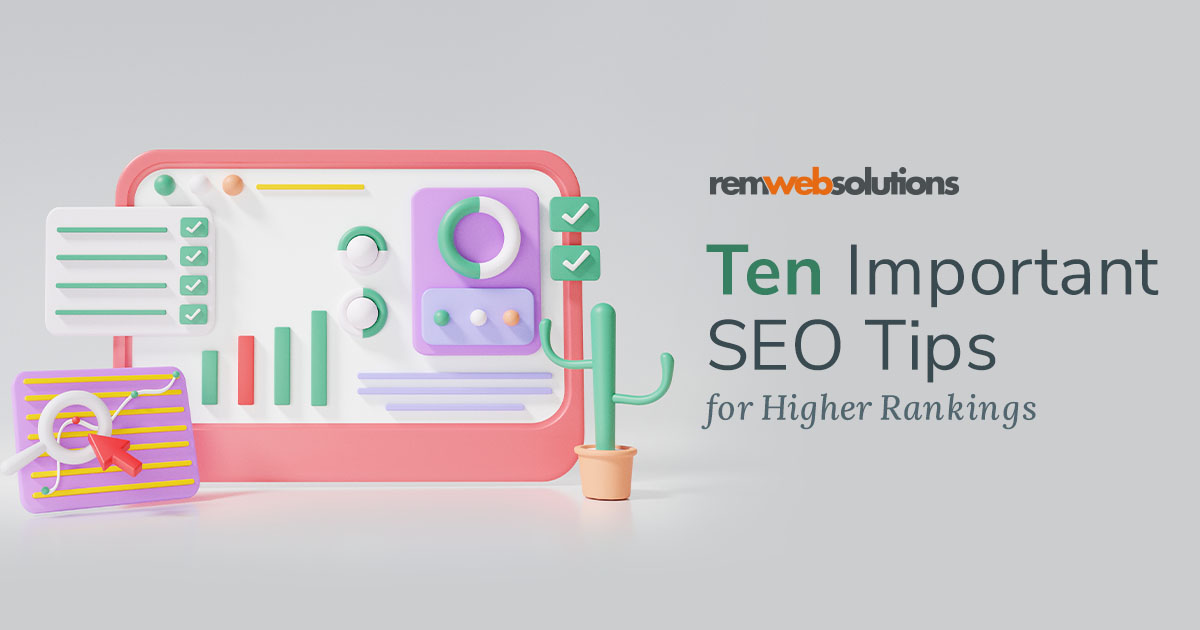 Ranking higher in Google is a common marketing goal many businesses have, but in 2022 it can be more challenging to achieve than ever before.
That doesn't mean you can't succeed in gaining higher rankings, you just need to implement the right strategy to help you get there. Here are some tips and tricks to help increase your rankings.
---
1.  Move your focus to user experience
Hard-to-use websites that are inaccessible and difficult to navigate are a sure-fire way to frustrate users within seconds and lead them to visit other sites in order to address their needs. Error pages, confusing site structures, messy pages, and dead links are all aspects that can potentially drive audiences away from your website if you don't look for these issues and address them head-on.
Comb through your site to find the problems and barriers that make it a challenge to navigate easily. Optimize your content for mobile, break up chunks of text into shorter paragraphs, and keep headings brief and easy to read. Fix any dead or hanging links and tidy up your sub-folders.
Improving these barriers can help improve your rankings and decrease your bounce rate. Contact REM to get a new custom business website design that converts visitors into sales.
2. Incorporate targeted keywords into your content
Keywords are arguably one of the most important aspects for you to focus on when learning about SEO. Keywords combine what people and Google are looking for by isolating the most common search terms. This is where you come in.
Incorporating keywords needs to be done with care and an understanding about where to include them without throwing them in as much as possible with no real strategy or goal in mind. Google Ads can help you discover your broad search intent, and including keywords in your copy should feel natural, not forced, so be strategic with how you implement them into your website to gain the most success.
Book a free no-obligation consultation with our Marketing Director to discuss how REM's marketing team can help you with Keyword Research.
3. Generate backlinks
Generating backlinks is a crucial aspect of SEO performance. If you're not familiar with the process of back-linking, it refers to other websites linking to yours in a post, article, etc. It is an effective way to help improve your website's traffic, as people are more likely to visit if they click on an external link through another reliable domain.
Organic links can be obtained if you're prioritizing high-quality content with a people-first mindset. This can help you gain the trust and respect of others, and lead to other industry members referencing your site. You can open up this process to include:
Testimonials
Guest blog posts
Implementing shareable content
Become listed in industry directories
4. Introduce routine site audits
Regular site audits can help you determine how your website is performing and if it's as user-friendly as possible. Site auditing can also flag issues you may have missed or overlooked, like broken links and slower loading times.
REM can perform an Online Presence Audit which includes a website audit and site speed testing. Contact our Marketing Director or your sales rep to book an Online Presence Audit today.
5. Speed up your website
The functionality of your website will directly impact the consumer experience and can influence whether they stay on your site. You want your content to speak for itself but to do that your site needs to be accessible and quick when users access it. We live in an instant information society where people want answers and solutions right away, so it's imperative that your website meets these standards.
Now is the time to declutter your site remove anything that might be slowing it down. Delete old plugins, compress images, and clean up your code.
6. Make your page title and meta description better
First impressions are important. Your page title and meta description will be the first things your audience ever sees and can influence whether they decide to click on your website. You should be able to easily edit these two aspects without too much hassle, but there's some points to keep in mind:
Your page title should not run on too long – keep it between 30-60 characters
Similarly, your meta description should not exceed 160 characters
Incorporate a target keyword
Be unique and think outside of the box
7. Learn the importance of internal links
Internal links refer users back to other pages on your website. This is an excellent way to encourage users to stay on your site and engage with your past content. Linking related posts in an article, for example, can provide audiences with the information they're researching for without leaving your website to search elsewhere for the information they need.
8. Write quality content and improve past posts
The content you write should be SEO-focused and created with the intention of effectively educating and communicating with your desired audiences. Since SEO is an ongoing process, it's important to look for ways you can keep improving what you post.
This can mean going back and looking through old articles, blog posts, etc. and finding little ways you can make them better. Look for missed opportunities to implement keywords and internal links, and enhance readability, having an evolving content strategy that critically analyzes the performance of past posts can be hugely helpful in creating more successful SEO-driven work in the future.
REM can help with content writing services, editing and even just how to pick the right topic for your posts. With the correct, evergreen content, a blog post can be useful to visitors (and search engines) for years!
9. Use short, descriptive URLs
This is another way to easily improve your on-page SEO. Tweaking your URL structure can make a big difference in the appearance of user-friendliness on SERPs. Because it doesn't take a lot of effort to do, just remember to keep URLs readable and concise, and use keywords when possible.
Note: If you do change the URLs on your site, remember to setup 301 redirects so that you don't lose any Google rankings you've already earned.
10. Continue to learn about SEO
SEO is a constantly evolving discipline that requires a strong dedication and ongoing learning. It's crucial to keep yourself in the loop and to stay ahead of trends.
There are countless resources available to help you continue your SEO education, so put all of those tools to good use and continue to implement the strategies you learn about in your SEO journey.
To give you an idea of how important this is, our Marketing Director reads 40-50 posts each week to stay up to date on the latest in SEO and Digital Marketing.
---
Secure your SEO success
This post is just the beginning with the endless ways you can work towards improving your SEO and securing success. Try implementing these tips into your SEO strategy, and you'll see higher rankings in no time.
Remember that if you don't have the time or internal resources to complete these tasks in-house, REM can provide digital marketing services that work within your budget to help you achieve your goals get noticed online.