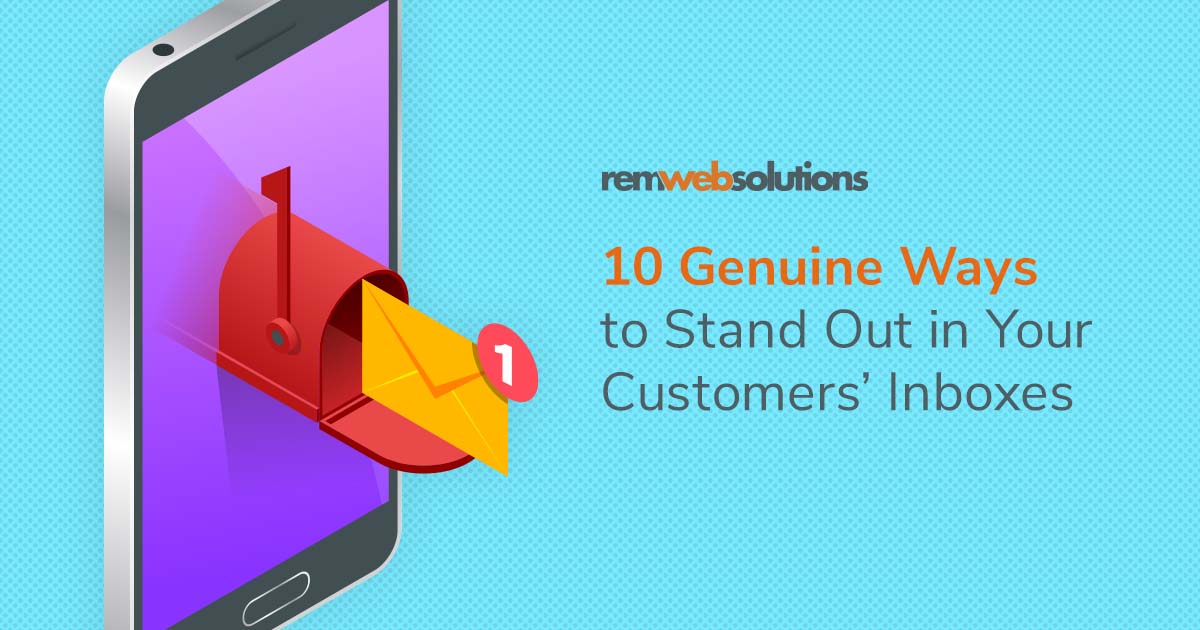 Email marketing is an attractive, simple, and effective strategy for entrepreneurs to grow their business, sell a product or service, or connect with their customers in a genuine way. Not only is it relatively low cost, but it is simple to create in a short lead time (we've all been there!), the results are easy to measure and the impact it can have on your engagement with your customers is tangible. All of this, of course, if done well.
Through our research, we learned that 61% of consumers prefer to be contacted through email, that 99% of users check their email every day and that for every $1 spent, email marketing has an ROI of $42. Those are promising numbers!
A successful email marketing campaign includes planning, audience segmentation, personalization, and a strong call to action. Above all, the most essential thing is that a genuine connection needs to be made between the sender and the receiver. It is through relatable, thoughtful, and valuable content that your emails will be opened and engaged with time and time again. Otherwise, you can risk your carefully crafted email ending up in the spam folder, or worse, unsubscribed from.
To prevent that from happening, below are ten tried-and-true ways to genuinely stand out in your customers' inboxes.
1. Create relatable content
A powerful and impactful email campaign goes beyond numbers (though measuring those is certainly important) and aims to add value to the customer. It is often forgotten that customers do not owe anyone their attention — it is earned.
"Permission is earned through quality content and offers, genuine interest in and deep understanding of consumer preferences/needs, and a consistent track record that builds trust. Keep the trust, keep the permission, keep the customer. It's not just the volume or brilliance of content that matters, it's how that content relates to them. If content is not relevant, it's nothing more than a waste of your time and a reason for the consumer to take away permission for ongoing interaction with you." explains Ted Rubin.
Relatable content depends on who your audience is and what they deem valuable. If your brand promotes selling sustainable products, one way to empower and educate customers is to provide them with further information or research about climate change and why their purchase would make a difference. If you are a lifestyle YouTuber and your brand focuses on motherhood and home living, one way to provide value would be to showcase time-saving hacks or meal-planning ideas. In short, anything that you share with your audience that could better their livelihood, empower them to make a change, save them time or money, or simply provide them with comfort or wisdom is relatable and valuable in their eyes.
2. Keep subject lines short
The purpose of the subject line is to grab the customer's attention. Email subject lines will get cut off if they are too long, particularly on mobile devices. We know that 46% of opened emails happen on mobile devices, so using short subject lines with fewer than 50 characters ensures that people scanning their emails will open yours. Also, stay away from clickbait titles. Not only will it leave a sour aftertaste in your customers' mouths, but it will also dilute your credibility as a brand.
3. Use a reputable email provider
Using a less reputable email marketing campaign provider will hinder your chances of landing in your customers' inboxes. Do your research before committing to one platform. REM offers a newsletter module, and our designers can create a beautiful newsletter template for you. Speak to your REM Customer Success Team member and ask them for more information on setting up your newsletter.
4. Find the right time to send out your emails
The best time to send emails depends on your audience. According to aggregate data, the most likely times for customers to open emails are 10:00am on Tuesdays and 3:00pm on Thursdays. Emails sent at these times will likely deliver results. For optimal results, however, you need to study your specific email lists and campaign analytics. Segment the lists into subgroups of customers based on feedback and interactions with your content. This primary research should drive your email timing, not general industry data.
5. Personalize emails through market segmentation
Unlike traditional advertising, email marketing reaches its audience every time. In fact, 99% of consumers check their email every day. This allows the perfect opportunity to create a genuine connection with your audience through market segmentation. In other words, you can tailor your message for each target audience.
Say you're selling apartment units in a condo building. By separating your audience into buyers, investors and realtors, you can reach each audience and provide them with clear, valuable information that is pertinent to their area of interest.
Another common way to do this is by age group. We know that different generations intake information differently. Ivan Veta, SEO specialist at Scopic Software, found this to be a helpful method for his clients, as it allowed them to switch up their strategies according to generational marketing preferences.
"Our learnings thus far have concluded that millennials react positively to campaigns that contain infographics," said Veta, whereas "Gen X and baby boomers readers tend to click on action buttons to read more about a certain topic."
By personalizing emails through market segmentation, you're providing tangible value to each audience and connecting with them in a way that is genuine and thoughtful.
6. Understand the 3 Rs of email marketing
On any given day, a customer's inbox is flooded with emails, promotions, sales, or inquiries. Consider their activities across all social media platforms and you can see how easy it is for someone to experience content fatigue. A customer's attention is their most asset and yet it is pulled into hundreds of different directions daily — often before they've even had their first cup of coffee!
Because of this, Alice Elliott warns digital marketers and entrepreneurs to understand the 3 Rs of email marketing — content must be researched, relevant and relatable.
Rather than relying on algorithms or automated systems, she encouraged entrepreneurs to do the hard work of collecting email addresses that are a suitable match for their brand. While the fishnet approach works for certain brands, it is more valuable in the long run to create a curated list of loyal customers.
Once you've gathered a curated list of email addresses, ensure that your product, service, or content is relevant to this list. The journey between your content and the "unsubscribe" button truly lies in the relevance of the content.
Lastly, avoid the "spray and pray" approach to email marketing. Rather than throwing spaghetti at the wall and hoping something sticks with the customers, focus that attention on writing a considerate, relevant, and valuable campaign.
7. Offer valuable solutions
For your email marketing campaign to have any true impact on the customer, it must offer some valuable solution to their pain point. Whether it is offering your decluttering services to an overtired mother who simply lacks the time to tackle that area of their home or providing a discount code to your audience for an upcoming sale, finding ways to offer value goes a long way with your customers.
8. Be authentic
In a world consumed by filters and smoke and mirrors, it is beyond refreshing to interact with an individual or a brand that is unapologetic in their values, beliefs, or morals. That authenticity is what draws like-minded people together, builds brand loyalty, creates community and a feeling of belonging, and converts leads into customers. Best of all, it is in an authentic and genuine way.
9. Include a call to action
With all this focus on getting the customer's attention, it's easy to forget the initial intention of the email. Are you reminding them that they have an item in their cart? Alerting them of a sale? Promoting a new product? A clever subject line may improve your open rate, but to increase engagement, you must increase your click-through rate or the percentage of subscribers following email links to your webpage. This is where you'll need a call to action (CTA).
Developing a call to action can be as simple as including a direct request. "You can't expect your audience to guess what you want them to do next," said Kendra Jones, a PR and marketing strategist specializing in influencer marketing. "Placing concise calls to action, such as 'Click here to download your free guide,' that are hyperlinked to the opt-in increased my click-through rate by 18%."
10. Optimize for mobile
Since 70% of emails are opened on a mobile device, and your CTAs all lead back to your site, mobile optimization is crucial.
Here's what mobile-optimized looks like:
All relevant text can be read from a single screen without having to pan
The email and landing page load quickly
There are clear, tap-able buttons
Font type, size, and color are easy on the eyes
Email marketing is a valuable tool to connect with your customers in a genuine way and stand out in their inbox among the influx of content competing for their attention. If done right, email marketing can convert leads into lifetime customers. It can provide education, entertainment, value, and solutions. Before you send out your next email marketing campaign, make sure you pull up this blog post to double-check that you've accomplished all ten recommendations before hitting "send".
Speak with your REM Customer Success Team or Sales Rep for more information about setting up your own newsletter and start reaping the benefits of great email marketing.