| | |
| --- | --- |
| Happy Long Weekend | Friday, July 31, 2015 |
REM is closed on Monday August 3, 2015 for the Civic Holiday.  We hope everyone has a great long weekend.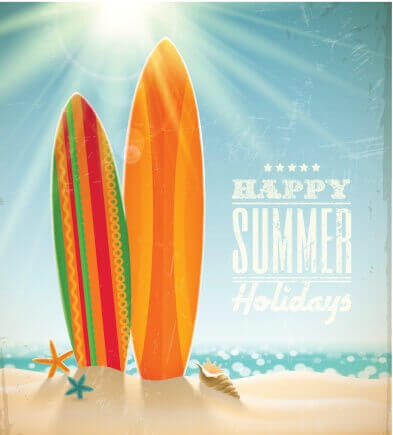 | | |
| --- | --- |
| Don't forget to ask for reviews | Wednesday, July 29, 2015 |
Getting positive reviews for your business is very important these days.  When I  personally, am doing a search online, I make a point of reading business reviews (if reviews are available).  Seeing numerous positive reviews makes it easier for me to contact that company with confidence.
Statistics show that most people will trust an online review as much as a personal recommendation, and that most people will read up to 10 reviews.
The trick is to be proactive about getting reviews.  You should be asking your customers on a regular basis to post a review.  Depending your type of business, there are different review sites that make more sense then others.  Overall, I suggest that one of the most common general review sites is Google Places for Business (google.ca/business/placesforbusiness).  If you haven't already taken ownership of your Google Places (Google Plus) page, it's very easy.  On the bottom left hand corner of the page you will see a section that says the following:

When you click on "Manage this page", you will be asked to prove that you are the owner by providering you a PIN number over the phone or sending it to you in the mail.  Once you receive that PIN number, you can sign back in to Google Places (Google Plus) and enter it.  You will then have the ability to update and complete the profile.  It is best to try to submit as much information as possible so Google can mark the profile 100% complete.
Once you are are set up, start sending your customers the link to that page and asking for them to provide a review for you.   If you do a good job, people will say nice things.
Try making it part of your routine.  In my calendar, on the first day of each month, I have reminded myself to ask two customers that we have recently worked with, to post a review of REM Web Solutions.  That way, over the period of 1 year, we will have a least 24 reviews.  This is a simple method to help keep fresh reviews of your business showing up every month.  
| | |
| --- | --- |
| I'm a Big Fan of REM's Form Builder | Monday, July 27, 2015 |
We recently finished building a new module called Form Builder and, as the name implies, it allows our clients to build and manage their online forms.  
I remember hearing about this module in its early stages, and I was super excited to hear what the team was planning to include in it.  Now that the module is built, I am really impressed with all of the additional functionality that was added to this tool and how easy it is to use.
You can create as many forms as you wish.

You can control which website page(s) the form is displayed on.

You can control which fields are included on your form.

You can control which field(s) are mandatory.

You can allow those submitting a form to also upload a file(s).

You can control which files types are accepted (from a large, varied list).

You can save the user's submission details to a CSV file.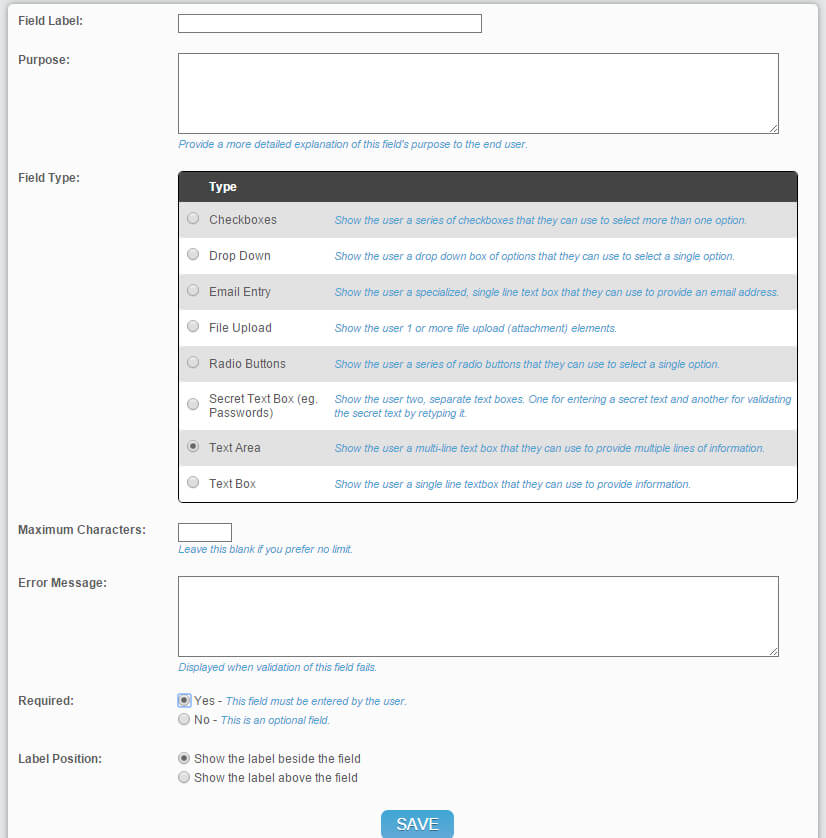 You can select which administrator(s) should receive an email notification when a form is submitted.

You can control the Thank You message that is displayed after the form is submitted.

You can create your form and keep it disabled until you are ready to make it live.  Once the form is activated, you can disable (and then re-activate) it at any time.
There are other great features as well, but these points are the common areas that we know our clients want to have control over.
Our very own Ryan Covert was the brains behind this fantastic tool.  Kudos to you Ryan!  Nicely done.
| | |
| --- | --- |
| | Jillian McBurney at 9:40 AM |
| | |
| --- | --- |
| REM Staff Bio – Sean McParland | Thursday, July 16, 2015 |
Role at REM: Junior Web Developer
Education: Computer Programmer Program – Sheridan College, Oakville Ontario
                    Media Arts Program – Sheridan College, Oakville Ontario
Work Experience: Mostly through my time at Sheridan and creating my portfolio website (seanmcparland.com) after I graduated.
Something That Makes Me Smile at Work: When I make something and it works exactly how I pictured it in my head.
One of the Things that I Find Fascinating: Photography
Favourite
Web Site: reddit.com
Books: Not much into physical books. Best written stories I've read would be on creepypasta.org
Food: Chocolate
Movie: Iron Man (2008)
TV Show: The Flash
Video Game: Super Metroid
Music Artist: Beck
Time of Day: 10 PM
Season: Spring
Places in the World: Italy
Recreational Activities/Hobbies: Videogames, Computer Hardware, Browsing reddit, being around my family.
App: Relay for Reddit Pro
Least Favourite
Food: Hmm, probably a long list, I'm a picky eater
Activity: Shopping for anything that isn't technology
Time of Day: <= 10AM
Season: Winter
Place: Crowded places in general
Best Thing Someone Said to You: "Hi Daddy!" – My Son
Life Motto: If something is daunting break it down into smaller pieces and take things one piece at a time.
My Hero: My Wife
Most People Don't Know This About Me: My favourite colour is Orange.
| | |
| --- | --- |
| | Sean McParland at 10:05 AM |
| | |
| --- | --- |
| Life Hacks | Monday, July 13, 2015 |
We have all seen them, procrastinated reading them, and thought to ourselves, "Hey I should really try to remember that." Life hacks, work hacks, hacky-sack hacks. They have all been around the internet for a long time. Some are better than others but I have compiled a few goodies into a graphic below. Enjoy! !



| | |
| --- | --- |
| | Sean Sanderson at 11:00 AM |
| | |
| --- | --- |
| Congrats on Your New Site Elmira Vacuum & Electrical! | Tuesday, July 7, 2015 |
I would like to congratulate Elmira Vacuum & Electrical on the launch of their new site!  
Everyone from both the REM and Elmira Vacuum & Electrical teams deserves a congrats on a job well done!
Here is a brief snapshot of their new site:
If you would like to see the new design please visit the Elmira Vacuum & Electrical website here.
| | |
| --- | --- |
| Is your website mobile friendly | Thursday, July 2, 2015 |
Making your website mobile friendly is more important then ever.  This is why REM includes making your website responsive mobile friendly in all our projects.  This is something you have likely already heard.  However, I want to take a moment to clarify a few things about what they really means.  
I hear from clients all the time about phone calls and emails that they get from companies all over the world telling them why they need to have a mobile friendly website.  Often the information is wrong or exaggerated.
The biggest confusion is the change that Google announced recently.  As of April 21, 2015, having a mobile friendly website is now a "factor" in your "mobile search rankings".  The part that most people have wrong are the two things I put in quotes.  It is one of many factors.  
Not having a mobile friendly website is not going to remove you from Google but it will help you get better rankings.  The other important words I put in quotes is "mobile search rankings".  Not having a mobile website, will not effect your desktop search ranking in google, only your mobile search rankings.
Now that I have cleared up the actual position Google is taking over this, and helped you ignore the fear mongering that has been going on, I will tell you it is still very important.
Mobile now exceeds PC Internet usage.  Many people I talk to often forget to put themselves in their customers/target audience's shoes instead of their own.  Just because you don't use your phone to search and look up website very much doesn't mean that the statistics saying otherwise are wrong.  You are missing out on an entire segment of people who want to have a proper experience when visiting your website on their phone.
By making sure your website is mobile friendly, YOU WILL, see an increase in the time people are spending on your website and the bounce rate.  An entire audience that would  have likely left very quickly when visiting your site on a phone will now likely stay to find out all about you.
Give me a shout and we can talk more about how it can help you.  You can reach me at 519-884-4111 x 111.
| | |
| --- | --- |
| White Glove Services - Coming Soon | Friday, June 19, 2015 |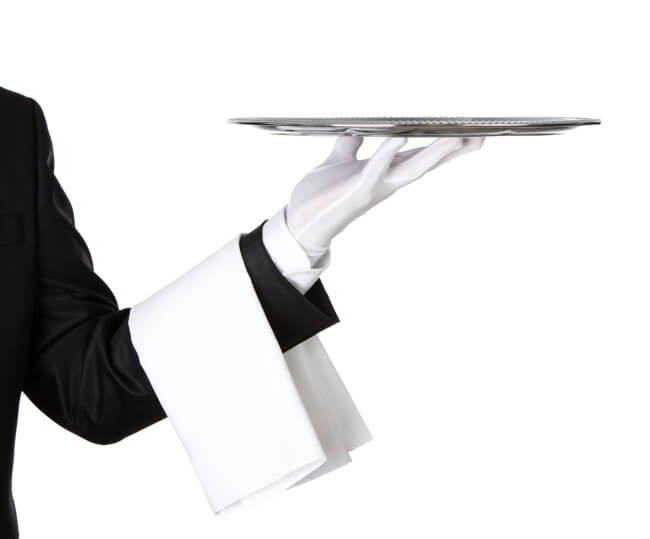 REM has always provided our customers with a higher degree of attention than our competition.  It is our number one value proposition put towards the "Customer Success Comes First" guiding principle.
Our existing customers already enjoy 150+ hours each month of free access to our live humans, located in Kitchener, Ontario, to solve business challenges, improve website aesthetics, and rank higher in Google searches.
They already trust our account facing team leaders, Laura and Jillian,  to help take great business ideas and make them successful digital strategies, and REM has been working hard to extend that concept to our other leaders!
If the title of the post wasn't a clear enough spoiler, REM is quickly creating our next fantastic customer success centred offering:
REM White Glove Services
The idea has been matured enough to finally give this teaser post and I can share some of the initial details to get you thinking about reaching the next plateau of excellence with REM.
Start Thinking:
Direct access to accomplished graphic designers - You Bet

Direct access to SEO strategists - No Problem

Bigger cloud storage repositories - Bingo
Come back in a few weeks to get the complete picture.  You'll enjoy the new opportunities to advance beyond your competitors!
| | |
| --- | --- |
| | Jamie McBurney at 9:55 AM |
| | |
| --- | --- |
| Microsoft Surface And Reading Comics | Tuesday, June 16, 2015 |
Ever since I was a young boy - let's say 7 or 8 years old - I have been a fan of comic books.  I enjoyed collecting them, reading them, and even attempting to emulate the art style of some of my favourite comic artists.  Flash forward nearly 30 years later and I still enjoy reading (or even just looking at) the odd comic.  I wouldn't consider myself an avid comic reader or collector by any means, but I do still read them if I have a moment to myself (those moments are fleeting now that I have two children of my own whom I hope enjoy comics themselves one day).
This brings me to the topic of this blog post: reading comics on a Microsoft Surface tablet PC. Specifically, reading archived, digital comics in the form of "CBZ" or "CBR" (zip or RAR compressed comic archives).  Many, many people have moved to reading comics in digital form now and it's only natural to want your device of choice to also be able to do this.
The latest iteration of the Surface line of devices: the Microsoft Surface 3.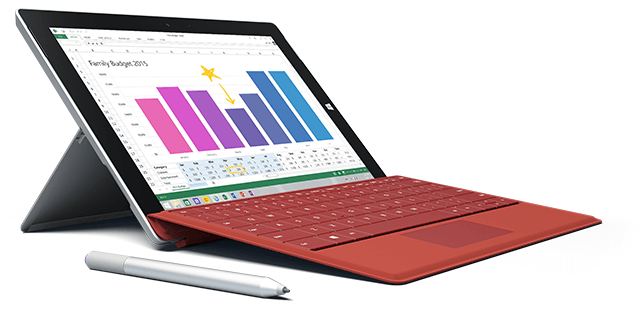 I recently made the jump to using a Microsoft Surface Pro 3 as my main travel device. I could not be happier.  It is an all-around great device for work, play, and general PC usage. It turns out that, while certainly a bit heavier than a regular tablet, it's also great for reading comics!  So without further ado, I'd like to present my top picks for comic reading apps that work best on the Surface line of devices.
NOTE: Prices listed here are not guaranteed and are likely to change over time.
#1. Cover
Link: Windows App Store
Price: Free for the first 25 comics. $3.49 for access to your entire library.
Why I Picked It: Cover has proven to be the most streamlined and easy to use app of the bunch. I tried out a dozen or so "modern" Windows apps from the store and this one happens to be my favourite.  I like its intuitive ability to simply point the app at any folder your PC has access to (including support for OneDrive and DropBox) to act as its library location.  It creates beautiful previews of your comics (based on the first image found in the archive file) and keeps track of which page you left off for each read comic.
Caveats: Nowhere is it mentioned on the app store that this app comes with a 25-comic limit up front before hitting a pay wall.  It's worth the $3.49 price to unlock the full access to your library of comics, but it would still be nice if the upgrade cost were mentioned before downloading the app.  In my case, I don't really need more than 25 comics stored on my device at any given time anyway.  I keep them all safely stored on a home computer and just copy them over whenever I need to.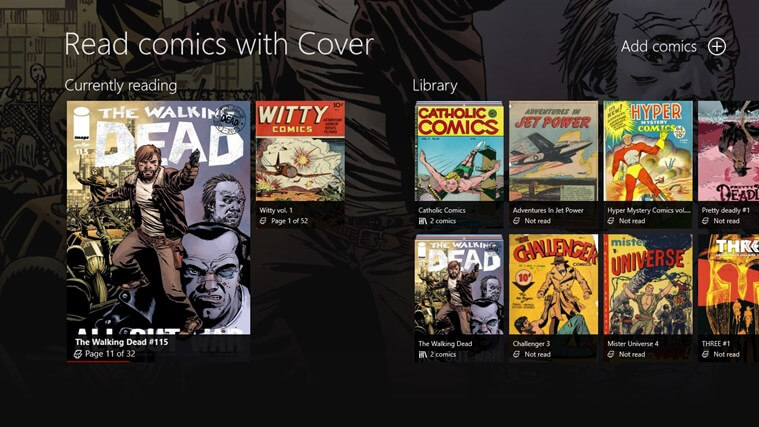 #2. Comics Jolt!
Link: Windows App Store
Price: Free Trial available, as well as a "Lite" version. $2.29 for the full version.
Why I Picked It: Like the previous selection, Cover, comics Jolt! has a similar interface for adding your personal library of comics for reading and makes it very easy to find what you're looking for. It also keeps tabs on where you last left off in your favourite reads.
Caveats: As much as comics Jolt!'s interface attempts to be smart, it ends up putting the "jolt" in this jolting experience.  There are some odd behaviours in how scrolling through a comic doesn't feel as natural as it does in Cover and that was enough for me to choose Cover over this one.  Albeit, it was still a close race.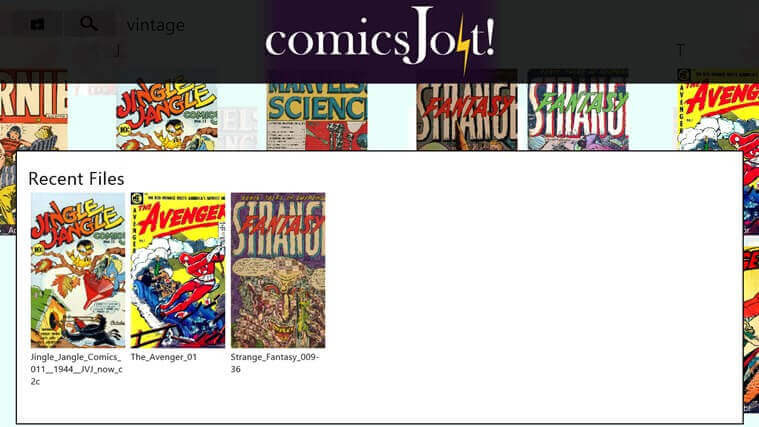 #3. POW! Comic Book Reader
Link: Windows App Store
Price: Free.
Why I Picked It: It's free! It also defaults to auto-fitting a single page of the comic you are reading into its own, white-background frame.  This frames the page nicely in comparison to how the other two apps place the image edge to edge in portrait mode and still require a slight bit of vertical scrolling to view the entire image.  Given the high resolution display on the Surface devices, scaling the image down slightly in POW! doesn't present any noticeable degradation in the image quality.
Caveats: You can only add one comic to your library at a time.  This ends up requiring you to maintain your library at a granular level which is very silly for a modern day application to expect of its users.  I believe I also found the swiping motion to be unintuitive in this app, as though it was a custom gesture written by the POW! developers rather than it using the built-in gestures provided by Windows touch screen devices.  I could be mistaken, however, as I promptly deleted this app after only a couple of minutes of tinkering with it.  It's good, but it's not great.  I need a great comic reader that takes all of the thinking out of the job and lets me just enjoy reading my comics.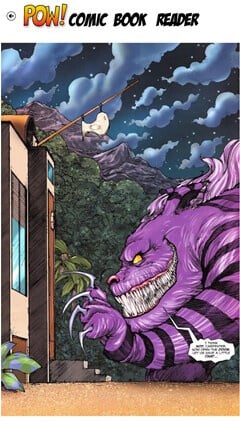 That's it for now!  For the sake of completeness, I should mention that I still employ the use of an old desktop application named CDisplayEx for viewing my comics on my regular desktop computers.  Since it does not have smart touch screen interface or even a library function it could not make the cut here for the review.  However, it is a great application.
Until next time, enjoy reading comics in a comfortable fashion from your Microsoft Surface device!
| | |
| --- | --- |
| How to make a work space that inspires creativity and productivity. | Thursday, June 11, 2015 |
| | |
| --- | --- |
| | Put artwork and personal things in the work space. Post and disperse them around the room so that whenever you take a break from your work, you'll have something cool, pretty, calming and/or motivating to look at. Like a painting of a llama with a party horn. |
| | Put fun things in your work space. No one can be creative and productive in a bland, boring environment. Put fun things like action figures, puzzles, or random knick-knacks like a cool, vintage radio-clock. |
| | Organize your physical and digital workspace. It's hard to concentrate on tasks if your desk is a clutter. Keep that clutter in check. Make sure your files are named and filed properly in the correct location in your desktop, server or Documents folder. |
| | Properly set up your physical and digital workspace. Make sure that your keyboard and mouse are at the proper angle that won't make your arms sore in the long run. Check that your programs are set with your preferred shortcuts and settings. |
Here are some great cool, inspiring photos of creative work spaces:
How you feel where you work greatly impacts the kind of things you create. Set up your work or personal office space to what you feel comfortable with so you can be as creative and productive as possible!
| | |
| --- | --- |
| | Christine Alon at 2:35 PM |
Contributors
Latest Posts
Archive
Tags
Everything
Content Management
Technology
Design
Holidays
Off Topic
Support
New Features
Personal
Gaming
New Clients
SEO
REM News