Role at REM: 
Project Manager.  I ensure that REM runs like a well-oiled machine.
Education: 
Mohawk College – the 3 year Applied Music program. The trumpet was my instrument of choice.
Previous Lines of Work: 
How far back do I go?  Babysitting (which I couldn't stand), Retail (which I tolerated), Landscaping (which I loved), self-employed wedding photographer (which I found very rewarding), REM Support and then REM Account Manager (which I thoroughly enjoyed).
Something That Makes Me Smile at Work: 
The quirky nature of my co-workers.
One of the Things I Find Fascinating: 
The Universe. 

Web site:
http://www.wpja.com/  Wedding Photojournalistic Association.
Books: 
Anne of Green Gables.

Food:  Pizza, Toast with Peanut Butter and Honey, Fruit.
 
TV Show: 
Call The Midwife
 
Musical Artists:
Jann Arden, Loreena McKennitt, Harry Connick Jr., Great Big Sea, Sarah Harmer, Led Zeppelin - just to name a few.
Time of Day: 
The morning.
 
Season: 
Spring.
 
Places in the World: 
My home, my family's homes and my friend's homes – anywhere I'm having good conversation.

Recreational Activities/Hobbies: Kung Fu, scrapbooking, walking my dog, playing board games and cards.
 
Sport:
Kung Fu.
 
App: 
I don't have one.

Food: 
Anything spicy.
 
Activity: 
Driving.
 
Time of Day: 
Between 12 and 3pm on a hot summer day.
 
Season: 
Summer.

Place: 
Hospital.

Best Thing Someone Said to You: 
"You did a great job Mommy." 
Life Motto:
Try to be empathetic but do not be taken advantage of.
My Hero: 
My husband.
One of the Things I Find Fascinating:  
The human mind.
Most People Don't Know This About Me:  I once said, "I like animals more than I like humans."  I sometimes still feel that way!
| | |
| --- | --- |
| | Jillian McBurney at 10:40 AM |
The creative process abhors stagnation and craves inspiration.
Inspirations are necessary for the creative juices to flow. They're the little sparks that keep the artistic brain-engine going. As a Graphic Designer I look for inspirations for my work and I find them everywhere. Even if it's not a website, the layout, colours or feeling of something could inspire my next website design.
Here are a few of my top websites I like visiting to reinvigorate my creativity: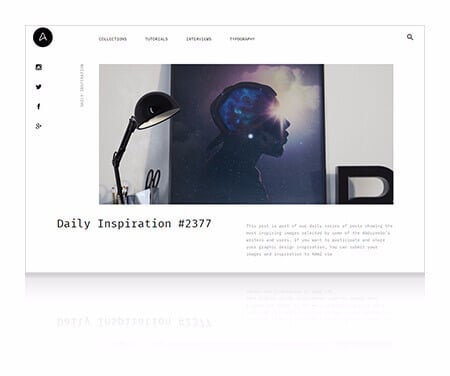 Abduzeedo: a blog with a funny name. This website has some great inspirations for not only design, but architecture, art, illustration, typography and a whole lot more. I also like that they have tutorials and a section called "Friday Fresh Free Font." for downloading free fonts.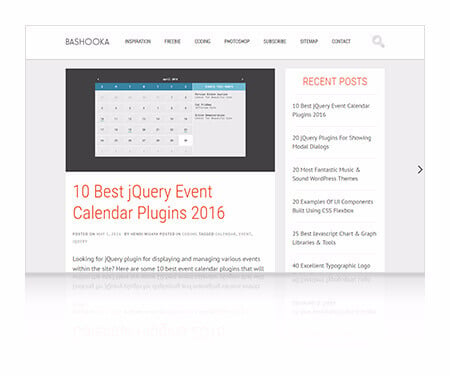 Bashooka: a great website for web-specific inspirations, freebies and tutorials. I also like their minimalistic, clean design and colour scheme. Hmm…Bashooka's colour scheme (mostly black and white with highlights of orange) looks very similar to another website. Hint: the website you're at right now.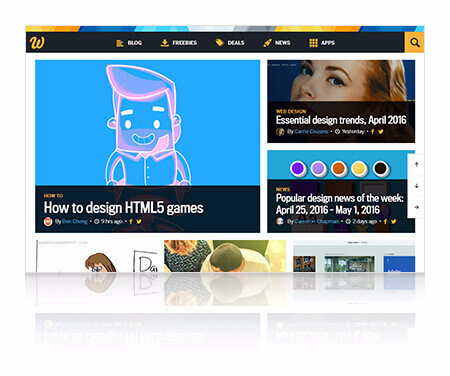 Web Designer Depot: this is a cool website that has a blog, news, freebies, resources and all sorts of neat stuff. It has some very useful tips and tricks for designers. Personally, there are parts of the website that look too busy and advertisement-heavy to me, but I like the layout and bright colour palette.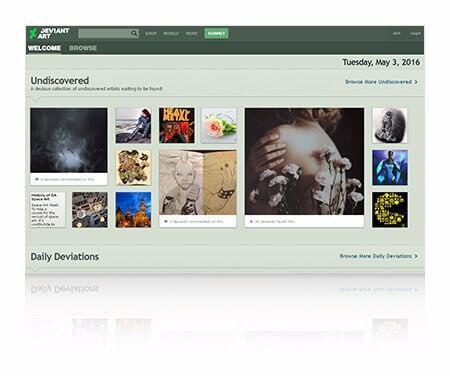 DeviantArt: This website has pages and galleries for amazing artists! You can find any genre of art here; from traditional paintings of still art to digital, fan-made art. I've mentioned before, it's not just web design that inspires me. I have a background in Classical Illustration, and I find ways to incorporate my art skills into my design because they're always interrelated. Looking at art helps stimulate all aspects of my creativity.
| | |
| --- | --- |
| | Christine Alon at 9:15 AM |
Is it just another long weekend or is it a historic celebration?
Most of us today look at the May 24 weekend as the official start of the summer, but do you know the history behind the holiday?
Victoria Day is a federal Canadian public holiday celebrated on the last Monday before May 25 in honour of Queen Victoria's birthday. The holiday has been observed in Canada since 1845. It originally fell on the Queens actual birthday, May 24. Canada is the only country that honours Queen Victoria with an official holiday.
Twice in history the holiday was marred by tragedy.  The first occurred in 1881, the passenger ferry Victoria set sail along the Thames River, near London, Ontario and overturned with apparently 800 people on board. Approximately 182 people drowned, including children who had been with their families for Victoria Day picnics at Springbank Park. The second incident happened on May 26, 1896, in Victoria, BC the Point Ellice Bridge collapsed under the weight of a streetcar overloaded with passengers on their way to attend Victoria Day celebrations. The most interesting part of both of these incidents is that they occurred on a vessel and in the city named after Queen Victoria.
To mark the occasion today, royal gun salutes are fired in each provincial capital and in the national capital at noon on Victoria Day. Some cities hold parades - the largest being in the monarch's namesake city of Victoria, BC, where it's taken place every year since 1898. Many municipalities and individuals hold their own fireworks displays to celebrate the holiday.
Victoria Day is colloquially known in Canada as May Two-Four, a double entendre that refers both to the date around which the holiday falls and Canadian slang for a case of 24 beers.
As May 24 approaches please remember to have a safe and happy holiday. As a reminder REM web solutions will be closed on Monday May 23, 2016 to celebrate Victoria Day with our families.
Facts provided by InsideToronto.com
Curious what is happening on the internet in 2016?  This info graphic shows a great example of what happens in only 60 seconds.  As you can see, emails continue to have the largest volume with 150 million emails sent in 60 seconds,
What I find surprising is the volume of YouTube videos watched is larger than Google Searches.  
Do you find any of this surprising?
Courtesy of: Visual Capitalist
There is no argument that with the internet you can easily find inspiration with a couple clicks of a mouse. Sometimes I believe it's still good to look elsewhere.
On my daily commute I pass by an amazing wall of "graffiti style' art. I don't like using the word graffiti because it carries a negative connotation. This is not vandalism and I hope the artist (unknown) was compensated generously.
This wall has 9-10 sections with the craziest artwork I have seen done on a wall. I have always passed by at 60 km/hr and tried to get a little look at a different piece each time. This week I finally pulled over and spent some time taking in the amazing work. I then took pictures because I knew I had to share this spectacular find. It has really inspired me to be more creative and again get up off the computer and use a different medium to express my artist within. The Google link is below. I suggest you go take a peak in person.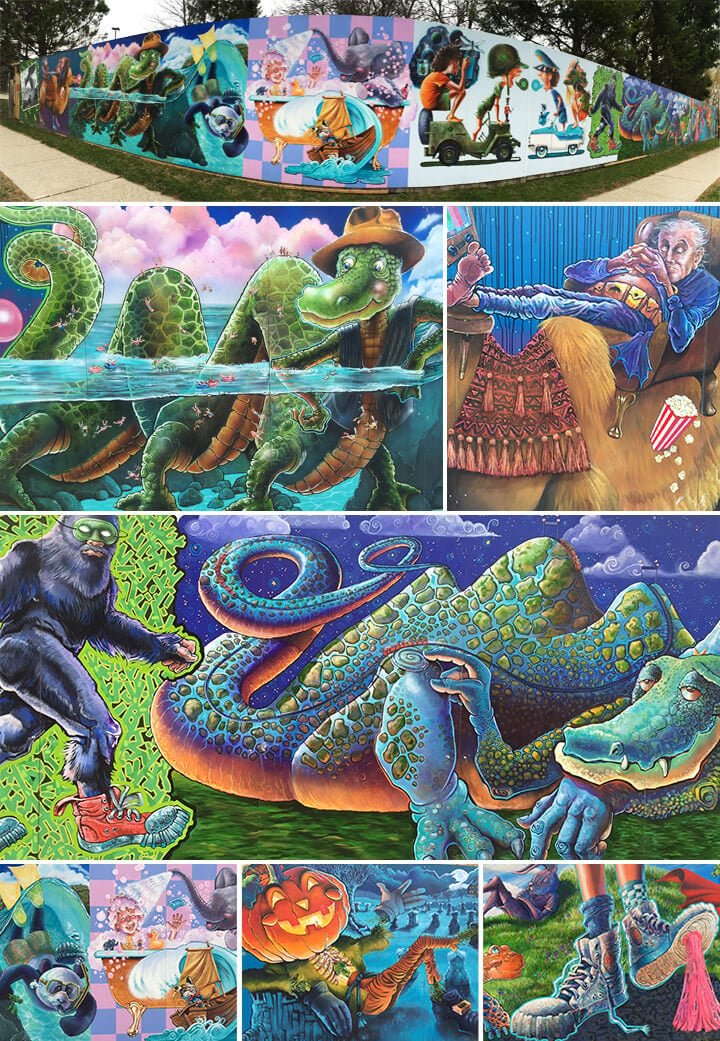 | | |
| --- | --- |
| | Sean Sanderson at 9:35 AM |
To understand why wavelength and bandwidth are linked we should look at how data is actually transferred over the air. Thinking back to the days of Morse code we know that all we needed to do was disrupt the signal and someone on the other end would figure out what was being said. What about sending audio over the air? Now that we need to send more data we have to start modifying different parts of the signal. This is done through Amplitude Modulation, Frequency Modulation (and lesser known Phase Modulation). We more typically refer to these by their acronyms AM and FM.
The EM spectrum moves in waves. It has peaks and valleys. We can alter the height of the peaks (amplitude), the distance between them (frequency) or add a delay or lag to each individual wave (phase).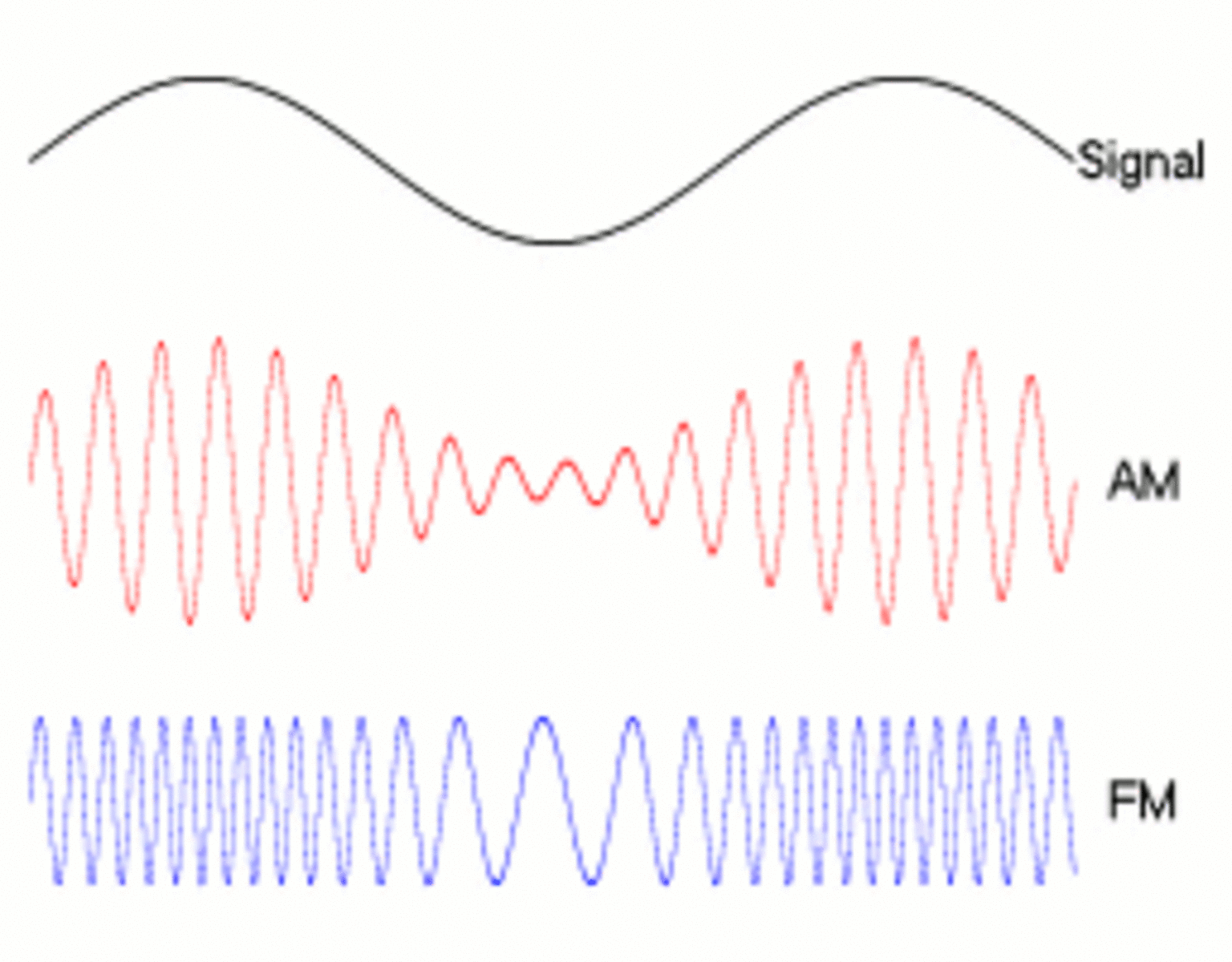 Amplitude and Frequency Modulation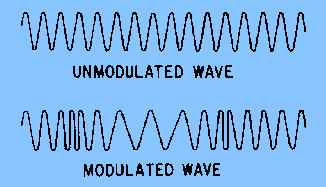 Phase Modulation
These are great for sending an analogue signal (like audio from a radio station to your car stereo) but what about sending digital information like Wi-Fi? Digital information is stored in binary as a series of ones and zeros, we can use these existing methods like AM by defining what height of wave translates to a one and what translates to a zero. Unfortunately we run into the aforementioned issue of bandwidth. Sending digital information requires significantly more bandwidth than is available in just these methods. There are many more complex methods that go into sending data over Wi-Fi but I won't get into them here.
Unfortunately this is where the low wavelength we've been using hits the bandwidth wall. Because the waves are so long we can't send enough ones and zeros quickly enough to be useful. Now we need to shorten the wavelength and crank up the frequency. Older Wi-Fi versions used a frequency of 2.4 Gigahertz, mainly because it was unregulated. Using 2.4 GHz meant sharing a frequency that many other devices we're already using (like your microwave oven) and ended up being too cluttered with other signals that it frequently caused an unreliable connection.
Current versions of Wi-Fi use a frequency of 5 Gigahertz to move away from the cluttered overused 2.4GHz frequency. This meant a cleaner signal and a big boost in available bandwidth. Unfortunately shortening the wavelength again meant sacrificing its ability to pass through walls and effectively shortening the distance the signal can travel indoors.
| | |
| --- | --- |
| | Sean McParland at 1:30 PM |
An acquaintance of mine recently wrote an increasingly popular article on the negative effects of client authoritative network modelling as it applies to online multiplayer video games. Specifically, the enabling of "cheaters" when client machines are given priority over the server. Glenn Fiedler is a respected software engineer who has worked on several AAA video game titles over the years and most recently finished working as the lead software engineer for Titanfall by Respawn Entertainment before moving on to start his own business where he specializes in network technology for - you guessed it - video games.
Glenn's original article discusses the problems with this network model and the reasoning behind developing these solutions from a server authoritative model is the only way to ensure the best experience for gamers:
http://gafferongames.com/2016/04/25/never-trust-the-client/
The article has since been picked up by several major online publishers, some of which I have listed here.
Ars Technica: http://arstechnica.com/gaming/2016/04/analysis-the-division-may-need-complete-rewrite-to-fix-hacking-problems/
Developer Tech: http://www.developer-tech.com/news/2016/apr/27/ex-programmer-respawn-and-sony-criticises-divisions-network-model/
PC Gamer: http://www.pcgamer.com/veteran-network-programmer-says-the-division-needs-a-complete-rewrite/
Games Radar: http://www.gamesradar.com/why-the-division-is-broken-online-according-to-a-former-god-of-war-titanfall-dev/
The Guardian: https://www.theguardian.com/technology/2016/apr/26/hackers-cheats-ruined-the-division-pc-ubisoft
Reddit: https://www.reddit.com/r/thedivision/comments/4gjlh5/network_expert_gives_his_opinion_on_hacking_in/
And the list goes on...  I've left out links to articles that Glenn himself has flagged as being too inflammatory or negative in general. Glenn was simply attempting to help the gaming community at large understand what the problem is with The Division from the viewpoint of a seasoned software engineer who has literally written the correct type of code himself with a great level of success.
As a software developer myself, I not only find this interesting but also very familiar. When we're developing software at REM we always take into account the potential actions of the client machines accessing our software and the best ways to circumvent problems without negatively impacting the website visitor's experience.
After 7 months of being first-level support for REM, I have found one of the most commonly asked questions: "What's the difference between Domain Management and DNS Hosting?" Since we offer both of these services, I'd like to take a minute to explain them for you!
Domain Management 
Every website and email address has a domain; in the case of REM Web Solutions, our domain is: remwebsolutions.com. It is the most basic and critical aspect to your business' online presence, it is how people find you. REM offers a domain management service to you, and what this means is we register your domain name with a registrar and ensure that your renewals are up to date as well as manage where your domain points to (a.k.a. Nameservers).  
DNS Hosting
At REM we also offer the service of hosting your DNS (we become the Nameserver mentioned above). When I first started working here at REM, DNS Hosting was explained to me as being a phonebook (an analogy that makes complete sense to me!) Basically, every service that comes along with your domain (websites and emails) has specific addresses and numbers to them. When we host your domain, we have a list of all your DNS records. For example: I ask the internet to take me to www.remwebsolutions.com, the internet looks to the registrar to find the Nameserver, once it knows where to look - in this case REM's DNS server - it goes there and finds the IP address that the website is sitting on, and goes to that address!
| | |
| --- | --- |
| | Shauna Ramsaroop at 9:35 AM |
Almost two weeks ago now REM hired another team member: Todd Hannigan!  
Todd is REM's new Customer Success Manager and I have the pleasure of introducing him to the WebWiz@rd tools over the past few days.  Each day we have jumped into a new module (or two) and I have shown him the basic and more advanced features of our tools.  We still have a number of modules to cover, but I think that we have made great progress so far.
Todd is an active, engaged learner and I am confident that our clients are going to be very pleased with Todd's attention to detail, his eagerness to help and his personality!
| | |
| --- | --- |
| | Jillian McBurney at 9:11 AM |
"... Not to mention five years of therapy!"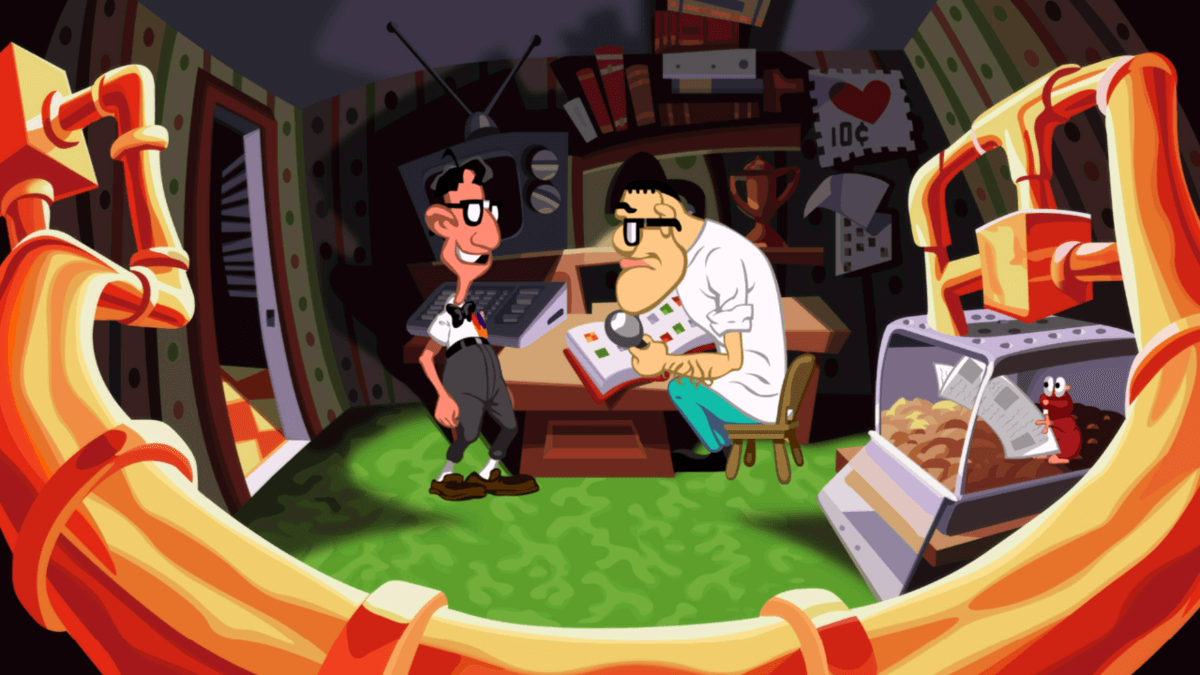 Most of you are probably scratching your head at this point. I wouldn't blame you, really. That is arguably an obscure and mostly unknown quote. But it's also one that had me howling with laughter in the early 1990s as a teenager.
Maniac Mansion: Day Of The Tentacle (DOTT) is and always will be one of my all-time favourite video games. While it can be broken down in definition to a simple, point and click adventure game (a genre that has received many refreshing new titles in the past few years to help bring in new and old fans alike), it's also one of the funniest stories ever told.  I kid you not that I was so crazily obsessed with this game that I used the characters for a family tree project in my grade 9 high school French class. It seemed befitting, given that the zany host of characters this game includes all act like a dysfunctional family that you can't help feeling connected with by the conclusion of this hilarious adventure.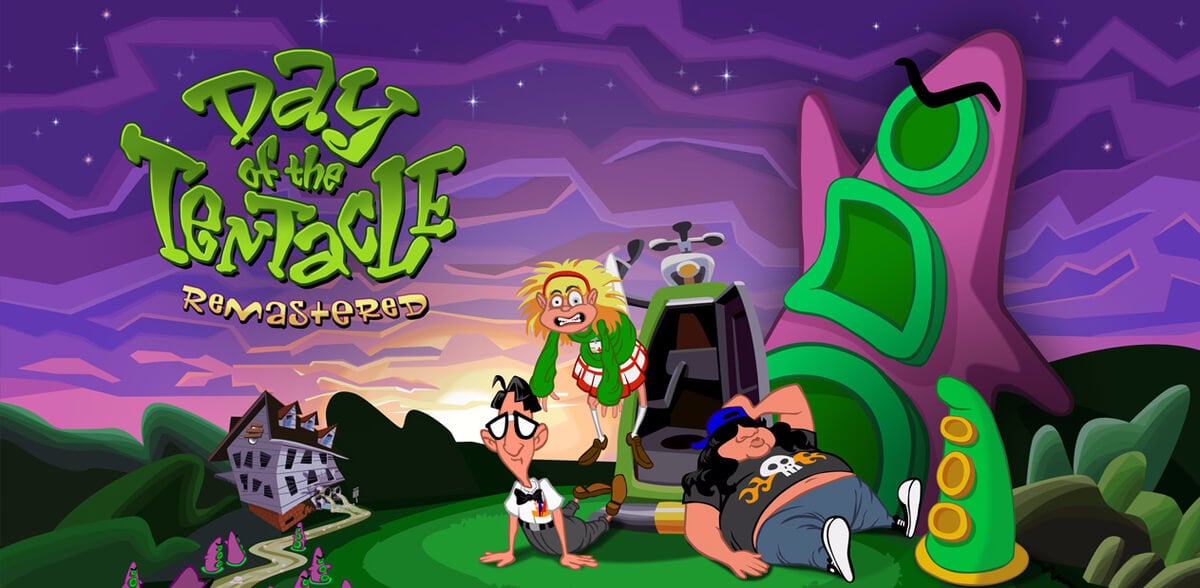 Now, you might also wonder why I'm even writing about this circa 1993 game. I don't typically utilize my blogging time to wax nostalgic about old entertainment products. In this case, however, it seemed like a great time to do so since some of the original developers of DOTT have recently released a "Remastered" version of the game. I snapped it up through Steam and managed to get my four-year-old immediately hooked on the game. This is both good and bad. Good because I am having a blast playing through the game again (for probably the zillionth time) and bad because I have to wait long periods between play times so that he doesn't miss out; four-year-olds and their inability to stay up late and their limited screen time. You may know how that goes.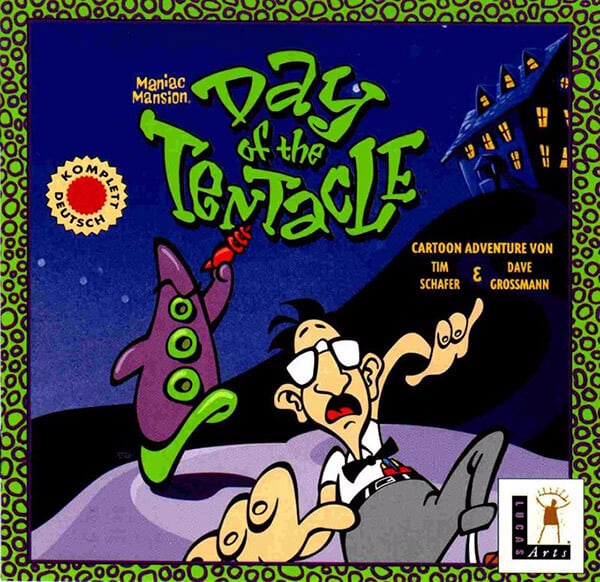 So, back in 1993 I was lucky enough to own the MS-DOS version of this game that came on 3 1/2" floppy disks.  At the time, I did not yet have a CD-ROM drive for my PC, so the "full talkie" version of the game (as games with fully recorded dialog were referred to back then) was not an option. I probably installed that game a hundred times over the years and always made sure it was included in every new PC I built from there on. If you play through this game one time, you'll understand why it is a beloved treasure of mine.  LucasArts (yes, a division of THAT Lucas, of Star Wars fame) were the original developers of the game, and one of the original designers of the game is also at the helm of the company (Double Fine) that produced the newly released Remastered edition. Shout out to Tim Schafer!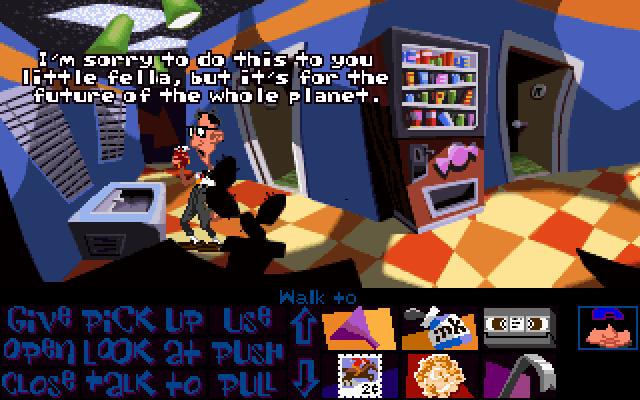 I can't possibly do this video game the justice it deserves in a full review, but I'll leave you with some fun links and videos to check out if you're interested in learning more or picking up a copy for yourself. I can assure you that if you have any sense of humour you will not be disappointed.
Check out the official trailer for the Remastered edition: 
https://www.youtube.com/watch?v=g6v-zGTzNCE
Check out the making of this glorious production:
https://www.youtube.com/watch?v=LjF4eMrYfG0&list=PLIhLvue17Sd6qEN1FU1NmGNJGEQTeDhvt
Check out PC Gamer's review of the game:
http://www.pcgamer.com/day-of-the-tentacle-remastered-review/
To purchase this game, you can find it on Steam, Gog, and possibly other online retailers, as well as on your PS4 or XBOX One.
Steam: http://store.steampowered.com/app/388210/
GOG: https://www.gog.com/game/day_of_the_tentacle_remastered
For more great videos produced by Two Player Productions:
https://www.youtube.com/user/2PlayerProductions
https://www.youtube.com/playlist?list=PLIhLvue17Sd7F6pU2ByRRb0igiI-WKk3D
Contributors
Latest Posts
Archive
Tags
Everything
Content Management
Technology
Design
Holidays
Off Topic
Support
New Features
Personal
Gaming
New Clients
SEO
REM News