So, you've created a great looking site for your business. Now what should you do with it? One of the most important things you can do is keep the information on your site current and up-to-date. This can sometimes be challenging because webmasters can charge for every single site change you make, and that can be hard on a business budget. However, we have eliminated that cost with our WebWiz@rd tool which allows you to easily modify your own content as many times as you wish. Here are four great reasons why having up-to-date content on your site is so important. 
1. Search Engine Optimization
Websites get ranked on search engines like Google and Bing; and as a business owner, you want to be in one of the top spots in the search results when a customer is looking for you. A great way to help your website get ranked higher is to add content regularly. This helps tell search engines that you have an active and relevant site that has not been abandoned. 
2. Site hits
Customers visiting your site expect good, current information. If they visit and find that the information provided is outdated or obsolete, they will cross your site off their mental list of websites worth visiting. This means less hits for your business. Since being visible to more people across the web was one of the reasons you created a business website to begin with, loosing those people to outdated content would not be a good outcome. 
3. Easy way to get new information to the customer
Another reason it is important to keep your website content up-to-date is that it's a very easy and practical way to get new information about your business to your customers. If you are marketing a new product or service, you're changing locations, you are offering a promotion, or you simply have news to share about your business; so, you put it on your site. This is especially easy to do with our WebWiz@rd tool because you can change your site in a matter of minutes, and you can do it as many times as you like. So, if you have something new going on at your business, your website is the best way to reach lots of customers with the information. 
4. Boost sales
Keeping the information on your site up-to-date, particularly on an eCommerce website, means the possibility of increased sales. Customers are more likely to trust a business with current and relevant information. They feel more comfortable sharing personal information and spending their hard-earned money with a company that takes the time to be current with its content. 
Updating your website's content is quick and easy with our WebWiz@rd tool, and it's an important step in maintaining a useful business website. Up-to-date content means higher search rankings and happy customers.
| | |
| --- | --- |
| | Todd Hannigan at 11:00 AM |
Last time on my previous blog post, I explained the meaning of a few terms that're used for different sections of web page. If you haven't already, you can read Part 1 here. The first post is about the main sections of a web page. In this one, I'll be getting into a few of the nitty-gritty parts, the components or elements in a web page.
Again I'll be using parts of REM's homepage as an example with labels to illustrate the terms.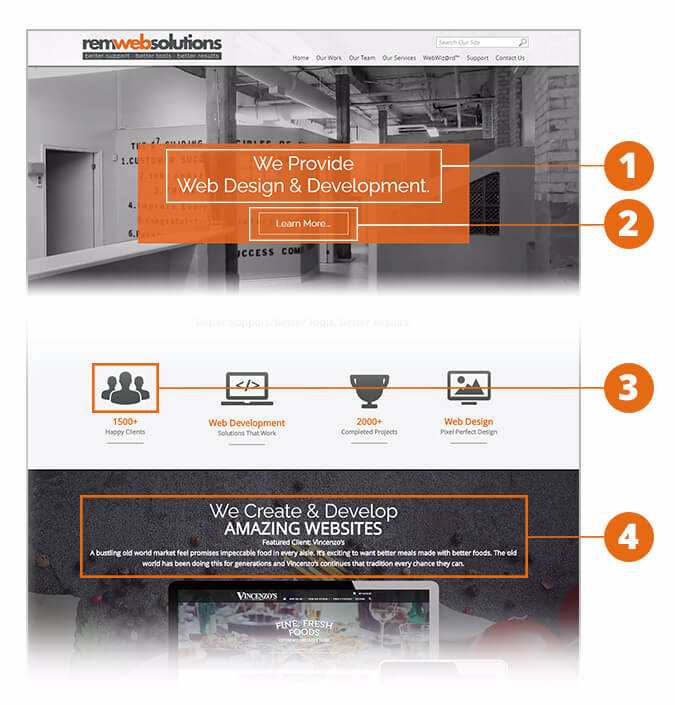 Headline – This could also be known as "hero" text. Unlike a heading which could appear several times anywhere on a web page, the headline usually refers to the very first, large line of text that grabs the user's attention and gives them a quick idea of your company. That means it could be your slogan, tagline or a quick summary of what you're all about. REM's headline at the top of the homepage is "We Provide Web Design & Development." A headline is best when it's short, concise and leaves an impression on the viewer. You can think of it as the "billboard copy" in your web page.
 
Call-to-Action – The explanation is in the name. This is quite useful for marketing and advertising because it's an element such as a graphic, heading, button, area, etc. that draws the user's eye and compels them to do something in your website. Its job is to make your user/customer do what you want them to do: contact you, go to this or that page, buy something, etc. For example, in our homepage the large "Learn More" button is a call-to-action to compel our customers to learn more about our services by contacting us.
 
Iconography – This refers to illustrations, visual images or symbols that're interpretations of an object or idea. Icons are used everywhere in our world, not just in websites. Unlike text which has to be a specific language, icons can be universally understood (think: the symbol for women's/men's washrooms). Also key aspects or ideas could be created into icons. In my example's case, the illustration of a group of people conveys we have worked with many clients.
 
Font – It refers to the typeface and style the texts uses. It plays a crucial role in establishing the website's look and feel, particularly when it comes to making the design look consistent. Best practices suggest that one use no more than two or three font-styles. In the example I've highlighted there are two fonts being used: Raleway and Opens Sans (both sans serif).
Did you feel like you've learned something after reading my two-part blog post? I hope you have! We designers think in visual terms; we like to interpret the world around us with images not words, so you can imagine that it was a bit of a challenge for me to write down my personal definitions of these commonly used terminologies.
Just like last time, I shall end this blog post with another great quote to inspire you and/or make you think. This one is from Thomas Watson Jr., a businessman, political figure and 2nd President of IBM:
"Good design is good business."
| | |
| --- | --- |
| | Christine Alon at 9:30 AM |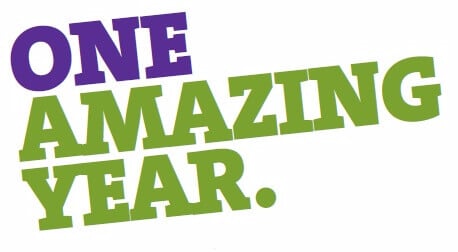 Holy Banana's!!!! I can't believe how quickly a year has gone by at REM Web Solutions.  Each member of our team has played an integral role in my growth here at REM, personally and professionally, check out some highlights of each team member below!!!
---
Rob Matlow
There is no question that Rob is most certainly a fantastic leader. His tenacity and passion for our product, and team is not only inspiring, but admirable. Aside from the typical "Boss" roles that he embodies, Rob does a fantastic job supporting our clients and our team. His communication skills are magnificent. I'm grateful for the opportunity to listen to him interact with our clients and team on a daily basis, He has provided me with an abundant amount of knowledge (theoretical and practical) giving me the confidence to communicate with our clients in a fun and professional manner that is kind, but most importantly concise and accurate. He's also fantastic at foosball and a one heck of a shawarma connoisseur!
Jillian McBurney
You know when your oil is getting really low in your car, and it starts to act all wonky, noises start appearing, lights come on, and you get a sense of anxiousness? Well, Jill is basically my oil - when she's not here, I get all wonky, make funny noises, sometimes light bulbs go off in my head, usually saying "ask Jill!! oh wait she abandoned me to go on vacation" and then the anxiousness sets in. Without Jill, our team surely wouldn't run as smoothly, not only is she an amazing project manager, but she has a knack for just making you feel all around better. If I'm struggling through a task at hand, she's always there to have my back and walk me through it, from day one, I was completely overjoyed that I was working closely with her. In my Customer Ambassador role, and now Account Manager, Jill continuously works to find new ways to help me accomplish my goals and strive to set new ones! She is amazing. 
Todd Hannigan
The newest member of our team... and a wonderful one at that. When I moved into the account management position, Todd became the first line of support and training, not only does he know WebWiz@rd inside out, and is fantastic with our clients, Todd's charisma and dedication to the position and our team is admirable. The one interesting thing I've learned from working with Todd is how to hone in on my deductive reasoning. When working with our clients in the support world, one of the most important skills required is being able to sort through issues that some of our clients may be experiencing that may not be the easiest to pinpoint the solution. Todd's line of questioning, and understanding of our products and services is fantastic, and I'm incredibly happy that I get to continue to learn from his ability to help solve our client's issues when they arise. 
Christine Alon
Chrisitini (yes, I call her Christini) is a bundle of awesome! As one of our designers, I absolutely love watching her creative brain in action while she works through a project. One of the most important things I've learned from Christini is her thoroughness when working with our clients. In my role, note-taking is incredibly important, to ensure that I don't miss important requests. Over the year, I've struggled with ways to organize my notes, while reading through hers, I found a system for myself that works incredibly well. On a personal level... this girl can always make me smile, whether it be her making funnies in the office or always a solid go to for snack/chocolate cravings - this girl always has my back!
Sean McParland
Sean is a very quiet person, probably one of the quietest people that I have ever met. An extrovert like myself loves quiet people. Being one of our developers, quietness comes with the territory, over the past year I have had a chance to work with the man of very few words, and when he does speak - the knowledge that he has in his area of expertise is sensational. I may not have learned much about developers, however I have learned that the work that our development does is intricate, it requires focus, and is best completed without zero to little interruption. Sean has taught me that it's okay to be quiet, it's okay to completely disappear into the work that you're doing - because what you can accomplish and create during this time will be nothing short of fantastic!
Ryan Covert
The Covert Operation! Ryan has undoubtedly been a fantastic colleague to work with. As I continue to grow in my position as an Account Manager, I've learned a bunch of new things in terms of the development, and technical side of the services that we offer. Ryan is always there to answer my questions, and provide me with explanations on how things work - explanations that make sense to me! Aside from his wealth of knowledge in our products, he's definitely the one I ask about new gadgets, gaming platforms, and anything that I am potentially purchasing from Best Buy. As the lead developer for our team, Ryan brings a lot to the table, and I'm truly grateful to continue to learn more from him.
Sean Sanderson
He's okay I guess. I'm kidding... he's awesome! As our lead designer, Sean is always cooking up something interesting - whether it be new designs for websites, logo's, or pranks to play on us. Sean has definitely had patience in teaching me the basics on what it takes for our team to design websites. The majority of my position is to find out what it takes from our team in order to make our client's happy. When finding solutions, Sean always takes his time, and runs through each step with me and explains how the work is done, and why. I absolutely love this, because it allows me to communicate with our clients the best options for them. Aside from designing, Sean is a great prankster in the office, he's caught me a couple times... don't worry, we're scheming to get him back!
| | |
| --- | --- |
| | Shauna Ramsaroop at 10:15 AM |
Just a reminder that our office will be closed on Monday Oct. 10, 2016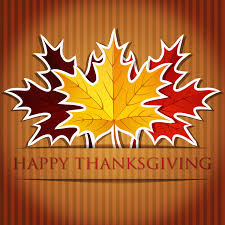 Have a safe and happy holiday from all of us at REM
Growing up I would have never thought that I would find so much interest and enjoyment in validating data; specifically, in data quality and data integrity.  My interests and strengths were in the arts and to be quite honest I don't even think I mentioned the word "data" for the first 25 years of my life let alone understood what data quality and data integrity meant.  Even if I had been told their meanings at a younger age I was never in a position to understand their definitions in a practical way.
As I write this blog I am trying to think of any instances throughout my adolescence that would have predicted my interest in this area.  I'm coming up empty handed for anything obvious.
Regardless, it is something that I enjoy now and it is something that I am very good at.
Data quality isn't optional.  It is a must. 
It is essential that our data is unambiguous and accurate to ensure that our day-to-day operations remain productive and straight forward.  This level of quality prevents costly errors and when analyzed allows us to make informed decisions. 
Data integrity is essential.  Full stop.
In our business there is no excuse for a lack of data integrity and as part of my job I am tasked with reviewing, correcting and enforcing data integrity across a number of REM's systems; project databases, client datasets and financial systems.
Providing high quality data that is accurate and consistent across all systems can be a bit more time consuming but it is worth the extra effort.  Incorrect and disordered data can have very negative ramifications and can take much longer to fix (if any issues that arise can be fixed at all).
| | |
| --- | --- |
| | Jillian McBurney at 10:20 AM |
Today is September 29th and it's no regular Thursday. Today is an annual celebration for me and in many countries as International Coffee Day. I personally don't need a day to enjoy the addictively delicious drink. - It something I was totally going to do anyway.
Although unofficial, this day is to celebrate the deliciousness of the most beloved beverage known to man.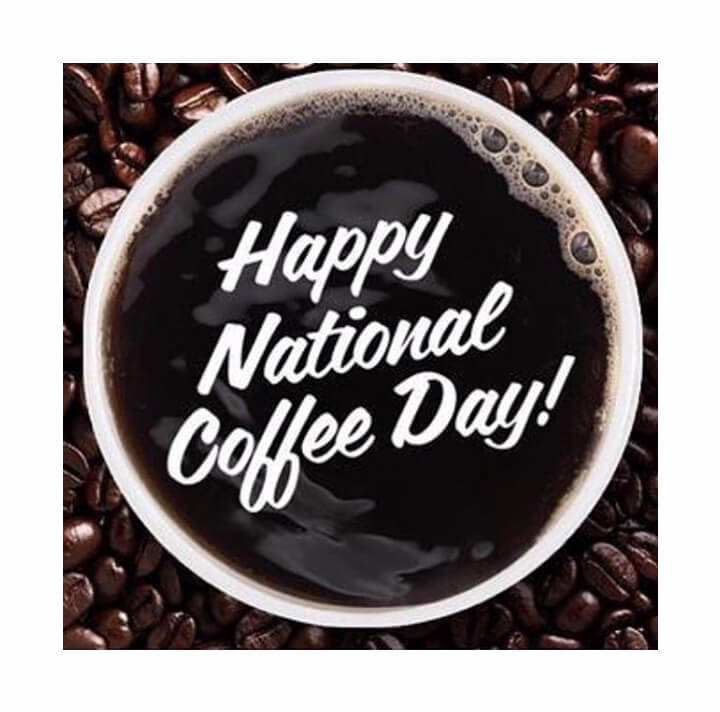 A lot of companies are also celebrating by offering free coffee. Make sure you go grab a cup of java on the house. Nothing tastes better than coffee, then free coffee!
| | |
| --- | --- |
| | Sean Sanderson at 4:05 PM |
Are you contemplating setting up a website for your business and wondering if it's worth the time and effort? With the popularity of social media and the general public's use of the internet for everything from researching products and services to reading the latest news, professional-looking websites have become extremely advantageous. Here are six of the biggest benefits a good website can have for your business.
1. Visibility.
One of the main things businesses need to bring in profits is visibility. If customers are aware your business exists, they can visit you. While you may have a lovely brick-and-mortar building and all kinds of local advertising, it can't compare with the far-reaching possibilities of the internet. Consumers are becoming more and more web-savvy and are using the internet to research and plan before they even leave home. Having a website that will show up when a consumer searches for a product or service you provide, gets your name and location in front of them in a very helpful way.
2. Sales
Your website can also potentially drive up your company's sales. Adding eCommerce capabilities to your site means that your customers don't even have to leave their homes to buy what you have to offer. The convenience to your customer is a benefit that they might find helpful and you might find profitable.
3. Email list
When you create a website for your business, you can include an option for customers to sign up for your newsletter. By providing this service; you can offer new product information, coupons or discounts, current promotions, or any other information you would like to get out to your customer base. An email list makes online marketing more effective and can bring in more business.
4. Customer service
A website allows you to handle customer service inquires in a timely and efficient manner. You can place a form on your site allowing customers to contact you electronically, and you can respond to their issues promptly. This eliminates some of the back and forth that can go along with traditional customer services done via phone or regular mail.
5. Expertise
By providing helpful and accurate information about your particular business niche on your website, you can establish yourself as an authority on the subject. You can influence your rankings on search engines by keeping your site up-to-date with information that is relevant to your topic and that customers either want or need to read. Establishing yourself as an expert in a particular area gives customers confidence in you and your products or services. This confidence can lead to increased profits for you.
6. Updates
One of the biggest benefits of having a business website is the ease with which you can update it. If your company changes locations, if you develop or wish to promote new products, or if you have company news to share; your site can be changed quickly and repeatedly. This makes getting new information out to your customers in a timely manner much easier that it is offline.
In the 21st century, technology is changing the way people interact with businesses. A great website can help you take advantage of these changes and can give your business all the benefits a web presence has to offer.
Contact us today for more information on how we can help.
Active Listening makes you a better communicator
The best sales people in the world listen 80% of the time and only speak 20%. So what is that telling the rest of us? We really need to become better communicators and here are some things you need to know in order to become an active listener and thus a better communicator.
First thing is to pay attention to the speaker. Look them in the eye and let them know they have your undivided attention. Avoid being distracted by things going on around you. Treat them the way you would expect to be treated, their thoughts are just as important as yours. Pay attention to body language, that can sometimes speak louder than words.
Secondly, show them that you are paying attention. Make small verbal comments such as "yes" or "uh huh" to let them know that you are actively listening. Use your body language and gestures to express your interest, by nodding occasionally or by using facial expressions.
Now you will need to provide feedback to the speaker. Our conjectures, convictions, and attitudes can distort what we hear. As the listener, your role is to process and understand what is being said. This may require you to take time to reflect on what is being said and then ask questions. Paraphrasing is a great way to let the speaker know you have been listening by saying things like, "What I'm hearing is," and "Sounds like you are saying,". Recap the speaker's comments from time to time.
Always allow the speaker to finish each point before asking a question or making a statement. Interruptions usually frustrate the speaker and you will not understand the message the speaker is tying to convey.
Active listening is about respect and understanding for the speaker. You are gaining information and perspective. You improve nothing by confronting the speaker or otherwise putting the person down. You should be open and honest with the speaker. You can assert your opinions, but do it respectfully.
Old habits are hard to break, but with time, determination and attentiveness, you can become a great active listener.
Be conscious of your listening by reminding yourself that you are truly wanting to understand what is being said to you. Set aside all other opinions and focus on the message. Ask questions, mull over, and summarize to ensure you fully understand the message being presented to you.
Remember we have two ears and one mouth for a reason, we were made to listen twice as much as we speak. Start using active listening techniques today to become the best communicator you can be. Improve every aspect of your life by concentrating on what others are really saying to you. You will develop deeper and better relationships through proper communication. 
Google Chrome version 53 introduced native casting support to the Google Chromecast. This ability has been available for a while using an extension but now that everyone with an up-to-date version of Chrome has it lets take a look at an interesting feature that it includes.
For the uninitiated, the Google Chromecast is a little HDMI dongle that you plug into your TV that connects to your Wi-Fi network and allows you to stream content to your television from your Phone/Tablet/Laptop/Desktop. You can stream things like YouTube, Netflix and even audio-only like Google Play Music or Spotify.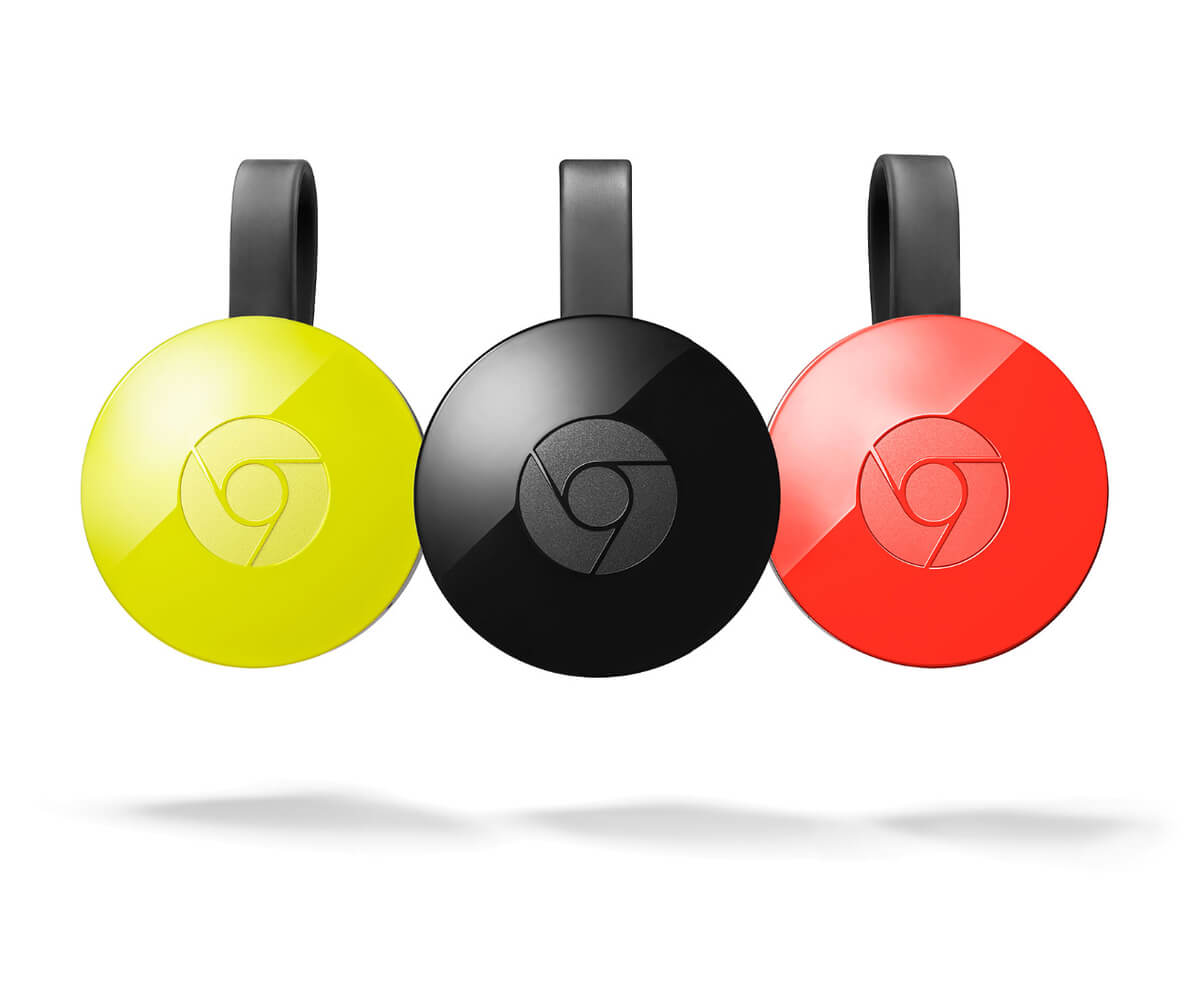 Google Chromecast 2015
When you use Chrome to stream your content you can stream whole tab to your TV. Which means you can stream any website (including sound) to your big screen, great for sites that don't support the Google cast function. Now with the new version of Chrome (previously in beta from the old Chromecast extension) you can stream your entire desktop.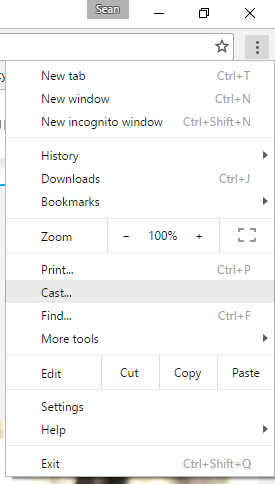 The Cast Option in Chrome's Dropdown Menu
Streaming your whole desktop lets you playback content that doesn't have to exist on the web, like locally downloaded movies/TV shows. It even syncs the audio delay according to network performance. The streaming quality is subject to several factors but is heavily dependent on your Wi-Fi network performance, so the better your network the better the quality (including framerate and compression artifacting).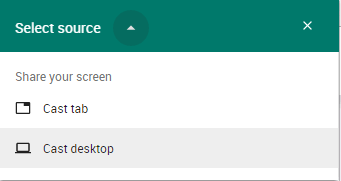 Cast Desktop Option when you select a source
Ideally you should be using a strong 802.11ac Router/Access Point and the most recent Chromecast (which supports 802.11ac Wi-Fi). There are rumors of a new Chromecast coming out next month (October 2016) which would be the third generation and is allegedly bringing 4k support along with it.
| | |
| --- | --- |
| | Sean McParland at 10:35 AM |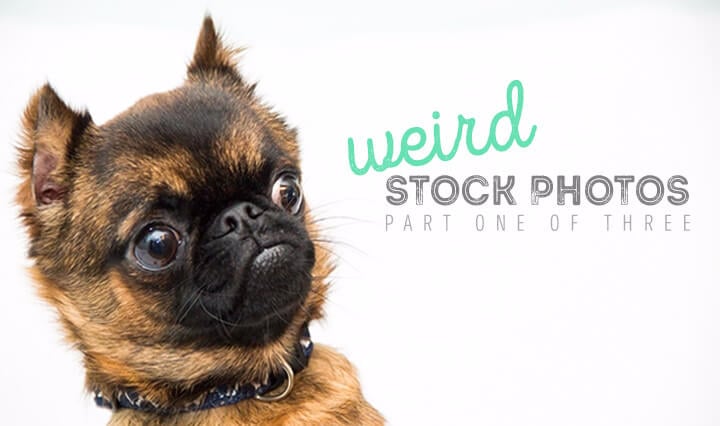 Designing websites day to day gives me a lot of opportunities to use stock photos. We use these photos in layouts and content to enhance the design and most times when we do not have anything supplied from our clients. For the most part the variety to choose from is great and the photos are not only beautiful, but also very professionally taken.
By browsing through a countless number of pages I have found what I think to be some of the funnier images cataloged. Sometimes it really makes me think, "What was the photographer thinking!?" On the other hand, maybe its like my mom has always told me. You're not weird, you're a limited edition.
The photos below are courtesy of thinkstockphotos.ca and should not be used for other purposes than this blog post. (Not that you would want to anyway.)
And yes, you read right this is part 1 of 3 so look for the next installment of Weird Stock Photos.
enjoy.

| | |
| --- | --- |
| | Sean Sanderson at 9:35 AM |
Contributors
Latest Posts
Archive
Tags
Everything
Content Management
Technology
Design
Holidays
Off Topic
Support
New Features
Personal
Gaming
New Clients
SEO
REM News
Project Management
Account Management
Training