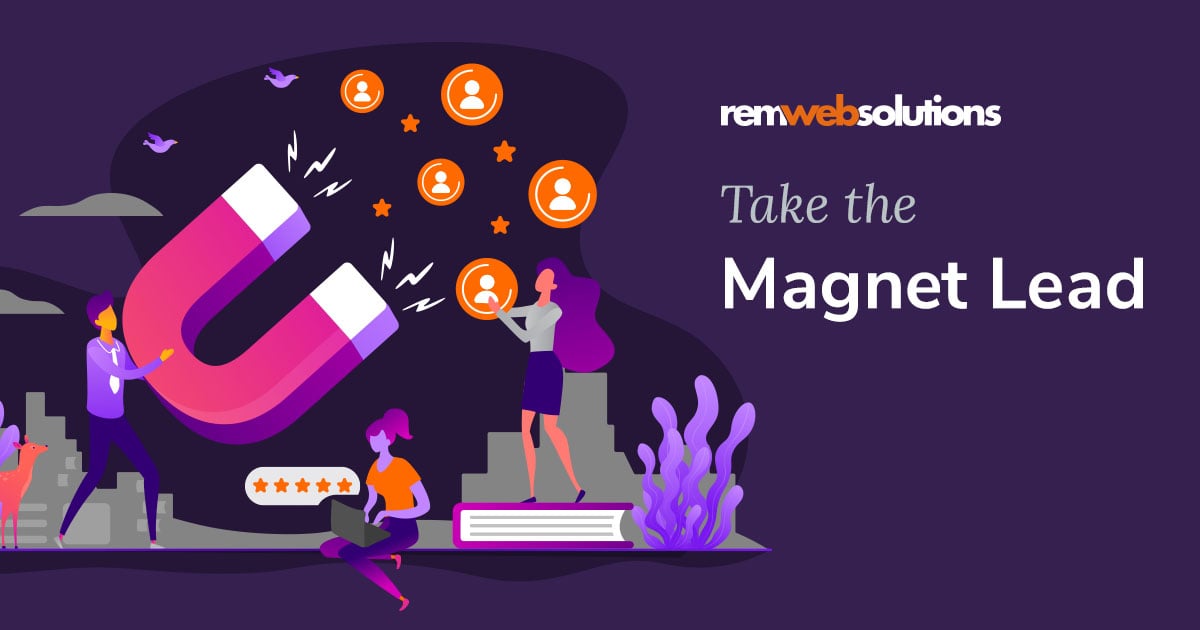 Sales is a tough thing, and it's become even harder with the pandemic, we very quickly shifted to a new norm that doesn't include networking events, face to face human interaction, and honestly, I feel like handshakes are no longer a thing. This is why it's incredibly important to get ahead of the game when it comes to creating more churn in your sales process. In this article, we're going to provide you with some knowledge on Lead Magnets, what they are, how they work and pointers on how to get them started.
---
What is a Lead Magnet?
In a recent article by Will Kenton at Investopedia:
"A lead magnet is a marketing term for a free item or service that is given away for the purpose of gathering contact details; for example, lead magnets can be trial subscriptions, samples, white papers, e-newsletters, and free consultations. Marketers use lead magnets to create sales leads. The marketers attempt to convert the leads into paying customers of a product or service, or they may market unrelated offerings to the sales leads.
When a customer signs up for a trial version or provides a name and other details for a free sample, they effectively exchange their information for a lead magnet. Sometimes the nature of this exchange is made explicit, but not always. As a result, some types of lead magnets are criticized for their deceptive nature."
How to Set Up a Lead Magnet
If you don't have someone on your team that knows how to set up a lead magnet that's okay! We're here to help. Anita Campbell at BizSugar Blog created a fantastic step-by-step guide to help you start! We've pulled some key points from this blog, but be sure to check out the full thing:
Create the Lead Magnet
"The first step is to create your lead magnet. A lead magnet is a digital thing — an ebook, template, whitepaper, video course or other item." This product does not have monetary value, the price is the contact information that you receive that becomes a warm lead.
Create a Landing Page
"A landing page is a simple, uncluttered page where people can learn about your lead magnet.The landing page is a place where someone can enter their email address and/or other information you request."
Confirmation
"After the person enters their information and clicks the button, the next step is a thank-you confirmation. You can direct the person to a separate thank-you page. Or there could be a popup message or similar mechanism. Whatever the mechanism, the person entering their information should know:
Their request for the lead magnet was successfully submitted.
You appreciate it by thanking them.
The next steps are outlined (such as "look for an email with a link to confirm" etc.)."
Organize Contact Data
"You need a place to store the lead contact information you collect, so you can later use it.  This is another key piece of the system.
Some landing pages can be made to integrate with your email marketing software or your CRM system.  This is ideal. Then you don't have to manually enter contact data into another software application for follow up."
Follow Up
"Create a process to follow up on the leads collected. Usually this includes a sequence of automated emails. The emails are scheduled to go out every few days (or weeks).  Or they may be based on triggers, such as if a person opens a previous email or clicks on a link:
Email 1 (after double opting in) might contain a link to download the lead magnet.
Email 2 might remind the person if they didn't click the download link.
Email 3 might offer a companion worksheet.
Email 4 might share a recent blog post.
Email 5 might offer a complimentary webinar.
Email 6 might ask if the person would like to speak with a sales rep.
Email 7 might be a personalized one-on-one follow-up to introduce yourself."
Promote
"The next step is to get traffic. The more people who get to your landing page, the more leads you will collect. Link to your landing page prominently on various pages of your website and blog.  Highlight it with a popup or alert strip on your site to make sure visitors see it."
As mentioned above these are just the key points for each step, please be sure to check out the full blog here.
---
If you would like to know more about how to build out this process, feel free to give us a call or email [email protected]. We have a fantastic marketing team that could provide you some more tips and help you build your Lead Magnet!