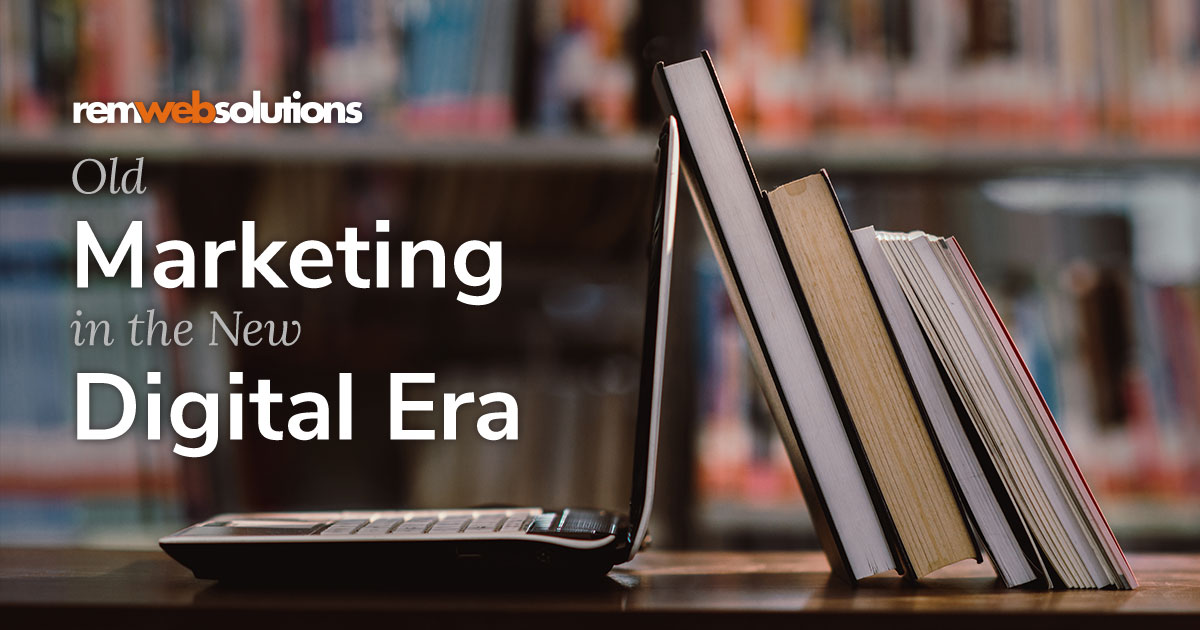 The practice of Marketing for business has been around since the 18th century, at the time of the Industrial Revolution. During this time mass production of goods provided by many industries changed the world of the consumer market. With this growth came the need for producers to find better ways to develop products customers needed and a more sophisticated approach to informing them about these commodities (source).
As the consumer market evolved, so did the competition and there came along the need for businesses to employ subject matter specialists to formulate plans to attract consumers to their products over the competition leading to the birth of Marketing and Strategic Branding.  
With the evolution of the digital era, there is no doubt that marketing and branding strategies have needed to change as well. It becomes very easy to lose sight of the traditional principles of marketing in the digital era, what will give your business a competitive advantage is ensuring that you maintain a hybrid of traditional and digital marketing strategies.
"Because digital marketing is a relatively young industry, it sometimes lacks the legacy and formal structure that would ensure a more consistent form of training and development. That is especially true when you consider that there are fewer barriers to entry, which means many smaller businesses or agencies do not have regimented marketing training processes in place." (source)
When building your marketing team, it is imperative to ensure that you have a well-rounded skillset apparent. The candidate pool for marketing professionals right now is inundated with young tech minded individuals, who are more than capable of implementing digital strategies. However, the golden nugget is in the marketing professional who has experience and can develop a marketing foundation and structure that will provide direction to your less experienced digital marketing guru.
What is Traditional Marketing?
According to Hubspot:
"Traditional marketing is not only one of the oldest forms of marketing, but also one of the most researched. Marketers lean towards this method because it's tried and true. Everyone encounters some sort of traditional marketing in their everyday lives, whether it's getting the mail or your daily newspaper.
Traditional marketing plays an important part in reaching local audiences. Ads can be kept for a long period of time, if they're physical. Plus, there's an audience who's easier to reach through traditional marketing than online marketing." (source)
What is Digital Marketing?
"Inversely, digital marketing is … well … digital. Digital marketing is any marketing a company conducts online, such as paid social media ads, email marketing, and PPC advertising. Digital marketing has become wildly popular due to the cultural, technological, and societal shifts around us.
Promoted tweets, influencer trips, and Tasty videos are all examples of digital marketing and how expansive it's become. Even Googling "What is TikTok?" is evidence of effective digital marketing.
As the world becomes more digital, the way we market has evolved. Not only is digital marketing sometimes more cost-effective than traditional, but also it is a more direct way to connect with target audiences globally." (source)
Fixing the Mindset Gap
In an article written by Joe Friedlein (source) – founder and marketing director of Browser Media, they provide insight on how to fix the traditional vs. digital marketing mindset gap:
"The responsibility to ensure that fundamental marketing skills remain front and center lies with everyone in a company, at every stage.
If you're hiring new starters, look beyond a CV full of certifications and consider that creative thinkers can be hugely beneficial in the long term. If you're already in a digital role, listen to the more experienced marketers around you, learning not only what they do but also why.
The most effective way to instill the core marketing basics, however, is to encourage people to ask questions. Make it normal to seek out as much information as possible, and question everything you're presented with.
If you're an agency marketer, that logic applies not just to those you're marketing to but also your clients. Sometimes what clients ask for isn't necessarily what they want or need. When they ask for a service or a task, your being able to identify the desired outcome and work backwards is vital, and it's that kind of independent thought that makes you valuable.
An in-depth working knowledge of the right digital tools and techniques will take you far, but fueling that expertise with an understanding of what you need to say to your audience, and when and why, is what the marketing industry needs more of."